NJPW STRONG Openweight Champion – KENTA!
At Saturday's Battle In The Valley, KENTA defeated Fred Rosser for the NJPW Strong Openweight Championship. The former WWE and ROH talent captured the championship with the help of some BULLET CLUB interference following a ref bump.
This victory comes on the heels of KENTA's victory in the NJPW STRONG Survivor match and marks KENTA's third singles championship in New Japan Pro Wrestling. As the third competitor to hold the NJPW STRONG Openweight Championship, KENTA's upcoming run of Stateside competition may be longer than initially expected.
The NJPW STRONG Openweight Championship match, second on the main card, opens with KENTA playing evasive against Rosser's more power-focused offense. KENTA continues in this manner, rolling out of the ring and back in before delivering some disrespectful kicks to Rosser as he comes in under the bottom rope.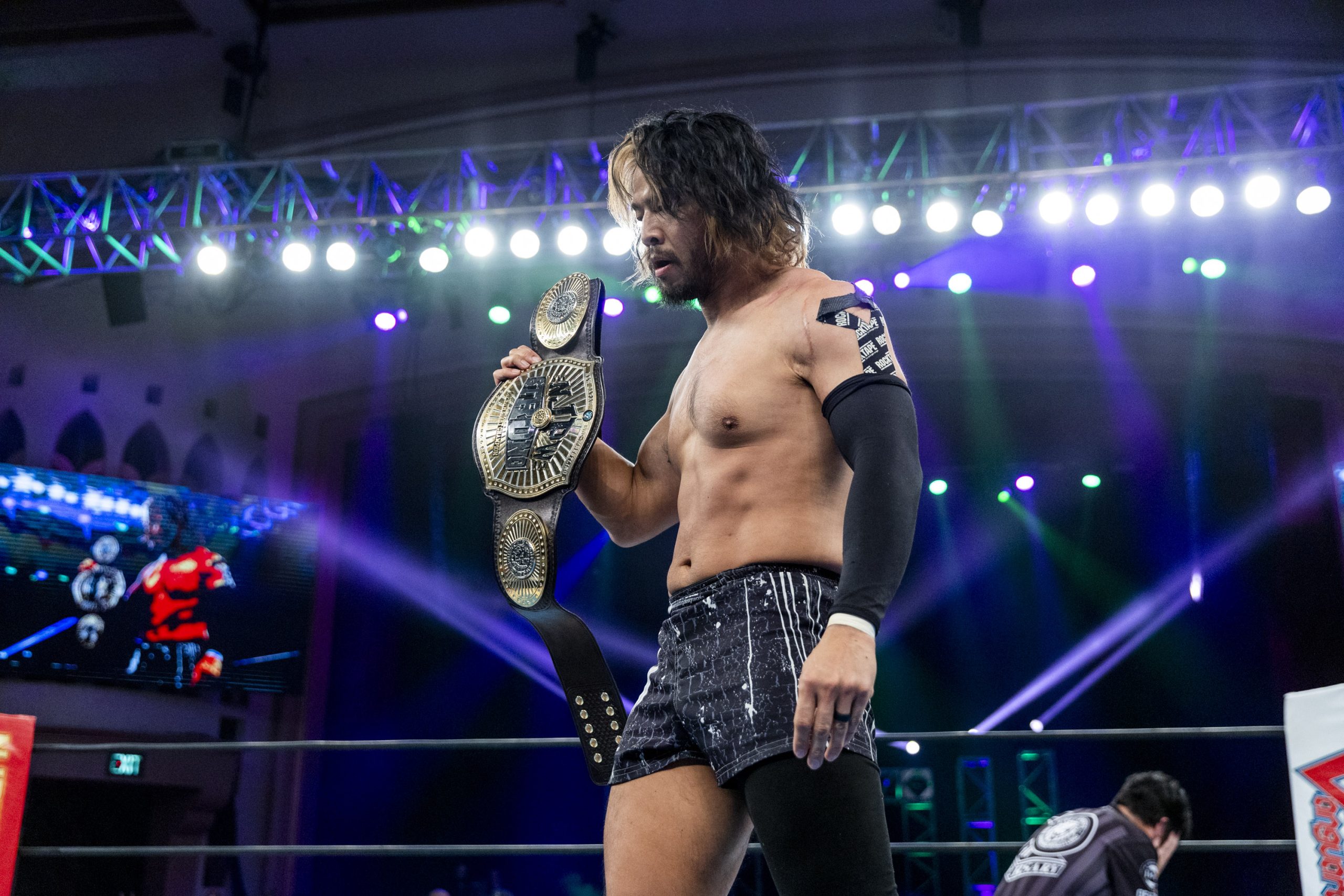 NJPW STRONG Openweight Champion – KENTA
The action spills out of the ring again soon after, with Rosser and KENTA brawling into the San Jose crowd. When Rosser tries to bring things back into the ring, KENTA reverses his back suplex attempt into a DDT on the apron. KENTA then goes straight back into toying with his opponent, delivering short, stiff kicks to the former champion.
With Rosser in the corner, KENTA attempts a running kick, but Rosser catches him, running him spine-first into the opposite corner. Rosser then followed up with chops and clotheslines, before hitting back-to-back standing leg drops for a two-count.
"Mr. No Days Off" seems to have taken control, hoisting KENTA in a fireman's carry, but the challenger wriggles out. With a rake to the eyes and a DDT, KENTA takes the reins again. First to the top rope, KENTA nails a diving clothesline on Rosser for a two-count. Back on his feet, Rosser charges at KENTA, who pulls the top rope, only for Rosser to catch himself on the apron.
Kenta attempts an apron back suplex, only for Rosser to catch him with one of his own. A seated senton on the outside and a powerful clothesline on the inside rack up another two-count for Rosser. He follows with an attempt at an STF, but KENTA counters with his  Game Overlock.
Rosser crawls to the ropes, and after the referee separates them, KENTA follows up with back-to-back shotgun dropkicks. A diving stomp later, and KENTA picks up a two-count of his own. KENTA goes for the Go 2 Sleep, but Rosser escapes and catches him in a Crossface Chickenwing. With his free arm, KENTA brings the referee into the hold, forcing a break in an unconventional way.
The lull in momentum leads Rosser and KENTA to trade forearms before KENTA catches Rosser with a cheap shot to the throat. The challenger follows up with palm strikes to the face and neck before Rosser powers back with a right hand. Going for another STF, KENTA rolls through, sending Rosser into the referee.
With the referee down, KENTA sets up the Go 2 Sleep, but Rosser counters it into a hybrid STF/Crossface Chickenwing. KENTA taps out, but the referee is still down. With no eyes on the match, Juice Robinson ran to the ringside. Rosser let go of the hold to fend off potential BULLET CLUB shenanigans, only for Juice to nail him with a fistful of quarters. After that, it's a Go 2 Sleep and a lazy three count to crown KENTA, the new NJPW STRONG Openweight Champion.
With this victory, BULLET CLUB adds the NJPW STRONG Openweight Championship to the list of championships held by their members. However, with Jay White's expulsion from New Japan later in the evening, it seems like things are changing for NJPW's top gaijin faction. With KENTA as their only member holding a championship, it's safe to say we'll be seeing a lot more BULLET CLUB on NJPW STRONG in the coming weeks.
******
Stay tuned to Pro Wrestling Post for this and additional stories from the wrestling world. Readers can rely on Pro Wrestling Post as their daily source for everything inside the squared circle. As a result, readers can expect daily news, history, and much more.  
Please visit New Japan Pro Wrestling's site here for news and information on the promotion and upcoming events pertaining to the NJPW Strong program and FITE TV's official website to watch for International viewers. FITE+ currently boasts 1000+ hours of live action each year. $4.99 a month/$49.99 a year with 7-day Free Trial.