Ever since Kota Ibushi announced that he wanted to unify the IWGP Heavyweight and Intercontinental titles and fans waited for the new belt to be revealed. On their March 30 Road to Sakura Genesis show, New Japan Pro Wrestling (NJPW) reveals their new IWGP World Heavyweight title.
✨The IWGP World Heavyweight Championship.✨

Sign up Now & Stay tuned to https://t.co/z1DNREy98D#njpw #njpwworld #njSG pic.twitter.com/3UoEJupmLu

— njpwworld (@njpwworld) March 30, 2021
Although people have had mixed reviews, the title has a lot of thought behind it! The company explained that they want the design to reflect the IWGP Heavyweight and Intercontinental Championships' history.
The New Japan website explains that the four generations of the IWGP Heavyweight titles are represented. The upper part of the belt had a radial design like the original IWGP Heavyweight design and the second IWGP 'crown' motif.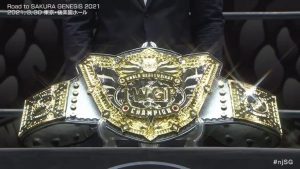 NJPW Reveals Their New IWGP World Heavyweight Title
A pair of wings on the actual plate represents those seen on the third-generation title belt. The central Lion Mark represents the fourth generation Heavyweight belt. Even the side plates have meaning attempting to mimic the Intercontinental Championship's design.
Also, there is a Lion Mark to represent the sun above the Earth below. The flames from the sun and the pricing sword show the Fighting Spirit, and the five gems around the globe represent the continents and NJPW's 50 years of history.
Even with mixed comments, this belt represents a new era of New Japan! The new title appears to usher in a new era for New Japan Pro Wrestling.
****
Be sure to stay tuned to the Pro Wrestling Post for this and additional stories from the wrestling world. Readers can rely on Pro Wrestling Post to be their daily source for all things past and present inside the squared circle from around the globe. As a result, readers can expect daily news, history, and so much more. Please visit NJPW's official website to access their content here.