New Japan Pro Wrestling presents pro wrestling as "The King of Sports." No silicone-enhanced Divas. No lowbrow angles, no bad comedy. No stilted dialogue or obnoxious announcers made part of the show. Just athletes coming out and giving you their heart and soul. Imagine that in 2011. This was my NJPW Live NYC review from 5/14/11.
This review was day two of a three day East Coast tour, and the only show I attended. In short, I was glad I did. Kenny Omega vs. Josh Daniels was a fine opener emphasizing wrestling and great highspots. I probably won't remember it ten years from now, but it was a solid and enjoyable start to the evening.
This was followed by Jushin Thunder Liger, Tiger Mask and Dan Maff vs. Shinsuke Nakamura, Jado, and Gedo. Although I wouldn't classify this as great, it was greatly entertaining and a thrill to see Liger live again. Also, in the three-star range was the next bout in an IWGP Tag Team Championship match as Giant Bernard and Karl Anderson kept their titles vs. Satoshi Kojima and Hideo Saito. There were tremendous wrestling moves exhibited and Bernard has developed into quite the big man as he's far from lumbering. The man can WRESTLE. This wasn't a classic, but a classic example of what good tag team wrestling is all about as all worked well together.
NJPW Live NYC 5/14/11
Ditto the next match as Rhino, Davey Richards, and Homicide defeated Togi Makabe, Ryusuke Taguchi, and Kazuchika Okada. It was a potpourri of great wrestling moves delighting this hardcore crowd. Unfortunately, here's where the card went awry. An intermission was called for and Tiger Mask and Liger posed for pictures together mid-ring. This led to an endless line of fans and a forty-five or so minute break which killed all momentum the card had built up. It just came off as bush league when it easily could have been done before or after the show.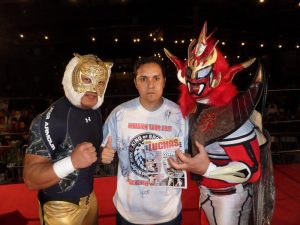 Fans got antsy, and mistake number two was that this interminable break was followed by what was by far the best match of the night in Low Ki vs. Prince Devitt. This was four stars easy and exactly what pro wrestling should be – two great athletes elevating wrestling to art. Move after move, fans "oohed and aahed" and finally a spontaneous chant of "This is awesome!" broke out. Devitt pinned Ki and both shook hands and got a deserved outpouring of love and respect from the crowd.
There was only one problem. There was nowhere to go but down after this.
For whatever reason, NJPW had allowed their card to peak smack dab in the middle. So much for pacing. Now there was nothing wrong with Toru Yano's defeat of Yujiro Takahashi – it was a solid old school face vs. heel match. I've certainly seen worse matches than MVP's besting of Tetsuya Naito, although it was clearly the weakest on this show. And the main-event of IWGP Heavyweight Champion Hiroshi Tanahashi over Charlie Haas was well-worth seeing and exhibited fine wrestling and even sportsmanship (loved the handshakes at the end). But, in all honesty, none of these matches were in the same ballpark as Devitt/Ki's. A promotion of this caliber should know that a show is supposed to build, not deflate towards the end which is exactly what happened.
Nonetheless, all in all, I walked out happy having seen a legend like Liger and the tremendous crew with him. Just to see pro wrestling presented as a sport instead of a circus or "sports entertainment" makes this promotion worth supporting. Thanks to Jersey All Pro Wrestling for making this happen. I sincerely hope that NJPW will have great success in future US excursions.