'On This Day' is a commemorative article series. It is dedicated to specific events, matches, and occurrences in wrestling history. We revisit those key moments and look back at how they went down and what they meant to the wrestling industry. NJPW In The Tokyo Dome – January 4th is that day.
January 4th might as well be renamed 'pro wrestling day' in Japan. For almost thirty years, New Japan Pro-Wrestling (NJPW) has put on their premier annual event on that day. It didn't matter what day of the week it was; January 4th was NJPW's Tokyo Dome Show.
_______________
Since 1992, NJPW's annual Tokyo Dome show has been considered the biggest show of the year in Japan. It marked the culmination of the previous year's storylines and the beginning of the new year's. Because of that, the majority of NJPW's best-ever matches have taken place on January 4th.
For this entry in the On This Day series, we'll be doing something different. Instead of looking back at one particular event or match, we'll be looking at an entire collection. We'll be listing each NJPW on January 4 in the Tokyo Dome show and highlighting the key events that occurred on each one.
1992: Super Warriors in Tokyo Dome
This was actually a split NJPW/WCW event
In the main event, Sting and The Great Muta defeated the Steiner Brothers in a great match
This was Jushin 'Thunder' Liger's first January 4th Tokyo Dome show
Half of the show's twelve matches were televised for the WCW audience, while the rest were for the live audience only
1993: Fantastic Story in Tokyo Dome
This was another split NJPW/WCW event
The Great Muta defeated Masahiro Chono to become both IWGP Heavyweight Champion and NWA World Heavyweight Champion
Attendance for this show was said to be between 53,000 and 65,000 fans
1994: Battlefield
Once again, WCW wrestlers appeared on this card
WCW main-eventer Hulk Hogan defeated NJPW legend Tatsumi Fujinami in a singles match
Genichiro Tenryu, a former top star in NJPW's rival All Japan Pro-Wrestling (AJPW), defeated NJPW founder and former centerpiece Antonio Inoki in the main event
Jushin Liger defeated Tiger Mask III in a mask vs. mask match. His opponent had to unmask and went on to wrestle under his own name, Koji Kanemoto
1995: Battle 7
This was the first time a title that didn't belong to either NJPW or WCW was defended, as Shinjiro Otani retained Mexico's Universal Wrestling Association's UWA World Welterweight Championship against NJPW's El Samurai
Once again, The Steiner Brothers were involved in perhaps the best match on the show, losing a tag team title challenge to champions Hiroshi Hase and Keiji Mutoh
Shinya Hashimoto defeated Kensuke Sasaki to retain the IWGP Heavyweight Championship
This show also featured one of the WORST wrestling matches ever in Sting vs. Tony Palmore. The Wrestling Observer rated that match -4 stars out of a possible -5 stars.
1996: Wrestling World 1996
This was the first major NJPW show to feature the 'interpromotional rivalry' storyline, with wrestlers from Union of Wrestling Forces International; (UWFi) facing off against NJPW wrestlers
In the main event, UWFI's Nobuhiko Takada beat Keiji Mutoh to become IWGP Heavyweight Champion
Antonio Inoki defeated Big Van Vader in a singles match, getting revenge for Vader ending his four-year winning streak eight years earlier
1997: Wrestling World 1997
Like the prior year, this match featured inter-promotional matches, but this time from Big Japan Pro Wrestling (BJW)
It featured the debut, and immediate retirement, of Super Liger (played by Chris Jericho):
Antonio Inoki won an 'MMA match' despite being over fifty years old. Because Inoki
Shinya Hashimoto beat Riki Choshu in the main event to retain the IWGP Heavyweight Championship
1998: Final Power Hall In Tokyo Dome
The show made the equivalent of $6,000,000 in revenue, making it one of NJPW's most profitable events ever at the time
The centerpiece of the show was Riki Choshu wrestling his final five matches, as he was going to be retiring. He only lost one of those, and that was to Takashi Iizuka
Shinya Hashimoto, one of NJPW's top stars, had one of the worst matches of his career against Dennis Lane
1999: Wrestling World 1999
Like the last three or four shows, this show had an announced attendance of around 53,000 fans
This show was famous for the 'shoot' between Shinya Hashimoto and Naoya Ogawa. Ogawa, an Olympic-level grappler, was rumored to have been ordered to 'shoot' on Hashimoto (that is, fight him for real) without Hashimoto being aware. In doing so, Ogawa destroyed the 'tough badass' aura Hashimoto had spent years cultivating and protecting. In doing so, this marked the beginning of Inoki's dreaded 'Inokism' phase, which would eventually lead NJPW down to its darkest period ever.
This show marked the first time the IWGP Junior Heavyweight Tag Team Championships were defended
2000:Wrestling World 2000
This show featured several freelancers, including Rick Steiner, 'Macho Man' Randy Savage, and Chris Benoit (playing his 'Wild Pegasus' character
Kazuo Yamazaki, a high-profile Japanese wrestler throughout the 1980s and 1990s, wrestled his final match against his protégé, Yuji Nagata
Masahiro Chono defeated Keiji Mutoh, forcing Mutoh's stable, NWO Japan, to disband
2001:Wrestling World 2001
The focal point of this show was a one-night tournament to crown a new IWGP Heavyweight Champion. The previous champion, Kensuke Sasaki, vacated it after losing a non-title singles match to AJPW's Toshiaki Kawada, who also wrestled on this show
The main event saw Sasaki defeat Kawada to regain the IWGP Heavyweight Championship in one of the best under-15-minute matches of the decade
2002: Wrestling World 2002
This show featured wrestlers from Pro Wrestling NOAH, with whom NJPW had formed a working relationship
This was Hiroshi Tanahashi's first January 4 Dome Show
This was Keiji Mutoh's last Dome Show as a NJPW wrestler before shocking the world by defecting to rival AJPW after a year-long inter-promotional storyline between the two companies
Naoya Ogawa and Kensuke Sasaki had a rematch and went to a no-contest…again
This was the first Dome show not to feature an IWGP Heavyweight Championship match. Instead, the main event saw NOAH's Jun Akiyama, regain his GHC Heavyweight Championship against Yuji Nagata
2003: Wrestling World 2003
This show marked a sharp decline in fan attendance, with only 30,000 fans attending
NJPW held a 'Young Generation Cup' tournament to elevate younger talent in the company. The tournament was won by a wrestler named Yutaka Yoshie. Yoshie left New Japan three years later
Also on the card was a tournament final to crown a new NWF Heavyweight Champion. That title was used briefly by Inoki during the early-to-mid 1980s before being deactivated. He rechristened it in 2003 when it was won by Yoshihiro Takayama who, at that point, was riding a huge wave of credibility and popularity in the combat sports world following his fight with Don Frye at Pride 21
Shinsuke Nakamura wrestled his first January 4 Dome show in a tag match in the middle of the card
2004: Wrestling World 2004
This show featured the most matches on a single card in NJPW history, with fifteen
Hiroki Goto wrestled his first January 4 Dome Show
Jushin Thunder Liger defeated NOAH's Takashi Sugiura to win NOAH's GHC Junior Heavyweight Championship. That would lead to Liger wrestling on another dome show for NOAH later in the year.
Katsuyori Shibata had his first Dome Show match
Minoru Suzuki had his first Dome Show appearance
Hiroshi Tanahashi retained his U-30 Openweight Championship, a now-defunct title that was for rising NJPWE stars under 30 years old
The semi-main event featured a Hiroyoshi Tenzan and Masahiro Chono losing to the team of AJPW's Keiji Mutoh and Bob Sapp
In the main event, 'super-rookie' Shinsuke Nakamura defeated Yoshihiro Takayama to unify the IWGP Heavyweight Championship and the NWF Heavyweight Championship
2005: Toukon Festival: Wrestling World 2005
The focal point of this show was a 'submissions only' tournament. It concluded when company ace Yuji Nagata tapped out to an MMA fighter named Ron Waterman in just over ninety seconds
Masahiro Chono, Riki Choshu (no longer retired), and Hiroyoshi Tenzan wrestled in a complicated mess called a 'Dog Fight' Rules match. Nobody cared
Shinsuke Nakamura defeated Hiroshi Tanahashi to become U-30 Openweight Champion
There was no IWGP Heavyweight Championship defense on this card because that title had been vacated after then-champion Sapp lost a fight to Kazuyuki Fujita
This was the last NJPW January 4 Dome Show under Antonio Inoki's management
2006: Toukon Shidou Chapter 1
For the first time in Dome Show history, no title changed hands
Katsuyori Shibata defeated Hiroshi Tanahashi
In the main event, Brock Lesnar successfully retained the IWGP Heavyweight Championship against Shinsuke Nakamura. Yes, you read that right
2007: Wrestle Kingdom I
This show had the lowest-ever gate in NJPW Dome Show history, 18,000 fans being in attendance (contrary to NJPW's 'official' announcement of 28,000). And of those 18,000, only 10,000 were said to have actually paid for tickets. At the time, it was widely feared that this annual tradition of NJPW's would soon come to an end
This marked the first in a series of three Wrestle Kingdom matches between Yuji Nagata and Minoru Suzuki
Toshiaki Kawada, then a freelancer, defeated Shinsuke Nakamura
Hiroshi Tanahashi defeated AJPW's Taiyo Kea to retain the IWGP Heavyweight Championship
In the main event, Masahiro Chono and a visiting Keiji Mutoh defeated Satoshi Kojima and Hiroyishi Tenzan. Post-match, Mutoh, and Chono paid tribute to Shinya Hashimoto, who had passed away three years earlier.
2008: Wrestle Kingdom II
Like the year before, attendance for this show was way down. Closer inspection revealed that 20,000, not 27,000 as NJPW claimed, fans attended, and about half paid for their tickets.
Wrestlers from multiple outside promotions appeared on this show, including Dratition, AJPW, Pro Wrestling Zero1-MAX, and TNA Wrestling
The opening six-man tag match featured, among others, AJ Styles facing against Prince Devitt
Keiji Mutoh returned under his Great Muta alter-ego to defeat Hirooki Goto
Kurt Angle retained the IWGP 3rd Belt Championship against Yuji Nagata. That belt arose from the controversy surrounding Brock Lesnar's contract dispute and Inoki being forced out of the company. Thus, for a time, there were two IWGP Heavyweight Champions at the same time
In the main event, Shinsuke Nakamura defeated Hiroshi Tanahashi to win the IWGP Heavyweight Championship
2009: Wrestle Kingdom III
Like the year before, wrestlers from multiple promotions wrestled on this card. But this year, it expanded to include wrestlers from Pro Wrestling NOAH and Mexico's Consejo Mundial de Lucha Libre (CMLL)
This show marked an improvement in fan attendance, with 27,000 fans paying to attend
This was the first-ever Dome Show for both Kazuchika Okada and Tetsuya Naito. Both wrestled in different tag team matches on the undercard
Also on the undercard was an eight-man tag team featuring the oddball combination of Kevin Nash, Kurt Angle, Riki Choshu, and Masahiro Chono
NOAH's Jun Akiyama defeated NJPW's Manabu Nakanishi
NJPW rising stars Shinsuke Nakamura and Hirookki Goto beat the team of NOAH's Takashi Sugiura and MITSUHARU MISAWA. This marked Misawa's first and only NJPW Dome show appearance
Hiroshi Tanahashi defeated his mentor Keiji Mutoh to win the IWGP Heavyweight Championship. This is basically the point in time that Tanahashi's claim as Ace truly begins, and NJPW begins to turn around for the better
2010: Wrestle Kingdom IV
Despite NJPW claiming to have an attendance of 41,000 fans, only about 20,000 actually attended
This marked the first Dome Show for the duo of Apollo 55 (Prince Devitt and Ryusuke Taguchi)
A midcard eight-man tag match featured Terry Funk and Abdullah the Butcher on opposing sides
NOAH's Naomichi Marufuji made his first NJPW Dome appearance and defeated NJPW's Tiger Mask IV to win the IWGP Junior Heavyweight Championship
Hiroshi Tanahashi defeated NOAH's Go Shiozaki
NOAH's Takashi Sugiura retained the GHC Heavyweight Championship against Hirooki Goto
In a rematch from six years earlier, Shinsuke Nakamura retained his IWGP Heavyweight Championship against Yoshihiro Takayama
2011: Wrestle Kingdom V
NJPW claimed the attendance here was 42,000 when in actuality it was only 18,000, tied with the 2007 edition for lowest attendance ever for an NJPW January 4 Dome Show
Kenny Omega and Taichi had their first Dome Show appearances
This was the first January 4 Dome Show to feature a three-way tag team match
Hiroyoshi Tenzan defeated Takashi Iizuka in a 'Deep Sleep To Lose Match,' in which the only way to win was to choke one's opponent unconscious
This was Kota Ibushi's first January 4 Dome Show
The NJPW duo of Hirooki Goto and Kazuchika Okada lost to the outsider team of NOAH's Takashi Sugiura and freelancer Yoshihiro Takayama
Yuji Nagata and Minoru Suzuki had their second Dome Show encounter
Jeff Hardy defeated Tetsuya Naito to retain the TNA World Heavyweight Championship
Both Hiroshi Tanahashi and Shinsuke Nakamura were victorious in their respective matches, defeating Satoshi Kojima and Go Shiozaki, respectively
2012: Wrestle Kingdom VI
This show featured 23,000 fans in attendance
This marked Okada's return from his foreign excursion to the United States and his debut as 'The Rainmaker'
NJPW wrestlers Hirooki Goto and Togi Makabe both defeated outsiders Takashi Sugiura and Yoshihiro Takayama in their respective singles matches
Meanwhile, Shinsuke Nakamura and Tory Yano lost their tag team match to the duo of Go Shiozaki and Naomichi Marufuji
AJPW's Keiji Mutoh defeated Tetsuya Naito
In the main event, Hiroshi Tanahashi retained the IWGP Heavyweight Championship against Minoru Suzuki
2013: Wrestle Kingdom 7
29,000 fans attended this show
This is when the Wrestling Observer's Dave Meltzer really started praising the NJPW Dome Shows for their quality. In previous years, he was one of many that were sounding alarm bells warning of the company's potential collapse.
Both KUSHIDA and Hiromu Takahashi had their first Dome Show appearances
Yuji Nagata and Minoru Suzuki had their third and final January 4 match-up
This show marked Katsuyori Shibata's first NJPW Dome Show after his failed MMA excursion
Shinsuke Nakamura defeated MMA fighter Kazushi 'Gracie Hunter' Sakuraba in one of the last vestiges of the Inokism era
This was the first Wrestle Kingdom to feature a Tanahashi vs. Okada main event
2014: Wrestle Kingdom 8
This show had 35,000 fans in attendance
The Young Bucks wrestled their first Dome Show, winning in the event's first-ever four-way tag team match
The entity known as Bullet Club had their first appearance on a Dome Show here
For the first time in over twenty years, the NWA World Heavyweight Championship was defended. Here, champion Rob Conway lost to NJPW's Satoshi Kojima
Keiji Mutoh, representing his new company Wrestle-1 and performing as The Great Muta, teamed with Toru Yano and defeated Minoru Suzuki and Shelton Benjamin
Real-life friends Hirooki Goto and Katsuyori Shibata wrestled in a brutal yet widely-praised match
For the first time ever, fans were given the choice to vote on the show's main event. They could choose between the IWGP Heavyweight Championship match between Kazuchika Okada & Tetsuya Naito and the IWGP Intercontinental Championship match between Shinsuke Nakamura and Hiroshi Tanahashi. The fans chose the latter, making it the first time that the IWGP Intercontinental Championship main-evented a Dome Show
2015: Wrestle Kingdom 9
This show had 36,000 fans in attendance
This was the first time Wrestle Kingdom featured a pre-show New Japan Rumble battle royal
The NEVER Openweight Championship was defended at Wrestle Kingdom
AJ Styles wrestled his first singles match at Wrestle Kingdom
This was Tetsuya Naito's last big show before creating Los Ignobernables de Japón
Shinsuke Nakamura defeated Kota Ibushi to retain the IWGP Intercontinental Championship in one of the best professional wrestling matches in modern wrestling history
Hiroshi Tanahashi successfully retained the IWGP Heavyweight Championship against Kazuchika Okada
2016: Wrestle Kingdom 10
Only around 25,000 fans attended this event
This was the first Wrestle Kingdom appearance for Jay Lethal and Michael Elgin
This was Kenny Omega's last match as a junior heavyweight wrestler in NJPW
This show featured a 'dream singles match' between Shinsuke Nakamura and AJ Styles for the IWGP Heavyweight Championship
Kazuchika Okada defeated Hiroshi Tanahashi to become IWGP Heavyweight Champion in a classic 'passing of the torch moment.' With this match, Tanahashi set a record of six consecutive Wrestle Kingdom main events
2017 Wrestle Kingdom 11
Around 26,000 fans attended this event
This show is remembered for being the first in the now-widely-hailed Omega vs. Okada series. Their main-event match here was the longest in Dome Show history, going 48 minutes. It was also the first match to be rated six stars out of five since 1994.
Tetsuya Naito, now tranquilo, had his first Wrestle Kingdom victory following his foreign excursion and his change in persona. He defeated Hiroshi Tanahashi in the penultimate match
2018: Wrestle Kingdom 12
This show marked a major increase in fans, with 34,995 paying fans in attendance
The show featured a rare 'double main event' with Kenny Omega defending the IWGP United States Championship against Chris Jericho
Will Ospreay wrestled his first Dome Show
Hiroshi Tanahashi retained the IWGP Intercontinental Championship against Jay White, who made his Wrestle Kingdom debut
Kazuchika Okada retained the IWGP Heavyweight Championship against Tetsuya Naito
2019: Wrestle Kingdom 13
This show had around 38,000 paid fans in attendance
This marked the final NJPW appearance for The Young Bucks, Cody, and Kenny Omega, as all of them would later sign with All Elite Wrestling (AEW)
This was KUSHIDA's last Wrestle Kingdom before signing with WWE
Jay White defeated Kazuchika Okada in Okada's first non-title Wrestle Kingdom match since Wrestle Kingdom VI
Tetsuya Naito defeated Chris Jericho to retain the IWGP Intercontinental Championship
Hiroshi Tanahashi defeated Kenny Omega to become IWGP Heavyweight Champion for a record-setting eighth time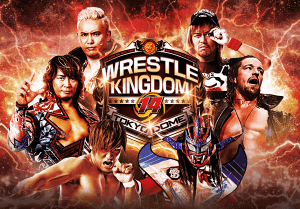 2020: Wrestle Kingdom 14
The first night had just over 40,000 paid fans in attendance
For the first time ever, Wrestle Kingdom was split into two shows, one on January 4th and a second on January 5th
This show was centered on Jushin Liger's final Wrestle Kingdom appearance, as he would be retiring after his match on the 5th. He had wrestled on EVERY January 4 card since 1992.
The other big story was a 'double gold dash' that would have the IWGP Heavyweight, and Intercontinental Championships defended in two separate matches on the first night, and the winners of those matches would face each other in a winner-take-all match on the second night
Jon Moxley had his Wrestle Kingdom debut
Hiromu Takahashi, returning after a sixteen-month absence following a major neck injury, defeated Will Ospreay to become IWGP Junior Heavyweight Champion in what some call the greatest cruiserweight match of all time
The IWGP Heavyweight (Kazuchika Okada) and Intercontinental (Tetsuya Naito) retained their respective titles to face each other on the second night.