In August, Heart of SHIMMER champion Samantha Heights went down with an injury. Due to SHIMMER's policy of never vacating a championship, this was assumed not to be a big deal. For prior injuries, SHIMMER has allowed the injured champion to rest and not featured the title for a taping. The Heights injury seemed like it would be handled the same way until SHIMMER got an update on her surgery. News has been revealed about the SHIMMER Heart of SHIMMER champion.
With Samantha Heights' surgery date delayed, it is likely that she will be sidelined for more than just one set of tapings. Thus, we will crown an Interim Heart of SHIMMER Champion during SHIMMER 114-117 weekend, 11/2 & 11/3 in Berwyn, IL. Tickets at https://t.co/uQVXuteBtk!

— SHIMMER Wrestling (@SHIMMERwomen) October 14, 2019
With her surgery now pushed back, it appears Heights may miss more than one set of tapings. In response to the extended injury, SHIMMER has announced a first for the company. They will crown an interim champion during the Volume 114-117 tapings. Presumably, upon Heights' return, they will hold a unification bout to determine an undisputed champion. Heights won the title at Volume 113. She has held the title for nearly 200 days, with one defense at a Glory Pro event in June. What does the future hold for the Heart of SHIMMER champion?
Other SHIMMER updates
The main event of SHIMMER 114 has been announced. SHIMMER champion Nicole Savoy will team with Phoenix of RISE champion Aerial Monroe to take on the SHIMMER Tag Team champions Cheerleader Melissa and Mercedes Martinez. This match will be for the Tag Team Championship, presenting Savoy the opportunity to be SHIMMER's first double champion. She is already the longest reigining SHIMMER champion and has the most defenses of the title, so it's not unthinkable.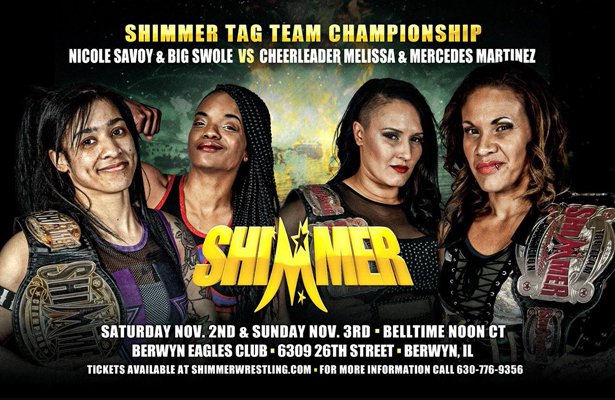 On Facebook, SHIMMER has given an update on the pre-order status for the Volume 82-83 DVDs. SHIMMER began taking pre-orders in April, and Dave Prazak responded to an inquiry on those DVDs on the SHIMMER fan page. In short, SHIMMER will either refund all pre-orders or ship them shortly, but this is probably the end of the line for SHIMMER physical media. RISE's Kevin Harvey elaborated with rough numbers based on RISE's physical media sales (they have sold only 6 copies of RISE Pride & Joy on Blu-Ray or DVD). Ultimately, physical media is becoming an untenable business model for SHIMMER, and there really is not much they can do about it.