Earlier today, Chris Van Vliet sat down for an interview with AEW star Jon Moxley.
During the interview, Moxley touched on a number of topics. His AEW debut, which took place at Double or Nothing this past May, is what Moxley called "surreal." He also saw it as a "release" following his exit from World Wrestling Entertainment. Moxley also said that he didn't have a plan after WWE aside from Japan and various independent promotions. Otherwise, he kept his wrestling endeavors under wraps leading up to his video on Twitter, where he rechristened himself as Jon Moxley.
Moxley also touched on aspects "Dean Ambrose" that he may have missed. According to Moxley, there wasn't much that was lost in translation aside from the increased intensity of Jon Moxley compared to Ambrose. He credited this to the more free-form nature of AEW, as opposed to constantly pitching ideas that may or may not be used. While AEW institutes guidelines, Moxley said that they are more open to ideas such as deathmatches, which he is a fan of.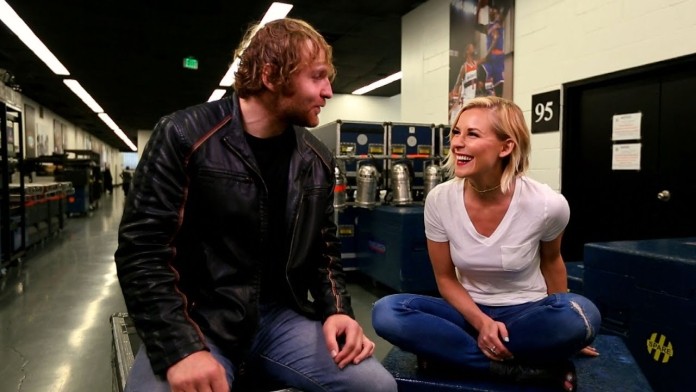 Speaking of deathmatches, Moxley said that his wife, Renee Young, is "under stress" due to his participation in them. In fact, instead of text messages, Moxley revealed that he received immediate phone calls from his wife afterward. In regard to his exit from WWE, Young was incredibly supportive. Moxley considered her "untouchable" in the company, as he didn't fear she would receive backlash.
Following his Double or Nothing debut, Moxley appeared on Talk is Jericho.
According to Moxley, while he expected backlash from WWE, there was none apart from not being spoken of directly on TV. "I was a model employee for them, but I also had to eat a lot of shit," Moxley recalled. His appearance on TIJ was an opportunity to tell his side of the story so that he could have a fresh start. Regardless, he was angry about leaving WWE, since he was being paid well but expressed unhappiness from a creative standpoint.
Though Moxley remains signed to AEW, he expressed interest in wrestling elsewhere as well, including Japan. This past May, Moxley debuted for New Japan Pro Wrestling, where he is a one-time IWGP United States Champion. "As long as I'm wrestling, I'll still wrestle in Japan," Moxley said. Given AEW's schedule, talent can pursue outside endeavors. For example, fellow AEW signees Jimmy Havoc and Maxwell Jacob Friedman still appear for Major League Wrestling.
Moxley also touched on non-wrestling topics, including film. Though Moxley ixnayed the idea of being a movie star, he was open to stunt work. Moxley has done film work in the past, including "12 Rounds 3: Lockdown" in 2015 and upcoming action film, "Cagefighter."
Sutter's Synopsis:
Credit must be given to Chris Van Vliet for his continued efforts in wrestling reporting. His sit-down interviews with wrestlers across various promotions are top-notch and his latest with Jon Moxley is no exception.
Moxley has done interviews following his exit from WWE and it's easy to see that he's a laid-back personality. The way that he speaks about topics like wrestling, his marriage, and life in general isn't unlike the average everyday person. Perhaps this can be chalked up to his low energy, as Moxley expressed he did other interviews in the day. However, CVV helped Moxley feel comfortable, which made for an interesting discussion. For those that are fans of Moxley, AEW, and wrestling in general, this is a solid way to kill a half-hour or so.