Sad news broke in the Joshi world on November 24th, where Hazuki would make an announcement. Hazuki announced that her inpending retirement from professional wrestling. It was a shock from many fans to see her leaving the world of wrestling at twenty-two-years-old. Her retirement was announced for December 24th where she'll be facing off against fellow Oedo Tai member, Natsuko Tora.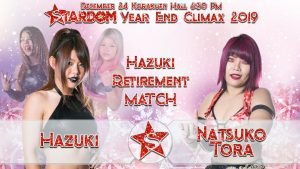 Hazuki has been wrestling since she was seventeen and only had five years of wrestling experience under her belt. Her career has always been Stardom when she was first known as Reo Hazuki. After two years in the business, she would slowly start to show more of herself when she was apart of Queen's Quest when it was lead by Io Shirai and would be now named HZK.
She has improved over the years and would win the Artist of Stardom Championship four times while with the faction. In 2018, her career would change when Kagetsu would draft her to Oedo Tai, taking her away from Queen's Quest. At first, she wouldn't adapt to her new home. But she would eventually find her groove and would change her name to Hazuki.
This was the version of Hazuki that fans started to love due to her progression in the ring. The look she presented herself and getting a chance to show what she could do on a bigger level in Stardom. She had a memorable feud with Momo Watanabe during Momo's time as Wonder of Stardom Champion. Giving them some of their best work together during 2018. On December 24th last year, she would win her first singles title where she defeated Mary Apache for the High Speed Championship. It was one of the more memorable runs with that title, holding it for 208 days with eight successful title defenses.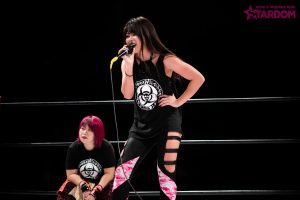 As for why Hazuki is retiring, it's apparently not an injury issue since there were no reports of her dealing with an injury. The main reason we found out as of right now, was that she wanted to pursue a new life and try to start a family. There were reports of her talking about retirement during the beginning of the year, according to the Wrestling Observer Online.
Another thing that helped with her decision was when she wrestled at Madison Square Garden during the G1 Supercard pre-show. She felt complete with her wrestling career.
While it sucks seeing Hazuki leaving wrestling it does seem like she is very content with the five years she spent wrestling for our entertainment. Expect to see some big matches booked for her on her way out along with a gauntlet match since it's the traditional way Stardom does things when people retire or leave the company. Hazuki will be missed but I wish nothing but success to whatever she does next.