On June 3rd, Necro Butcher announced on social media that he has stage 3 Hodgkin's Lymphoma. The legendary deathmatch wrestler was characteristically flippant about the news. "Finally got that elusive diagnosis," he said in the announcement. "Stage 3 Hodgkins. it was taking forever, multiple biopsies and procedures. I might be that happiest guy ever to hear he has cancer."
_______________
Rumors about Necro Butcher's health came about after his last match for ICW No Holds Barred in January. The 46-year-old hardcore icon appeared far older and more emaciated than a man his age should be. Doctors have scheduled Necro Butcher for 6-8 cycles of chemotherapy. 75-90% of patients diagnosed with and treated for the disease survive.
Necro Butcher came to prominence in the early 2000s for his hardcore matches in IWA Mid-South. After winning the 2002 King of The Deathmatch tournament, he became an attraction for deathmatch-based indie promotions across North America. During his lengthy tenure with Combat Zone Wrestling, he took on other deathmatch icons like John Zandig, Nick Gage, and Chris Hero. In 2006, he participated in CZW's invasion of Ring of Honor, participating in the Cage of Death match at Death Before Dishonor 4. A year later, he returned to ROH as part of Jimmy Jacobs' Age of The Fall stable along with Tyler Black, later Seth Rollins in WWE. In his career, Necro Butcher has had matches with just about every major indie wrestler of the past 20 years.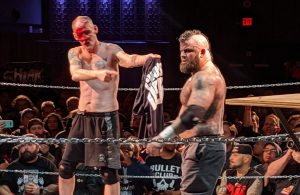 Necro Butcher Announced Cancer Diagnosis
Perhaps his best exposure, however, was in the 2008 movie, The Wrestler. The movie itself was an interesting journey through the life of a touring wrestler. Necro Butcher played himself in a deathmatch against Mickey Rourke's character Randy "The Ram" Robinson. Screenwriter Robert Siegel and director Darren Aronofsky were inspired to put him in the movie after seeing one of his hardcore matches for CZW.
We at Pro Wrestling Post wish Necro Butcher and his family the best in this trying time.
****
Be sure to stay tuned to the Pro Wrestling Post for this and additional stories from the wrestling world. Readers can rely on Pro Wrestling Post to be their daily source for all things past and present inside the squared circle from around the globe. As a result, readers can expect daily news, history, and so much more.