My friend, Melissa Coates was a champion bodybuilder gracing the covers of innumerable fitness mags around the world, a professional wrestler (and later valet as Sabu's "Super Genie") who appeared on a WWE PPV, acted in a variety of independent films, and was a dear friend of mine who was at my wedding.
I am devastated to learn of her death this past Wednesday, June 23rd. I was chatting with her via Instant Messenger just the other day and while I never could have imagined it would be our very last discussion, the words are so much more meaningful and poignant in hindsight and show her strength, courage, resilience, vulnerability, humor, and core values.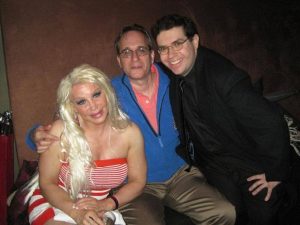 Evan (to Melissa June 18): Happy (50th) birthday. When you feel better look into being a motivational speaker- you can make thousands a shot. Good gig. You'd be more than qualified.
Melissa sent June 18 at 2:50 PM
Ok ya!
I need to learn how to express myself better.
I'm trying to think more positively this year. And break bad self-defeating habits.
You sent June 18 at 2:51 PM
You've spent an entire career getting in front of crowds and cutting promos and such; no reason you couldn't talk in front of people and get paid well about your own life.
Melissa sent June 18 at 2:54 PM
Ur right
I'm seeing a therapist
I'm starting to feel better.
Heard any news from (wrestler) Eric (Adamz) about his mom?
You sent June 18 at 2:54 PM
No, I didn't hear anything about his mom.
Melissa sent June 18 at 2:57 PM
Ok. She hasn't been well.
Ty Evan. I will definitely take ur advice and chat more with u about this & I could use good advice.
I no longer have time for unquality "friends" In my life.
I'm happy to have u for a friend
Ty so much
I need to try more meditation like u suggested and more. It's been just a really difficult time the past year. Sabu has been a godsend taking care of me. One of my brothers has been helping me a lot.
My Friend, Melissa Coates
You sent June 18 at 3:04 PM
You sure learn who your friends are in hard times. Anyway, if you fill out those applications for motivational agencies, let them know about (losing) your leg and that you're back in the gym in spite of it. That's inspirational. That would work for you, not against you.
Melissa sent June 18 at 3:06 PM
Ok. Yes, I'm trying to put a positive spin on all this awful loss
Evan, I've got to try to handle some disability stuff here. But let's talk again soon. Maybe Sunday
You sent June 18 at 3:06 PM
Champion bodybuilder, WWE, actress, etc. Educated and can talk- not just a "jock." And you'd need a sample(s), i.e., speaking to a library, church group, etc.
Melissa sent June 18 at 3:06 PM
Ok
Yes sounds good.
I've got to continue my recovery still.
You sent June 18 at 3:06 PM.
I know it can feel overwhelming now, but down the road you can make a great living and help people.
Melissa sent June 18 at 3:17 PM
I agree.
Ty for always seeing potential in me.
I often don't see it myself.
You sent June 18 at 3:17 PM
And write a book at your leisure even if it takes years. You've certainly had an interesting life.
Melissa sent June 18 at 3:19 PM
Yessssss. Many ups and just as many or more downs
I've spent more time in the valley than on top of the mountain lol.
You sent June 18 at 3:19 PM
If it were all good there wouldn't be a book.
Melissa sent June 18 at 3:19 PM
Lol true.
I would have preferred more up times tho!!
Yes, that was Melissa. "All" there in one brief conversation. Caring, driven, and someone who fought time and again to overcome adversity. And, yes, someone who valued her friends and loved ones, just as so many of us loved her. I will miss you oh so terribly, my friend.
This was a recent conversation with My Friend, Melissa Coates.
_______________
Evan Ginzburg was an Associate Producer on The Wrestler and 350 Days starring Bret Hart and Superstar Billy Graham. He is a 30-year film, radio, and TV veteran. Check out his Facebook page Evan Ginzburg's Old School Wrestling Memories and his new radio show Wrestling and Everything Coast to Coast with Buddy Sotello. He is currently working on his second book, a short story collection. His first book, Apartment 4B, Like in Brooklyn, was about his growing up in the turbulent Brooklyn of the '60s and '70s.