The latest Smackdown Synopsis for 4/17/20 with Money in The Bank Tournament Qualifying on tap. Our focus this week is the Tag Team Championship. We know this doesn't sound the same coming from anyone BUT the man underneath the black hat but business is definitely about to pick up Smackdown wise  Classic case of a spoonful of b-b-q sauce helping the medicine go down. This has been a week unlike any other wrestling fans have ever experienced. The pandemic has led the WWE to part ways with and -or furlough over twenty performers, producers, and broadcasters. The social media post of Drake Maverick will be talked about for a very long time. No one expecting this to be the last wave of cuts either, sobering at the very least. We also mourned the loss of iconic ring announcer and personality Howard Finkel.
In light of this, the bar is higher than usual to put on a distracting and uplifting two hours and help us smile and backburner the tension and roughness of the Spring of 2020. A daunting challenge ahead.
We, however, can count on the show going on live for as long as necessary.
Florida governor Ron De Santis has declared the E an essential service and from hereon in programming will be broadcast live from the Performance Center. Somewhat puzzling in our view because it would seem obvious that the risk of the pandemic being spread increases exponentially with the presence of more people under one roof at the same time.
Does anybody lose out or even notice a difference by watching a show that might have been shot over a few days? This is not the New England Journal of Medicine so we will stick to our mandate and focus on the squared circle.
Money in The Bank Tournament Qualifying

The Money in the Bank tournament will take place next month which means that qualifying match season is upon us. Sunday, the 10th of May is the date you want to circle on your calendar.
Tonight, two qualifying matches have been announced. In what will likely be a clinic in technical wrestling, Cesaro will take on Daniel Bryan. Aside from a healthy dose of R.O.H. nostalgia, expect as well a surfeit of Yes kicks and European forearms.
On the Woman's side, Naomi is set to clash with Dana Brooke to see who will take that next step. Sonya DeVille will also meet up with Mandy Rose and attempt to clear the air from the fallout of Ms.Deville plotting with Dolph Ziggler to sabotage Mandy's Valentine's Day date with Otis. We expect an unmitigated disaster here leading to a MITB match, possibly, a mixed tag team affair.
Tag team gold on the line once again as Jey Uso, Big E. and the Miz will square off in a 3-way dance.
Heaven forbid a tag team championship match to be decided by an actual tag team. Leaving logic aside we still anticipate a program to emerge between the Usos and the New Day. Friendly rivalries don't remain as such for long in the world of sports entertainment.
Friendships are made to broken, in the world of wrestling that is. Last week Bayley attempted to at least delay a challenge from Tamina by using Sasha Banks as a lamb at the altar. The role model put as a pre-condition that Tamina FIRST goes through Banks and if successful then get a title bout. Just for how much longer will the Boss let her altruism rule over her own ambitions. With Money in the Bank on tap very shortly, don't be surprised to see the current BFF tandem implode with so much at stake.
A Moment of Bliss
We begin the proceedings with another very close pair, Nikki Cross and Alexa Bliss. The joyous newly crowned SD tag team champs are happy to greet a friend of theirs, none other than Universal champion Braun Strowmsn. They question Strowman on how he can prepare for a psychopath like the Fiend reminding him that he will have to put his belt on the line in a mere 23 days at M.I.T.B.
Nothing but confidence in the champion's answer. He states that no one knows Bray Wyatt as he does and that he is nothing but a master manipulator. Keep in mind that Strowman at one time was a member of the Wyatt Family faction and was labeled as its black sheep. Strowman not only has the wool, but he also has the championship belt and will not fall victim to any mind games.
Perhaps easier said than done, Strowman spots a gift box in the corner and thanks to Alexa for thinking of offering him a gift. When the box is opened it is revealed to contain the same sheep's mask Strowman wore in his past. We hear the unmistakable laugh of the Fiend and are shown an image of Strowman wearing the mask.
It appears that Wyatt has succeeded where he failed last week and is now renting space in Strowman's mind. You definitely do not want to go there.
Sasha Bank vs. Tamina
Sasha Banks matches up against Tamina. The pressure would appear to be on the Boss who was basically thrown into the fray by her pal Bayley as a means of depriving the menacing Tamina with a title opportunity.
While Bayley who has been the champion for 188 days now joins the commentary team, Sasha Banks offers Tamina the gift of a t-shirt that turned out just a tad too small. Why rile up an opponent as intimidating as Tamina.
Back and forth very early on as Sasha Banks was even able to garner a pair of two counts. Sasha administered an impressive basement dropkick on Tamina and looked to be in firm control against her larger foe.
Tamina would not go down easily. After administering a Yurinagi like move on Banks the tide would turn again. Bayley distracted Tamina which allowed Banks to drive her into the ring post and then into the ring steps.
Lacey Evans though intervened on Tamina's behalf taking Bayley out of the equation. This allowed Tamina to nail Banks with two successive superkicks, one outside the ring and the second one in. Tamina pinned Banks easily hence getting her title shot down the road, very possibly in three weeks' time.
Winner: Tamina
Jey Uso expressed his optimism for later on while Lacey vowed to obliterate Sasha Banks. Superstars backstage are rarely at a loss for words.
Sheamus vs. Denzel DeJournette
Another Fella with a lot to get off his chest was Sheamus. The Celtic Warrior bludgeoned Denzel DeJournette in no time at all after a rapid series of 12 to 6 elbows, 12 to 6, not just for curveballs anymore and a brogue kick for good measure.
Winner: Sheamus
The announce team introduced a piece chronicling Jeff Hardy's issues with pain medication and other substances and was interrupted by Sheamus who warned the pair not to disrespect him. A rivalry very much in the works here.
We then learn more about the M.I.T.B. PPV. To add a little hot sauce to the crowd less affair, the event will take place at WWE headquarters in Stamford. As per the M.I.T.B. matches themselves, they will commence on the ground floor but the ladders themselves will be outside on the roof. More cinematics on the way as this will be given the feel of an action thriller.
Speaking of thrills, Dana Brooke is backstage and is delighted and confident about the possibility of being in M.I.T.B. and finally getting a title opportunity. Her tag team partner Carmela warns her to not get too caught up in the moment and rather focus on their tag team championship match seven nights from now. Dana assures Carmela that she is ready to tackle both challenges.
Money in The Bank Tournament Qualifying
Dana Brooke vs. Naomi
Step by step, wrung by wrung. Her first obstacle is upsetting Naomi to earn a shot at the May event. The match begins in Naomi's favor. She manages to muster a pair of two counts and executes a crisp snap dropkick. Dana Brooke resisted the onslaught, threw Naomi out of the ring, then back in but only for a count of two.
Naomi's last gasp was an attempted but failed top rope moonsault. Dana Brooke replied with a sunset flip and was able to procure a somewhat surprising victory. Brooke advances in her Money in the Bank qualifying matchup.
Winner: Dana Brooke qualifies for the Money in the Bank Tournament

The next segment turned out to be a great coup. The attempted reconciliation of Mandy Rose and Sonya DeVille did not disappoint at all. While the outcome was really never in doubt, Sonya DeVille pulled off a five-star heel dramatic performance.
Mandy Rose and Sonya DeVille Confrontation
At the start, DeVille was almost at a loss for words and states that she has never been closer to another person in her life as she was with Mandy. Her tone suddenly changed and she revealed that Mandy was the most selfish person she had ever met and all she had to do was focus on Fire and Desire. Great job as well in delivering a phenomenal line" You're nothing but a dime a dozen bottled blonde who looks like she was created in some lab".
Adding fuel to the fire, like we really needed any more was Dolph Ziggler arriving on the scene pleading with Mandy not to dismiss their feelings and what they shared.
While Sonya and Mandy traded blows, Otis came to rescue his damsel in distress by taking care of Dolph Ziggler with a caterpillar and an elbow smash. Suffice to say, as aptly expressed by Ziggler, this issue is far from over. One has to wonder if this will lead to a Money in the Bank Tournament qualifying match as well.
We were then offered a nice tribute to Howard Finkel as well as seeing a vignette promoting the Forgotten Sons tag team.
Money in The Bank Tournament Qualifying
Cesaro vs. Daniel Bryan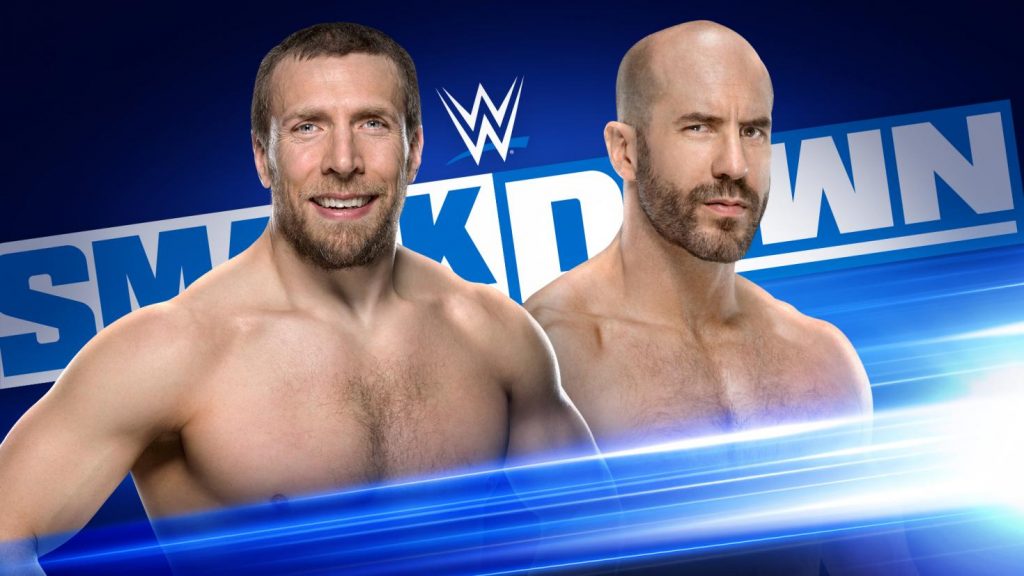 Cesaro and Daniel Bryan then put on a clinic in mat wrestling and the methodical focusing on one body part. In this very case, Cesaro's left arm. The Swiss Superman accompanied by Shinsuke Nakamura while Daniel Bryan came out with Drew Gulak. Once again, Sami Zayn was not present.
Very early on Cesaro was flung from the ring, hit by a suicide dive and went on the announce table. Suddenly, the same mysterious hooded figure we saw last week, with the baritone voice and obscured face offered another message stating that some like to keep their friends close and their enemies closer. We are offered still fuzzy shots of many current tag teams and factions. The truth shall be heard but first, we are headed off to a commercial time out.
This is a refreshing and intriguing segment without an obvious outcome, the kind of feature which entices you to tune in weekly.
Back from our break, Daniel Bryan is wearing down Cesaro's left arm yet the latter relies on his resilience and strength to keep afloat. Bryan is even lifted with one arm and tossed aside like a rag doll. That theme would continue, the ongoing pressure on Cesaro's arm relieved periodically with a sudden outburst of strength.
Bryan saw himself in some trouble as well after being the victim of, a GTS like move as well as a tilt-a-whirl backbreaker after being caught leaping from the top rope.
The pressure applied to Cesaro's left arm throughout the match finally got the best of him when Bryan had him in the YES lock in the middle of the ring and a run in an attempt by Nakamura was foiled by Drew Gulak, Cesaro gassed and hence tapping out. Bryan advances in the Money in the Bank qualifying matchup. Corey Graves spot on, a master class in mat wrestling.
Winner: Daniel Bryan qualifies for the Money in the Bank Tournament

Backstage we return. While expecting another song from Elias, instead we see the latter being beaten down and demolished by King Corbin who demands respect and tells Elias he will be made an example of. This dissection took place in two times and two movements to borrow a term from classical music, a commercial pause halfway through the crescendo being a broken guitar across Elias' back.
WWE Smackdown Tag Team Championship
Jey Uso vs. The Miz. vs Big E
The final match saw the three-way battle for the tag team championship between The Miz, Jey Uso and Big E. As the tilt got underway, Jey Uso and the Miz formed an ad hoc tandem and drove Big E thought the announce table.
Jey Uso seized the moment and delivered a pair of successive suicide dives, one to each opponent. He also hit a pair of back to back superkicks. Highly impressive but unable to deliver the goods.
The Miz for his part unable to put the twin away after a skull-crushing finale and an attempted figure four.
After being out of the action for a short interlude, Big E made a very impactful return. He hit the Miz with the big ending, got the three count and made the New Day eight-time tag team champions, one less reign than the Dudleys. Big E. licking the tag team championship like we licked Dairy Queen cones back in the day. Then, remote shots of Kofi Kingston and Xavier Woods celebrating at home.
Winners: AND NEW Smackdown Tag Team Champions The New Day
Classy touch before we forget, Big E wearing a commemorative armband during his tag team championship match to mark Howard Finkel's passing yesterday.
This was actually a good show which really picked up in the second hour. The Cesaro -Bryan match lived up to what one would hope it would be while Sonya DeVille stepped up to the dish and delivered a performance that will not be forgotten any time soon. We were offered some intrigue for the M.I.T.B. event and developed a growing interest in the "Truth Will Be Heard "angle.
Steps in the right direction that have us looking forward to more. A positive and impressive end to a week that was rough and trying in so many ways.