Welcome to the first-ever Monday Night Raw preview! Tonight's show will again be in front of a crowd of WWE Performance Centre talent. Tonight's Raw is a sendoff to Rey Mysterio with Seth Rollins playing host to Rey's retirement ceremony. Austin Theory will want to build on the big win he had last week against Kevin Owens and KO will surely want to respond to last week's defeat as well. Let's kick this Monday Night Raw preview for 6/1/20 here!
Monday Night Raw Preview
Rey Mysterio's Retirement Ceremony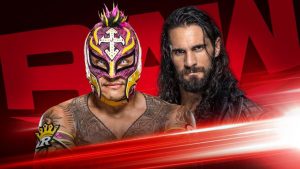 Seth Rollins will lead WWE in saying goodbye to one of its longstanding legends of the industry. In recent weeks Seth injured Rey's eye two weeks ago, this was after Rey wished Seth well becoming a father. There are questions as to Seth's intentions in hosting this ceremony. is the Monday Night Messiah doing this to honor the legacy of Rey or is there a more selfish motive behind it? Could this lead to a potential match at Backlash between the two?
Monday Night Raw Preview
Asuka vs Charlotte Flair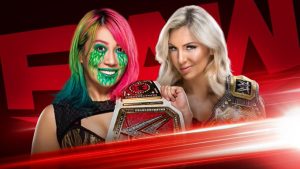 After interrupting Asuka on last week's Kevin Owens show Charlotte will face Asuka tonight. Charlotte reminded Asuka of the meetings the two of them have had in the past. Charlotte mentioning the times she's beaten Asuka on Smackdown and at Wrestlemania 34. The Queen thinks she should have been named Raw women's champion.
The newly crowned WWE Raw Women's Champion Asuka will battle with an old rival in Charlotte Flair. Both Women hold gold at the moment meaning this will be the Raw vs NXT women's champion. The empress of tomorrow Asuka will be looking for her second victory against Charlotte flair in singles competition. Charlotte undoubtedly wants to get back some momentum on Monday Nights and beating Asuka would go a long way to achieve that. Asuka also has to worry about her challenger at Backlash and whether she'll play a part in this match.
Apollo Crews Defends his United States Championship
After winning his first title on last week's raw Crews will make his first title defense on tonight's Raw. Apollo will defend his newly won belt against a mystery opponent of his choosing. The champ will want to successfully defend his belt. The mystery opponent could be anyone in the WWE. Apollo will want to be a fighting champion and he could pick from any list of a number of top contenders. Buddy Murphy would present a good challenge for Apollo. Crews may look at Austin Theory as a potential challenger after having a big win last week against Kevin Owens. We may even see Dijakovic challenge Crews if internet rumors of a main roster call up are true…
Monday Night Raw for 6/1/20
Seth Rollins vs Aleister Black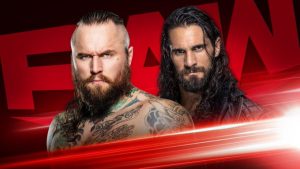 The Monday Night Messiah and Aleister Black are renewing their rivalry. Aleister has made no secret of his feelings to the actions of Seth Rollins in recent weeks. This hasn't been the first time Aleister has had a problem with the actions of Rollins. Black's problems with Seth stem from his actions towards Rey a few weeks ago. Black has notably had problems with Rollins protege Buddy Murphy in the past. The question remains though is Rollins able to overcome Aleister or will the Black Mass be too much for The Monday Night Messiah?
---
Be sure to stay tuned to the Pro Wrestling Post for this and additional stories from the wrestling world. Readers can rely on Pro Wrestling Post to be their daily source for all things past and present inside the squared circle from around the globe. As a result, readers can expect daily news, history, and so much more. Please visit WWE's official website for more information right here.