MLW Presents Never Say Never. The event has arrived, and the entire wrestling world is a buzz. For months Contra Unit has destroyed the MLW locker room. Their crown jewel Jacob Fatu has even captured the MLW Heavyweight Championship. However, Injustice and Calvin Tankman stand in the way of an absolute takeover.  At Never Say Never, both young Injustice members have matches against Contra. Jacob Oliver will attempt to defeat the ruthless scientific master Simon Gotch. His tag team partner Myron Reed will challenge Contra's super-soldier Davari. In the Main Event, MLW Heavyweight Champion Jacob Fatu will be challenged by Heavyweight Hustle Calvin Tankman. Let's take a look at these grudge matches. 
_________________________
MLW Presents Never Say Never
MLW Heavyweight Championship 

Jacob Fatu vs Calvin Tankman 
 Ever since Calvin Tankman interrupted the destruction of Injustice, the 355 lb heavyweight hustle has been a target. Contra has made it loud and clear that Tankman is public enemy number one. Not only did he save Jordan Oliver and Myron Reed from a public execution, but he also embarrassed MLW Heavyweight Champion Jacob Fatu. The Main Event at tonight's Never Say Never will be Fatu vs. Tankman. According to MLW.com, Court Bauer called this match a "dream match," emphasizing that these two are evenly matched in athleticism, size, and toughness. Keep in mind that both athletes are undefeated. Something's got to give at Never Say Never Wednesday night. 
Team Tankman has been training in Indianapolis for his date with destiny. According to a Team Tankman representative, Calvin has been training day and night, almost living in the gym.  Tankman himself has been quiet and prefers to do his talking in the ring at Never Say Never. Contra, on the other hand, has repeatedly posted warnings on social media to Tankman and Injustice. Josef Samael of Contra has said that at Never Say Never, the Contra unit will unleash a " campaign of horrors." According to Samael, every contender says they'll defeat Jacob Fatu by any means necessary, but that's what they all say just before their extinction. MLW Heavyweight Champion Jacob Fatu has been unstoppable. Many say he can never be beaten. Never Say Never.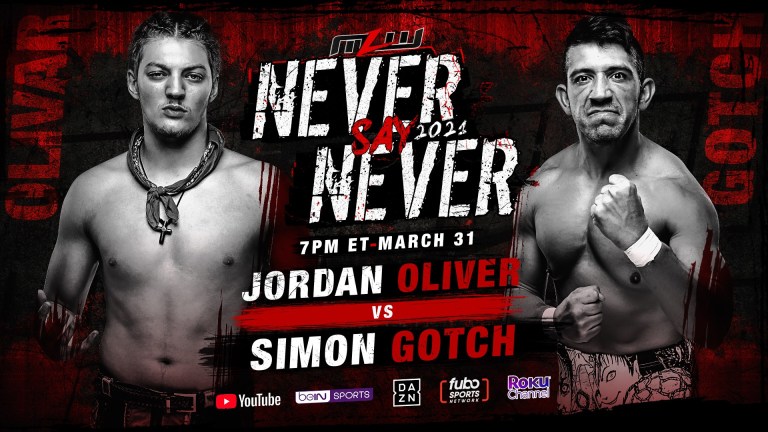 Simon Gotch vs. Jordan Oliver 
Jordan Oliver believes he's a grown a#$@ man, but at Never Say Never, he will have to prove it against Contra Units Simon Gotch. Oliver and his partner Myron Reed has been a thorn in the side of Gotch and the rest of the contra unit for months. Injustice has said that not a day goes by that they don't think about the third member of the group  Kotto Brazil being destroyed by contra.  On several occasions, Gotch has choked the air out of Oliver, leaving him struggling to breathe.
The last time these two met one on one, Gotch taught the 21-year-old a wrestling lesson. Jordan Oliver claims he's learned his lesson and is ready to defeat contras technical master. Gotch, on the other hand, has stated that he will "cripple the infidel." Gotch is a submission expert. It's possible that Jordan Oliver could have bitten off more than he can chew.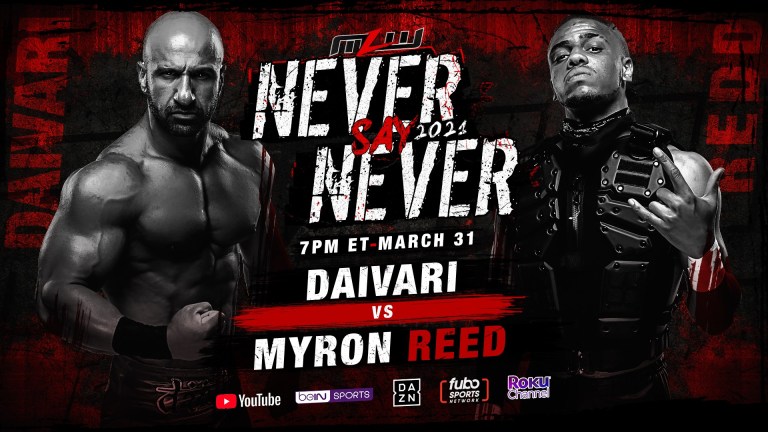 MLW Presents Never Say Never
Davari vs. Myron Reed
Like Jordan Oliver, Myron Reed is fighting for his fallen Injustice member. At Never Say Never, Reed will challenge Contra's super-soldier Davari.  Ever since aligning himself with Contra, Davari has been a machine. He is hell-bent on making all infidels suffer. Just like Oliver, Reed has been a roadblock in Contra's plans to take over Major League Wrestling. However, unlike Oliver, he is a former MLW Middleweight Champion and has been backed into a corner several times before. Hailing from Louisville, ky, where champions train, Reed is determined to make Contra pay.
Hot Fire Myron Reed believes he can start the spark that will burn Contra to the ground.  Unfortunately for Reed, this will not be an easy task. Davari is a dangerous technician who has won championships all over the world. Davari believes that Contra founder Josef Samuel has enlightened him.  That combo of technical in-ring ability and allegiance to Contra makes the super-soldier a dangerous competitor. Can Myron Reed use his high flying ability to defeat Davari? 
*****
Be sure to stay tuned to the Pro Wrestling Post for this and additional stories from the wrestling world. Readers can rely on Pro Wrestling Post to be their daily source for all things inside the squared circle. As a result, readers can expect daily news, history, and so much more. Please visit Major League Wrestling's official website here for news on the promotion and upcoming events.