Coming off a very successful Never Say Never Event, Major League Wrestling is about to ignite the wrestling business with this week's MLW fusion preview for 4/14/21. This week is all about the crumbling of the Dynasty. MLW Openweight Champion Alexander Hammerstone has challenged Mil Muertes to a match. Hammerstone wants his property back but will Mil Muertes cause the death of his two-year reign? Caribbean Champion Richard Holiday and Gino Medina have truly never seen eye to eye?
_____________________
This Wednesday, both Dynasty members will face off in a Caribbean Strap Match for the Caribbean Championship. Plus, rumors have been spread around that Azteca Undergrounds Representative Salina de La Renta had a meeting with MLW officials, giving them a business proposal they can't refuse. That and much more on this Wednesday's episode of MLW Fusion.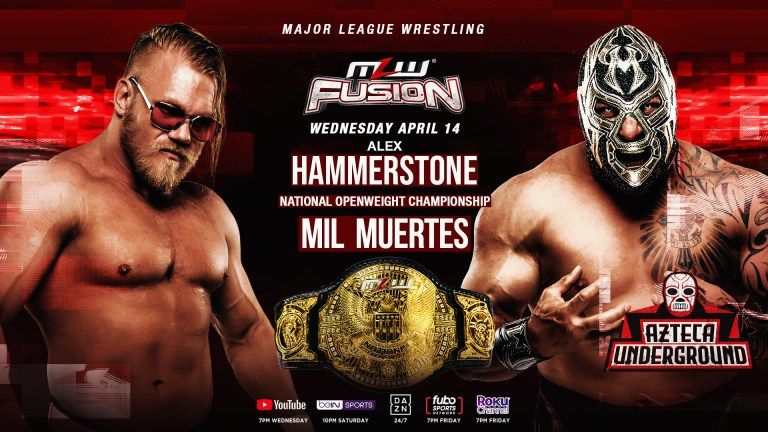 MLW Fusion Preview for 4/14/21
MLW Openweight Championship
Hammerstone vs Mil Muertes
A few weeks ago, Mil Muertes attacked Alexander Hammerstone and stole his MLW Openweight Championship. Now in possession of Salina de la Rentas monster, the title is being held, hostage. El Jefe of Azteca Underground has sent out several posts taunting the MLW Openweight Champion by saying, "This now resides in my temple." Hammerstone has officially had enough. He issued a challenge to Muertes. He called Muertes a "fraud."
Salina de la Renta has accepted the challenge. Hammerstone vs. Muertes in a one-on-one match this Wednesday for the Openweight Championship. Hammerstone has been MLW Heavyweight Champion for over a year, but his toughest challenge could very well be Muertes. Salina de La Renta claims that by stealing the title from Hammerstone, they took his soul. Hammerstone said it did the opposite and reignited him.
Salina de La Renta has been on social media stating that next week after Mil Muertes defeats Alexander Hammerstone, a public funeral will be held for the former Openweight Champion.   Can your boy Hammer defeat the man of a million deaths, or are dark days upon Major League Wrestling?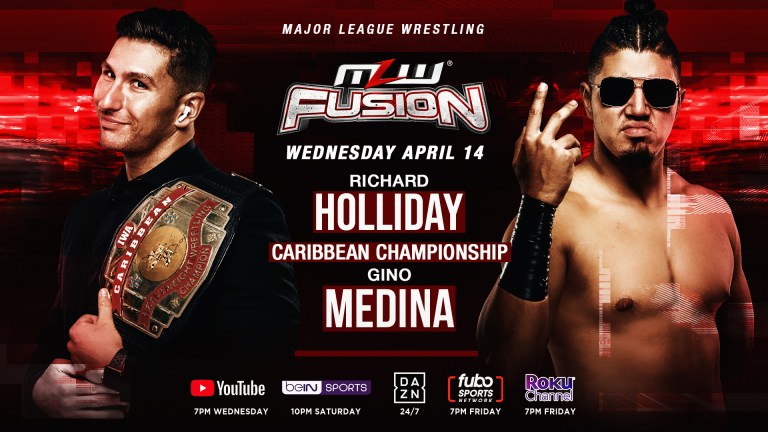 MLW Fusion Preview for 4/14/21
Caribbean Championship
Richard Holliday vs. Gino Medina
Some say a Dynasty is only as good as its members. What happens when the members no longer get along?  Gino Medina and Richard Holliday never really were on the same page. They functioned well in a group but, deep down, despised one another. Caribbean Champion Richard Holliday claims he kicked Gino out of the Dynasty, and Medina maintains that he quit.
In an interview conducted with Alicia Atout,  Holliday said the Gino Medina is " the most undynastic person he's ever met in his entire life." Gino said that Holliday " wouldn't know dynastic if it kicked him in the head and that just what is about to happen." Will the Dynasty be destroyed this Wednesday?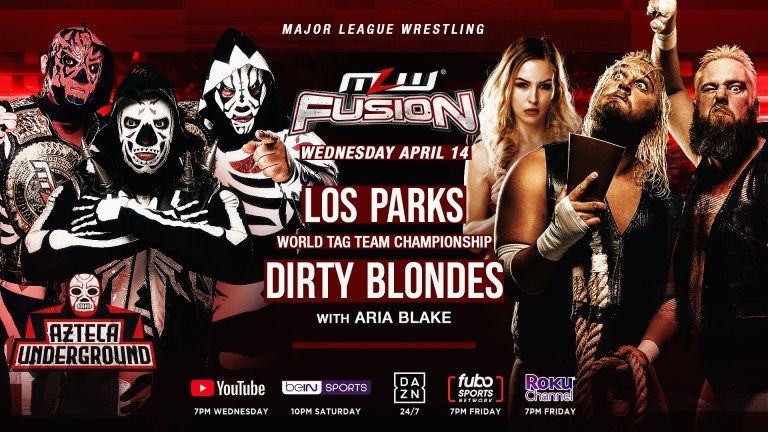 MLW Tag Team Championship
Los Parks vs. The Dirty Blondes
It seems like Salina de La Renta is involved in all aspects of this week's episode.  Earlier this week, the Empresaria met with MLW officials to discuss a blockbuster match. This Wednesday, on Fusion MLW Tag Team Champions, Los Parks will take on The Dirty Blondes with Aria Blake in their corner. Salina de La Renta has repeatedly proven that she will do anything to get the upper hand.
Will Aria Blake be able to keep her from interfering in the match? Does El Jefe know that Salina has made this deal? Find out this Wednesday on MLW Fusion.
*****
Be sure to stay tuned to the Pro Wrestling Post for this and additional stories from the wrestling world. Readers can rely on Pro Wrestling Post to be their daily source for all things inside the squared circle. As a result, readers can expect daily news, history, and so much more. Please visit Major League Wrestling's official website here for news on the promotion and upcoming events.