If you tune in at 7 pm Et on youtube or Bein Sports and expect to see MLW Fusion this Wednesday, you will be in for a filthy surprise. This Wednesday, Feb 17, 2021, Tom Lawlor will put the Filthy In February when he presents his very own special Tom Lawlors Filthy Island. Lawlor promises that this prizefight in paradise will be unlike anything ever seen. This is the MLW Fusion preview for 2/17/21.

_________________
Despite rumors the last few weeks of the show being in financial ruin, Lawlor has promised that the show must go on as scheduled. He has acquired Fanene SPAM as his new sponsor. Lawlor has stated that there will be three fights that will take place from two different undisclosed locations. He also added that the winner of each fight would receive a $100,000 prize. The loser will receive nothing, nada, zilch. In addition to that, the fight of the night will receive a lifetime supply of Fanene SPAM.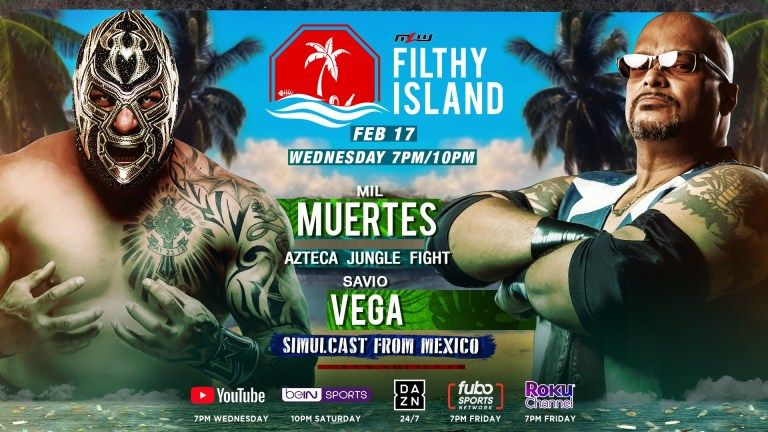 MLW Fusion Preview for 2/17/21
Azteca Jungle Fight

Mil Muertes vs Savio Vega 
Last week on MLW Fusion, IWA  promoter Savio Vega refused to sell the promotion to Azteca Underground. As punishment, "EL Jefe" has convinced Tom Lawler to book the Puerto Rican legend in a Yucatan Jungle Fight against Mil Muertes. Salina de la Renta said that the offer from Azteca Underground was not optional. Salina said her employer will take great delight in watching Muertes destroy the "Pride of Puerto Rico." She also said that Mil Muertes will be made into the King of Death after Vega is destroyed. This fight will take place at the feet of the Aztec Temples. Can Savio Vega overcome such insurmountable odds? Will Mil Muertes sacrifice Savio for Azteca Underground? Why was Tom Lawlor so willing to make this match?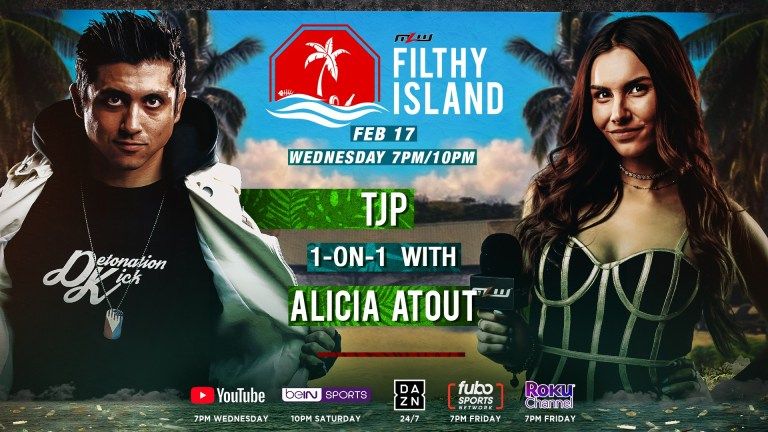 TJP Interview 
After losing to the MLW tag team champions Los Parks two weeks ago, TJP's ego became too big to bear. He turned on his protege Bu Ku Dao. It has been reported that after losing that match, TJP kicked Bu Ku Dao out of his dojo. He even went so far as to throw his belongings out on the street. Neither TJP nor Bu Ku Dao have spoken about the situation until now. This Wednesday, The Interview Queen Alicia Tout will track down TJP and get some answers. Are the rumors true? Where is Bu Ku Dao? Tout will attempt to get these answers and more on the Filthy Island special.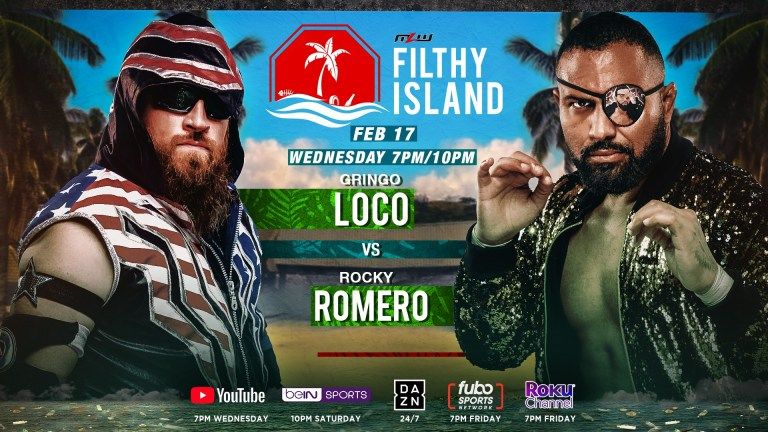 Rocky Romero vs Gringo Loco
On an undisclosed location in Hawaii, this inter-promotional match is set to steal the show.   Rocky Romero from New Japan Pro Wrestling will challenge Lucha great Gringo Loco. The Base God Gringo Loco made his debut in MLW in 2018. His style of Lucha mixed with brawling is a lethal combo that not many can match. Rocky Romero is a New Japan main eventer. He has many accolades, including the IWGP World Junior Heavyweight Championship. He was also the fourth version of Tiger Mask.  Court Bauer has reportedly stated that Tom Lawlor promoting this match could seriously destroy the inter-promotional relationship with New Japan. This match could possibly be the match of the night. We hope the participants like SPAM.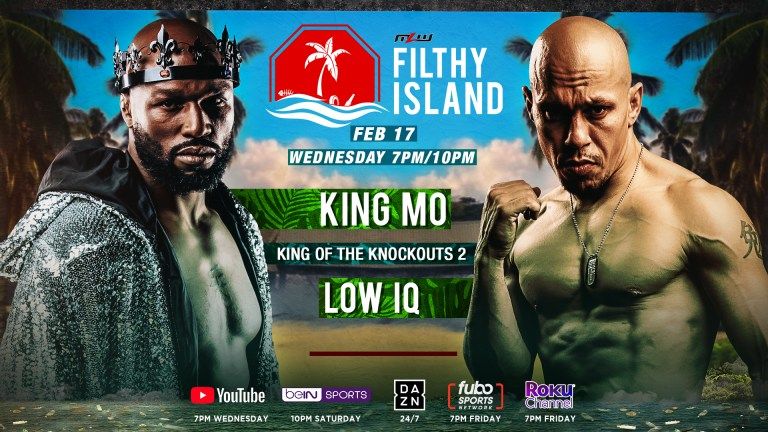 MLW Fusion Preview for 2/17/21
King of the Knockouts 2

Low Ki vs. King Mo 
This match has been a long time coming. Over the past few weeks, King Mo has been giving public service messages to keep Low Ki out of MLW to save him from the beatings he has given him. In last years King of The Knockouts, King Mo was victorious over Low Ki. Now Low Ki wants revenge. Funny enough, Mo won the match due to Team Filthy interference.  Tom Lawlor attacked Low Ki with the umbrella and knocked him out as Dan Lambert threw in Von Erich's towel. Since that match, King Mo and Dan Lambert have mocked Low Ki.  They renamed him "Low IQ." 
They even got Low Ki suspended.  Speaking of Dan Lambert, Tom Lawler has invited him to Filthy Island to give his unbiased advice.  Low Ki isn't one to be messed with. Not known for his sense of humor Low Ki does not find the duo funny. He has been doing nothing but thinking about decimating King Mo. Will Team Filthy be a factor? Will Low Ki get his retribution on King Mo? Find out this Wednesday at 7 pm ET.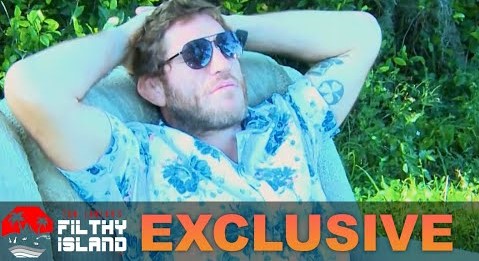 All is not as it seems on Filthy Island.

Major League Wrestling has learned that Tom Lawlers Filthy Island Special might be too good to be true. On Monday morning several of the fighters booked on the show arrived and found out that their reservations at the Undisclosed Hawaiian Hotel were canceled. According to some of the participants they attempted to contact Team Filthy but all calls went straight to voice mail. It just so happened to the Von Erich's Hawaiian ranch was located nearby. They invited all the competitors to stay with them. Ross and Marshall had no problem feeding and housing them. MLW did contact Tom Lawlor, who denied all allegations. It was also learned that this past week Team Filthy was thrown off Marriott resort property. Is Tom Lawler telling the truth? Will The Filthy Island show go on as planned. Tune into The Tom Lawlor Filthy Island Special, same filthy time, same filthy channel. 
*****
Be sure to stay tuned to the Pro Wrestling Post for this and additional stories from the wrestling world. Readers can rely on Pro Wrestling Post to be their daily source for all things inside the squared circle. As a result, readers can expect daily news, history, and so much more. Please visit Major League Wrestling's official website here for news on the promotion and upcoming events.