This week's episode of MLW Fusion for 3/10/21 is about two things…. Retribution and rivalries.  ACH will return to an MLW ring as he faces off against one of Team Filthy Kevin Ku members. Team Filthy attacked ACH like a pack of dogs a few weeks ago and put him out of action. Will ACH get even with Team Filthy?  Gino Medina will be facing Gringo Loco in a lucha libre rematch. Medina vows to expose Gringo as a "ripoff."   Calvin Tankman interrupted Contra's dissection of Injustice.  Tankman has stated that he is here to grab everyone's attention. 
__________________________
Last week he certainly grabbed the MLW Heavyweight Champion Jacob Fatus Attention. Contra does not forgive or forget.  Will Calvin Tankman pay for his disrespect to Contra?  Last but not least, MLW Openweight Champion Alexander Hammerstone will defend his title against one-half of the MLW tag team Champions LA Park.   Will Hammerstone may be distracted enough for LA Park to capitalize and bring more gold back to Azteca Underground?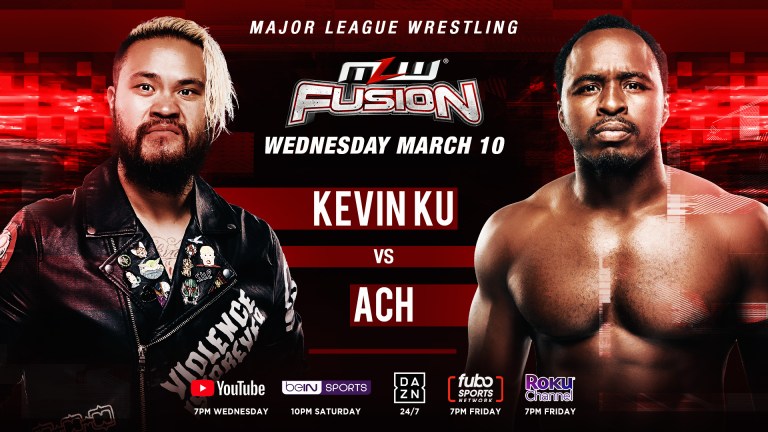 MLW Fusion for 3/10/21
ACH vs. Kevin Kru 
Since being put on the shelf by Tom Lawlor and Team Filthy, ACH has done nothing but think about retribution on the treacherous trio.  This Wednesday, he returns to MLW to face  Team Filthy member Kevin Ku.  Ku is a marked man. When MLW asked a teammate of ACH for a comment, he said, "ACH is lucky to have  a job where he can legally beat the hell out of someone who just happened to have injured him." Not only did Team Filthy put him on the shelf,  but they also cost him his championship match against MLW Heavyweight Champion Jacob Fatu.
ACH has been training with the Von Erichs at Von Erich ranch, preparing for his return. The Von Erichs also have a score to settle with Team Filthy after Tom Lawlor cost them to lose the MLW tag titles to Los Parks.  The brothers said that they would be at Fusion this Wednesday to watch ACH's back. After the Filthy Island disaster two weeks ago, Lawlor has not been seen. However, it is definitely possible that he may interfere in this match. If he does, the Von Erichs will be waiting.  
Gino Medina vs Gringo Loco 
The last time these two luchadors faced off, Gringo Loco dove from the VIP seats in the balcony onto Medina. Gino believes that Loco is a disgrace to Lucha libre.   His father is the late EL Sanguinario. He was a member of Los Gringos Locos alongside Eddie Guerrero, Konnan, and Art Bar. He even renamed Gringo calling him " The Gringo Ripoff." Gringo Loco is a veteran competitor.  The base god has competed in Mexico and AAA. He knows that Lucha is all about respect. Gringo loco is bound to do anything in this match to earn Gino Medina's respect.  Don't blink, or you'll miss the fast-paced action of these two Lucha standouts. 
Tankman is a Marked Man 
Last week Calvin Tankman showed he is Jacob Fatus's biggest threat to the MLW Heavyweight Championship.  After saving Injustice from destruction, he went toe to toe with the Samoan Bulldozer.  Never before has Contra been in danger of losing the championship, until now. The Super heavyweight could very well defeat Fatu. Contra does not forgive or forget. Tankman has officially become a marked man. Contra claims Jacob Fatu will never be beaten. His reign of terror has left a line of casualties. 
However, there is a saying in pro wrestling….Never say Never. Speaking of Never Say Never, On March 31, Major League Wrestling will present Never Say Never. This Wednesday, the main event for that night will be announced. Is Calvin Tankman going to get his shot at Never Say Never for the MLW Heavyweight Championship? Tune in this Wednesday to find out.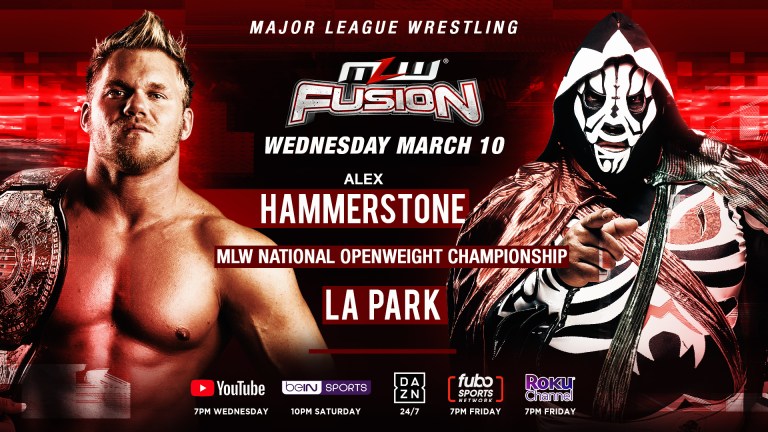 MLW Fusion for 3/10/21
MLW Openweight Championship

Alexander Hammerstone vs LA Park
Salina de la Renta said it herself; she has an addiction to gold. This Wednesday, Salina will accompany one-half of the MLW tag team champions LA Park to the ring to face MLW Openweight Champion Alexander Hammerstone. According to the Empresaria, Hammerstone is distracted from worrying about Contra. It was just a few weeks ago that Mads Kruger injured the Openweight Champion in a Bakeli Brawl.  If we know one thing,  it is that Contra does not just injure fighters; they execute them.
Contra will not rest until Hammerstone is put out of his misery.  He will constantly be looking over his shoulder, waiting for Contra to strike. That is a fact that Salina and Azteca Underground are counting on.  Will Hammerstones rivalry with Contra cause him to lose the MLW Openweight Championship? Find out this Wednesday at 7 pm ET on Youtube, Bein Sports, Fubu Sports, and anytime anywhere on DAZN.
*****
Be sure to stay tuned to the Pro Wrestling Post for this and additional stories from the wrestling world. Readers can rely on Pro Wrestling Post to be their daily source for all things inside the squared circle. As a result, readers can expect daily news, history, and so much more. Please visit Major League Wrestling's official website here for news on the promotion and upcoming events.