Mark Smith was more than a wrestler to me. He was more than a talent inside the ring. He was a friend. From the time I met him in 1999 at All Pro Wrestling in Hayward, I was amazed at his strength, conditioning, stamina, and power. I helped him get over as a "heel" in the business by becoming a manager as he put on a mask and became the mysterious and awesome force known as "Super Destroyer 2000". Then when we left APW and joined Pro Wrestling Iron, I became his #1 nemesis as he won the PWI Heavyweight title, and I was in the position of trying to find the right wrestler to defeat him for the title, which I eventually was able to do with Malachi in 2003.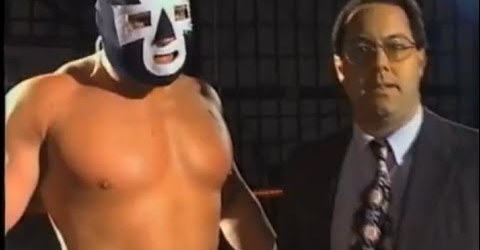 From there, Mark went on to Puerto Rico, Japan, and even Ring of Honor, where he achieved the kind of national notoriety that made him a star. But he also suffered a tremendous tragedy when he was one of the six men in the ring when Japanese legend Misawa suffered a fatal fall and heart attack, dying right there in front of him. Mark was one of the few people I knew who was able to make a living off of his wrestling ability, but he never let that get in his head. 
He was one of the most down to earth, real persons I ever knew in my life. To me, he was the most noble of warriors and stood up for what was right both in the ring and in the locker room. He was a trusted and valued member of every administration he worked for. 
Mark 'The Bison Smith, More Than A Super Destroyer
But most of all, he was my friend. 
Nine years later, and I still think about you all the time, Mark. And I probably will for the rest of my life. You will always be missed, Mark "Bison" Smith. Rest in peace, my friend.
Tribute to Mark "The Bison" Smith
By Buddy Sotello
Buddy Sotello got his start in 1999 working for the All-Pro Wrestling Federation in Hayward, CA. He moved over to Pro Wrestling Iron there to manage wrestlers in that fed. Several years later, PWI closed because the principals all went their separate ways, but in 2006 Buddy helped form the successful new federation known as California Championship Wrestling. 
A VERY SPECIAL Wrestling &Everything Coast 2 Coast with Buddy Sotello & Evan Ginzburg– Buddy Sotello's 9yr Anniversary of his death Tribute to Mark "The Bison" Smith