On May 23, 2021, All-Star Pro would present King of the Stream. At this event, the ASP faithful would pay witness to the crowning of a new champion. After Maui Mike was stripped of the ASP Livestream Championship, his tag team partner would find great fortune in Mike's tragedy. By the end of the night, Malik Mayfield would walk out of Venue 23 and wins the ASP Livestream Championship. It's time to recap how we got here.
Controversy
As first reported by Oklafan.com, Maui Mike was stripped of the ASP Livestream Championship for unprofessional conduct. With the King of the Stream tournament planned prior to the event, the champion of the stream, Maui Mike, would no-show the event. For this reason, ASP management allegedly stripped Mike of the title – and now we would have a physical prize on the line in tonight's King of the Stream tournament. Now, it's time. Let's break down the matches involved in tonight's championship tournament.
Dean Lambert vs. Drake Gallows vs. Revan vs. Warren Powers
It's entrance time, baby! First off, we have Dean Lambert (with Red Eye Guy!) Dean Lambert is the epitome of grunge. Red Eye Guy is at ringside, who is Dean Lambert's "stoner friend." Our next entrant is Revan. Revan is a kilted, dirty-looking man who is ready to take down his opponents. Next up, we have Drake Gallows. Gallows is the tag team partner of Revan and is touted as "the most likable man in All-Star Pro" by commentary. All Gallows wants to do is fight, and he comes out ready for action. Finally, we have the Michigan-native Warren Powers. Powers' entire gimmick seems to be his status as a Michiganer. It's time to get into this contest!
Starting off this match, Lambert immediately shoves Warren Powers into the match (much to the delight of the fans!) Gallows and Lambert start exchanging blows. The former tag team partners know each really well, and that came into play tonight. Powers, Revan, and Lambert all stomp Gallows into the canvas. We get a stellar tope suicide from Drake Gallows to the other three competitors on the outside! At one point, Revan lands a Rock Bottom and a People's Elbow in succession. However, Lambert would quickly end the charades of Revan. We finish the match with interference from Father Padge! Father Padge hits the ring to attack Dean Lambert, who had the victory in the bag. Drake Gallows would swoop in and steal the victory with a pinfall. Gallows is moving on to the ASP Livestream Championship match!
Malik Mayfield vs. PHoX vs. Doc Black vs. Derek James
Time for entrances! First, we have masked wrestler PHoX. PHoX is a wrestler in a guy faux mask. Not much is known about who he is or why he's here – but he's looking to make it to the finals of this tournament. Next up, we have one-half of the ASP Tag Team Champions, Malik Mayfield. Mayfield is the partner of Maui Mike (who was stripped of the prize for this tournament due to him no-showing the event.) Malik is a bundle of energy, and the crowd is energized at the appearance of this young wrestler. Next, we have Doc Black. Despite Doc Black's name, he is actually a nurse (the more you know!) Being a male nurse is somehow enough to get heat with the crowd here at Venue 23. Finally, we have "The Teenage Technician" Derek James. This match is set for one fall.
Starting off this match, everyone is cleared out of the ring by Doc Black and Malik Mayfield. Black attempts a series of strikes on Mayfield, but Malik embodies The Matrix to avoid them. As Mayfield and Black are tossing each other around the ring, Derek James is sitting at ringside, waiting for his moment to capitalize. As Black attempts a pinfall on Malik, James launches himself into the ring to break up the pin. James and Black begin squaring off, but PHoX enters the ring to cause disarray. Eventually, Black has James and Mayfield propped up in opposite corners. Black lands multiple running uppercuts to James and Mayfield in the corner. This crowd loved that spot! The match ends with Malik Mayfield dropping a huge split leg drop on his opponent for the three-count.
ASP Livestream Championship Match:
Drake Gallows vs. Malik Mayfield
(Malik Mayfield Wins ASP Livestream Championship)

Before the match begins, ASP CEO Red makes his way to ringside and delivers the ASP Livestream Championship to the referee. This match is now for the ASP Livestream Championship and the King of the Stream tournament final. Malik Mayfield makes his way down to ringside. Commentary addresses that if Mayfield wins this championship, it may cause a divide between himself and partner Maui Mike (the former champion.) Drake Gallows makes his way down to ringside. This crowd is split down the middle between these two competitors. The bell sounds, and this one is set for one fall!
Starting off, Gallows locks in a headlock on Mayfield. Mayfield backs Gallows into the ropes, but Gallows halts Malik in his tracks. This headlock transitions into the corner, where the referee counts to four before Gallows breaks it up. We get devastating chops to the chest of Mayfield. After a huge slam, Gallows lands a leg drop on Mayfield. Funnily enough, this leads to a litany of Hulk Hogan references from commentary, brother! Surprisingly, after multiple pinfall attempts, Mayfield is still in this one.
Mayfield is getting his second wind now. After a massive reversal leads into a kip-up, Mayfield lands a beautiful dropkick. Before Gallows has any time to react, Malik props Gallows in the corner and hits a back handspring elbow strike to Gallows in the corner. Gallows ends up gaining control again and locks in the figure-four leglock. After reversing the momentum of the submission, Mayfield gets to a vertical base and attempts his split-legged moonsault. However, Gallows would roll out of the way. Immediately after, Malik Mayfield would hit an O'Connor roll-up on Gallows for the shock three-count. Malik Mayfield wins the ASP Livestream Championship and the official King of the Stream.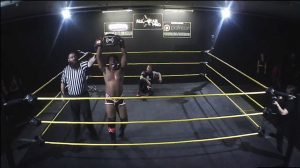 Malik Mayfield Wins ASP Livestream Championship
Where Do We Go From Here?
So the question is – now what? As a double champion, Malik Mayfield has a lot of options for feuds in All-Star Pro. With allegations of Maui Mike being stripped of the ASP Livestream Championship due to no-showing the event, it remains to be seen if Mike and Mayfield will also be stripped of the ASP Tag Team Championships. Surely, there must be some sort of animosity between Mayfield and Maui Mike upon his return. It seems as though we'll have to wait and see – but one thing is for certain. Whether you like it or not, Malik Mayfield is your new ASP Livestream Champion!
*******
Be sure to stay tuned to the Pro Wrestling Post for this and additional stories from the wrestling world. Readers can rely on Pro Wrestling Post to be their daily source for all things inside the squared circle. As a result, readers can expect daily news, history, and so much more. Please visit All-Star Pro's official Facebook page here for news on the promotion and upcoming events.