As a wrestler, sometimes the key to longevity in the wrestling business is the ability to change. For one man, it is your look and your style whenever you need to. This can't be more true for the phenomenon that is Luchasaurus. Half dinosaur and half luchador, the roots of Luchasaurus, are a world away from the behemoth of a man.
Yet, he stands in the ring in promotions across the US and beyond. To fully understand how Luchasaurus came to be, it might be worth going back to the start.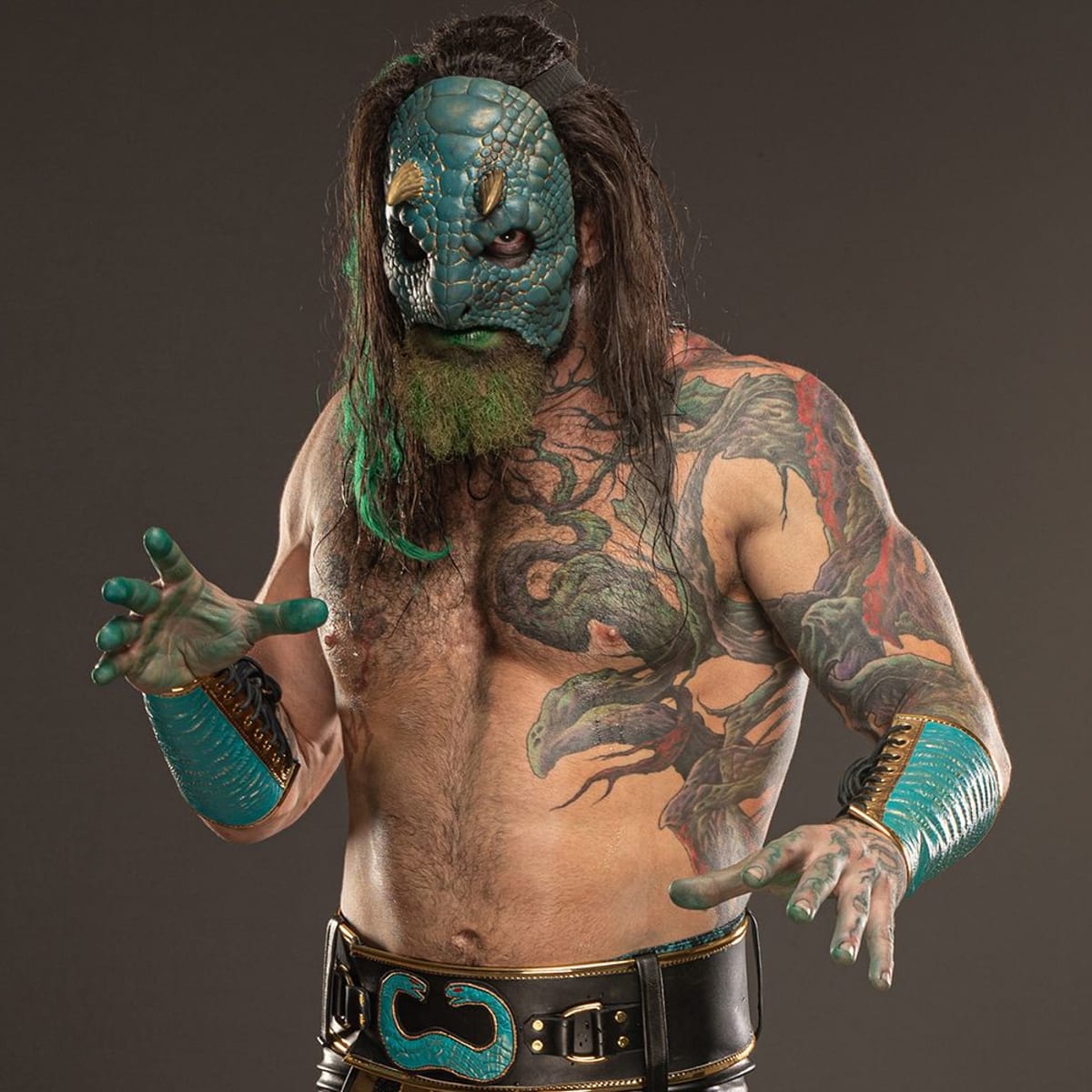 Luchasaurus | Millions of Years In The Making
Austin Matelson was born on March 10, 1985, in the good old California. Starting his wrestling training under the Ballard Brothers Shane and Shannon, Matelson made his in-ring debut in October of 2009 at New Wave Pro Wrestling in Indiana. Alongside NWPW, during his early years in the business, Matelson also wrestled matches in well-known American promotions from the National Wrestling Alliance and Championship Wrestling from Hollywood under the ring name 'W'.
However, in 2012, Matelson signed a developmental contract with WWE and went to Florida Championship Wrestling (FCW), where he wrestled under the name Judas Devlin. He made his debut in August, teaming with Corey Graves against Briley Pierce and CJ Parker (now known as Juice Robinson). Here, he continued having matches through the change into NXT. However, after suffering a severe spinal injury in 2014, he was released.
Matelson then took a break from the business where he went appeared as a contestant on series 17 of Big Brother, placing 5th in that series.
Half Man – Half Amazing

However, he made his return to wrestling in 2016. It was at that time where he joined the promotion Lucha Underground. He debuted under the name Vibora in the Reptile Tribe stable. With members such as Daga and Kobra Moon, alongside Pindar and Drago, he won the Trips Championship. It was in May of 2016. As well as working for Lucha Underground until 2018, Matelson also fought in promotions like Millenium Pro Wrestling, where he eventually picked up a win over then-champion Danny Divin to win the MPW Heavyweight Champion.
However, one big moment which would impact the career of Matelson was his match teaming with fellow Big Brother contestant Jessie Godderz. Under the team name Team Big Brother, they made their Bar Wrestling debut where they defeated the team HATE (Peter Avalon and Ray Rosas), who are known now as PPRay.
The Debut
This was then followed by another landmark, the debut of the wrestler we know as Luchasaurus in a Bar Wrestling and House of Hardcore in 2017.
A reason why these two moments are so significant is that Luchasaurus has become a household name in independent wrestling. He has also become a staple of Bar Wrestling. From his return to Bar as Luchasaurus in August for Bar Wrestling 3, it started a dominating and extremely exciting run in the company. He has had some fantastic matches both as singles competitors and in teams. These include matches against Moose, Tyler Bateman, and teaming with Super Panda and Taya Valkyrie.
With such an amazing size to him and the agility of someone half his size, Luchasaurus can literally do anything! It's exciting to see what the future holds for him, but this is only the start of an amazingly long and successful career.
With the prospect of working in promotions such as All Elite Wrestling and Ring of Honor, Luchasaurus' star is as bright as its ever been. So what does the future hold for the man that boasts of being over 2,000,000 years old? If the present is any indication, a bright one filled with dominating wins and championship titles all around the world.