Welcome to ¡Esto es Lucha! The place to learn all about the different promociones (promotions) of lucha libre! And this is the place to feel and learn about lucha libre news and culture in Mexico, Puerto Rico and Chile. In this post you will learn about CMLL, IWRG, and various Luchadors' news. This time in Esto es Lucha, we will talk about some events and luchadors from these promotions. We'll talk about the main events of week from CMLL and IWRG, and news about Daga, Triton, Sangre Azteca and Puma King. 
WEEKLY PROMOCIONES
CMLL
Arena Puebla was a witness to two great matches last Monday.  The semi-main event match was one fall contest with Mecha Wolf and Temerario against El Audaz and Titan. In the main event of the night was Los Guerreros Laguneros (Euforia and Gran Guerrero) and Los Hermanos Chavez (Angel de Oro and Niebla Roja) for the CMLL World Tag Team Championships.

Mecha Wolf and Templario vs El Audaz and Titan: This match was different for CMLL because was there was only one fall. These four luchadors gave us a great match with good speed, dives, and spots. Mecha Wolf has had some dates with CMLL in Mexico City and Puebla; he still represents his company The Crash as well. The match was defined by Mecha Wolf and Titan. Mecha hit a powerbomb and 450 splash to defeat Titan.

CMLL Tag Team Championship Match:  Los Guerreros Laguneros gave a chance to Los Hermanos Chavez for the belts. The match was a traditional two out of three falls contest. The first fall was won byAngel and Niebla but the second one the champs fought back and got the fall via submission. The last fall was intense, with great moves and combinations by both teams. Angel de Oro and Niebla Roja showed their skills with moonsaults from the corner and somersaults. In the last moments, the match was for any team and both teams gave everything. Los Hermanos Chavez hit an incredible double tope suicida. Then they tried to connect with a double superkick but Los Guerreros were able to get them in a submission to get the victory.

Con una Svástica Doble, Los Guerreros Laguneros derrotan a los Hermanos Chávez, manteniéndose como Campeones Mundiales de Parejas del CMLL!#LunesClásicoCMLL pic.twitter.com/g8iSGrOD8g

— Arena Puebla (@Arena_Puebla) September 3, 2019
IWRG
On September 1st, IWRG had a great card and we'll talk about some of the matches. These matches were intensel if you don't know this promotion, their style is a mix between highflying and technical classic.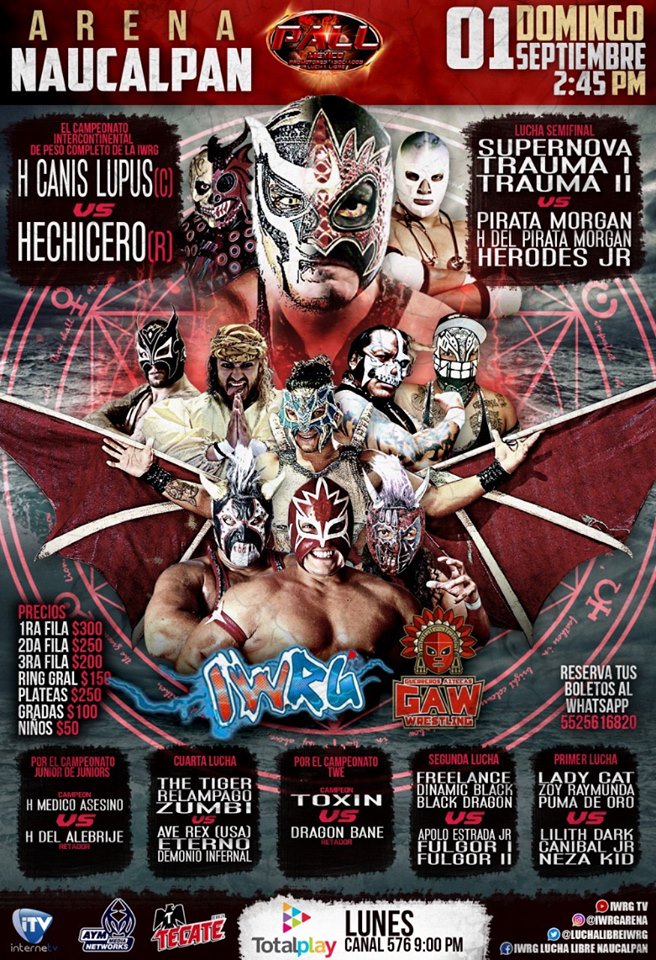 The first match was between Dragon Bane and Toxin. About these guys, they have participated at AAA in the first matches, IMPACT and indy Mexican circuit, but they always have shown greats moves, and they always left their soul in the ring. This time was for TWE Championship, the match had everything, they showed us their great technical skills as Mexico's called Llaveo contra Llaveo. But then, they showed their dives and Toxin applied some power moves. Really, these guys showed a great match. Something funny was Dragon bane danced with a woman, but then he gave everything for the belt. Toxin got the victory and the belt but the referee didn't see when he was counting Dragon Bane took the rope. We hope a rematch to enjoy their abilities.
legend @bane_dragon pic.twitter.com/B9cMLIsMIr

— kaz (@PsychoLoco4L) September 4, 2019
Also, IWRG gave us another great match for Junior de Juniors Championship between Hijo del Medico Asesino and Hijo del Alebrije. Hijo del Medico Asesino is a great luchador, some years ago, he was part of WWE in FCW, but he didn't use mask then he came back, and he used his mask again. This match was a classic IWRG style. They fought for every space of the Arena. They tear their mask and Medico was bleeding in the match. Also, they hit with chairs and table. Alebrije showed his great ability when he applied some moonsault and tornillo to try to defeat Medico. The match was for Hijo de Medico Asesino, and he still is champ.
The main event was Hijo de Canis Lupus and Hechicero. Hijo de Canis Lupus gives a chance to Hechicero for IWRG Intercontinental Championship. Hijo de Canis Lupus as Dragon Bane are favorites by IWRG's crowd. But, we know about Hechicero is great technical luchador and until he has been in PWG. The match was intensive and with a tremendous technical move. Also, we saw some punishments with both luchador, they used all his power to weaken each other. Then they showed their speed when Canius Lupus applied to Hechicero a plancha from the tope of the corner to the first row. Then Hechicero applied a moonsault against Canius Lupus and the referee, the referee needed to leave the match. The match was to Canis Lupus when Hechicero tried to apply a punishment, but he got off Canius' mask.
IWRG NEWS
About IWRG, last week they have announced that they will have a relationship with NOAH. This isn't the first time that IWRG has this interchange of the roster. Many years ago IWRG helped to origins of Dragon Gate or Toryumon, Ultimo Dragon and the first generation of Dragon Gate learned Mexican Lucha Libre base. Some wrestling web page has announced this information. And the first ones to go to NOAH will be Dragon Bane and Hijo de Canis Lupus, they are a great luchadors and they are favorite of Arena Naucalpan. So, we hope for the great success of both companies.
⚠️ #ATENCION ⚠️

El Hijo de Canis Lupus y @bane_dragon Llegarán a la Empresa Japonesa Pro Wrestling NOAH #OrgulloMexicano ??#LuchaLibre #LuchaLibreMundial #ProWrestling #Wrestling #LuchaLibreMexicana pic.twitter.com/1LgUuiwmA4

— Lucha Central (@LuchaCentralCom) September 3, 2019
LUCHADOR SPOTLIGHTS
PUMA KING
Puma King, this August, he had the opportunity to come back to Japan with DDT. After to come to Japan, Puma King and other Mexican luchadors had an awesome match in PWG. But, his journey this time was a success, Puma the first match captured DDT Iron Man Heavy Metal Title against Yuki Ueno. He lost the champ in Gauntlet Battle Royal but the same day captured it against Kazuki Hirata. The last date he lost it and again he gained the champ. He will have the champ and he announced that the belt will defend in Mexico and the USA.
Hoy fue mi última lucha en Japón ??, les cuesto que fue otro Main Event, perdí el campeonato… pero lo volví a recuperar. ???
Me lo llevaré a México ?? y USA ??.#ddtpro#PumaKing #Damnination https://t.co/AlmfhNJdwn

— ?? Puma King (@PumaKingOficial) September 7, 2019
SANGRE AZTECA and TRITON
Another news, Sangre Azteca and Triton left CMLL. Sangre Azteca was in CMLL for many years, he had great matches against Ricky Marvin, Volador, etc. Now, he decided to leave this company, he wants to search for new challenges and the best opportunities. Now, he was participating with NLL and also he had a confrontation with Hijo de Octagon. The same case is for Triton, he will be fulfilling are last dates with CMLL. Last week, he was part of Global Wars Espectacular with ROH and CMLL. Rey Triton will be the name as independent, he shared the first match will be against Flamita.
Amigos!!! ? Recuerden que ya están a la venta mi nueva línea de productos oficiales, las nuevas sudaderas y playeras con diseños especiales para todos ustedes. ??? para más información manden mensaje ?#sangreazteca #luchalibre #souvenir #cdmx pic.twitter.com/sV3THojUgq

— sangre azteca (@sangreazteca4) September 8, 2019
Estas son las oportunidades que yo buscaba pic.twitter.com/HyfpdsjejY

— Rey Triton Oficial (@TRITONCMLL) September 5, 2019
DAGA
Last week via Twitter, Daga "El Jefe" confirmed that he signed with IMPACT. It's a great opportunity for him. Daga has wrestled with various companies like AAA, The Crash, MLW, Dragon Gate and now he will be part of the roster of IMPACT. Daga some weeks ago, he supported to LAX in IMPACT. You have all the reviews and the matches of Daga and IMPACT here en PWP.
IMPACT El Jefe is here. pic.twitter.com/lrHlpQV0n4

— DAGA (@Daga_wrestler) September 5, 2019
Thanks for reading us and check us out next week as we continue to share all about wrestling in Mexico, Chile and Puerto Rico here on ¡Esto es Lucha! Lucha Libre news!