Welcome to ¡Esto es Lucha! The place to learn all about the different Promociones (promotions) of Lucha Libre! And this is the place to feel and know about Lucha Libre News and Culture in Mexico, Puerto Rico and Chile. 
This week, you'll read in this post about Mr. Niebla, CMLL, AAA, and The Crash. This time in Esto es Lucha, we will learn about some events and luchadors about these promotions. We'll talk about the main events of week and news about these promotions, so, let's go to the latino wrestling world. 
MR. NIEBLA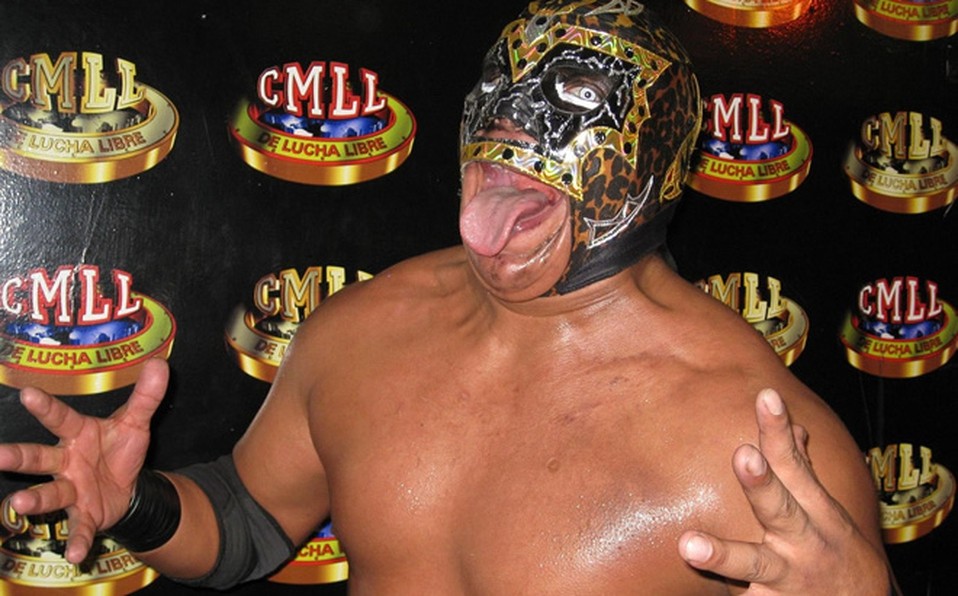 Last week, we received bad news of Mr. Niebla, this great luchador "El Rey del Guaguanco" had passed away. Mr. Niebla had an infection in his blood then had further complications. He spent 29 years in this industry and had a lot of great achievements. Throughout his years, he won the masks of Shocker, Mr. Niebla IWRG, Ebola and Super Brazo. He also had the opportunity to win the hair of Lizmark Jr, Cavernícola, Bestia Negra and MS1. Mr. Niebla held in his time, the championships of CMLL Heavyweight Championship, CMLL Tag Team Championship, CMLL Trios Championship, and Mexican National Trios Championship. He was one of the luchadors to have had the opportunity to work in both of the major companies of Lucha Libre in Mexico, AAA and CMLL. Niebla was part of The Vipers in AAA and in CMLL, he founded  La Peste Negra with Negro Casas, Felino, and Barbaro Cavernario. We will remember this great man in every corner of all Arenas in Mexico because he gave us his great charisma, joy, delivery, heart, sweat, blood, and his great spectacular style, so thanks for everything, Mr. Niebla. 
CMLL
CMLL had a great week because we knew about different rivalries and great moments of the history of Mexican Lucha Libre. On the 25th of December, CMLL had a Cibernatico tournament to crown the first Microestrella Champion. This tournament featured Atomo, Microman, El Gallito, Chamuel, Guapito, and Periquito. It was divided by technicos and rudos but in the end, only two would be looking at the gold. Chamuel and Microman were the last luchadors in the ring and Chamuel pinned Microman and got the victory. Chamuel defeated Microman with the help of the ropes. Chamuel is the first champ but Microman will seek revenge.
? ??? ??? ??? ??? ?
FOTOS: Reporte de la función especial de #NavidadCMLL en la Arena México en https://t.co/1yQrmiSHkB
¡Chamuel es el primer Campeón Mundial de los Microestrellas!
? ??? ??? ??? ??? ? pic.twitter.com/xaUWJxfO3v

— Lucha Libre CMLL (@CMLL_OFICIAL) December 26, 2019
Ultimo Guerrero and Bandido, this rivalry between the master and his pupil has given good taste. December 25th was the second chance for Bandido; he had faced Guerrero for the first time in his debut at Arena Mexico. Bandido was helped by Mistico and Diamante Azul and this time had the victory over Los Guerreros Laguneros. We need to wait to see more about this rivalry, will Bandido seek his master's hair? 
Bandido logra superar a Ultimo Guerrero con un suplex aleman! El alumno supera al maestro en la lucha estelar de la función especial de #NavidadCMLL pic.twitter.com/vTlJHZQodl

— Lucha Libre CMLL (@CMLL_OFICIAL) December 26, 2019
Ultimo Guerrero isn't the only one who wants to defeat Bandido. Last Friday in the main event Caristico, Bandido, and Volador Jr went against Gilbert El Boricua, Cuatrero, and Forastero. This match bore the next rivalry for Bandido as Cuatrero selected to him to be the next victim of NGD. It was won by NGD and Gilbert, Cuatreto used his abilities rudo and defeated Bandido, Bandido asked him a single match for the first Friday of 2020. This will be a great match and great challenge by both, the most important is that they want to show the best of each one.
Cuatrero aprovecha que el referí fue golpeado para vencer ilegalmente a un Bandido, que de inmediato lanza el desafío para medirse en mano a mano. #ViernesEspectacularCMLL pic.twitter.com/amdVGKMglc

— Lucha Libre CMLL (@CMLL_OFICIAL) December 28, 2019
????????????
? ARENA MÉXICO
? VIERNES 3 de Enero '20
⌚ 8:30 p.m.#ViernesEspectacularCMLL
?️ Taquillas de la Arena México y @Ticketmaster_Me
???????????? pic.twitter.com/JnloT2Oshk

— Arena México (@Arena_MX) December 28, 2019
CMLL has announced a great event to start 2020 and this event will be 1st January and it's called Sin Piedad or No Mercy. In this event will have in the main event a hair match between Dulce Gardenia and Kawato San, this rivalry has grown the last weeks until to put their hairs in the table, this type of match is when they don't have alternatives and they want to destroy them. So, this match will be insane. But, that's not enough, Caristico and Mistico will give an opportunity to NGD (Cuatrero and Forastero) by CMLL Tag Team Championships… another great match by this first night of 2020. But, CMLL wants to start with great form and in the card was booking a Mask Match between Principe Diamante and Espiritu Negro. Great night and the great event of CMLL. We'll have the results here on the Pro Wrestling Post.
????????????
? ARENA MÉXICO
? MIÉRCOLES 1º de Enero '20
⌚⚠️ 5:00 p.m.
? FUNCIÓN ESPECIAL DE AÑO NUEVO#SinPiedadCMLL
?️ Taquillas de la Arena México y @Ticketmaster_Me
???????????? pic.twitter.com/dRIWthXgiM

— Arena México (@Arena_MX) December 26, 2019
AAA
AAA has announced the first event to 2020 and it'll be 25th January in Mexico City and the event is called Nacemos para Luchar or We are born to Fight. The main event will be amazing in Trios match between Psycho Clown and Lucha Bros against Los Ingobernables (Rush, L.A. Park, and Bestia del Ring). This match will be full of great moves and intensity, Konnan has announced that Los Ingobernables come to destroy AAA but Psycho and Luchas Bros will try to stop them. The Semi-final, it's about the rivalry Drago and Blue Demon Jr, but that day they will have company. Drago, Pagano, and Aerostar against Blue Demon Jr, Chessman, and Monsther Clown. Also, Mixed Tag Team Championship will be in the line between Big Mami and Niño Hamburguesa vs Lady Shani and Dinastia vs Arez and Keyra vs Lady Maravilla and Villano III Jr. Also, Hijo del Vikingo, Los Mercenarios, El Poder del Norte, Octagon Jr, Aramis, Puma King, Myzteziz Jr will be in the event. Great card to start in 2020.
? Gira #NacemosParaLuchar 2020 ?

Inicia el próximo ? 25 de Enero | ? @PepsiCenterWTC
? Toda la info para la compra de boletos, aquí: ?https://t.co/Lzjn82QITC pic.twitter.com/nZaBCvOg2Y

— Lucha Libre AAA (@luchalibreaaa) December 29, 2019
THE CRASH
The Crash will come back to his house in Tijuana and the next 18th January. That Saturday will see a great card in the main event between Damian 666, Bestia 666, and Mecha Wolf against Los Navarro (Negro Navarro, Trauma I and Trauma II), this match will have everything because of Damian and Negro Navarro are master of Lucha Libre, Damian is a master and expert of Lucha Libre Extrem and Negro Navarro is a master of Lucha Libre of llaveo and contra llaveo. But, Rebelion Amarilla will give all their power to Los Traumas and they will show that they are the best team.
Semi-final will be the first edition of Copa International The Crash, this will be a four-way dance match between Mesias vs CIMA vs Dragon Lee or Ryu Lee vs Angelico. Mesias or Gilbert El Borica has worked in the Crash and he has shown his great talent but now he'll need to win this Cup. CIMA the leader of STRONG HEARTS will be one more time in Tijuana, now with this great opportunity to show all his experience. Dragon Lee is the favorite of this match, ROH TV Champion wants another great step in his career and that night will be another victory. And the last one is Angelico great luchador who learned Lucha Libre in Mexico and one of his masters was Negro Navarro, now he has great skills to gain the victory.
And The Crash added to the card an international Tag Team Match between Flamita and Oráculo against STRONG HEARTS (El Lindaman and T-Hawk). Great match that we will enjoy it with the different styles in the ring.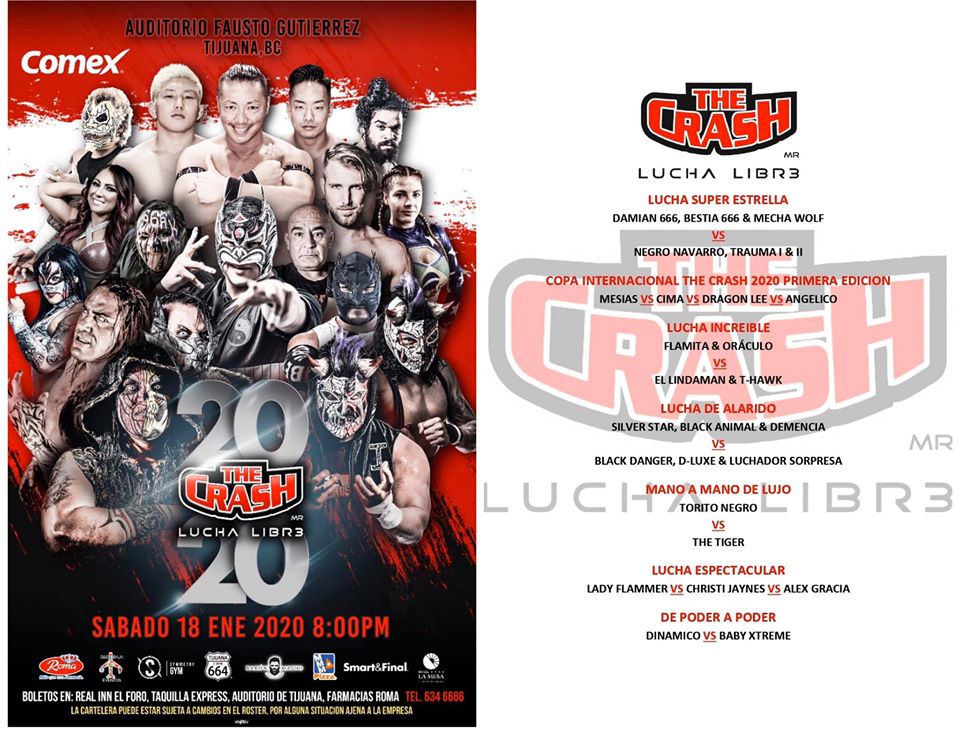 Thanks for reading us and check us out next week as we continue to share all about wrestling in Mexico, Chile and Puerto Rico here on ¡Esto es Lucha! Lucha Libre news!