Los Lotharios are a family rich in tradition. While other Latin families such as the Guererros or the Colon's may have likely gained more recognition, cousins Angel Garza and Humberto Carillo have ushered in a new sense of purpose for Luchadore's competing outside of Mexico.
However, before addressing how they came to be, it is important to recognize their family ties in wrestling and the rich family ties of the Garza's.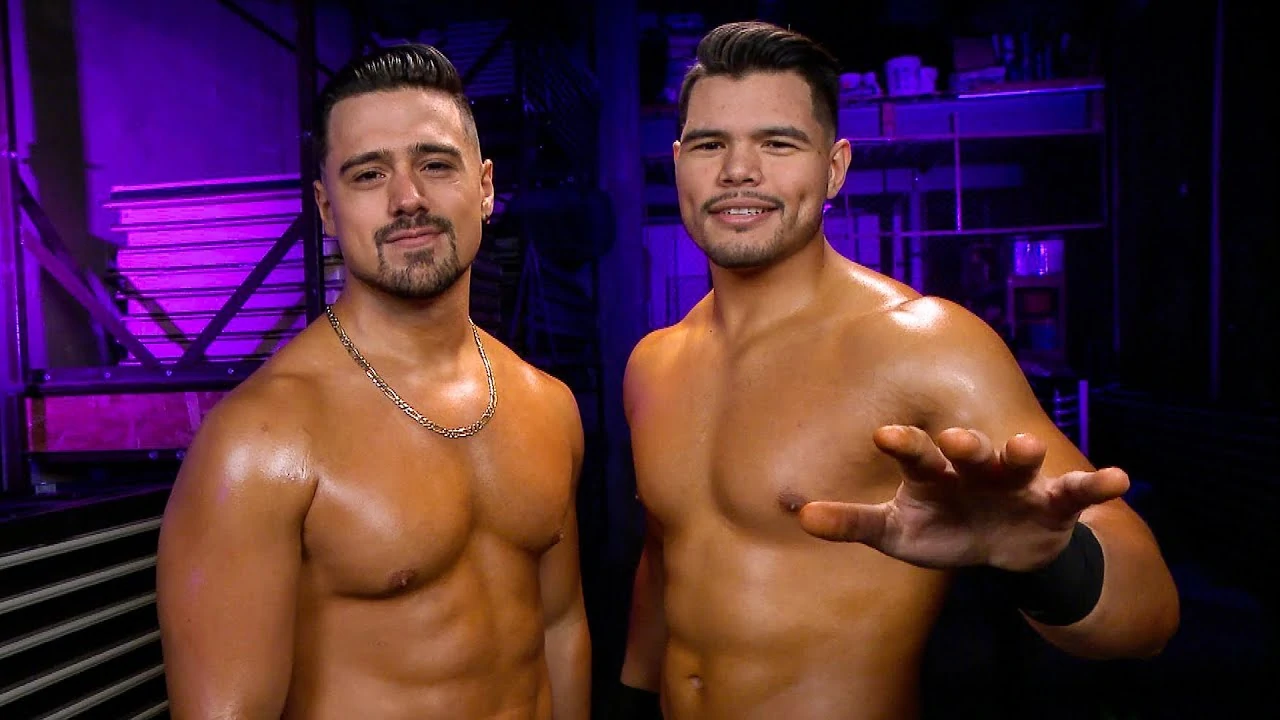 Los Lotharios – The Origins of El Hijo del Ninja & Ultimo Ninja
Humberto Garza Solano hadn't competed under the name Angel Garza until he came to the WWE in 2019 after signing with the company. For the majority of his career, he did use the Garza name. In fact, as a third-generation wrestler, it was actually as 'Garza Jr' where he would make his mark.
For the first seven years of his career, Angel would compete as El Hijo del Ninja (translated to mean 'The Son of the Ninja'). The name had ties to a superhero-like persona. One that wasn't unlike many luchadors. The enmaskarado or masked wrestler to which Garza played competed in FMLL, learning his craft.
Garza would initially study under his grandfather Mario Segura. Segura was 'El Ninja' to which Garza would take his wrestling name as a sign of respect. But after four years of wearing the mask, Garza would willingly remove his mask. The reason wasn't until the ties of a traditional lucha libre match but because of his celebrity status.
Los Lotharios – An Unconventional Path
In a Mexican dating reality show, Garza removed his mask and never decided to put it back on. Garza has not worn one ever since. Later on, Garza would later compete in a bet matchup, the Lucha de Ampestas contest, to which his winning forced the losers of the match to have to remove their masks.
A true sense of prestige was tied to winning the Lucha de Ampestas matches. Much like a prizefighter that has moments of his career that would act like trophies of forcing his opposition to unmask and reveal his identity.
Garza's string of Lucha de Apuestas matches continued with tag team matches alongside Silver Star. But unlike his partner, he had his mask at stake as El Hijo del Ninja against Memo Valles's hair. Garza was successful and thus forced Memo to have his head shaved. The ultimate in humiliation and degradation. He also defeated Dorada Jr as well, forcing him to have his head shaved as well.
With Llaves Y Candados (LYC) in operation, Garza found himself working for them as well. In the process, he captured the LYC Championship. But would later relinquish the title once the promotion was no longer recognized.
Los Lotharios – Battles in the Lucha de Apuestas
It would be after his appearance on the dating show that also brought on the appearance of Konan Big, which would lead to another Lucha de Apuestas match between the two. At stake was El Hijo del Ninja's mask against, strangely enough, Konan Big's hair! The one-on-one match-up turned into a fatal four-way in a steel cage. But it ultimately led to Big losing and having his head shaved.
By 2014, Garza Jr was all the buzz in Mexico, and the media at the time shared IMPACT Wrestling's interest in him. But it was the following year when Garza and his cousin Ultimo Ninja (Carrillo) would capture the LYC Tag Team Championships.
It was after a loss to  Dr. Wagner and Silver King for those tag team titles that would further along a feud between families. The Garza's and La Dinastia Wagner. The feud even saw the patriarch El Ninja also, compete in the rivalry as well.
Los Lotharios – Walking Their Own Paths
It would be in 2015 when Garza Jr would leave behind the El Hino del Ninja name. This was also the time in which he joined Triple-A as well. He would be introduced at Triple A's Hèroes Inmoratales IX event as Garva Jr. It was also at this time that his actions in the ring weren't unlike his uncle Hector.
By the following year, Garza Jr would be elevated from mid-card to main event a year after he first debuted for the company. A few months later, he would face another future WWE talent El Hijo del Fantasma (Santos Escobar), for the Triple-A World Cruiserweight title.
A wrestler is only as good as their ability to grow, mature and evolve. This was the case for Garza J. He would leave Triple-A in 2017 to compete in other Mexican promotions such as The Crash. Garza Jr, along with Rey Fenix, Daga, and Pentagon Jr all said they were free of Triple-A.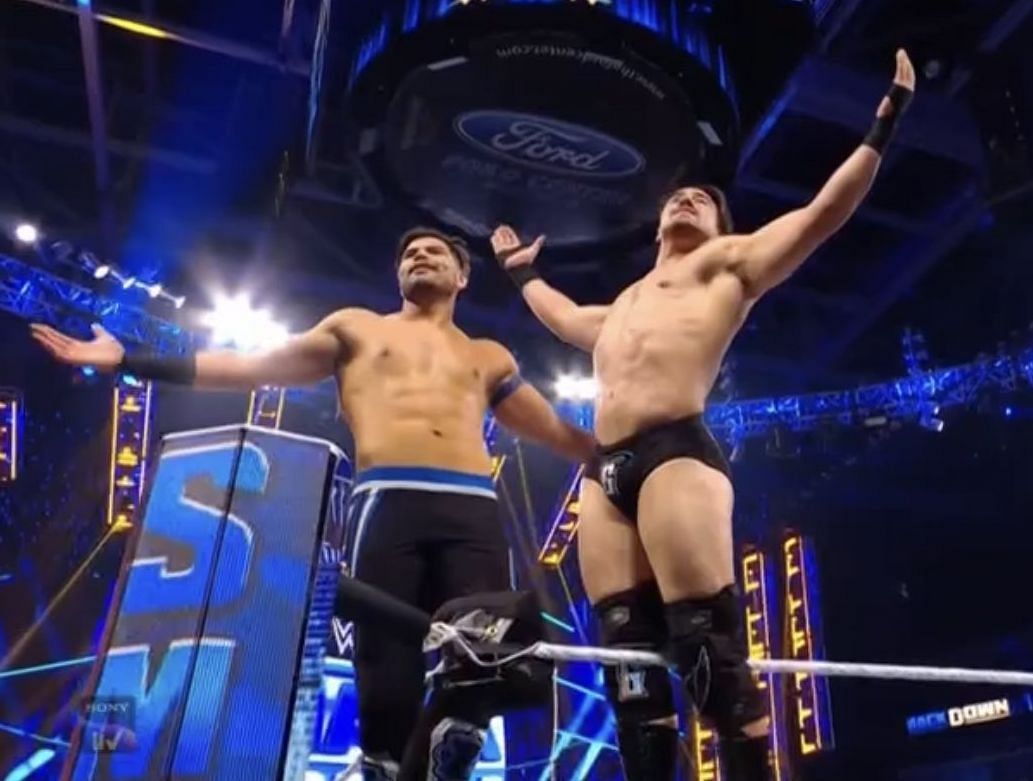 Los Lotharios – Hands Were Tied
But as it turns out, Garza Jr, would share that he was prevented from working for other promotions in Mexico as Triple-A had said he wasn't available for other bookings as he was working for them. But in reality, Garza Jr wasn't booked at all. He would eventually be free from any association with Triple-A upon his time now in America.
Garza Jr and fellow luchador Laredo Kid would debuted for IMPACT! In 2017 as part of a tag team match. He would compete for either the IMPACT World Tag Team and GFW Tag Team Titles along with the X-Division Championship over the course of his time there.
As 2018 came to be, Garza Jr would become Angel Garza, and the WWE would become home. But whatever happened to his cousin Ultimo Ninja? His journey has been somewhat meteoric in comparison.
Los Lotharios- Ultimo Ninja Walks Alone
In the case of Humberto Garza Carillo, his wrestling story isn't as rich in comparison to his cousin. His career saw him first compete as Ultimo Ninja. Alongside his cousin, Angel (who competed as El Ninja Jr) the two competed in Monterrey, Mexico, together.
As the grandson of Hector Garza Jr, this third-generation talent has demonstrated skills that are reflected in the Lucha Libre style and methodology of wrestling. He would wrestle in Mexico for six years, competing for such promotions as Cassanova Pro, Nuevva Generacion Xtrema, and Lucha Libre Azteca.
His movement throughout the country provided him with a great deal of exposure to various talents from all over the world not just Mexico.
When he began to compete outside of the Mexican promotions, he could be seen competing early on for such United States-based promotions as Major League Wrestling. Humerto's ties to Japanese promotions saw him also compete for Pro Wrestling Noah as well. As Ultimo Ninja, Humberto captured several tag team championships.
Both men have now made their way to the United States. The cousins found that they were on the opposite sides of the proverbial wrestling coin. Angel would be the cocky heel, while Humberto would be the beloved face. The two men played to their strengths. Their qualities in the ring truly shine.