As pointed out last time, this week's episode of New Japan Pro Wrestling's Lion's Break Collision was bigger and better with even more matches and stars. With a whole hour of action, there was something to satisfy every wrestling fan's taste buds. Here is our Lion's Break Collision review for Episode 4.
In the opening match, we saw Young Lion Alex Coughlin versus UFC star Tom Lawlor who made a huge impact during his New Japan debut last week against Rocky Romero.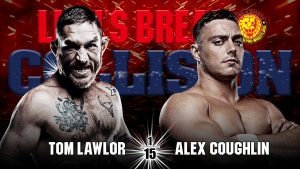 Lion's Break Collision Episode 4
Tom Lawlor vs Alex Coughlin
The initial moments of the match were very much based on the mat with both men exchanging holds and trying to get their opponent into a state for a potential submission. Unfortunately, Coughlin quickly learned that it was going to be hard to try and rival someone as experienced as Lawlor. This didn't stop Alex from really putting his heart into the match! With a match that was mainly based on the mat, it was different from a lot of other matches we've seen from the Young Lion in the past.
Considering the experience difference, Coughlin surprisingly managed to get in some offense and lasted longer than many thought holding his own and utilizing his own form of submission wrestling. However, in the end, Lawlor caught Coughlin in a ground octopus and won via pinfall.
The second match of the night saw two names that have made a name for themselves during Lion's Break Collision. It is also a match between two men extremely proficient in the art of technical and high-flying wrestling: Misterioso v Danny Limelight.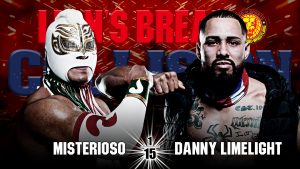 Misterioso vs Danny Limelight
In the opening minutes, it was a surprisingly slow-paced bout. Obviously, this didn't last long and, before fans knew it, we were seeing a more Lucha based offense from both men. It showcased just how talented, athletic and skilled both men are despite the difference in experience and training. There were DDT's, hurricanrana's and plancha's combined with some strength and basics which were enough to please any wrestling fan.
However, it seemed like, within no time at all Misterioso hit the MSO and got the win. Many were surprised with how quickly this match finished in just under 5 minutes but it might have come down to Misterioso's experience. However, this will not be the last we see of Limelight and he has a lot more to showcase New Japan fans.
After two singles matches, we had a typical New Japan tag match. This bout had a very Californian theme to it with Rocky Romero and Rust Taylor going against TJP and Young Lion Clark Connors. However, going into the match, Romero and Taylor had a distinct advantage with almost twice as much experience combined than veteran TJP and Connors.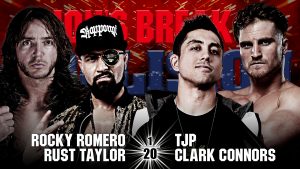 Rocky Romero & Rust Taylor vs TJP and Clark Connors
Two veterans, in the form of Rust Taylor and TJP, started the match for their teams. Within the first few minutes of the match, we progressed from a trade of lockups and submissions, but the speed of the match quickly increased as both men flew across the ring. We then saw a series of near falls as both men attempted to finish the match quickly followed by submission attempts by two men very well versed in this style of wrestling.
We then saw two generations of LA Dojo trainees with Rocky Romero (who was part of the original Dojo) and Clark Connors. The two smaller men in the match started with a battle of strength and speed in the center of the ring. Connors seemed to have the initial advantage over Romero backing him into a corner and hitting him with some stomps. However, the King of Sneaky Style quickly got even finding his way back on top with some tandem offense between Romero and Taylor which was very effective.
For a while, it seemed like Romero and Taylor had the advantage after some Forever Clotheslines and a solid submission attempt by Taylor on TJP.
Shockingly, after a Dragon Screw and detonation kick, TJP managed to get the pin on Taylor to win the match. It showed just how well TJP works with the LA Young Lions. This match was also an amazing experience for Connors as he was in the ring with three veterans each having nearly two decades of experience each.
Yet, it was the main event everyone was waiting for. It was a match that has been built since the first week: Jeff Cobb v Karl Fredericks.
After Fredericks attacked Cobb after his match on the first show, this match was going to settle the grudges we've seen building for weeks. Although Cobb had a huge size and experience advantage, Fredericks came into this match with something to prove.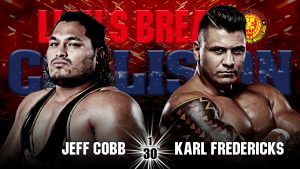 Lion's Break Collision Episode 4
Jeff Cobb vs Karl Fredericks
Both men started like a house on fire with shots, kicks and strikes in the middle of the ring. It was then time for Cobb to use his strength to show the young Fredericks that he was not to be disrespected. Even when Karl tried to reverse this strength, Cobb held his own and proved why he is such an amazing wrestler. With his calmness and control, the opening minutes were dictated by Cobb.
Luckily, although Karl is no longer a Young Lion, he still had that fire to continue fighting Cobb even whilst getting a beating and losing his earring. So, with one stiff shot to Cobb's back, Karl got back on the offense using his speed and athleticism to stay on top of the bigger man in any way possible. His Mario style elbow is unlike anything I've seen.
In the last few minutes, both men just traded forearms in the ring trying to break their opponent.
However, after putting on one hell of a fight, all it took was one Tour of the Islands for Cobb to get the win over Fredericks in just over 10 minutes. Even with this loss, Karl shouldn't feel disheartened because it was an amazing match and he still has so much to learn. Jeff is such a unique talent and does things, someone, his size shouldn't be able too.
As always, the commentary team of Kevin Kelly, Gino Gambino and Chris Charlton was amazing giving fans an insight into the history of all these wrestlers and providing some amazing in-depth analysis. It was nice for audiences to really have the New Japan experience and it only made the shows even better!
Although the last few episodes have been amazing, this show was something with some amazing wrestling, storytelling, and entertainment. Even though this is the culmination of an amazing month of wrestling, it is just the start for New Japan of America with more to come with announcements coming soon.