After another amazing Lion's Break Collision show last week, New Japan was back with yet another episode full of action, excitement, and amazing wrestling. In particular, this week was full of some huge debuts alongside some more familiar faces.
Lion's Break Collision episode 3 is on!

Karl Fredericks returns, and 'Filthy' Tom Lawlor debuts tonight on #njpwworld

Watch now:https://t.co/VqXeR1mKdU

Lion's Break Collision エピソード3配信開始!

今すぐ見る▼https://t.co/DVPbAhq7hY
(日本語実況)#NJoA #njcollision #njpw pic.twitter.com/qk1KfbNzT5

— njpwworld (@njpwworld) July 18, 2020
The first match of the night was a traditional 2 on 2 tag team match. The first team consisted of Young Lion Clark Connors and newly graduated Karl Fredericks. After the action from the first episode, many were interested to see the kind of attitude he would have going into the match.
Their opponents were the very interesting team of The DKC, who made his debut on the previous episode and his partner, the returning Misterioso. However, although making his Lion's Break Collision debut, Misterioso is no stranger to a New Japan ring having taken part and tasted success during the New Beginning Tour USA and hoped for a repeat.
Misterioso & The DKC vs. Clark Connors and Karl Fredricks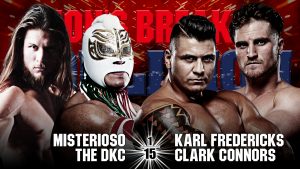 The match started with Karl Fredericks and The DKC in a feeling-out process. The two taking each other around the ring and across the ropes. However, before the match could even really get started, Connors was tagged in and started to pick the pace up with a foundational attack.
This match was a series of tags and it almost seemed as if no one wrestler was in for too long. So, it wasn't long before fans got a taste of Misterioso. His style is very different from the other competitors. Utilizing a Lucha based style and going straight for the aerial offense, including a beautiful springboard plancha. For many fans, this would be the first time they've seen Misterioso. He made sure to make his mark not only showcasing his high-risk offense but also his striking ability with piercing chops.
If Misterioso was hoping to make a good impression, Fredericks was out to prove himself. There was an air of cockiness and superiority in the ring that we never really saw during his Young Lion days. This was a contrast to Connors's style which Kevin and Chris rightly as described as blue-collar. Despite this, Fredericks and Connors worked very well together and had this chemistry that can only come with months of training and sparring with each other.
In the final moments of the match, The DKC and Fredericks had a mixture of submission and strength offense throughout. Despite the passion from DKC, Fredericks hit his finisher, The MD, to get the win which was a shocker but well earnt!
Winners: Karl Fredricks and Clark Connors
Before Fredericks could celebrate, Jeff Cobb came out for some retribution for his actions in the first episode. This will make the inevitable match between the two in the future very interesting.
However, it was the main event that people were talking about in the lead up to the show. It was a match between veteran Rocky Romero and a debuting Tom Lawlor.
The UFC fighter has always made it clear that he loved professional wrestling and, after moving to the squared circle, achieved success in 2019. So, when it was announced that he was coming to New Japan, many fans were excited.
Lion's Break Collision
Tom Lawlor vs. Rocky Romero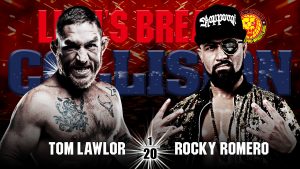 Romero was the first to make his way to the ring followed by Tom Lawlor. Both seem very different in their personalities with Rocky's flamboyancy to Lawlor's more subdued entrance. However, their styles are surprisingly similar with both very good in their submission games with Lawlor's UFC background but also Romero's jiujitsu skills.
From the minute the bell rang, Lawlor went straight for that ground offense he is so well versed in. Backing Romero into the corner and dictating the speed of the match by keeping it on the mat. Like I mentioned before, both men are so well versed in submission wrestling and this showed in the first few minutes with a series of submission attempts and reversals from the two.
Despite his MMA background, Lawlor also showed some New Japan heart. And as Kevin pointed out, inspirations from the likes of Shinsuke Nakamura and Hirooki Goto. This worked perfectly with Romero who also seemed to push back some of his high risk and high flying Jr Heavyweight style for a similar style to Lawlor. Many forget just how good Rocky is with submissions, especially with his cross arm breaker. But it was also nice to see some Forever Clotheslines and the odd Hurricanrana. Throughout the match, both men had the upper hand at different times with a dynamic versatile match.
Winner: Tom Lawlor
Despite years more experience in professional wrestling, Romero lost the match in just under 10 minutes. Lawlor applied a vicious Rear Naked Chose to get the win. But, with both men so talented, it could have gone either way. Lawlor managed to get the advantage and stay on top of Romero for most of the match.
New Japan has produced yet another amazing Lion's Break Collision. However, next week's promises to be bigger and better than ever!