This week, the Black and Gold brand pits two of the hottest Superstars on the scene today against each other; with Title match implications attached to the outcome! From the Performance Centre in Orlando, this is NXT. Will Dream find allies in the likes of Keith Lee against Adam Cole And Roderick Strong?
Balor Attacked
Before any official introduction to this evening's show can be carried out, the broadcast cuts to the backstage area where signs of a violent struggle are evident, and Finn Balor is nowhere to be found. Officials are ordered to sift through the wreckage and keep looking for "The Prince", but in order to ensure the show continues, GM William Regal makes the difficult decision to call off the Balor/Dream match scheduled for tonight.
Dreaming of Glory
(Lee, Dream facing Cole and Strong)
Velveteen Dream makes his way to the ring and shows a clear lack of sympathy for the missing Balor, mocking his mannerisms and voicing his displeasure at being stood up. Before he can get in too many digs at the former NXT Champion, the current Champion Adam Cole interrupts.
Adam Cole speculates that many believed the Balor/Dream match would have determined the new Number One Contender. Cole also heavily implies that Dream had something to do with the commotion backstage in order to solidify his way to a title shot. 
"You can dream all you want, but you will NEVER be NXT Champion. Because I am your reality!" – Adam Cole
While Dream's eyes are locked on the Champ, Cole's brother's in arms from the Undisputed Era enter the ring from behind and begin the beatdown on Velveteen! Cole gets in on the action on Velveteen Dream until the North American Champion Keith Lee makes his way down the ramp for the save; overpowering Strong, Fish, and Cole and forcibly ejecting them from the ring.
Shotzi Blackheart and Tegan Nox vs. Raquel Gonzalez and Dakota Kai
(Lee, Cole, Strong and Cole to take place later on in the evening)

A tag match in the Women's Division that was set up from last week when Blackheart came to the aid of Nox last week in her match against Gonzalez.
Gonzalez and Nox start off the match, but Blackheart and Kai are quickly tagged in. Blackheart has something to prove in this match as a fire is on display in this matchup. The newcomer lands a flurry of strikes to Kai, pushes her to the corner, and hits a running Senton. Nox tags in and hits the same move. Gonzalez has seen enough and tries to come to the aid of Kai, but Nox and Blackheart hold open the ropes and send her tumbling to the outside. Blackheart follows through with a top rope splash to her opponents, wiping them both out!
Gonzalez back in control against Tegan, who is trying to fight off the larger women in the center of the canvas. Nox is able to land an uppercut in the ring corner, followed up with a hard kick to the side of Gonzalez's head! Raquel is stunned and Nox goes to the top rope. Unfortunately, Kai provides a distraction long enough for Gonzalez to recover and catch her diminutive opponent in mid-air.
Gonzalez's inexperience is on display as she hits a fallaway slam that sends Nox to her corner, allowing Blackheart to make the tag and come in fresh. Blackheart goes to the top and hits a Seated Senton on Gonzalez for a two count. Dakota comes in illegally to smack talk Blackheart, but Tegan enters and the two rivals spill to the outside. Gonzalez comes back with a One-Armed Power Bomb on Shotzi and gets the pinfall
Winners: Raquel Gonzalez and Dakota Kai
Drake Maverick (Fired) has Something to Say
Drake Maverick's video that he posted to Twitter is shown. Maverick, who has been legitimately fired by WWE, says that he is still allowed to fight in the Cruiserweight Tournament, which may be the last matches he ever has. He tells everyone at home that there are people far worse off than he is so don't feel too bad.
If this isn't some sort of slow-burn angle, it will rank among the most disgusting promotional tactics the WWE has ever pulled.
Interim Cruiserweight Title Tournament Group A Match: Jake Atlas (WWE Employee) vs. Drake Maverick (Fired)
Maverick starts out with a full head of steam in this Tournament match-up. Atlas is visibly heard in the ring saying he needs this opportunity just as much as Maverick does. 
Maverick hits a Dropkick on Atlas and both men spill out of the ring. Atlas gets some offense on the outside and both men get back between the ropes. This time Maverick on the top rope for a Missile Dropkick that lands flush to the chest of Atlas. Maverick follows up with Tequila Sunrise for a submission win, but Jake breaks free and rolls outside. Drake follows him headfirst via a Suicide Dive through the ropes!
Maverick gets Atlas back in the ring and hits an elbow from the top rope for a two count. Maverick still in control until he misses a Sliced Bread #2 attempt that opens up his jaw for a Superkick by Atlas. 
Atlas goes to the top rope and is chased by Maverick. Maverick tries to hit some offense but it's blocked by Atlas who hits a Cartwheel DDT from the top to get the win.
Winner: Jake Atlas
Post-match, Atlas is interviewed to continue this tasteless storyline going.
The Priest Preaches
Is this a prelude to involvement with Lee, Dream, Cole, and Strong later on in the evening?

The video package from last week highlighting Keith Lee is played again. However, halfway through, the footage is scorched and Damian Priest begins to speak. He begins by saying he doesn't care about Keith Lee, his story, or his family. All that matters to him is the North American Championship. Priest claims that Lee's reign as Champion is soured by the fact that every opponent Lee has picked for a Title fight is because Lee knows he could beat them, and that Lee is avoiding Priest.
"I know why you avoided me. I hit hard. You felt my power. And I'm the one man who can put limits on you." – Damian Priest
Priest mentions that in his first Main Event match in NXT, Priest beat Lee. It was a big moment, but a bigger moment will be when Priest beats Lee for the North American Championship.
Interim Cruiserweight Title Tournament Group A Match:
Tony Nese Vs. Kushida
The bell rings and this match begins with a myriad of strikes. Interestingly, as the commentary team points out, Kushida normally goes for the submission game but is rising to Nese's level on the brawling front. 
Back-and-forth, with Tony blocking a lot of Kushida's offense. Eventually, Kushida hits a Handspring Elbow into a Dropkick to the face of Nese. A hard punch to the face of Tony, with a running kick to the arm while down puts the advantage to Kushida.
A slugfest occurs with several kicks to the arm and shoulder of Nese. Kushida then scouts Tony and puts him in a standing Sakuraba Lock. Nese is in a great deal of pain, but "The Premier Athlete" is able to hit a Snap Suplex that bridges into a pin for a two count. 
Nese goes to the top rope and Kushida hits a Springboard Kick to the head. Tony recovers and shoves Kushida to the canvas and hits a 450 Splash that Kushida miraculously kicks out of! 
Palm strikes to Nese who falls down to the matt. However, as Kushida goes to the top it is evident that Nese was playing possum as he does a rolling jump to the second rope with a palm strike of his own. Nese gets up onto the turnbuckle and lifts a stunned Kushida on his shoulders. Unfortunately for Nese, Kushida is able to shake off the cobwebs and hits a Spanish Fly into an immediate Sakuraba Lock to the targeted arm of Tony, causing him to tap.
Winner: Kushida
Riddle Celebrates 420 Two Days Late
Backstage, Matt Riddle is with his replacement Tag Team partner for an interview. He says he misses Stallion Pete but is happy with "T Time" Timothy Thatcher. Thatcher says that the two of them are a work in progress; with Riddle enjoying knocking opponents out, while he himself enjoys submitting his opponents.
Riddle "You're a beautiful man Timothy. And every time I look at your blue eyes, you remind me of Stallion Pete."
Thatcher: "My eyes are brown."
Riddle: "I know bro. And next week we're going to show the NXT Universe how beautiful of a man you truly are."
Karrion Kross is Here
It is made official as Scarlet Bordeaux says that the NXT Universe was warned of what was coming. Video replay is shown of the attack on Ciampa from last week, and Karrion Kross is finally a part of the Black and Gold brand.
"Doomsday is upon NXT!" – Karrion Kross
Mr. and Mrs. Wrestling
A video promo is shown where Gargano and LeRae address those that doubted them. They vow to become the face of both divisions in the future. 
Words don't really do this justice:
Drake Maverick Continues Working For A Company That Fired Him
Drake Maverick is interviewed backstage. To reiterate once again, this is a company he no longer works for, because dividends needed to be paid out to wealthy shareholders during one of the worst economic periods in history.
Jessi Kamea vs. Mia Yim
More of an exhibition match for Mia Yim and for Jessi Kamea's new look, this one is over quite quickly after Mia hits an STO and a knee to the face of Kamea
Winner: Mia Yim
Post-match, Charlotte Flair comes out to formally request a match against Yim. Yim accepts and Charlotte exits after paying a backhanded compliment to her future opponent.
"I never had that opportunity to thank you and how much it meant to me that, 5 years ago, you helped make me a star. You've always been…a good hand. And next week, I get to finally help make you one too" – Charlotte Flair
A reminder that Io Shirai is the Number One Contender to the NXT Women's Championship, NOT Mia Yim…
The Robert Stone Brand
A vignette is aired to remind viewers that Robert Stone is still a thing. Stone claims that Chelsea Green was inches away from winning the Number One Contender Ladder Match, Green states that she will be the next NXT Women's Champion, and Stone confirms this prediction.
Interim Cruiserweight Title Tournament Group A Match: Jack Gallagher vs. El Hijo Del Fantasma
Fantasma makes his NXT debut in this tournament match for the Interim Cruiserweight Championship.
"The Gentleman's" viciousness is on full display as he attempts to rip the mask off of Fantasma from the get-go. Fantasma recovers and is able to serve up some offense of his own as he notches a couple of pinfall attempts under his belt, albeit quick one-shots. Gallagher to the outside and Fantasma hits a dive over the top rope onto "The Gentleman". 
Gallagher wises up to the fact that Fantasma is a high flyer and begins targeting the knee of the NXT newcomer. A series of shots to the midsection to the grounded masked man. Fantasma fires off a Superkick that sends Gallagher outside the ring once again, and Fantasma once again dives to the outside onto Jack.
El Hijo's momentum is thwarted via a headbutt delivered by Gallagher. Gallagher tries for a pinfall but can't put Fantasma away. Gallagher throws Fantasma into the corner and charges, but El Hijo ducks out of the way and lifts Gallagher up onto his shoulders. Jack Gallagher goes to rip the mask off once again but Fantasma silences this by knees to the face, followed by a Samoan Driver for the win!
Winner: El Hijo Fantasma
Abduction Thwarted
Footage is aired that shows the same group that has been abducting NXT Stars from the parking lot of the Performance Centre in recent weeks attempting to do the same to Fantasma. El Hijo is able to defend himself and the car speeds away, unsuccessful in its mission.
Cole and Strong against Lee and Dream are up next!
Keith Lee and Velveteen Dream vs Adam Cole and Roderick Strong w/Bobby Fish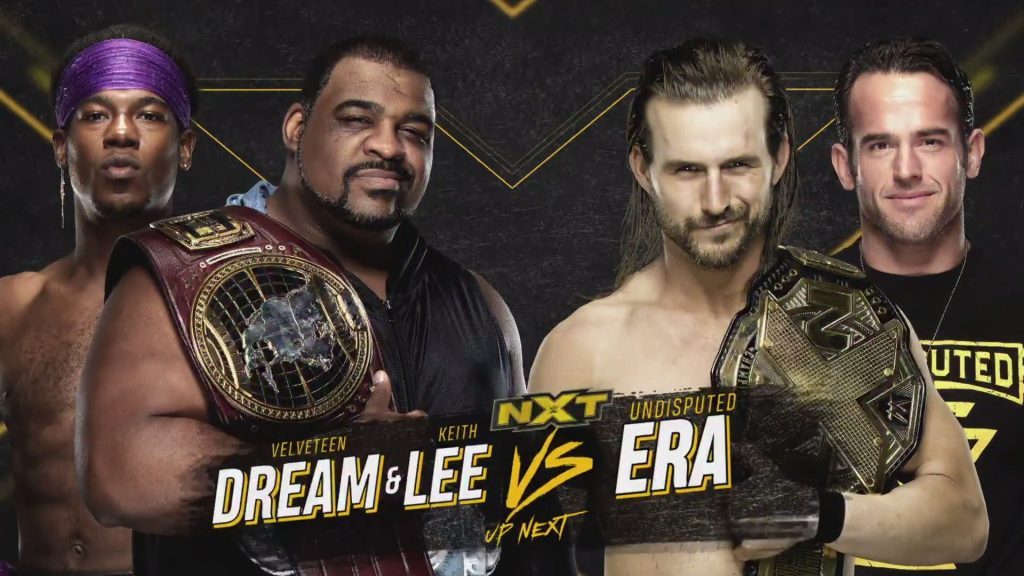 It's Main Event time. On the exact moment the ring bell tolls, UE pounce on Lee and Dream, with Bobby Fish piling on to create an unfair numbers game. Velveteen Dream jumps out of the ring to deal with Fish. While the referee is distracted trying to get Dream back into the ring, Damian Priest appears and lands two strikes with his patented nightstick to the throat of the NXT North American Champion! Lee is immediately grounded and officials rush out to help. Dream is without a partner as Lee remains on the sidelines with Cole and Strong in an advantage.
Dream, in a bout of foolhardiness, insists that the match continues without Lee as Strong and Cole move in for the 'kill'. Velveteen Dream is pummelled in stereo by Strong and Cole, until, inexplicably, Dexter Lumis appears on the ring apron at Dream's corner. Velveteen hits a Dream Valley Driver on Strong and, for reasons that are never actually explained, makes the tag to Lumis to put him into the match!
Lumis goes to work and hits a Thesz Press, followed by a Spinebuster to both Strong and Cole. Lumis takes out Strong to the outside and Dream tags in to hit a Purple Rainmaker off the top rope onto Adam Cole for the 1-2-3. Dream has pinned the NXT Champion!
Winners: Velveteen Dream and Dexter Lumis
Dream celebrates over the lifeless body of Cole as this week's NXT goes off the air.