The NXT North American Championship in on the line in Orlando tonight as Keith Lee defends against Damian Priest. In addition, The Queen battles an opponent integral in her ascension to the throne. From Full Sail University. This is NXT!
 Interim NXT Cruiserweight Title Match
El Hijo del Fantasma vs. Isaiah Scott

Before the match begins, a breakdown of the tournament thus far is given:
Group A 
(1-0) Jake Atlas (1-0) Kushida (0-1) Tony Nese (0-1) Drake Maverick
Group B
(1-0) Akira Tozawa
(1-0) El Hijo Del Fantasma
(0-1) Jack Gallagher
(0-1) Isaiah "Swerve" Scott
As they lock up, verbal sparring in addition to physical is displayed in the ring as Fantasma telling Swerve he could have had him after a couple of near falls. Very even match-up throughout, at one point spilling to the outside of the ring before the men re-enter and have a staredown while balancing on the second rope. Swerve breaks the stare and strikes first, delivering a lightning-fast Frankensteiner to Fantasma!
Baseball Slide by Fantasma followed up by a retaliating Baseball Slide by Scott. The cruiserweights take it into the ring once again and Fantasma hits a running double knee to the face of Swerve in the corner. Fantasma then delivers a Frankensteiner of his own from the top rope and follows up with a Frog Splash for a two count.
Once the men are up, Fantasma hits a suicide dive to the outside on Swerve, throwing him back into the ring where a back-and-forth pinning sequence plays out. Swerve gets the better of the exchange and gets the pinfall for the win!
Winner: Isaiah Scott
Post-match, Scott gives a promo where he claims that he needs this more than everyone else, and no one can handle the Swerve.
Dominik Dijakovic Calls out Johnny Wrestling
A video clip is shown where Dominik Dijakovic calls out Johnny Gargano for playing the victim, challenging him in the future.
"Let's see if he can back his words up when he's up against someone literally twice  his size: me." – DD
Abduction Thwarted
For the second time in as many weeks, masked men attempt to kidnap El Hijo del Fantasma. The NXT newcomer is once again able to stop them from carrying out whatever agenda they have set.
Candice LeRae vs. Kacy Catanzaro
Johnny Gargano comes out to introduce "his favorite wrestler". Mrs. Johnny Wrestling Candice LeRae comes out with Johnny playing the Hype Man throughout LeRae's entrance.
Catanzaro comes out next. The bell rings, the two locks up, and Kacy is quickly sent into the corner. There isn't much time for Kacy to recover as LeRae is all over her. Eventually, Candice hits Catanzaro with a new finishing maneuver that Mauro Ranallo calls "The Wicked Stepsister" on commentary. Any name you want to call it, it's quite effective as LeRae gets the pinfall in a short one-sided match
Winner: Candice LeRae
Post-match, LeRae isn't done and locks in a submission hold on Kacy that makes the fallen athlete tap repeatedly. The ref finally gets Candice to release the hold while Johnny Gargano looks on at his wife's handiwork with joy.
The Newly-Bros Game
(with Lee against Priest later on in the program)

Matt Riddle and Timothy Thatcher are out to play "The Newly-Bros Show" to prove to the NXT Universe, and each other, just how effective a team they are by how well they know each other.
Rather than a full recap, the highlights are below. Bonus points to Riddle for getting not one, but two drug references past the censors.
Before Riddle and Thatcher can participate in The Speed Round, Imperium comes out to deliver a beating to send a message they are going after the Tag Team Titles. 
Cole Wakes Up From The Dream
Adam Cole informs The NXT Universe that it will be Velveteen Dream vs. Adam Cole for the Championship next week.
"The Dream, It WILL be over and there is nothing Velveteen can do about that. And THAT is Undisputed" – Adam Cole
Charlotte Flair vs. Mia Yim
Flair trying out mind games early on, asking Yim if the offense she's dishing out is all she has. Yim responds by landing a few hard strikes and MMA sequences on her feet; climaxing in a Tornado DDT for a two count on The Queen. Flair rolls out the ring, Yim goes for a suicide dive, and Flair blocks with a forearm to the face.
After this Flair is firmly in control. Multiple strikes to Yim, almost toying with the HBIC. Yim gains a little bit of a second wind and hits Soul Food and a Moonsault for a two count. Yim lands a vicious kick on Flair, Flair regains herself and stretches out Mia while screaming that she "made this place".
Pin attempts by both women until Flair locks in the Figure Four that she bridges into a Figure Eight to get Mia to tap out.
Winner: Charlotte Flair
Post-match, Io Shirai seems to remember that she's the Number One Contender and comes to confront the champ; screaming in her face:
"Next week, you are MINE!" – Io Shirai
Kross and Bordeaux Arrive Next Week
Shane Thorne vs. Dexter Lumis
A pretty quick squash match that sees Lumis get the win over the Aussie with a Urinagi that causes Thorne to pass out. An exhibition match to get Lumis over and demonstrate what he is all about; the unwavering stare still very much a constant in this match.
Winner: Dexter Lumis
 Interim NXT Cruiserweight Title Match: Tony Nese (WWE Employee) vs. Drake Maverick (Fired)
(Lee against Priest to take to end the program)

Tony dominating Maverick as the bell rings. At one point early on Nese has Maverick in he corner and taunts him, saying he thought Drake was fighting for his life. Drake responds with a few strikes to Nese but Tony is clearly in control throughout, bouncing the body of Maverick off the top rope.
Drake fires back and rushes Nese into the corner before the referee tells him to back it off. Maverick does so but then rushes and hits a missile dropkick successfully on Nese. Tony hits a German Suplex that causes Drake to collapse in the ring corner. Nese pulls down his kneepad to cause even more devastation, but ends up hitting his exposed knee into the turnbuckle when Maverick is able to roll out of the way! 
Drake goes for a Diving Elbow from the top rope but misses, seemingly injuring himself in the process. Nese tries to take advantage with a 450, but Maverick chases him to the top and hits a Diving Bulldog from high above for the victory.
Winner: Drake Maverick
After the match, Maverick is interviewed. He says he's not leaving. Once again Drake Maverick was legitimately fired during an unprecedented global crisis and a publicly-traded company is using the situation for storyline purposes.
NXT North American Championship
Damian Priest against Keith Lee (c)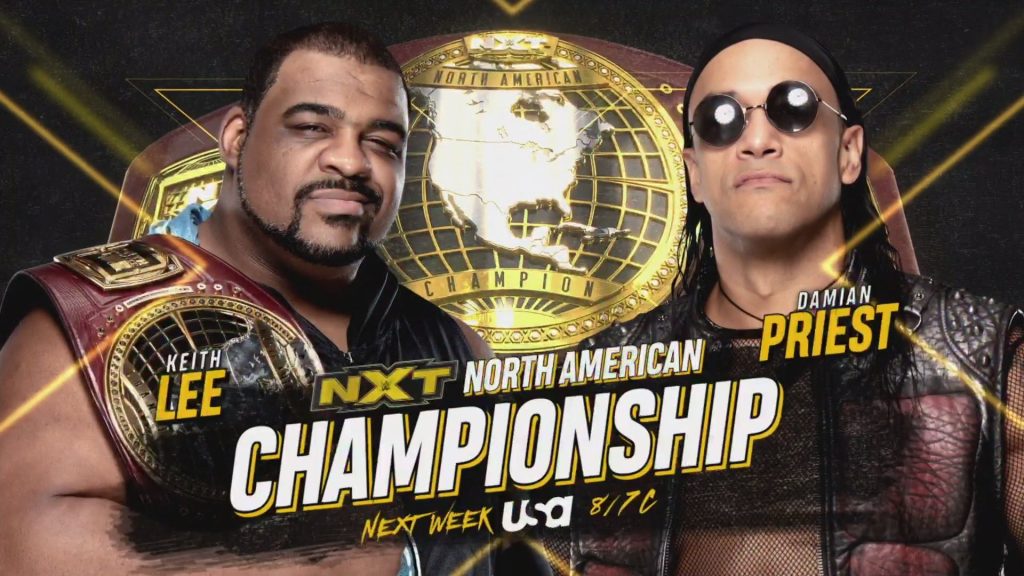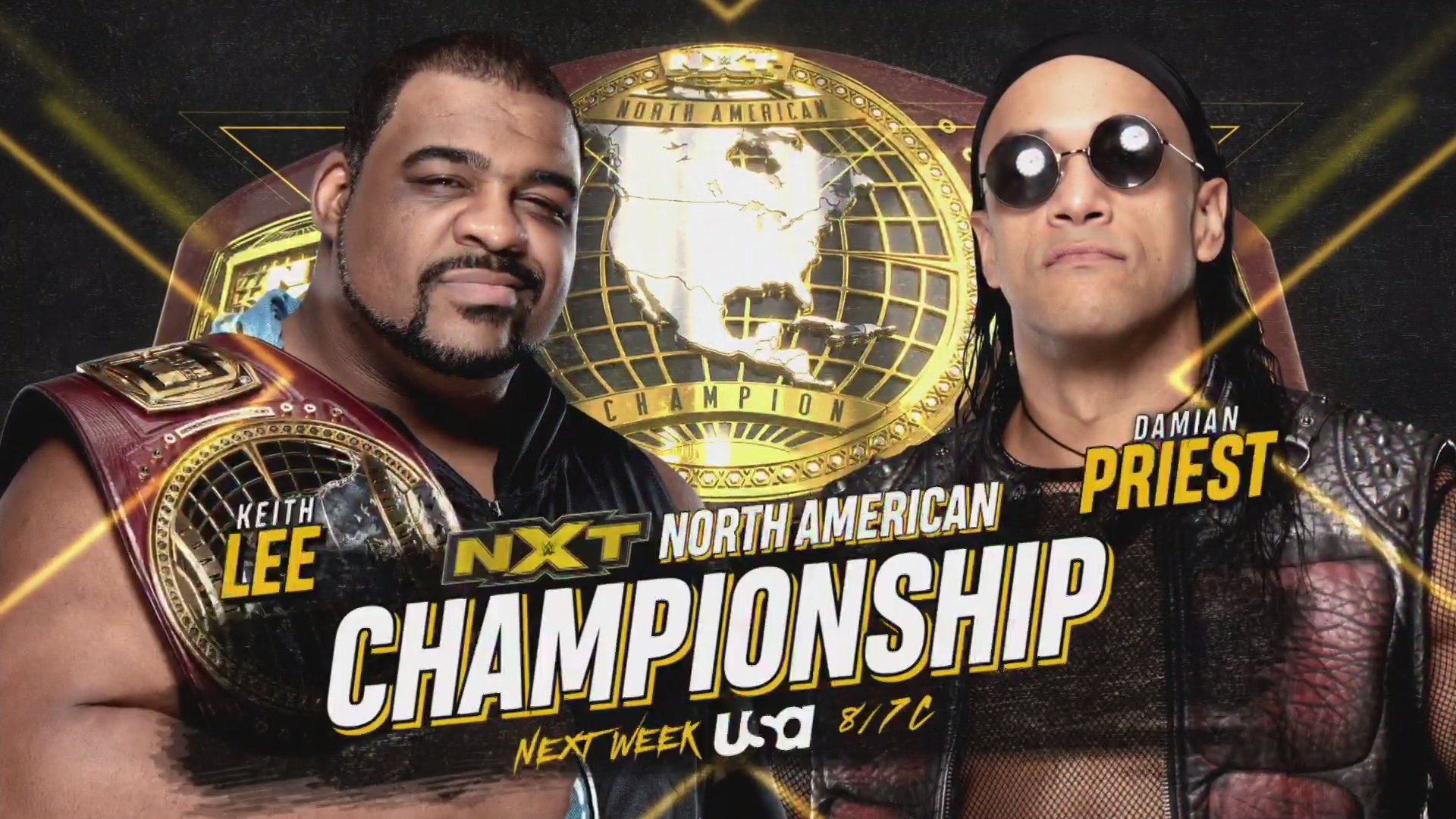 It's Main Event time as Lee defends his belt against the man who has attempted to injure him several times over the past few weeks.
Lee is showing no mercy from the moment the bell rings. Hard shots and a clothesline to Priest to send him to the outside of the ring. Lee follows and slams Priest into the barricades. Lee gets Priest back in the ring and deadlifts him high over his body. Priest back to his feet and attempts to do the same but to no avail; the Champ is too large. Lee slams Priest and Damian rolls to the outside. Keith Lee then hits a Corkscrew Tornado over the top rope onto Lee! 
Lee throws Priest back into the ring. Priest grabs the throat of Lee but Lee retaliates by mirroring the move. Priest hits a Broken Arrow out of desperation. Keith is hurt for the first time in the match. The Champ goes to the outside to create space. Priest dives over the top rope into the big man and then sends him into the barricades. Damien goes to the top and lands a Cyclone Kick that gets a two count. 
Priest signals for a Chokeslam against Lee but the champion answers with a Headbutt.
Priest goes to the top turnbuckle again but Lee gives chase and is able to deliver a Superplex to the challenger! Cover but Damian kicks out at two.
Damian recovers and finally hits a Chokeslam. To his dismay, it's only good for a two count. Priest rolls to the outside and grabs the Title, distracting the ref. While the official deals with getting the Belt out of the ring, Priest sneaks in his nightstick and attempts another shot on Lee. Keith blocks it though, shouting "I am Limitless!". Lee hits not one, but TWO Spirit Bombs for the pinfall and the successful title defense!
Winner and STILL NXT North American Champion: Keith Lee
The Champion enjoys his victory in the middle of the ring as this week's NXT goes off the air.