AEW is back live for the first time in weeks and Jim Ross and Excalibur join Tony Schiavone on commentary once again. We kick off the show immediately with Joey Janela vs Cody. Le Sex Gods vs Omega & Hardy is the featured match for this week's edition of AEW Dynamite.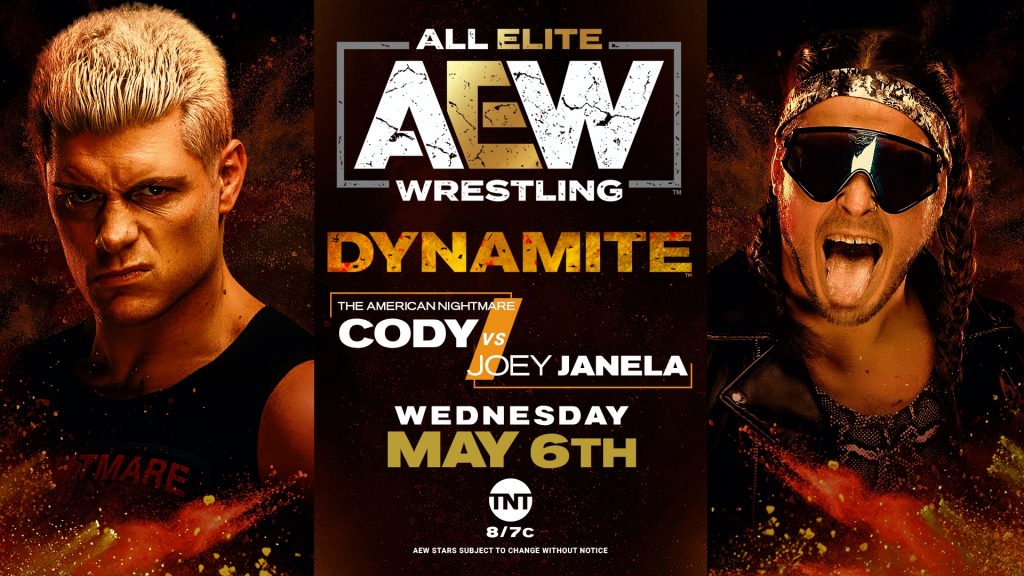 Joey Janela vs Cody 
The commentary team runs down the records of both men with Joey Janela winning 3 out of his last 5 matches and Cody is on a 5 match winning streak. The two men shake hands and start to wrestle with Cody getting the better of the opening exchange. Joey rolls Cody up for a few quick roll-up attempts before Cody kicks out at the referees 2 count. Janela would take control with a leg lariat and follows up with a series of forearms. Cody would catch Janela in mid-air and attempt a crossroads but Janela rolls through. Joey would lock in body scissors on Cody until Cody shifts his weight into a pinning attempt forcing Janela to break the hold. The two men would move the fight to the outside where Cody would take control hitting the disaster kick on the ramp.
The match would move back inside the ring where Janela would hit a superkick on Cody before an elbow from the top rope. Cody kicks out at the referees 2 count Janela climbs the ropes. While Joey was showboating Cody was able to fight back and hit a reverse suplex from the top rope. Janela would again counter the crossroads but Cody would find a way to hit the power slam. Cody would attempt a disaster kick but Joey counters into a german suplex. Joey would attempt a moonsault but misses Cody immediately hitting the Cody Cutter. Joey would kick out leading to both men exchanging blows. Cody would seize the opportunity to hit the crossroads when Joey would turn his back on Cody. Cody wins by pinfall.
Winner Cody
Le Sex Gods vs Omega and Hardy will likely be a wild matchup to end the show!
A video package looking at the top contenders in AEW's women's division. The video highlights Hikaru Shida, Britt Baker, and Penelope Ford as the top contenders to Nyla Rose's AEW Woman's championship.
Tony Schiavone tries to interview Nyla Rose but is immediately shut down by the Woman's champion. Nyla tells Tony "you go do your job andI'll go and do mine".
Kenzie Page Vs Nyla Rose
Nyla immediately starts clubbing at Kenzie before throwing Kenzie across the ring. Kenzie ducks Nyla's clotheslines and can temporarily avoid her using her speed. Nyla hit a german suplex before a senton from the top rope. Nyla pins Kenzie but picks her up and hits 3 powerbombs on Kenzie before getting the win by pinfall.
Winner Nyla Rose  
MJF talks about the younger talent claiming to be the next big thing but MJF says he's the guy after just 6 months. MJF talks about the comparisons to legends and how he is something the sport has never seen before. Maxwell talks about coming back to find his throne where he left it and he will be in action next week.
We cut to a video from Shawn Spears talking about Dustin's career being over and he blames one man and that man is Cody. Shawn talks about if it were his brother in the ring with Lance Archer he would have stopped it.
Tony Schiavone interviews MJF in the crowd. MJF tells Shawn Spears that he's brave for telling the world how Cody is. The two men talk about MJF being over healed.  Tony Schiavone reveals to MJF he's been signed to face Jungle Boy Jack Perry at Double Or Nothing.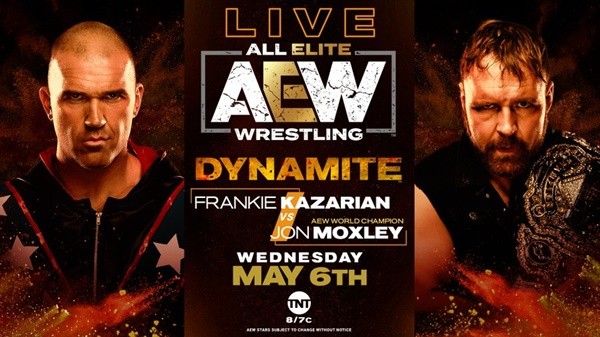 Frankie Kazarian vs Jon Moxley
The commentary team talk about Jon Moxley being 8 and 0 in singles competition in 2020 in AEW. Moxley backs Kazarian into the corner before Kazarian is able to wrestle Moxley to the ground. Moxley is able to control Kazarian's wrist before hitting Kazarian with knees and chops. Kazarian is wrestled to the mat by Moxley until Kazarian can get Moxley into a headlock. Moxley and Kazarian continue exchanging holds Moxley gets in some shots and hits a backbreaker. Moxley would dump Kazarian onto the ramp outside the ring before knocking Kazarian to the floor below.
Kazarian would break Moxley's hold on by getting a rope break. Kazarian would hit a boot to the face of Moxley before getting the match back into the ring. Moxley would kick out at the referees 2 count following a springboard DDT. Kazarian would hit an unprettier on Moxley. Moxley would fight back into the match after Kazarian tried to exchange shots with Moxley. Moxley would avoid a dive from the top rope by Kazarian and hit the paradigm shift to get the referees 3 count.
Winner Jon Moxley
Would Le Sex Gods vs Hardy and Omega be anything like this?
The Dark order came out to attack Jon Moxley following the match. SCU would try to make the save but would be overpowered by the numbers in Dark Order. Brodi Lee came out and hits Moxley with a discus lariat. Mr. Lee gets on the microphone to remind Moxley no one's here to save him and tells Moxley he has something that he needs. Brodi Lee challenges Moxley for the AEW championship Moxley tells Brodi all he had to do was ask Brodi would kick Mox back to the ground before the Dark Order would continue their attack.
Brandi sends a message to Jake Roberts informing him and Lance Archer that she won't be intimidated by them and this isn't 1991 anymore.
QT Marshall V Lance Archer
QT Marshall hits Lance with some forearms before Lance starts hammering strikes on QT. Lance hits QT with elbows into the corner before QT can get lance outside momentarily but Lance is able to catch QT into a chokeslam. Archer throws QT across the ring before Hitting QT off the ropes. Lance Kicks QT off the ring apron QT gets in some hits at Archer when Archer is getting back in the ring. Archer hits a running shoulder tackle before hitting a blackout. Lance hits the claw and wins by pinfall.
Winner Lance Archer
Britt Baker hits Brandi with a DDT at ringside before rolling Brandi in the ring. Jake brings a snake in the ring before draping the snake over Brandi.
Taz interviews Darby Allin Darby ignores Taz, Taz offers help to Darby to help him.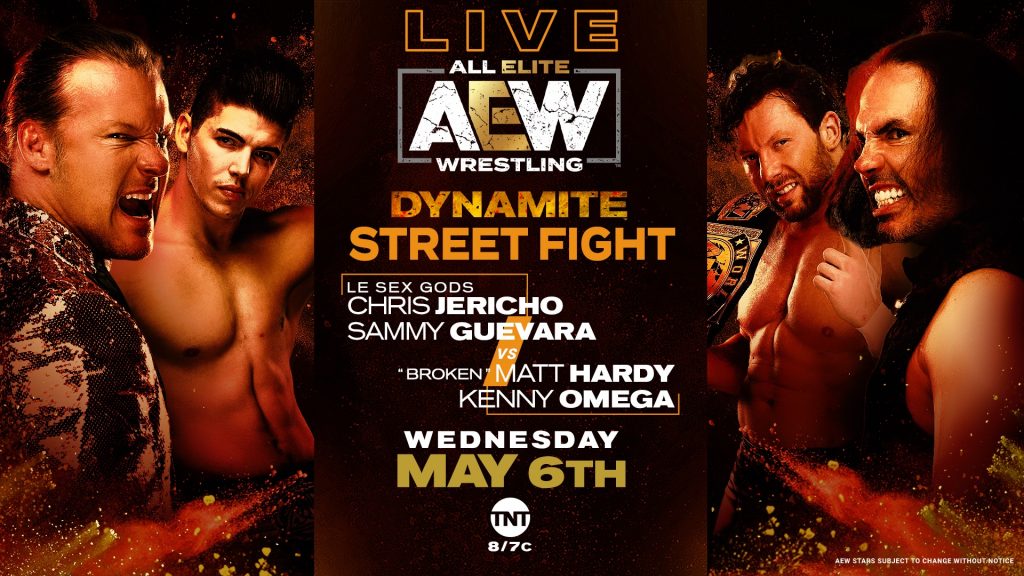 Le Sex Gods Chris Jericho & Sammy Guevara vs Matt Hardy and Kenny Omega
The main event featuring Le Sex Gods vs Hardy and Omega is next. Matt Hardy bites Sammy and Jericho and Omega start brawling at ringside. Omega and Matt double team Sammy before Jericho tries to break it up but Jericho and Matt brawl to the outside. Jericho sends Matt into the tunnel before coming to Sammy's aid. Sammy and Jericho beat down Kenny. Matt comes back and hits a side effect on Jericho and one on Sammy as well before hitting a twist of fate on Jericho. Sammy kicks Matt to the outside before Kenny hits the snapdragon suplex on Sammy before Jericho hits Kenny with a bat. Matt comes in to make the save throwing Jericho out before hitting a twist of fate on Sammy.
Matt and Kenny get ladders and tables from under the ring. Kenny lays Sammy on the table and matt splashes onto Sammy from the ladder. Jake Hager pulls the referee out before the referee can make the 3 count. Jericho and Hardy are brawling through the backstage area of the arena. Jericho and Hager put Matt inside an ice freezer, Kenny comes with a trash can to attack Jericho. Sammy attacks Omega with a trash can before throwing Omega into an ATM. Omega counters Sammy and throws him into a pillar before powerbombing Sammy into a garage door. Kenny fights off Hager before Jericho attacks Omega with a cart, Jericho follows up suplexing Omega onto a steel guard rail.
Matt emerges from the ice machine as Damascus Matt runs over Jericho with a golf cart.
Damascus runs over Sammy with the golf cart for good measure.  Matt places Jericho on the table as Omega clubs on the scissor lift and hits a moonsault onto Jericho and Hager below. Santan and Ortiz attack Hardy before powerbombing Matt through the tables. Jericho powerbomb Kenny Omega onto the Golf Carts roof before hitting a judas effect on Omega. Le Sex Gods win by pinfall vs Omega and Hardy.
Winners: Le Sex Gods