In 2015, Kenny Omega challenged Taguchi at Wrestle Kingdom 9, defeating him to become the IWGP Junior Heavyweight Champion. He defended his title successfully up until July when he would lose it against Kushida at Dominion 7.5. The following September, at Destruction in Okayama, Omega would regain the title.
He finished the year strong in the junior heavyweight division, successfully defending his championship at King of Pro-Wrestling in October against Matt Sydal. We present Kenny Omega conquering the West after dominating the East.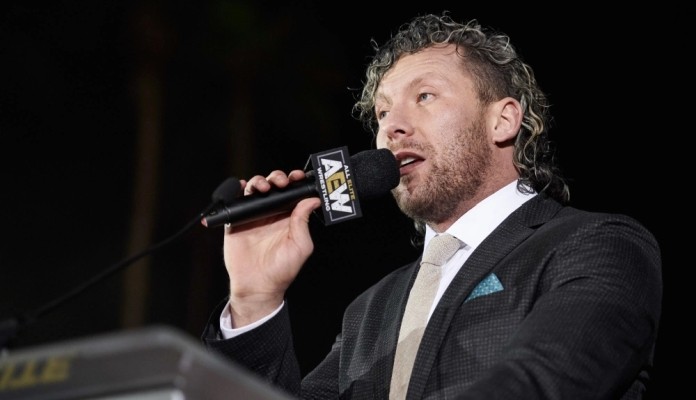 Kenny Omega – Conquering the West
2016 marked the next step in Omega's NJPW career. Following a loss to Kushida at Wrestle Kingdom 10 in the beginning of the year, Omega was without his IWGP Junior Heavyweight Championship. The following night, Omega teamed with then-Bullet Club leader AJ Styles against Yoshi-Hashi and Shinsuke Nakamura. The latter of whom successfully defended the IWGP Intercontinental Championship against Styles at Wrestle Kingdom 10.
After winning the match for his team, Omega planted Styles with the One-Winged Angel, much to the shock of the crowd. The rest of the Bullet Club would then turn on Styles, effectively kicking him out of the stable. Omega would follow up by declaring himself a heavyweight, leaving the junior heavyweight division behind.
Conquering the West
With the departure of not only Styles but Nakamura, the IWGP Intercontinental Championship was rendered vacant. Omega and Hiroshi Tanahashi would face off for the title in question at The New Beginning in Niigata in February. Omega defeated Tanahashi to secure the vacant championship.
Less than a week after, Omega and The Young Bucks, known collectively as The Elite, became NEVER Openweight 6-Man Tag Team Champions at Honor Rising. The following summer, Omega took part in his first G1 Climax tournament, ultimately defeating Hirooki Goto to win the entire tournament. This was significant in that he became the first non-Japanese winner of the G1.
As of this writing, another non-Japanese participant hasn't won since.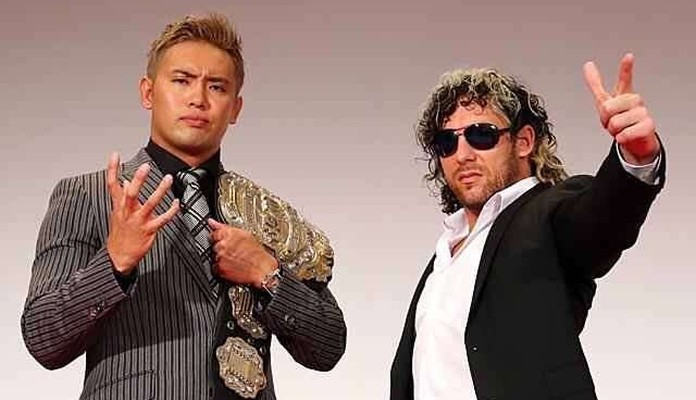 Omega's G1 Climax victory would grant him an IWGP Heavyweight Championship match at Wrestle Kingdom 11 in 2017, where he challenged Kazuchika Okada. Though Okada won, the near 47-minute match itself received glowing praise by fans, journalists, and wrestlers alike. Dave Meltzer of the Wrestling Observer Newsletter famously awarded it six stars.
"Stone Cold" Steve Austin, on his podcast, strongly commended the efforts of both competitors. To say that this match put more eyes on NJPW would be an understatement, but Omega's future remained uncertain, as he took a break following Wrestle Kingdom 11. Ultimately, he would return to the NJPW, but with a greater hunger for success.
Kenny Omega – Conquering the West & The New Japan Cup Tournament
Following a loss in the New Japan Cup tournament in March, Omega would be handpicked by Okada as his challenger at Dominion 6.11 in June. This 60-minute match for the IWGP Heavyweight Championship, which ended in a draw due to exhaustion from both men, received arguably greater praise than their Wrestle Kingdom 11 encounter. Meltzer rated it 6.25 stars, the highest rating he has ever given a match up until then.
Many fans argued that it was the best match both men have had, too. Though Omega came up short in this title encounter as well, he would see singles success soon enough.
NJPW would make its way stateside with the G1 Special in USA, a two-day event in Long Beach, California. Given Omega's popularity, not in Japan but around the world, it was a given that he would be involved in this show. Omega entered an eight-man tournament to declare the first-ever IWGP United States Champion. Ultimately, Omega won, making history as the first man to etch his name in the title.
Kenny Omega – Conquering the West
Omega entered the G1 Climax, ultimately losing to Tetsuya Naito in the finals. Following a series of successful IWGP United States Championship defenses, Omega would meet one of his greatest challenges yet: Chris Jericho.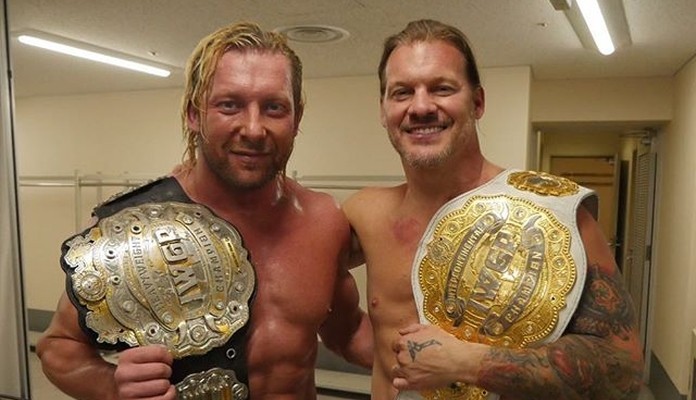 Omega and Jericho
Leading up to Wrestle Kingdom 12, which would take place at the start of 2018, Jericho hyped his impending debut, making it clear that he was after Omega. The two men squared off at the event in question, in a no disqualification match, with the IWGP United States Championship on the line. Following a nearly 35-minute fight, Omega emerged victorious. Meanwhile, things in Bullet Club soured.
At the New Year Dash event, which took place the day after Wrestle Kingdom 12, Jay White would attack Omega, who expected White to join the faction.
This would lead to a title match between Omega and White at The New Beginning in Sapporo, which White won. Afterward, Omega would continue to experience issues with Bullet Club, which culminated in Cody and Hangman Page attacking Omega. Ibushi made the save, defending his former friend in Omega. After a long buildup, the two men would embrace in the center of the ring, signifying the reunion of the Golden Lovers.
Kenny Omega – Conquering the West
A Face Lover
As one half of the Golden Lovers, Omega turned babyface, leading to an array of new matchups. However, he had unfinished business with Okada, who he challenged for the IWGP Heavyweight Championship at Dominion 6.9 in a two out of three falls match. After numerous failed attempts in matches prior, Omega finally upset Okada for the championship, winning the top prize in NJPW.
This was yet another stellar match that strengthened Omega's reputation as the Best Bout Machine. It was awarded seven stars by Meltzer; as of this writing, no match has been rated higher. Omega would continue to see great fortune, as he reunited with The Young Bucks, which resulted in the formation of The Golden Elite alongside Ibushi. Even as Bullet Club continued to fracture, with several members breaking off to form the BC Firing Squad, things looked bright for Omega.
Kenny Omega – Conquering the West
Final New Japan Pro Wrestling Angle
Omega's final angle in NJPW involved Hiroshi Tanahashi, who won the 2018 G1 Climax, earning an IWGP Heavyweight Championship at Wrestle Kingdom 13 the following year. Coming out to a heavy metal cover of "Hopes and Dreams / Save the World" from the video game Undertale, Omega's encounter with Tanahashi felt like a rising hero challenging the final boss.
Despite Omega's valiant efforts, Tanahashi would defeat him, claiming the aforementioned championship in the process. Following Wrestle Kingdom 13, Omega took another absence from NJPW. His fate, at that point, was anyone's guess.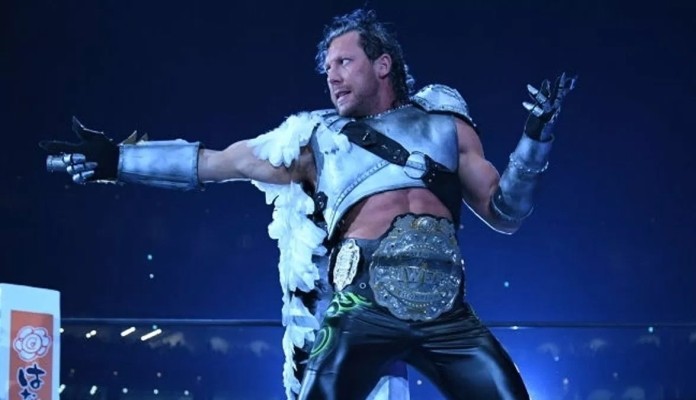 AEW
At the All Elite Wrestling Double or Nothing announcement party earlier this month, Omega revealed that he signed a four-year deal with the promotion. Like Cody and The Young Bucks, he will serve as an in-ring competitor and one of the company's executive vice presidents. At the party, Omega made it clear that his moniker "change the world" would be expressed not through words but through actions.
As he spoke, Omega was interrupted by a familiar foe. Chris Jericho, who not only encountered Omega at Wrestle Kingdom 12 but All In the year prior, stood off with him at the podium. Before long, they would break out into a brawl, various AEW personnel having to break them up. With many members of the crowd breaking into a "rematch" chant, it's safe to say that business between these two Canadian superstars is far from over.
Kenny Omega & All Elite Wrestling
Omega expanded on his dealings with AEW on the Wrestling Observer Radio. Omega spoke extensively with NJPW, specifically in regard to creative and earnings. He also revealed that he spoke to WWE, which he left over a decade ago. Ultimately, though, AEW proved to be the best fit; the fact that he could pursue outside endeavors was a contributing factor.
Furthermore, Omega said that he could appear in NJPW. So his Tokyo Dome bout with Tanahashi may not be the final time fans see him in Japan. Until then, we can expect to see Omega as a major player in AEW, putting on more rating scale-breaking matches in the process.