Jushin 'Thunder' Liger is quite possibly the most innovative and influential pro wrestler of all time. Through hard work, dedication, and constant adaptation, Liger went from being a completely forgettable smaller guy to a true wrestling legend. Many wrestlers the world over have paid tribute to Liger and have praised him for his contributions to the wrestling industry.
For those reasons and more, we look at Liger's career and how he came to be the gods of cruiserweights.
_____________
Jushin Liger
Humble beginnings
Unlike other masked wrestlers, Jushin Liger was only ever portrayed by one person. Keiichi Yamada was a NJPW trainee in the early 1980s that hoped to join New Japan Pro-Wrestling (NJPW) after completing a successful career as an amateur wrestler in high school. But he was rejected by their dojo because he was too short. Japanese wrestling promotions really emphasized size at the time. Even as their junior heavyweight division was had already become successful under the smaller, quicker original Tiger Mask (Satoru Sayama).
But this rejection didn't deter Yamada. Determined, he went to Mexico to train there. It was a brutal struggle for him there, and by his own admission, he was almost starving by the time NJPW officials saw him. They took pity on him and invited him to their dojo. From there, Yamada wrestled under his own name for both NJPW and its affiliates around the world, including Canada's own Stampede Wrestling.
A Special Character
By 1990, NJPW wanted to create another masked superhero character to follow in the footsteps of Tiger Mask. After they sold the rights to that character to rival All Japan, they needed someone new. At the time, a popular anime called Jushin Thunder Liger was making waves in Japan, and NJPW decided to create a spinoff character. After trying a few different designs, they eventually settled on the image and theme that would become synonymous with the character Yamada portrayed.
From 1990 to 1996, Liger went on to become an absolute legend in pro wrestling. And while that term has been thrown around with reckless abandon many times over, Liger is one of a select handful to actually deserve that moniker. Liger's high-flying acrobatics and athleticism were off the charts. Not only was he a high-flying daredevil, but he was also a technical wiz that managed to pull of even the most complex moves effortlessly. One need only look at his extensive catalogue of stellar matches from around the world.
From his NJPW matches with Naoki Sano and Owen Hart to his WCW matches with Brian Pillman and Ultimo Dragon to his matches in Mexico, he was considered a true high-flying ace. And he also managed to put on amazing matches with a veritable who's who of smaller wrestlers that, in later years, would become some of wrestling's bigger stars: Benoit, Ultimo Dragón, Eddy Guerrero, Psicosis, Chris Jericho, Dean Malenko, the list goes on.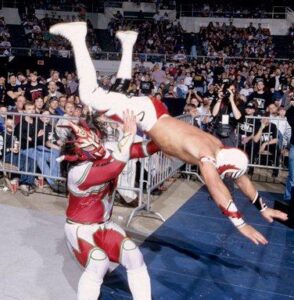 Jushin Liger vs. Rey Mysterio:
The Endless Debate
These days, when talking about the best cruiserweight/junior heavyweight wrestler ever, most people narrow it down to two wrestlers: either Liger or Rey Mysterio, Jr. Both of them have incredible collections of great matches under their respective belts. And each one has reason to be crowned the best ever. Liger is known for some of the best dives off the top rope, smooth transitions, and a balanced approach to his matches. Meanwhile, Mysterio is known for being the king of lucha libre. His speed was off the charts, and no one could match him in terms of hurricanranas, mid-air transitions, and springboard dives.
Most people believe there will not be another Rey Mysterio, but many more wrestlers have copied or emulated Liger than they have Rey. It was Liger that popularized many of the moves that are commonplace now throughout the modern wrestling landscape. He is credited with popularizing the Surfboard, The Romero Special, the Fisherman Buster, the running Powerbomb, and, of course, the legendary diving move he created, the Shooting Star Press.
A Genius Mind
Liger wasn't only a great wrestler in terms of skill. He also had a genius mind as well. This was proven when he booked a special NJPW event that focused on cruiserweights exclusively. That 1994 one-night tournament was called The Super J-Cup, and it was at one point considered the great single night of pro wrestling ever.
That event was instrumental in exposing the world to smaller wrestlers that, beforehand, had been largely ignored because the big companies all focused on the bigger heavyweight wrestlers. But Liger's Super J-Cup put the spotlight on guys that would later become big stars on their own. Thanks to Liger, a larger audience was exposed to the incredible talents of Black Tiger II (Eddy Guerrero), The Great Sasuke, Wild Pegasus (Chris Benoit) Hayabusa, and many others. Without Liger booking the tournament to focus on them, it's likely they wouldn't've gotten as much exposure as they did.
Adaptations
1996 brought about a sudden and critical change for Liger. He was diagnosed with a benign brain tumor and had to undergo surgery. At first, many people thought this would be the last time he'd ever wrestle. But Keiichi Yamada really did live up to his masked persona's name ('Jushin' means 'Beast God,' so his full wrestling name is 'Beast God of Thunder Liger.' Few wrestlers have ever been blessed with such an appropriate name). But that surgery was nothing more than a roadblock for Liger. He returned not long after and still wrestled but adapted to reflect his new reality. Liger began wrestling a more balanced style that emphasized power moves and mat-based grappling. He still dove from the top rope here and there, but those were saved for his biggest matches.
Alter-ego
Liger's need to adapt went beyond just changing his style. He also knew how to bring about special gimmicks when needed. Such was the case in 1996 when he faced NJPW ace The Great Muta in a rare cruiserweight-versus-heavyweight match. Liger knew that this wouldn't be a traditional match because Muta was the farthest thing from a traditional wrestler. He was, in simple terms, an unpredictable macabre demon, and Liger knew he couldn't simply out-grapple such an opponent. Thus, as Muta ripped off Liger's mask, Liger revealed his own monster: a ghostly-white, KISS-style painted face. Then Liger sprayed mist of his own at Muta, and the violent brawl continued. Kishin Liger was born.
This alter-ego made only four appearances throughout Liger's career, though its last is perhaps its most iconic. During Liger's final year as a wrestler in 2019, he was involved in a bitter feud with MMA-fighter-turned-murder-grandpa Minoru Suzuki. Suzuki desecrated Liger's sacred mask, which forced Liger to resort to ultraviolence and summon Kishin Liger. In doing so, Liger managed to do something very few people have been able to: scare Minoru Suzuki.
Liger & Suzuki
Their Battle Rages On
And even as Liger and Suzuki fought a raging battle that spanned months, Liger managed to stay in amazing form. He managed to go toe-to-toe with Liger and maintained amazing conditioning despite being over fifty years old. Especially when considering he's wrestled for over thirty years. Just like when he was a rookie, Liger never gave up and kept going until the very end. His will to keep going was so impressive that even the typically-mean Suzuki had no choice but to show Liger respect.
Three decades of great wrestling
If there is one word that could be used to describe Liger, it's 'consistent'. For over thirty years, Liger managed to remain consistent in his work and performance. By his own admission, he never drank alcohol or smoked. He devoted a lot of time to maintaining good physical conditioning. Because of that, Liger was able to wrestle at a top level for longer than perhaps any other wrestler since 1980. Although many other wrestlers have had higher peaks (Misawa, Kobashi, Okada, and Tanahashi are but a few that come to mind), they lacked Liger's longevity.
Because of that longevity, Liger was able to amass an enormous collection of championships and accolades. In his NJPW promotion, Liger won the IWGP Heavyweight Championship. It was their version of the cruiserweight world title – a record eleven times. He also won the IWGP Junior heavyweight tag team titles six times. He also held the J-Crown, which was a unification of eight different titles from different promotions held simultaneously. Liger also held singles and tag team gold in Wrestle Association R, WCW, RPW in England, Osaka Pro Wrestling, the National Wrestling Alliance, Michinoku Pro Wrestling, Dragon Gate, CMLL in Mexico, and Pro Wrestling NOAH. He also won the Super J-Cup in its later forms twice and Japan's premier junior heavyweight tournament, NJPW's Best of Super Juniors, three times.
Jushin Liger
Legacy
There will never be another Jushin 'Thunder' Liger. As some of his compatriots have described him, he is 'timeless'. He came in when smaller wrestlers were, by and large, shunned and relegated to lesser importance. And he shook things up and changed perceptions the world over. Through his own sheer force of will, he made people pay attention to him. His in-ring work and innovative style were impossible for anyone to ignore. And once people started noticing him, they also paid more attention to the cruiserweights around him. And from there, a snowball effect occurred. Liger changed the professional wrestling landscape.
From his look to his wrestling style to his dedication to his thirty-five-year-long career, Jushin Liger set a standard that may never be replicated. He broke so many records. Liger also set such high standards that there will likely never be a cruiserweight wrestler like him again. And because of that, he really deserves to be called the god of cruiserweights.