We had the honor of having Johnny "Mr Wrestling II" Walker attend two of our Cauliflower Alley Club Vegas events in the past decade. Johnny was best known first in Florida as "The Grappler," later in Tennessee, and other territories like Los Angeles as "Rubberman" showing off his double-joint uniqueness in matches, where the tv announcers focused on his ability to get out of ordinary holds allegedly because of it. In the late sixties in L.A., Johnny was sent in along with other stars like Roy Welch, Curtis Iaukea, Ray Stevens, Nelson Royal, Don Leo Jonathon, and more from other NWA territories to help the Eaton/Lebell promotion. Here we are celebrating Johnny "Mr. Wrestling II" Walker.

The purpose was to fend off Verne Gagne's takeover attempt via his new partnership with Jack Kent Cooke at the latter's Fabulous Forum venue in a territory NWA ("Save Our Sports") versus AWA war. Cooke owned the NBA Lakers and NHL Kings at the time and wasn't the only territory war Johnny would shine in. When Ray Gunkel's widow Ann took on promoter Paul Jones' major NWA Atlanta office, Johnny stayed with Jones amidst a wealth of talent and great minds like repeat CAC attendees Cowboy Bill Watts, Leo Garabaldi and others.
Celebrating Johnny "Mr Wrestling II" Walker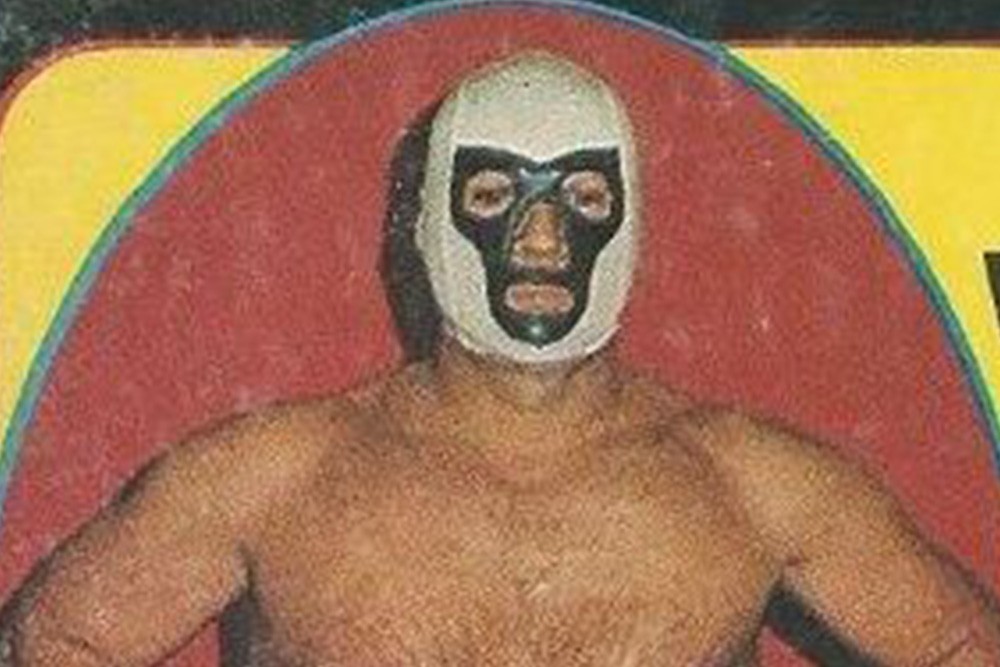 Johnny told me at CAC 2004, "I always had a bit of the outlaw spirit wherever I worked and whatever gimmick I was doing at the time." He worked for a brief opposition promotion in New York from 1963 to 64 ("All-Star Wrestling With Antonino Rocca"). He was often teamed with Rocca since he was the secondary star just below partner Argentina. "I felt badly for Mrs. Gunkel when we fought her, and I stayed with the existing office, but she put up a helluva battle for those 2+ years. Territory wars are never fun, but many times she outdrew us!
She even had Bruno, and Ernie Ladd come in to fill out her cards in '73, and it was an amazing thing to watch and an amazing time in wrestling with wars going on in Detroit, Montreal and Japan."
But of course, he was one of the biggest stars on the planet as the masked Mr. Wrestling II (counterpart to Tim Woods as the first Mr. Wrestling) from the early seventies until his final matches in 1984 in Watt's Mid South against JYD, The Wild Samoans, Ted Debiase, and others. During much of Ted Turner's WTBS SuperStation cable years, "II" was one of Ole Anderson's nationally syndicated show's biggest stars. And one of the most credible, best interviews in the biz. "I really came into my own as Wrestling II". He told me
"I changed up everything and did my best to make him look and sound the part of a main-eventer.
I tried to make my promos believable and did my best to connect with the people even though I had that ridiculous mask on." II was not only on the cover regularly of all the 1970's and early 80's newsstand magazines but also the most recognizable global masked star along with Destroyer/Dr. X Dick Beyer and Mil Mascaras.
At Johnny's first of two CAC's where he quietly sold his gimmicks at one of our vendor table like his hand-carved teak wood mini title belts, wrestling figures and belt buckles with his masked likeness, I was able to pose him with both Dick and Mil which he said had never been done before. As Wrestling II, he held a plethora of real wrestling championships. Multiple times as Georgia singles and tag plus straps in Florida, Mid South, Mississippi, Alabama and more while in main events with the best: Lou Thesz, Harley Race, the Funks, Briscoes, teaming and feuding with Mr Wrestling1/Tim Woods, Bob Armstrong, Jerry Lawler, Toru Tanaka, Tor Kamata, Bobby Shane, Buddy Colt, Dusty Rhodes, Dick Murdoch, Dick Slater, Bob Orton Jr, that other Paul Jones(the wrestler) and more.
PWI Magazine selected him as their 1975 Wrestler Of The Year(yet another magazine full cover), and he's in many halls of fame already (NWA, WCW, PWHOF, CAHOF, etc.). As II, he also gained global press when a photo ran on tv, in newspapers and magazines of President Jimmy Carter giving him an "Abe Lincoln style side headlock" around late 1977 backstage. Johnny was Carter's famous mother, Lillian's favorite wrestler, who was an avid watcher and attendee. Thus Walker's friendship with the President who invited him to his January 1977 Inauguration was unlike Houston wrestlers CAC's Tiger Conway Sr and Jose Lothario.
George Bush Sr's Inauguration
They were able to attend George Bush Sr's inauguration as guests along with promoter Paul Boesch. Walker oddly turned it down to protect kayfabe as he said he would've had to attend without his mask there "while still identified possibly on-camera as "Mr Wrestling II".
We received news of Johnny's passing at his long time Honolulu home, where he loved to swim and body surf and make flower leis for years with his wife Olivia, who preceded him. Olivia was famous in her own right for designing the magnificent ring robes worn by Ric Flair, Rip Hawk, Paul Orndorf, Greg Valentine, Ric Rude, Bobby Rood, and many others. "It's not the easiest thing going from touring and being a big star in wrestling to a quiet life where no one knows who you are. That transition to retirement can be a shocker for wrestlers.
But because I always was fastidious like Mascaras in keeping my mask on around the boys, eating out or my rule of 15 miles before any town I was wrestling in putting the "sock" on; when the mask came off, few ever knew it was me. Even in Atlanta. So I enjoyed a quiet, more normal life when it was necessary even during my big run. But when I finally retired, I ended up missing that other side of my life. I sure enjoyed it, though. The reactions I could get out of people from love to hate, and I wouldn't have changed a thing and would live my whole wrestling career all over again. I hope people will still love me when I'm gone." Johnny "Mr Wrestling II" Walker will always be remembered with love and respect.
****
The critically acclaimed #350Days stars Bret Hart, Superstar Billy Graham, and 3 dozen all-time legends. It's available worldwide on Amazon, iTunes, Google Play, & Xbox and all major cable systems. Click here to view the trailer for 350 Days.