Adversity is something pro wrestlers deal with every time they step into the ring. How they handle adversity is something that makes the world of pile drivers and suplexes such a special form of entertainment. For wrestlers on the independent wrestling scene, wrestlers like Jared Thumb, facing adversity is just part of the gig. Travel schedules, working multiple promotions, the fans, and balancing a home life bring their own set of obstacles to overcome. Outside the ring, Jared Wedekind, the man behind the Jared Thumb persona, has dealt with another level of adversity to get where he currently is. 
Inspired by the likes of Stone Cold Steve Austin and fellow Iowa native Seth Rollins. Living the dream of being a professional wrestler has been a long road for Wedekind. One that has pushed him physically and mentally. A 2017 graduate of the Black and Brave Wrestling Academy, Wedekind was diagnosed with Non-Hodgkin's Large B Cell Lymphoma. A mere five months after his first match in SCWPro, the diagnosis put his pro wrestling plans on hold.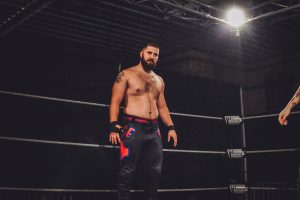 "At first, I didn't know a thing about blood cancer," Wedekind said. "So many thoughts ran through my mind after my diagnosis. What did I do wrong? Do I have a time cap to live? The seriousness and fear of the unknown was a heavy thing to deal with."
After his diagnosis, the focus began to find the right hospital to begin his treatment. This process was tougher than expected, one that saw Wedekind reach out to multiple locations. With frustration for himself and his family setting in, it was Wedekind's grandmother that found his haven for treatment. 
After some research and numerous phone calls by his grandma, Wedekind began his treatment at St. Jude's Hospital in Peoria, Illinois. In October of 2017, during the night of his first visit, Wedekind was admitted with just the clothes on his back. Being admitted went by in a flash; it felt surreal for Wedekind as he was beginning the biggest wrestling match of his life. A match he was determined to win. 
"That first night before my chemotherapy started, I looked at myself in the mirror and said, "I am going to kick this f*cking things a**" and that I was going to get back into the ring as soon as possible."
That determination paid off in spades as Wedekind was in remission by December of 2017. Now he is four years into remission. Once he gets to five years, he begins visits and treatments at a Survivor's Clinic. With his cancer seemingly in the rearview mirror, Wedekind began his journey back to the ring. Getting ready to return came with new obstacles. He now had to deal with the long-standing issues and side effects of chemotherapy. Dealing with these continues to test Wedekind to this day, but he doesn't let them slow him down. 
In January of 2018, Jared Thumb was officially medically cleared to return to in-ring action. His approval came at a time when SCWPro was building up to a huge show dubbed Genesis. Scheduled to perform on that show was Jimmy Jacobs. Thumb had the opportunity to bend Jacobs ear about wrestling before the show and took his advice to heart.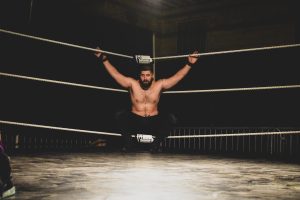 "Jimmy Jacobs was great to talk to," Thumb said. "When you get a chance to get advice from someone who has been in the biggest promotions in wrestling you take it and run with it"
Thumb entered his six-man tag match the night of Genesis, wondering if the fans of SCWPro would even remember him. The reaction he received answered that with a resounding yes. 
"There aren't a lot of times I get cloudy-eyed inside the ring, but that night was one of them. Hearing the crowd react the way they did was truly humbling."
His performance that night, in his eyes, left a lot for the imagination. But, this was more than just a match; this was a moment, and sometimes in wrestling moments, out weight matches. After his in-ring return, Thumb continued wrestling for SCWPro, where he eventually became a tag team champion. His travels eventually led him to Central Empire Wrestling. Having attended a handful of CEW shows and assisted in any way he could, Thumb was invited to compete at the CEW 11th Anniversary Show in March of 2020. 
The match he competed in was not just a normal singles match; it was CEW's annual "Rosey Anoa'i Tribute Match."
"Being invited to compete in the Rosey Anoa'i Tribute Match was a real confidence booster. It meant a lot to compete in a match that means so much to a promotion like CEW."
Thumb studied film on Anoi's, determined to honor the late wrestlers' memory by using a few of his moves. Included in this was a splash from the top turnbuckle. Despite losing the match to "Flawless" Brandon Wallace, Thumb made an instant impression with the CEW fans and management. So much so that he was invited to take part in the inaugural season of CEW PowerSlam. Much like most wrestling promotions across the country, CEW had to adapt to how they did things in 2020. The COVID pandemic made live shows in front of crowds impossible. 
With so many obstacles in their way, promotions had to come up with creative ways to still deliver content to their fans. Central Empire Wrestling came up with PowerSlam, a four-week episodic run of shows on the CEW Facebook page and Youtube channel. The first season revolved around the CEW Tag Team Championships, and by the end, Thumb found himself holding tag team gold. Alongside CEW legend Rory Fox, Thumb became tag team champion when the duo defeated CEW Heavyweight Champion JT Energy and his "best friend" Tim Rhodes.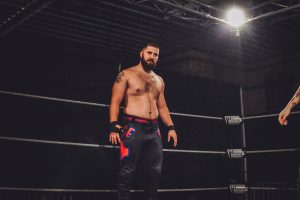 "That was pretty special. Not a lot of guys get the opportunity to win tag team gold with a guy like Rory Fox. His experience and knowledge of pro wrestling is not easy to come by and I am honored to be CEW Tag Team Champion with him."
As wrestling promotions continue to evolve during the pandemic, it presents their wrestlers with new forms of adversity. For Jared Thumb, though, that adversity will be a walk in the park, knowing what the battle he's been through to get here.