In a career that spanned over 25 years, Jacqueline Moore contributed more to wrestling than some may know. She is tough and was a legitimate threat in and out of the ring. With a martial arts background firmly in her back pocket, Moore would take the wrestling world by storm in the late 1980s.
Growing up, the Texas native was a fan of the Von Erichs. Her initial training was in Dallas with the legendary Skandor Akbar, and in fact, she was the only female to train under him. At 5'3, Moore's height would not impede her success. It was as 'Sweet Georgia Brown' that she would make her debut for the same promotion that made the Von Erich's household names. World Class Championship Wrestling would initially be her home. In the beginning, she was searching to find her way, much like any new talent. Before using Jacqueline as her ring name, she competed as Sgt Rock, Miss Texas, and almost competed under the name 'Wynonna' in the WWF.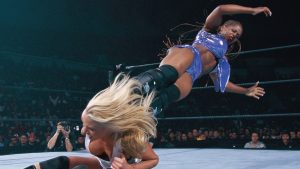 Jacqueline debuts in World Class Championship Wrestling
Over her long career, she competed everywhere from World Class Championship Wrestling to World Championship Wrestling to Smokey Mountain Wrestling to Total Non-Stop Action and to World Wrestling Entertainment. She was part of some interesting matches early on in her career; there were mud pit matches or another where the stipulation was that if  she lost, she would have her head shaved (which happened!) During her time in the USWA, she became the inaugural USWA Women's Champion, and over her five years in the promotion, she held the title on eight different occasions.
What isn't typically discussed is Moore was to have an early WWF/E run that didn't materialize. She competed for Jim Cornette's Smokey Mountain Wrestling, although that was short-lived. She wasn't one to rest on her laurels, and an opportunity in World Championship Wrestling came into play next. Actually, she took the initiative to reach out to the promotion, particularly J.J Dillon, about a position with the company.  She would align herself with Kevin Sullivan, often slamming his opponents behind the referee's back.
"She [Moore] was one of those pioneers that really helped the WWE evolve as far as women are concerned"
– Natalya
By the middle of 1998, Jacqueline would join the WWF as the on-screen flame of 'Marvelous' Marc Mero. In the storyline, Mero had become estranged from his real-life wife, Sable, and she had, in fact, become a bigger star than him. Thus, as Mero's new partner in crime, Moore became embroiled in a feud with Sable. The feud saw Jacqueline defeat Sable to become the first African-American woman to capture the WWF Women's championship.
As time passed, she was left hurt and jilted by Mero and so formed an alliance with Terri Runnels and, later, Ryan Shamrock, who in the storyline was in a similar position. Together the trio would take all their pent-up anger on their ex-boyfriends, spouses, and/or partners. They would treat any male who came under their tutelage how they felt they were treated as a piece of meat.
Jacqueline
Pretty Mean Sister
And indeed, this trio, called Pretty Mean Sisters, or PMS, obtained the services of 'Meat,' The storyline was that they treated him in a manner similar to how women had been treated for several years, a role where women were the one's objectifying someone because of their body. The faction would ultimately come to an end, with Jacqueline and Terri's tension being the cause.
During her time in the promotion, Jacqueline was a two-time WWF Women's Champion, with her final reign in 2000. She was also embroiled in many matches with the promotion's most notable names, such as Lita, Trish Stratus, and Ivory. These were rivalries that cemented her value in the division. And outside of the ring, she was put in a position to mentor promising young talents when she was made a trainer as part of WWE's reality program 'Tough Enough.'
"I will always appreciate her patience and her professionalism while showing me the ropes. I learned a lot from her and took away a ton that I used in my wrestling career moving forward".
– Trish Stratus
Another of Moore's most notable achievements during her time in the WWF/E was capturing the WWE Cruiserweight Championship. If anyone could have captured that men's title and been a convincing champion, it made sense that it was Jacqueline Moore. Over the course of her seven years with the company, she came in as a love interest, was engaged in meaningful matches and feuds, and in the end, captured championships. Her contributions can never be forgotten.
After departing WWE, Moore would compete on the independent circuit and eventually join TNA. During her time there, she would manage the likes of Bobby Roode and James Storm, referee matches, and engage in one of her greatest feuds, with Gail Kim. Whether in normal bouts,  arm wrestling matches, or hardcore matches, Kim and Jacqueline took the fight to one another. In fact, their battles were so brutal that Moore even lost two teeth after being hit with a kendo stick by Kim while a trash can was over her head. It was less about wins and losses here and more about the impact of their feud. They were given time and provided the opportunity to shine at a time when women's wrestling was overdue to be heralded.
On Her Own Terms
Despite her best efforts, Moore was unsuccessful in her desire to capture the TNA Knockout's Championship. When she returned in 2007, Moore would align herself with James Storm and Robert Roode. The duo collectively known as 'Beer Money.' Later, she would form an alliance with former Knockout's Champion ODB, and they were a formidable tag team. She would ultimately leave TNA in 2009 when her contract came to an end.
A person's career can be measured in countless ways. You can look at wins and losses. You can look at their championships or if they were in the main event talent. But you can also look at their ability to inspire. Jacqueline Moore's career is as much about inspiration as it is anything else. She was a strong black female at a time when not only was women's wrestling not at the forefront, but neither were African American athletes of any gender; Moore was different. Many women who have gone on to sign professional contracts have been influenced by Jacqueline Moore's career.
"She recreated what a champion looks like and helped open the door for women of all colors, sizes, and shapes. It's a real honor to follow in her footsteps."
– Alicia Fox