Insane Wrestling Revolution (IWR) had their recent show, IWR 10 – Revenge, last week. IWR is an independent promotion based out of Monroe, MI, and is co-owned by former WWE and ECW superstar Rhino.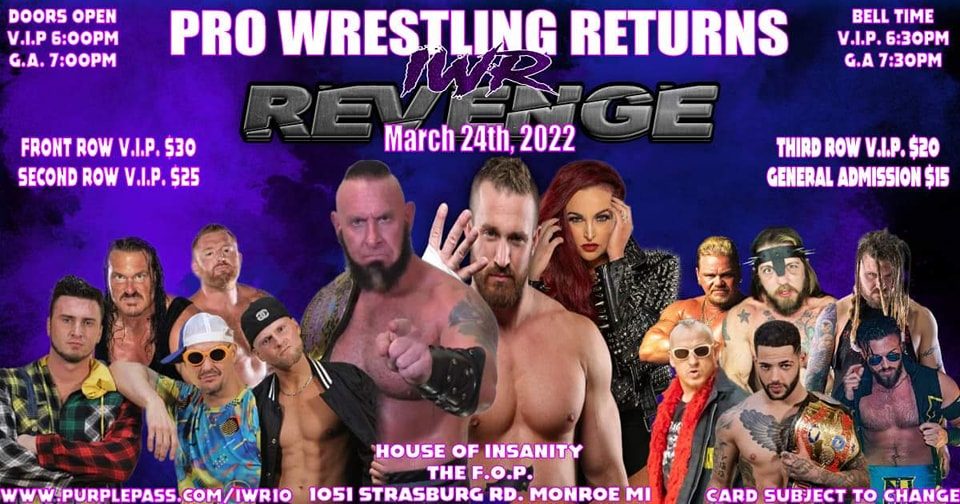 I did not have tickets for the VIP portion of the show this time, but they did post the results on Facebook. First, impact's The Perminator Sam Beale, with Ox in his corner, defeated Rodragous Rod Lee. Next, the Process MM3 defeated Grimey Zach Thomas. Finally, the Barbie Killer Hayley Shadows defeated Tiny But Mighty Hannah Henderson.
IWR 10
The Main Show:
Rhino and Heath Slater defended the IWR Tag Team Championship against The GameChangers, The Wildcard Nate Bock, and Chinstrap Jesus Kyle Barrett, with Impact's John E. Bravo in their corner in our opening match. This was an excellent choice for the opening match. There was a lot of energy going for this action-packed match. In the end, Barrett clocked Rhino with the tag team title belt, and Bock covered for the three count to capture the tag team titles. It was a great match.
Dread King Logan squared off against Impact's Madman Fulton next. This is a rematch from the IWR 8 – Insane Holiday Hell. Fulton made Logan pass out in their last match. Will history repeat itself? The Franchise Shane Douglas did not accompany Logan to the ring as he usually does. Not sure why, though. Anyway, this match was a bit better than their last match.
Logan had been built up as a monster heel, and I think they are trying to turn him face for some reason. Fulton and Logan battle hard around the ring. There was a planted fan that was on Logan's side, and he eventually got beat up by Fulton. When Fulton turned his attention back to Logan, Logan countered and picked up the win. This evens them 1-1, so I would expect a rubber match at one of the following shows. It was another good match.
IWR 10
Impact's Top Notch Jason Hotch took on Horror Slam's The Horror Show Breyer Wellington next. This match was supposed to be a triple threat match, including Impact's Trey Miguel for Miguel's IWR United States Championship. Just before the main card started, it was announced that Miguel was unable to make the show. I was looking forward to seeing Miguel, so that was a little disappointing. As for the match, Hotch has a really good look about him and is very talented. I was impressed by him for sure. The match was a bit on the short side, with Hotch picking up the win. The match was good for having to make a last-minute change. This then lead us to intermission.
After the intermission, The Bachelor Benjamin Boone took on Shogun Jackson Stone. Before the match, Boone cut a promo on Stone and mimicked a Hulk Hogan impersonator in the crowd. It was a pretty good improv for sure. I like it. Boone jumped Stone before the match started, but Stone battled back to quickly put Boone away.
IWR 10
Revenge Review
DTA, Death Threat Army, come out for a promo. DTA wanted to know what the deal was with their manager John E Bravo. Bravo comes out and said that all he was doing was managing winners. Bravo was ending DTA so they all could go their separate ways. The GameChangers appeared and took out DTA. Another team showed up and "pinned" DTA to "become the new #1 tag team championship contenders".
While Bravo was running down DTA, IWR owner Gary Pillette went to the ring and told Bravo he wasn't running the show and that the "match" was not sanctioned. Bravo attacked Pillette from behind, and The GameChangers pounced on him. This led to the locker room emptying, and we've got a good old fashioned Pier Six Brawl on our hands. The GameChangers and Bravo escape through the crowd, and DBA shows up to dive on everyone outside. Sam Beale powerbombs one of the female wrestlers (not sure which one), and that leads to former WWE superstar Big Kon Konner to obliterate Beale and stand tall in the ring.
All of that led to our main event of Big Kon defending the IWR Championship against Impact's Mike Bennett with Maria Kanellis in his corner. This was a really fun match. Konner and Bennett fought all over the place. Maria would run away whenever they got close to her. Konnor slammed Bennett's head into his merchandising table that was right behind where I was sitting. Pretty awesome there. When the match returned to the ring, Maria jumped into the ring for a distraction, but The Kenny Urban came down and did his "Silly Goose" Mr. Socko impression to run off Maria. Back in the ring, Konner gets the upper hand on Bennett and successfully retains his championship to close out the show.
Show Thoughts for IWR 10:
I was really looking forward to seeing Trey Miguel defend his title tonight. He has been phenomenal in IWR and honestly should be the face of the company. Miguel not being at the show kind of threw the timing off and the show was shorter than I would have expected it to be.
The DTA/GameChangers angle was a really good setup for a tag team feud in the near future. As I write this, it has been announced that The GameChangers will defend their titles against Heath Slater and Rhino at the next show, IWR 11 – Cinco De Mayhem.
It was a really fun show, and I can't wait for the next show in May 5th. This was the IWR 10 review.