PROGRESS Wrestling Chapter 40: Intercepted Angel. 11th December 2016. The O2 Academy, Sheffield, UK.
Welcome back to the PROGRESS Prerogative, the weekly column that looks back at each PROGRESS chapter in turn with Intercepted Angel. We're about to embark on an excellent run in the company's history as Pete Dunne's championship reign kicks off with a mouth-watering contest against a returning Zack Sabre Jr. Elsewhere, Natural Progression Series 4 continues its road to crowning the first PROGRESS women's champion. To top it all off, Jimmy Havoc and Marty Scurll try to put an end to their feud permanently in a no disqualification match. If that little lot doesn't get you hyped then you need your pulse checking. Let's get to it.
The London Riots vs The New Nation
Intercepted Angel
Primate and Alexander Henry face off against the London Riots in the show opener. To be perfectly honest, this match isn't anything to write home about. It appears as though the Riots are porking out a bit. Their performance inside the ropes has lost a step or two. The New Nation is a team that wound up not sticking together for an overly long time but certainly had potential. Obviously Primate is now an NXT UK talent and does still team with Henry for companies such as North NCL. I'd like to, see them back in PROGRESS now that they have a few more miles on the clock. In any case, it's the London Riots who emerge victorious following a catapult spear. Not the best start to the show if we're being honest.
Toni Storm vs Bea Priestly – Natural Progression Series
Toni Storm and Bea Priestly hold nothing back in their desire to advance in NPS4 next. Everything looks nice and snug during this match and the offense percentage must be a fairly even split. You couldn't say that the match isn't entertaining by any stretch, but there aren't any spectacular sequences or spots to highlight as such. Even at this point in time, the women's division is just lacking a certain something. There doesn't seem to be any real personalities or characters involved and certainly no storylines. But, as noted, Storm and Priestly are solid in the ring. Toni Storm claims victory with a spine blistering leg drop from the top rope.
Rampage Brown (c) vs 'Banter Claus' Dave Mastiff – Atlas Title Match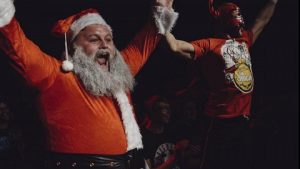 Mastiff makes his entrance in full Father Christmas regalia to the sound of Wizzard's I Wish It Could Be Christmas Everyday. This is much to the annoyance of Origin stablemate Nathan Cruz who attempts to dampen everybody's spirits during the musical singalong. Banter Claus and El Ligero give their leader the cold shoulder and continue on with their antics regardless, much to the Ultras' delight. The comedy of his entrance somewhat carries over into the body of his Atlas title shot against champion Rampage Brown. Our Dave pulls a Trent Seven and chops the ring post before attempting to chop Brown with the same hand and letting rip a hammy scream.
On the receiving end of a sharp chop from the champ, Mastiff loudly complains about hit right in the nipple. If it wasn't clear beforehand then it's safe to say that Dave (and Ligero) are now babyfaces – say hello to The Origin: Banter Edition. It isn't a winning start to the duo's new attitude unfortunately as Rampage, rather impressively, hits a piledriver for the pin. A highly entertaining slice of the action from both wrestlers in our first title match of the card.
Jimmy Havoc vs Marty Scurll – No DQ, Number 1 Contender Match
Intercepted Angel
Jimmy Havoc and Marty Scurll have been on a collision course since Havoc's return to PROGRESS at Chapter 36. This is the match to settle the score once and for all and Jimmy starts as he means to go on by making his entrance carrying an axe. The ring crew runs to the entrance ramp and Big T Justice disarms him as Havoc unloads onto the other white shirts. The Villain, living up to his nickname, sees his opportunity and runs up the walkway and cracks Jimmy with his umbrella whilst he is otherwise occupied. That leads straight into a good five minutes of wild brawling through the crowd that culminates with Jimmy sat on an office chair being wheeled at speed into the entrance steps' handrail.
It's absolute madness thus far, and we've barely even begun. Once they make it inside the ring, the chair-based action continues as the King of the Goths demands fans hand over their chairs to batter his nemesis with. The Ultras gladly oblige until there are over ten chairs in the ring and Havoc is promptly powerbombed onto the pile of metal. Hoist by his own petard. The next major spot sees a scuffle on the raised entrance ramp over who can throw the other through a table on the floor below.
Marty comes out on top of that exchange as Jimmy flies into the prop hip first which looks very nasty.
That marks the last major offense The Villain would get though as Havoc soon begins to dismantle him. As soon as drawing pins are brought into the fray it becomes clear that the end is nigh. Jimmy drops Marty onto the tacks with a Death Valley driver followed by an acid rainmaker for the pin and draws a line under the bitter feud. What an absolutely stunning final chapter in their rivalry it was too.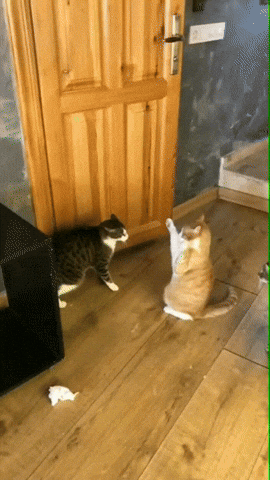 FSU vs The Origin
Intercepted Angel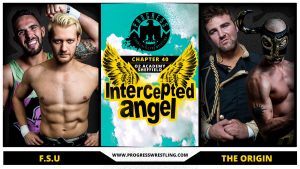 FSU and The Origin have pretty much been at odds ever since the latter's debut as The Faceless two and a half years ago. This contest was made to even the score and likely further cement the fissure developing within The Origin. And that narrative plays out beautifully in the match's opening moments as El Ligero scales Dave Mastiff's shoulders to square off with Mandrews who sits atop Eddie Dennis's shoulders. They engage in a collar and elbow tie up, whip across the ropes, shoulder barge, all whilst seated on their partner. It's very funny stuff, but the atmosphere is punctured by miserable sod Nathan Cruz who puts the boots to both FSU lads.
Things cool down a considerable degree following that early high and the two teams have an excellently worked wrestling match. Despite Cruz being less than enamoured with Ligero's antics the two are a great unit and work their usual solid style. Matters are going swimmingly for The Origin until they aren't. With both Mark Andrews and Dennis down and out the Mexican Sensation grabs a bag from under the ring; a bag… of Celebrations.
He spreads the Mars Bars, Snickers et al over the canvas and implores Cruz to slam Dennis onto them.
Less than impressed, the leader of The Origin leaves the ring just as the big Welshman rolls Ligero up for the pin. That was absolute madness and I loved it. Following the match Cruz angrily throws some sweets into Dave Mastiff's face before leaving. Banter Edition then distribute the remaining sweets among the Ultras. Mine's a Malteser, thanks.
Will Ospreay vs Adam Cole
Intercepted Angel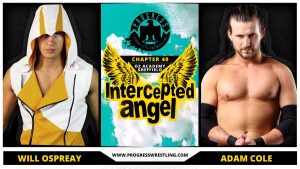 It's Bullet Club versus Chaos as Adam Cole takes on Will Ospreay in a huge semi-main event. This is Cole's first match for PROGRESS since Chapter 10. Whilst Ospreay is looking to get his first win in the company of 2016. That's a mind-boggling statistic in the year that saw him win Best of the Super Juniors for the first time. The match gets off to a surprisingly slow pace with an exchange of arm wringers interspersed with the odd "Adam Cole bay bay." They kick things up a notch when Cole sets up a Terminator dive only to do a roly poly, then a reverse roly poly into the superhero pose a la Ospreay.
That's a nice bit of business. The leader of Bullet Club's ROH chapter plays the crowd like a fiddle by faking out throwing him into their seats… then throwing him into their seats. A prolonged period of match control sees Cole methodically chip away at the former PROGRESS champion. He isolates the Aerial Assassin's neck, utilising big moves yet failing to draw a line under the match. Even the Panama sunrise can't seal the deal with a down to the wire kickout.
Ospreay bounces back from that with a great sequence that begins with a slip from the top rope.
He maneuvers from there into a cheeky Nando's kick. After this, he thoroughly wiping the soles of boots on the mat, a reverse 450 from the top rope. When that only nets him a count of two Ospreay advances towards referee Joel Allen with his fist aimed at his face; a portent of things to come a month or two down the line. That flare of the temper could be said to be his undoing as that marks the beginning of the end. Cole runs Will through with a superkick from an Oscutter, shining wizard and a neck buster for the emphatic win.
Zack Sabre Jr vs Pete Dunne (c) –
PROGRESS Title Match
Intercepted Angel

Pete Dunne faces a stern test in the first defense of his PROGRESS title against the best technical wrestler in the world, Zack Sabre Jr. Before the match kicks off we're treated to Tyler Bate's first appearance as a heel and it is a treat. He marches out before Pete, approaches a random audience member and mimes 'I've got my eye on you'. It's very funny stuff. It is a bit of a shame that he is ejected from ringside by referee Chris Roberts before the opening bell. Oh well. The opening gambit has ZSJ taking Pete down to the mat in an attempt to tie him in knots.
It's not entirely successful as the champion uses brute force to break Sabre's holds again and again. A chop here, an eye rake there, and so on. Of course Pete is no slouch when it comes to mat wrestling. He soon takes over as the man on offense. He slaps on an Indian deathlock and grinds a knuckle into Sabre's ribs. That's a little touch that I've always appreciated as the pain inflicted is easily comprehended by the viewership. This is quite a hard match to write about. Ultimately as it consists of a series of chain wrestling sequences where each wrestler jockeys and reverses the other's moves.
It's a beautiful sight to behold and really does help to legitimize Pete Dunne as the top man in the company/country after his shock win at Chapter 39.
What helps even more is the fact that the Bruiserweight wins in a squeaky clean fashion. He nails ZSJ with drop-dead (latterly known as the bitter end) for a strong pinfall win. Dunne then off to an absolute flyer as PROGRESS champion in both performance and result.
And so that draws another edition of the PROGRESS Prerogative to a close. A show with several excellent matches, if not much in the way of storyline development. It's a mystery show time next week. We'll be covering the first Unboxing Live show, and we hope you'll be back to join us then. Until then, stay safe, stay home, and take care of yourselves.