Another week closer to Rebellion with the IMPACT Wrestling Preview for 3/31/22! Last week an action-packed installment of IMPACT! Wrestling. Prepare for another intense episode this week. Deonna Purrazzo will be in the IMPACT! Zone for another Champ Champ Challenge. We will also see Bullet Club members Chris Bey and Jay White take on the Motor City Machine Guns, Chris Sabin and Alex Shelley in tag team action.
Madman Fulton will be in action, accompanied by Ace Austin as he goes one on one with the "Walking Weapon" Josh Alexander. In addition to his match; it will be interesting if anything goes down between Josh Alexander and Moose as they approach their upcoming match at Rebellion.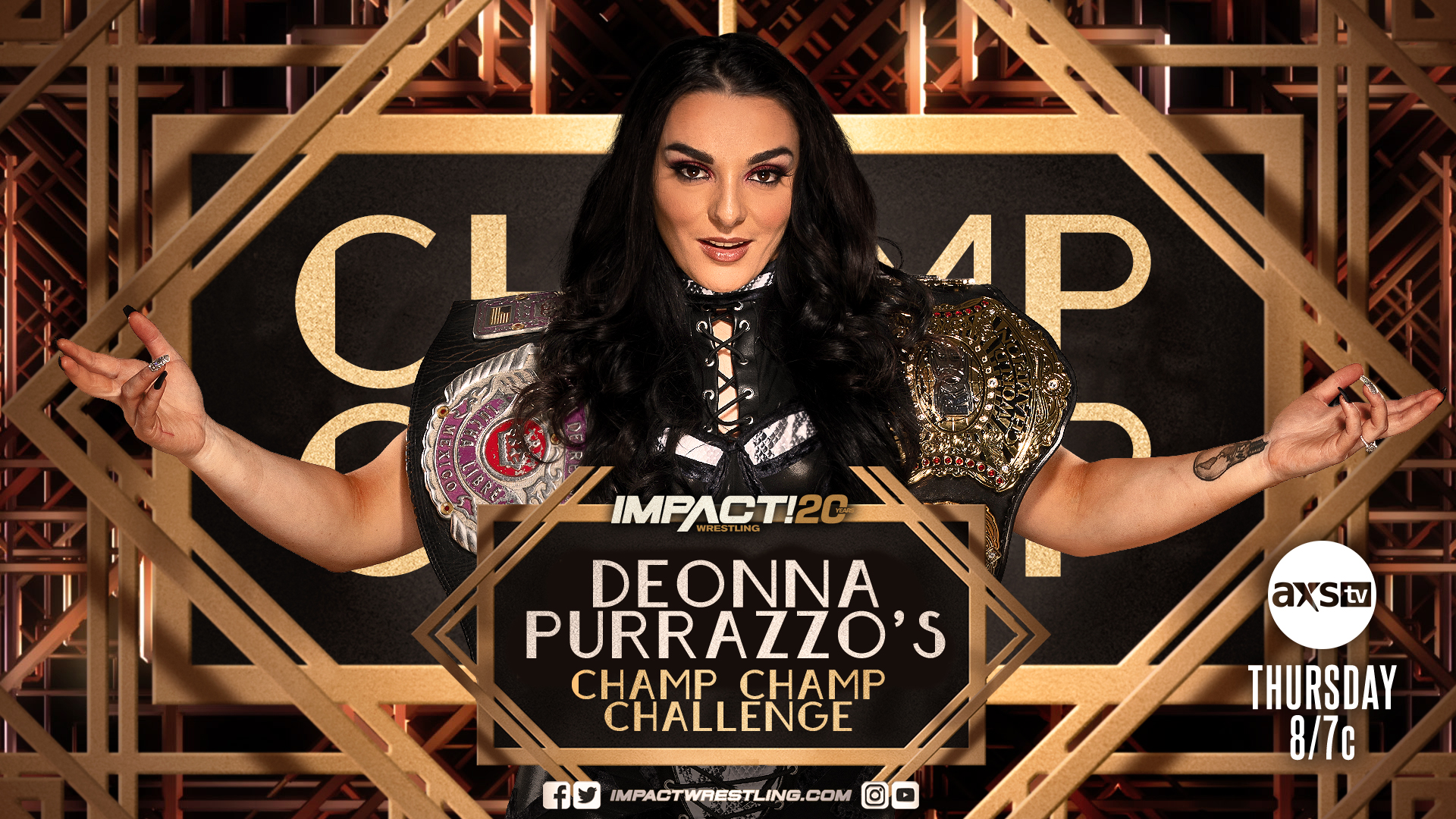 IMPACT Wrestling Preview for 3/31/22
Deonna Purrazzo's
Champ Champ Challenge
Week after week, we see the AAA Reina de Reinas champion and Ring of Honor Women's World Champion Deonna Purrazzo defend her titles in open challenge style matches. She has taken on may challengers over the last few months and always end up coming out on top, with both of her titles in tact. As with all good things eventually this luck is bound to run out.
Who will come out of the wood work from the Knockouts Division to challenge for her titles this week? IMPACT! has an abundance of talent in the Knockouts locker room that could challenge, Deonna in addition to that we have seen former Ring of Honor talent, AEW talent, and local indy talent turn out for the challenges. It will be interesting to see who rises to the occasion this week and if they will be able to dethrone the Champ Champ.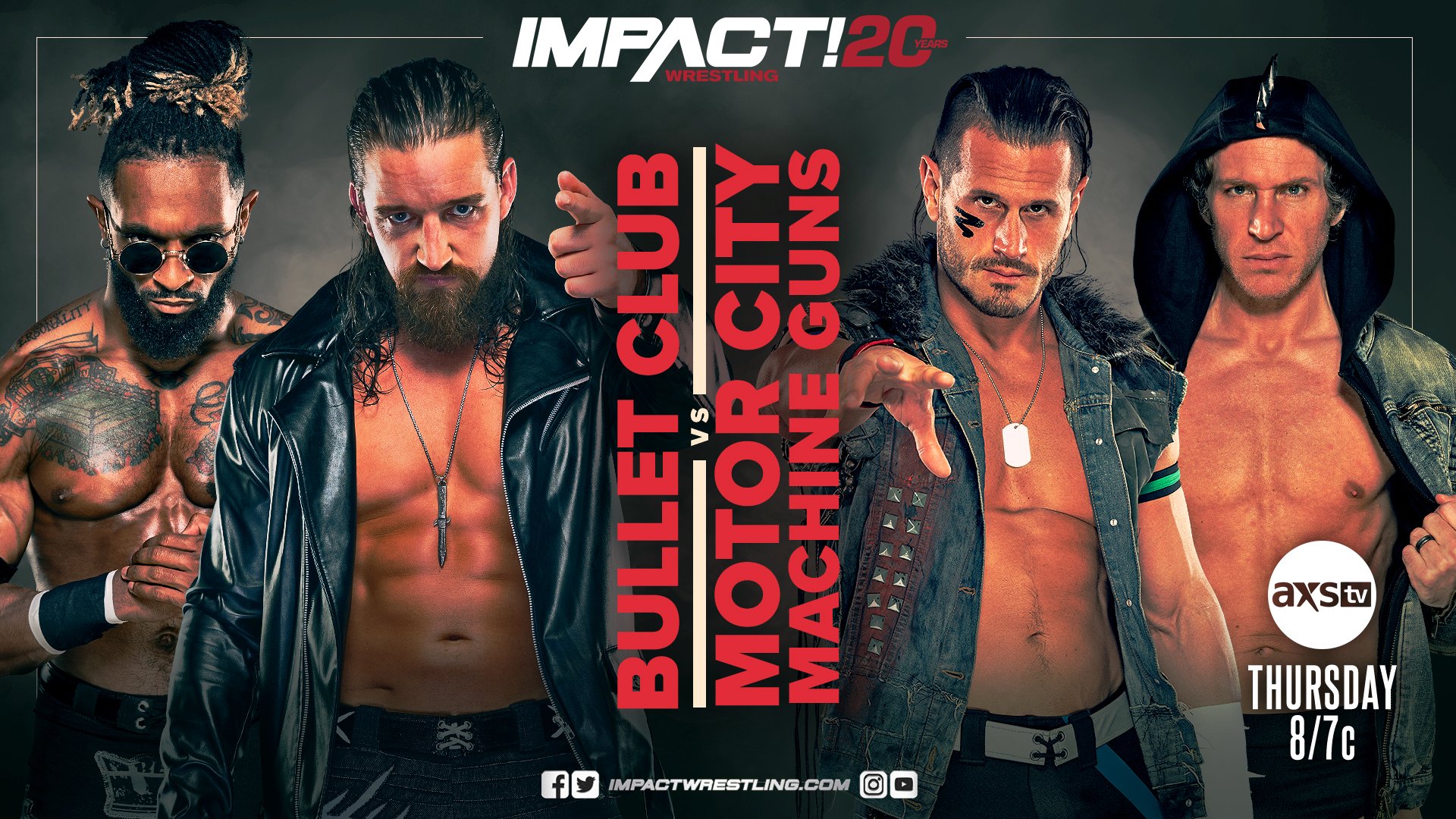 Bullet Club (Chris Bey & Jay White) vs. Motor City Machine Guns (Chris Sabin & Alex Shelley)
The IMPACT! tag team division will be on display this Thursday as we see the Bullet Club go head to head with the Motor City Machine Guns. We have seen a little tension brewing between these two as recently Jay White was in action one on one with Alex Shelley his former mentor. This week both men will have their tag team partners to make the bout even more dynamic.
Motor City Machine Guns definitely are veterans in the business and certainly function like a well oiled machine. Chris Bey has been with the Bullet Club for a bit now. Can White and Bey meld as well as Sabin and Shelley? Either way the winners of this match could see themselves in a position to challenge for the IMPACT! World Tag Team Championships in the near future.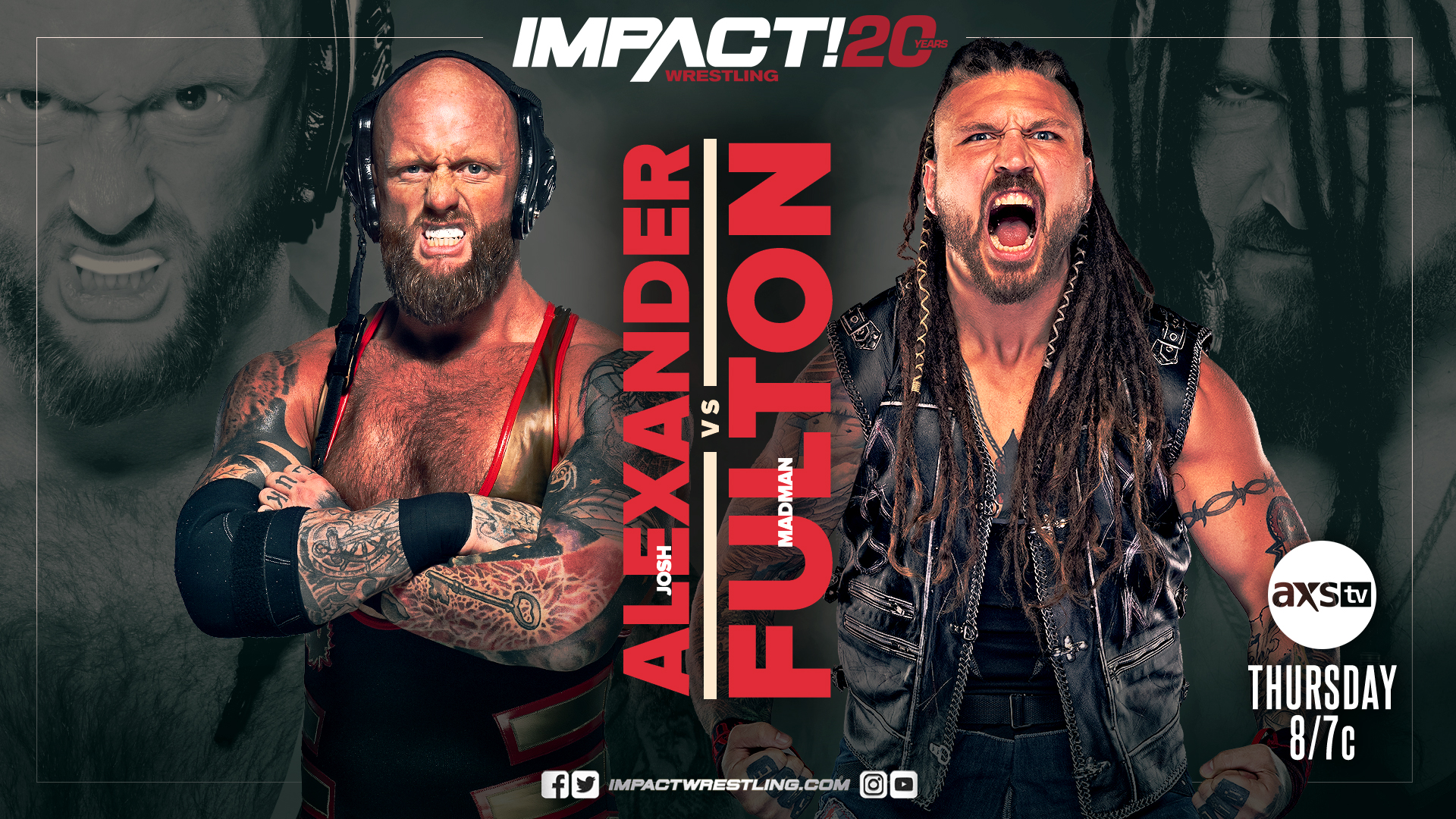 Madman Fulton w/ Ace Austin vs. "The Walking Weapon" Josh Alexander
We have seen a lot of action unfold between Moose and Josh Alexander. This week we will see a change of pace as "The Walking Weapon" takes on a new opponent in Madman Fulton. Not often do we get to see Fulton in action these days, typically he is seen as accompanies Ace Austin to the ring. This week we will see Austin accompany Fulton to the ring as he takes on Alexander.
Both of the guys are strong, no doubt; Fulton definitely has a slight size advantage. Alexander has both strength and anger on his side currently. Since making his return to IMPACT he has been on the hunt to get back to the top of the roster and regain the IMPACT World Championship. Fulton may have a challenge in "The Walking Weapon" this week as he is very focused and does not seem to want anything to get in his way.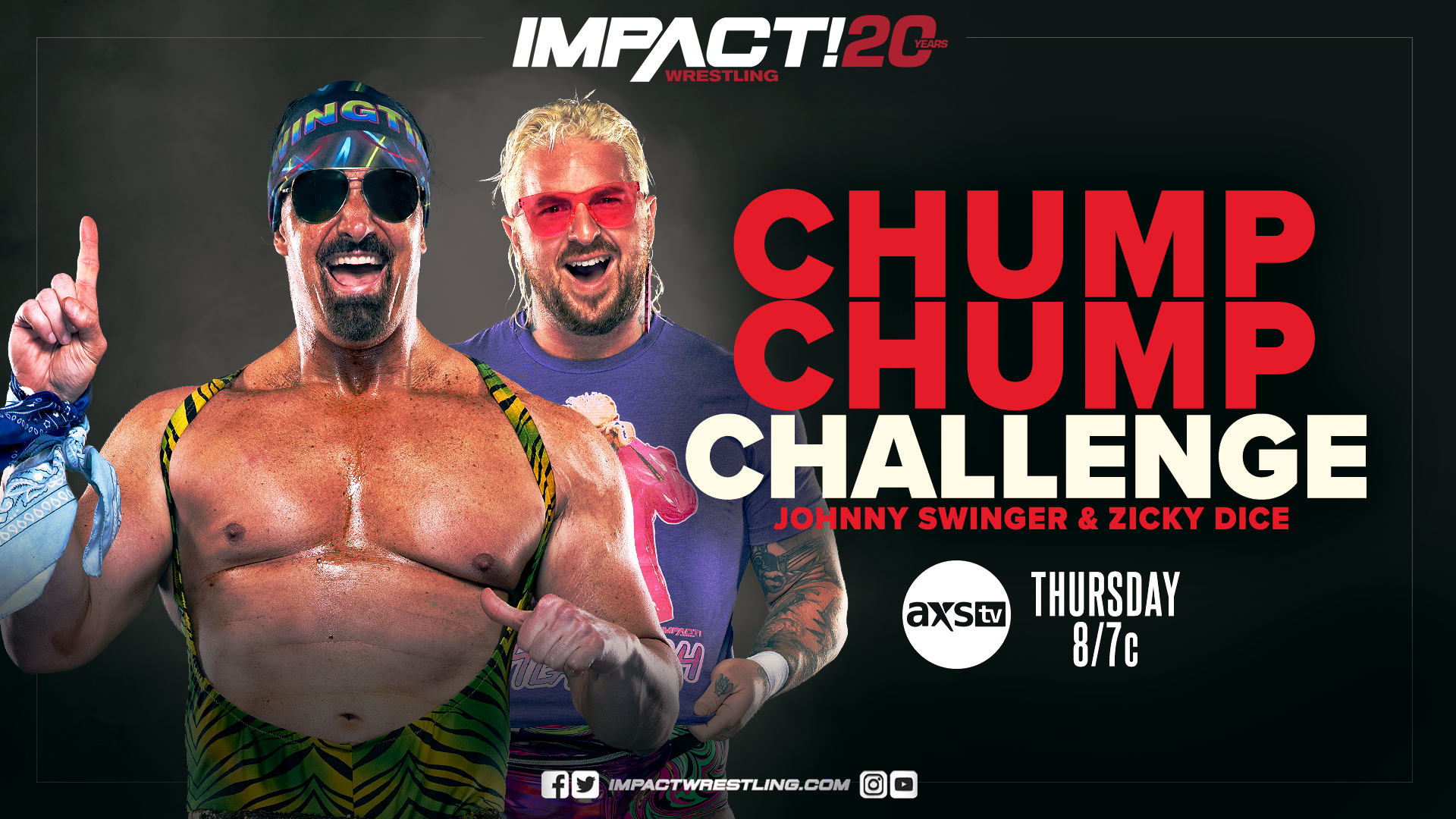 IMPACT Wrestling Preview for 3/31/22
Chump Chump Challenge
Johnny Swinger & Zicky Dice
In recent weeks we have seen Zicky Dice align himself with the "Swingman" Johnny Swinger. He appears to have parted ways with the Learning Tree. This week we will see the two of them in tag team action in the "Chump Chump Challenge" taking on a team to be announced. It is hard to say much about the match as we don't know who their opponents will be.
Both Swinger and Dice can end up on the short end of things fairly often. Will the combination of the two of them be enough to pick up the win in tag team action? We shall see.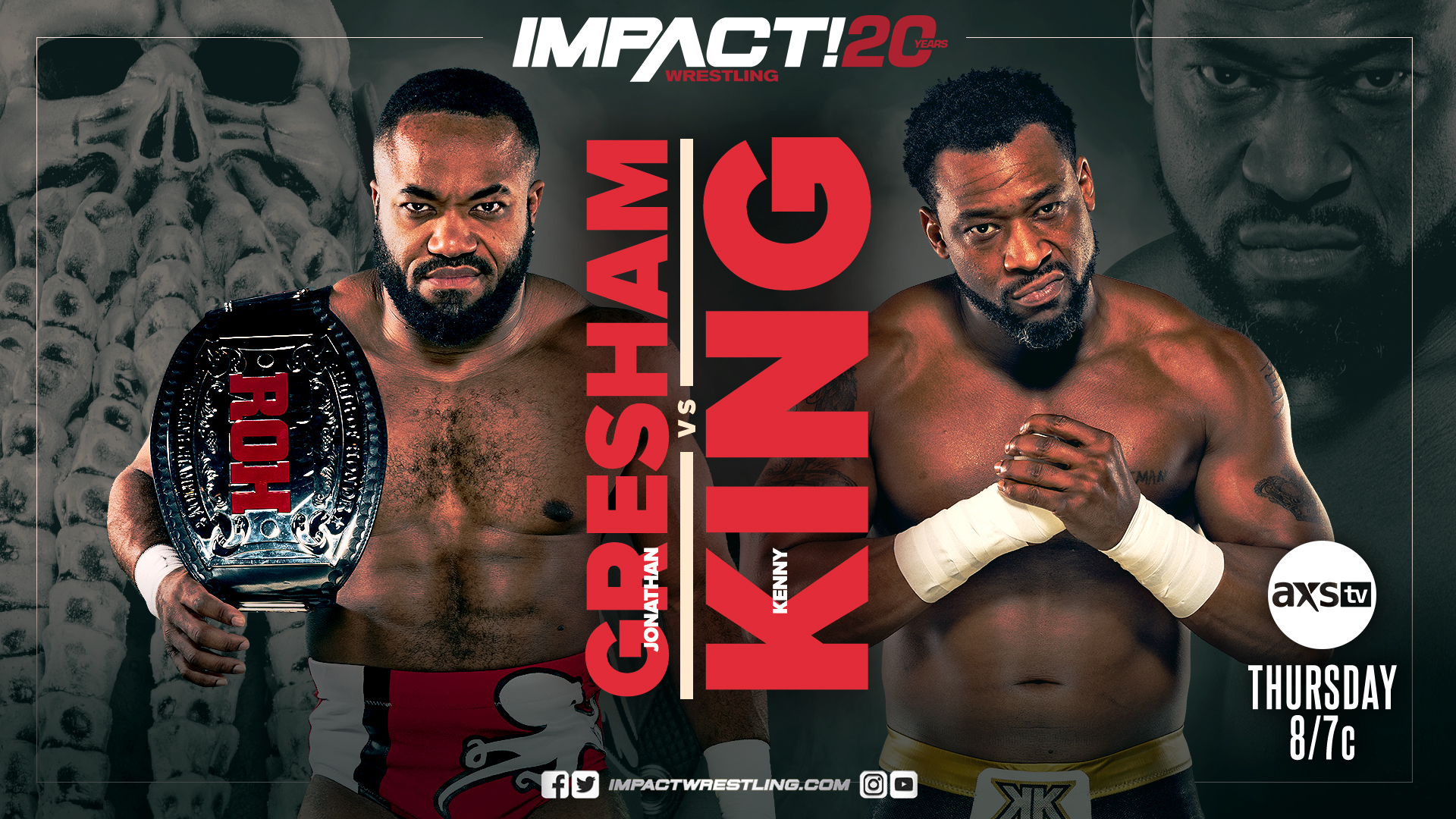 IMPACT Wrestling Preview for 3/31/22
Jonathan Gresham vs. Kenny King
Jonathan Gresham is one Ring of Honor wrestler who has not been on board with Honor No More or their actions. We have seen some tension between Honor No More and Ring of Honor champion Gresham. Gresham has a very impressive in-ring ability and prides himself on being a pure and honorable wrestler. His counterparts in Honor No More don't display those same views.
As a result this week we will see Honor No More's Kenny King take on Gresham in one on one action. Both men are skilled in the ring, but based on track record Gresham could be the victor in this bout. If Honor No More gets involved however, we could easily see King come out on top.
What to expect?
Will see Deonna Purrazzo get dethroned this week?
Will Motor City Machine Guns put themselves back in the running for the IMPACT! World Tag Team Championships in the near future?
What will happen as things between Moose and Josh Alexander heat up even more?
*****
Stay tuned to Pro Wrestling Post for this and additional stories from the wrestling world. Readers can rely on Pro Wrestling Post to be their daily source for all things inside the squared circle. As a result, readers can expect daily news, history, and so much more. Please visit IMPACT Wrestling's website here for news and information on the promotion and upcoming events.