This Saturday Night, IMPACT Wrestling is kicking off the 2021 pay per view calendar with a bang. IMPACT has been building the card since they announced the return of the Knockouts Tag Team Championships at Bound For Glory. With an intergender tag team match, some 6-man tag team action, and a barbed wire massacre, this card truly does have something for everybody. And atop this stacked card, we have AEW World Champion Kenny Omega in action on an IMPACT Wrestling show. On Saturday night, IMPACT Wrestling is out to prove they really are Hard to Kill. Here's what you can expect this Saturday on Pay Per View, as IMPACT Wrestling presents Hard To Kill 2021.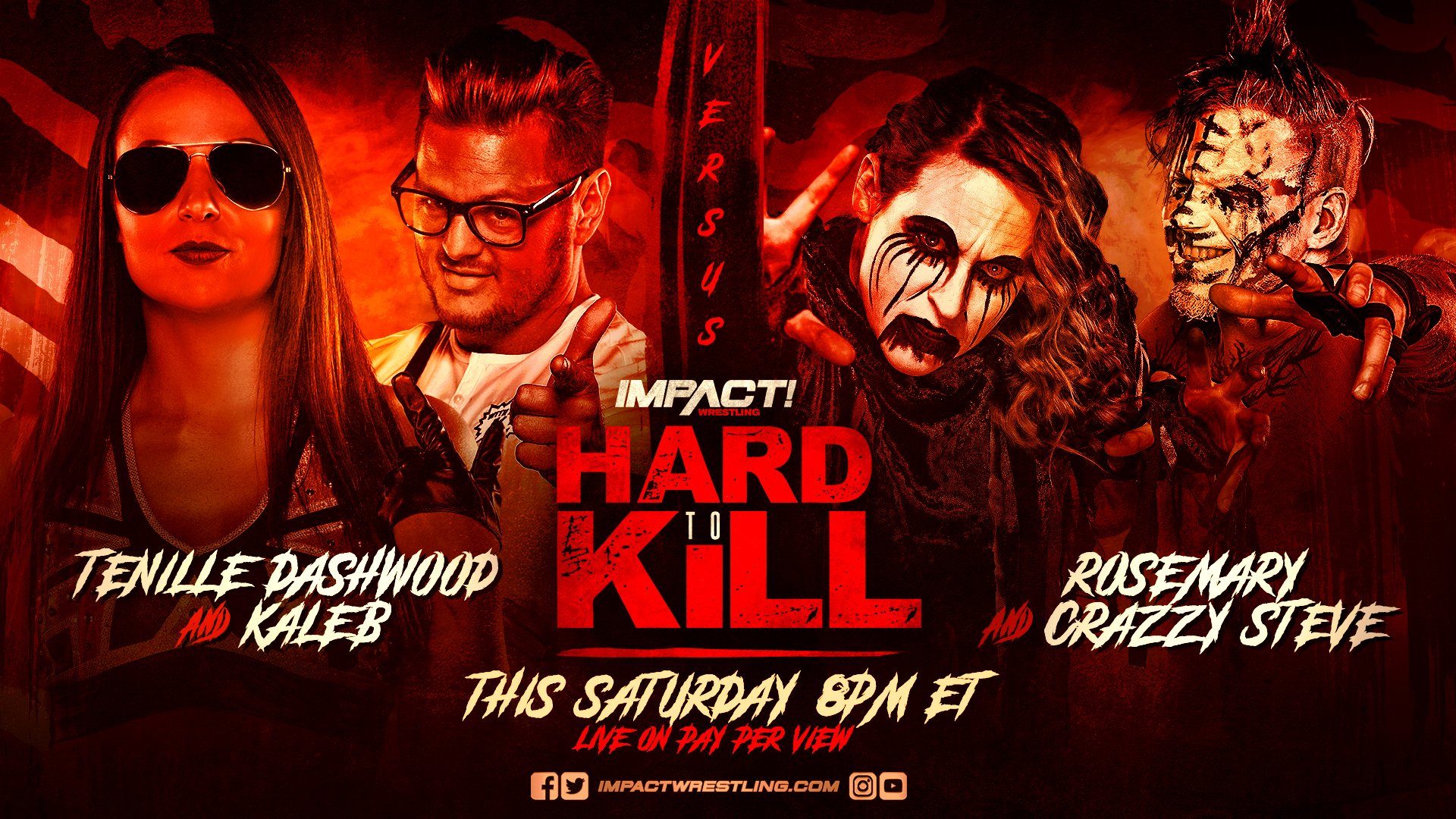 Tenille Dashwood & Kaleb with a K vs. The Decay
Rosemary had an uphill battle on her hands when she faced Tenille Dashwood on this week's IMPACT Wrestling on AXS. As usual, Dashwood's personal photographer Kaleb was in her corner, taking pictures as the match went on. At a pivotal moment in the match, Kaleb sprayed hairspray into Rosemary's eyes. Later in the match, Rosemary crouched in the corner, preparing for a spear, when Kaleb jumped on the apron. As Kaleb yelled at Rosemary from the apron, Crazzy Steve appeared, pulling Kaleb to the floor. As Kaleb and Crazzy Steve brawled up the ramp, Rosemary speared Dashwood for the win. It seems that win ignited something in them because, on Saturday night, Rosemary and Crazzy Steve will reunite as The Decay. The Decay will face Tenille Dashwood and Kaleb with a K in an intergender tag-team match in their re-debut.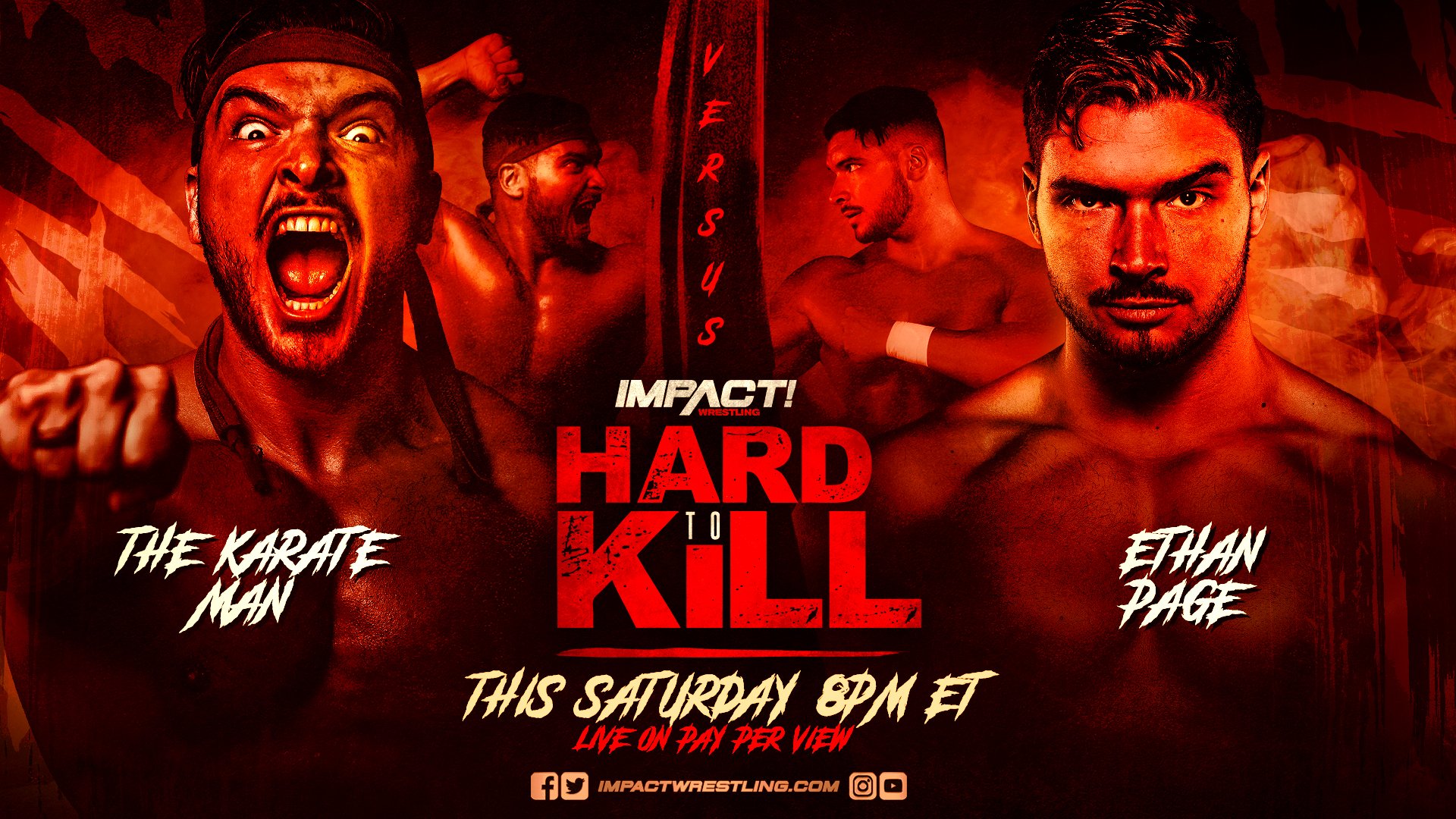 Ethan Page vs. The Karate Man
Those who follow Ethan Page's social media and YouTube channel will know that he's been fighting an internal battle as of late. Towards the end of 2020, Page debuted an alter ego known as The Karate Man. Page's alter ego is a Johnny Cage-like parody of the likes of Jean-Claude Van Damme and Steven Segal. This has caused a rift between Page and his tag team partner Josh Alexander. Sometimes The Karate Man takes over and makes Ethan do reckless things, like attacking and injuring Doc Gallows.
With Doc Gallows injured, he and Karl Anderson can't defend the IMPACT Tag Team Championship. Things came to a head at Final Resolution when Page lost his match with Anderson. Following the match, Alexander left Page alone in the ring, seemingly disbanding The North. On Saturday night, Ethan Page is fighting to regain control of his life when he battles The Karate Man live on Pay Per View.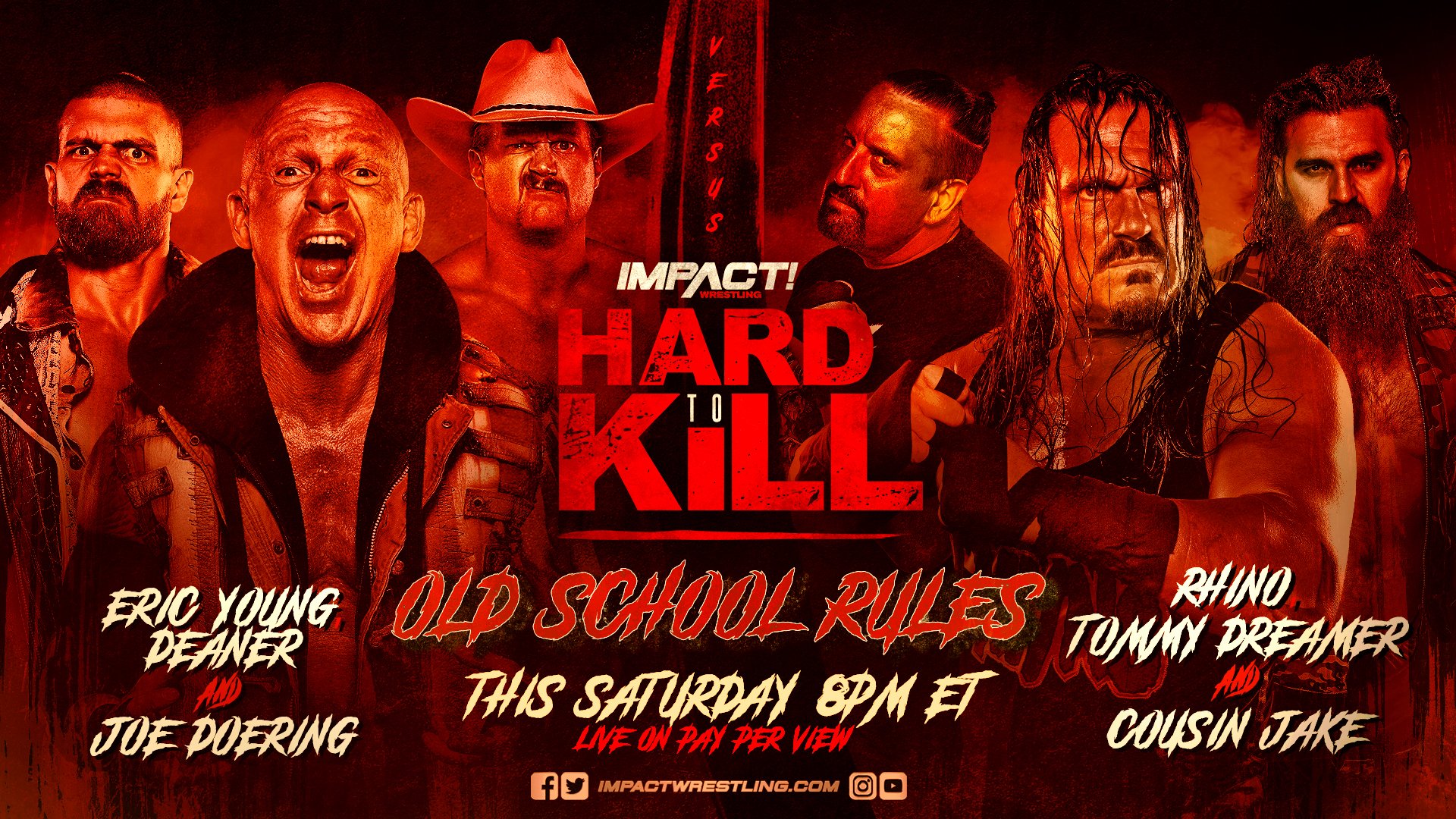 Deaner, Eric Young & Joe Doering vs. Tommy Dreamer, Rhino & Cousin Jake –
Old School Rules
Since Joe Doering debuted in IMPACT Wrestling on November 14th, he and Eric Young have terrorized the IMPACT Roster. The former Cody Deaner was the first wrestler to stand up to Eric Young, but Young got the better of him. Then Rhino stepped into the ring with Young, only to lose thanks to interference by Doering. As Young and Doering laid into Rhino after the match, Cody Deaner and Cousin Jake came to save him. At Final Resolution, The Deaners got involved when Eric Young took on Rhino. Cody and Jake thwarted Eric Young's attempt to attack Rhino with his hockey mask. As he held the mask in his hands, Deaner screamed at Young, "I am NOT a nobody!"
He made this point clear when he attacked Cousin Jake. The newly rechristened Deaner has now joined Young and Doering on their path of destruction. With Deaner now on his side, Eric Young was free to play the numbers game as he pleased. That is until last week when Tommy Dreamer appeared with a kendo stick to fend off Eric Young's cohorts. As Deaner, Young and Doering scampered up the ramp, Tommy Dreamer made the challenge. On Saturday night, these 6 men meet in a falls count anywhere match.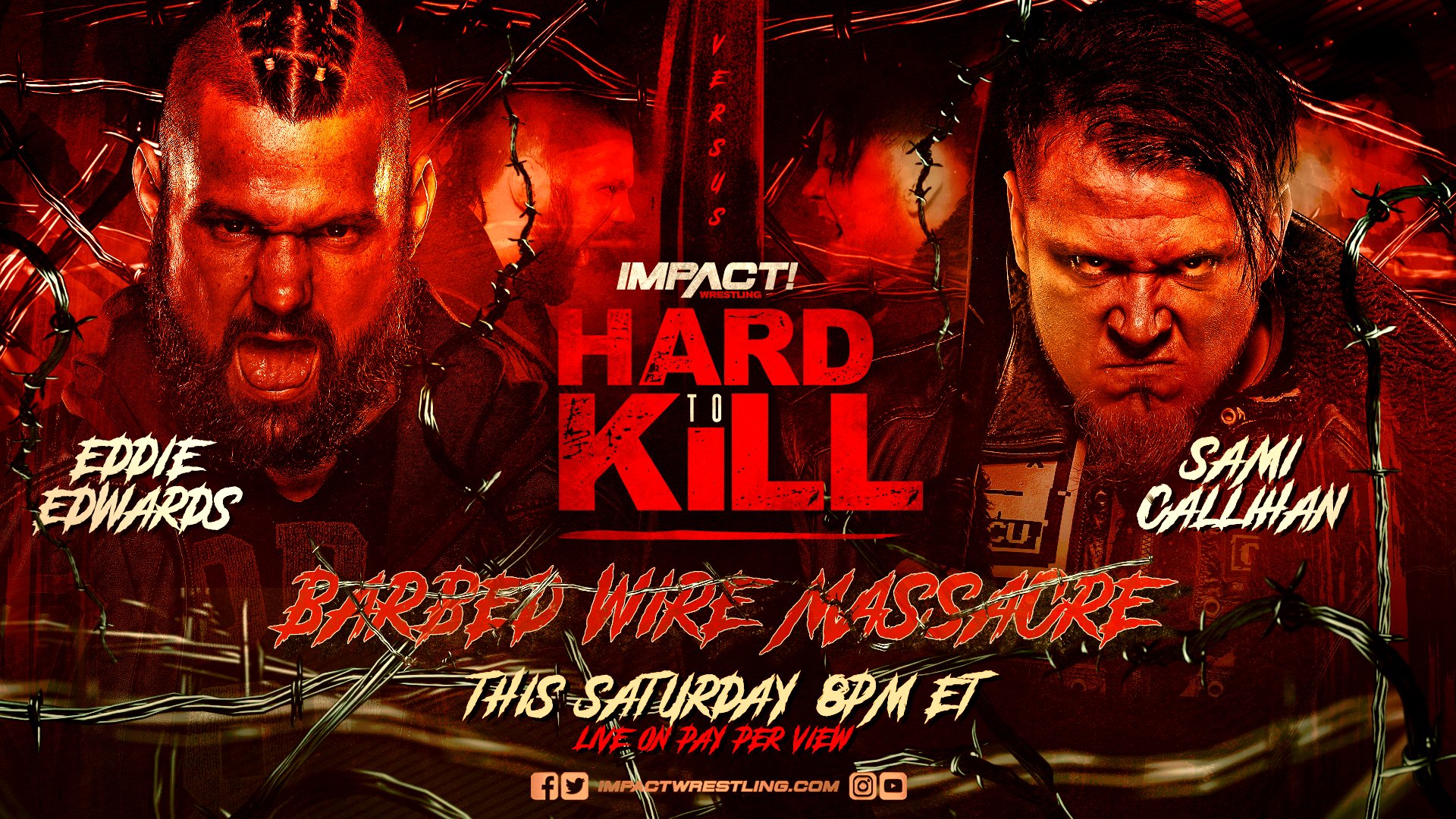 Hard To Kill 2021
Eddie Edwards vs. Sami Callihan
Barbed Wire Mayhem
In 2018, Sami Callihan assaulted Eddie Edwards with a baseball bat and a steel chair. Over the next 3 years, Callihan and Edwards would meet in singles competition 11 times. Callihan reignited the feud in October when he instructed Ken Shamrock to attack Edwards as he left Skyway Studios.  On December 15th, after Eddie helped Alisha Edwards defeat Tenille Dashwood, Callihan appeared on the video screen.  Callihan suggested he and Eddie put this to bed for good. On January 5th, Eddie and Sami fought on IMPACT Wrestling. In the closing moments of that match, Sami showed a video of Alisha in a cage. Eddie left the ring to save his wife, only for Shamrock to jump him. For three years, Sami Callihan has pushed further and further. On Saturday night, Eddie Edwards seeks to put this to an end in the most violent match in IMPACT History: Barbed Wire Mayhem.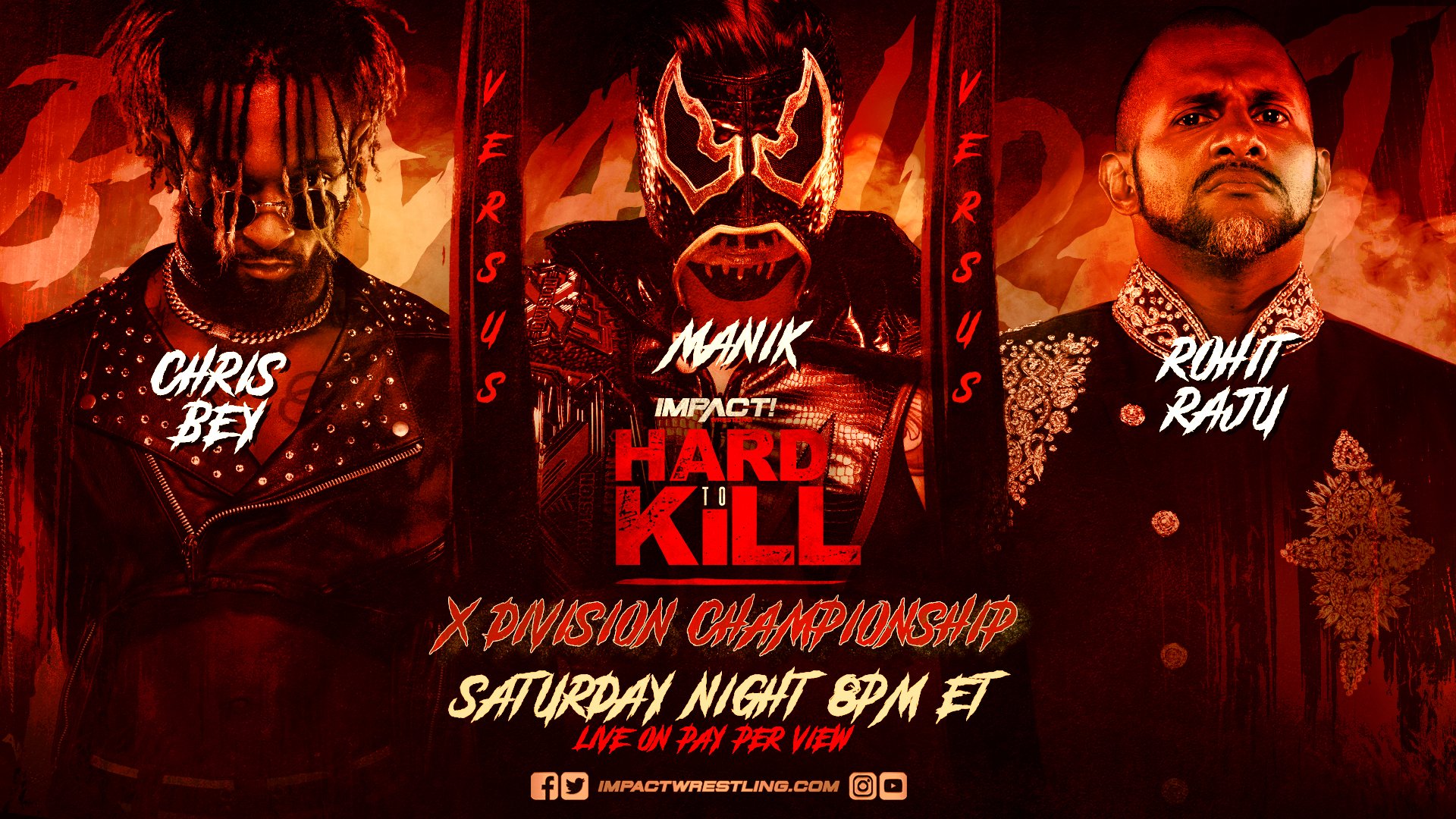 Hard To Kill 2021
Rohit Raju vs. Chris Bey vs. Manik (c)
X-Division Championship
On November 1st, TJP challenged Rohit Raju for the X-Division championship. Rohit Raju accepted the challenge on the grounds that if TJP loses, he cannot challenge Rohit for the championship again. The following week, TJP lost that match. At Final Resolution, The Desi Hit Man opened up another edition of the Defeat Rohit challenge, only for TJP to answer under a mask as Manik. As his old alter ego, TJP captured his second X-Division championship. Now, Rohit Raju is bent on unmasking Manik to overturn the decision from Final Resolution. To that end, Raju has enlisted former X-Divison champion Chris Bey to help him in a triple threat match this Saturday night. In a rematch of sorts from Emergence, TJP (as Manik) will defend the X-Division championship against Rohit Raju and Chris Bey. But will we see a double-cross this time as well?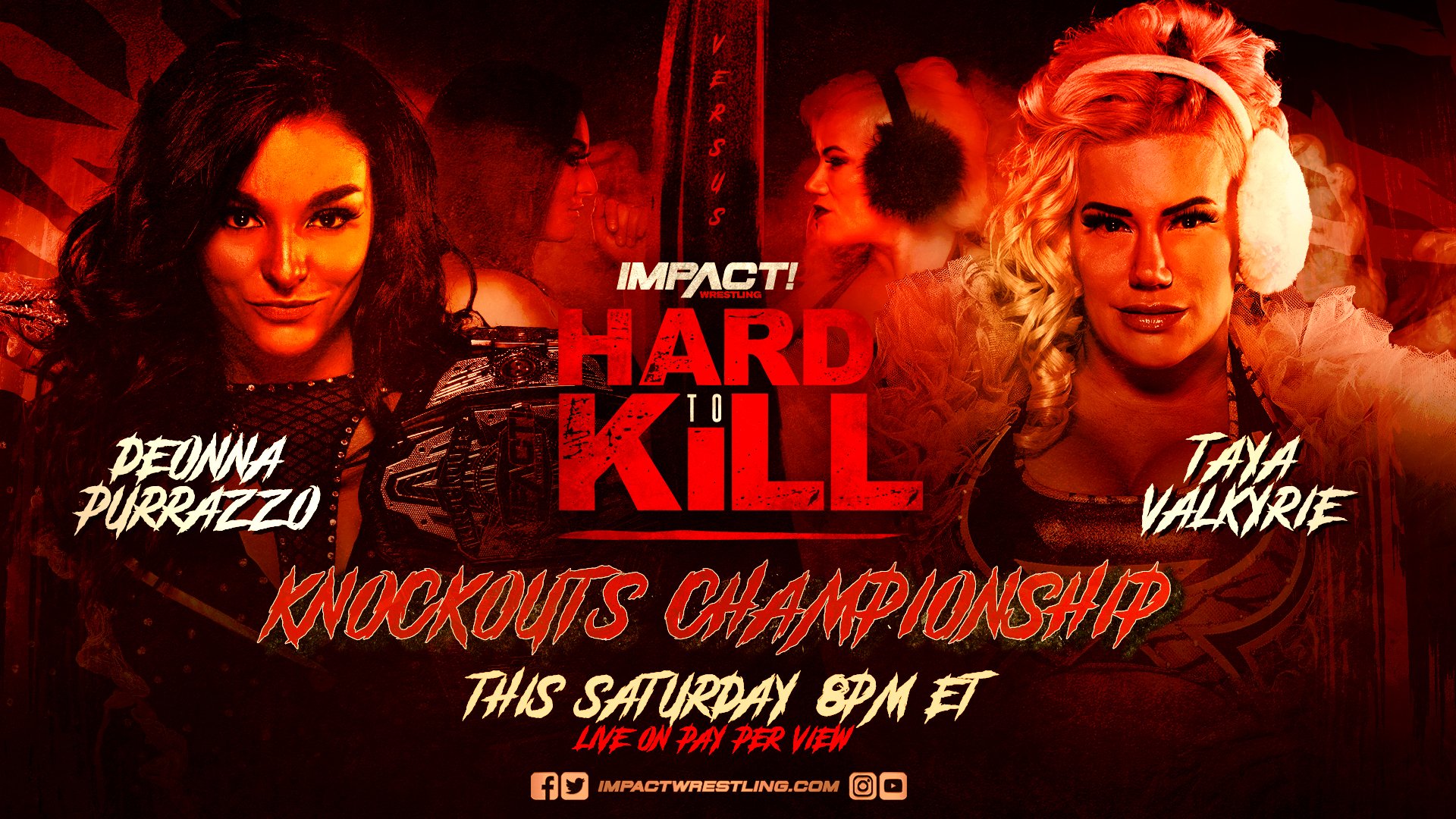 Hard To Kill 2021
Taya Valkyrie vs. Deonna Purrazzo (c)
Knockouts Championship
On the December 22nd episode of IMPACT Wrestling, Deonna Purrazzo cut a promo about her rookie year in the company. She spoke about winning the Knockouts Championship a month after debuting and becoming the first Ironwoman in IMPACT Wrestling. But as she was tooting her own horn, Taya Valkyrie appeared with some words to say. Taya congratulated Deonna Purrazzo for her accomplishments but added that she only got so far because the two rarely crossed paths. As far as Wera Loca is concerned, her 377-day reign as champion makes her the best wrestler in the Knockouts division. The following week Taya challenged for the Knockouts Championship, and Purrazzo accepted. At Hard to Kill, Taya Valkyrie stakes her reputation for a chance to set another record as Knockouts Champion. But can she overcome Deonna Purrazzo's killer instinct?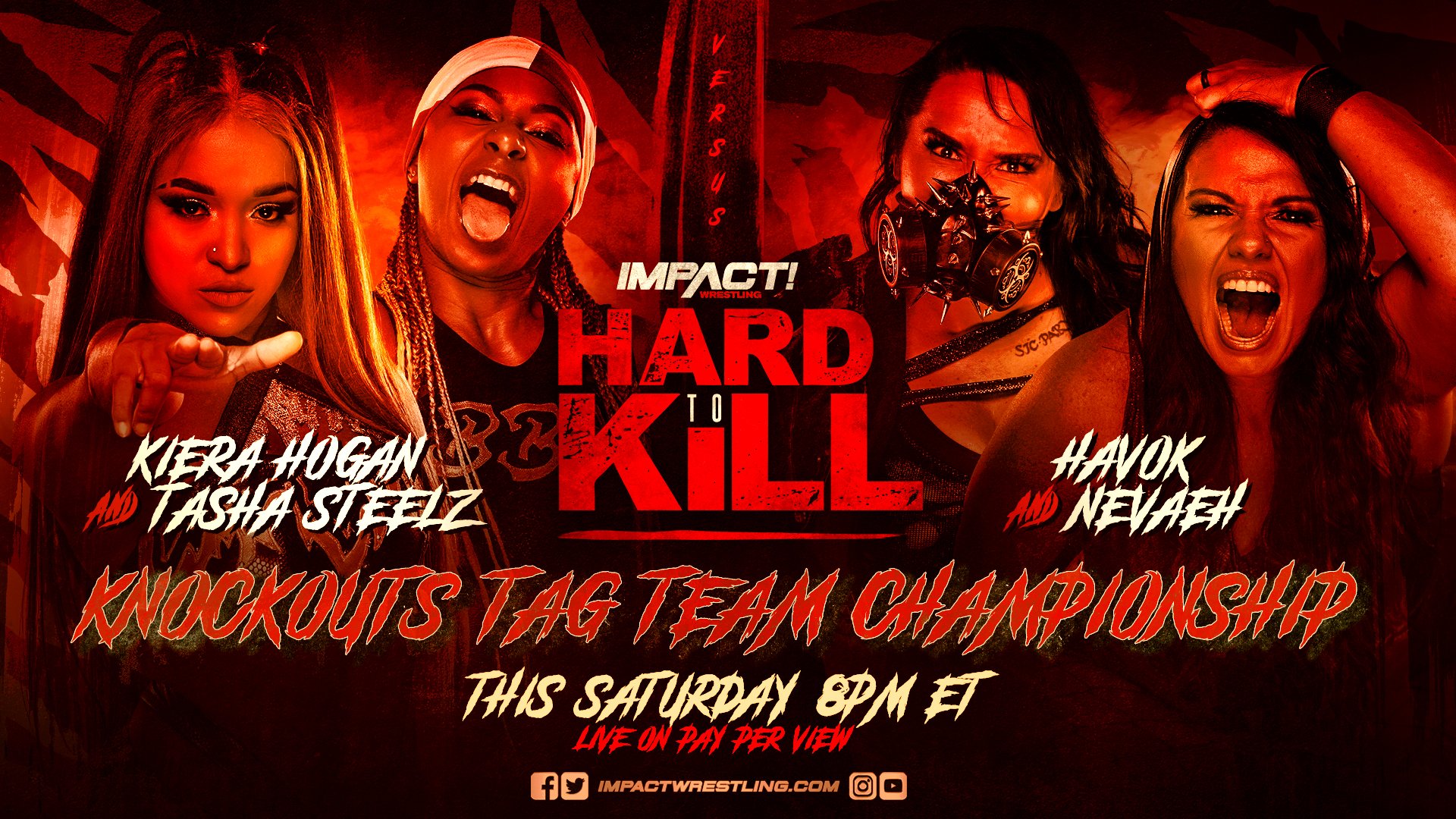 Hard To Kill 2021
Havok & Neveah vs. Tasha Steelz & Keira Hogan – Knockouts Tag Team Championship Match
When the Knockouts Tag Team Championship tournament began, I doubt many expected these teams to meet in the finals. In a tournament sprinkled with names like Jordynne Grace, Taya Valkyrie, Deonna Purrazzo, and Jazz, it seemed a given that one would make it to the finals. But if you think about it, this outcome makes an almost poetic sense. It was Steelz, Hogan, Havok, and Neveah who started the knockouts tag team scene back in July. Now, 6 months later, they meet again for a fight to become the inaugural Knockouts Tag Team Champions. While Havok & Neveah hold the size and strength advantage in this match, Steelz & Hogan have proved their resourcefulness time after time. Will Havok & Neveah overpower their opponents, or will Steelz & Hogan slide through their fingers and into the inaugural Knockouts Tag Team championship?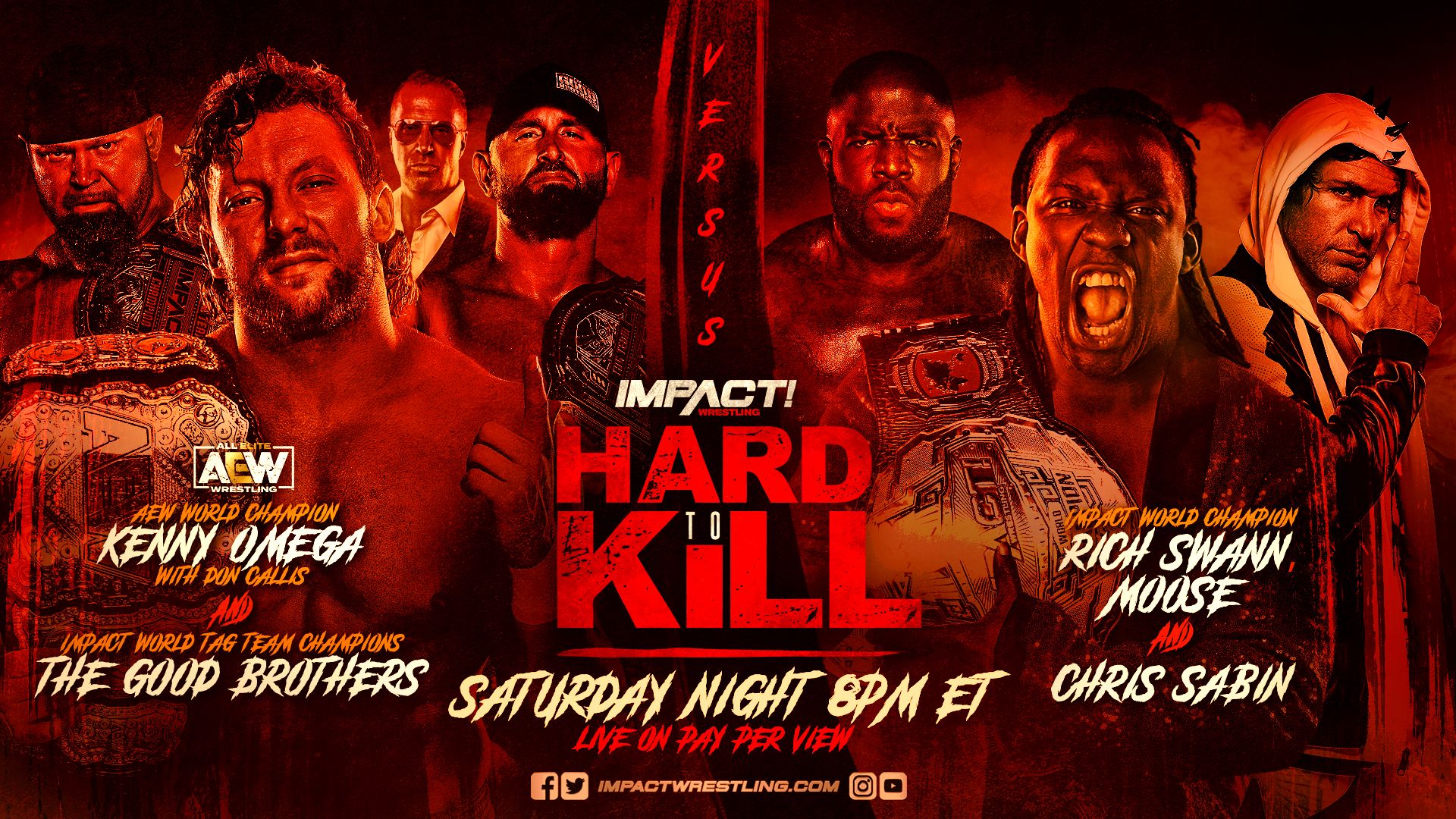 Hard To Kill 2021
Kenny Omega & The Good Brothers vs Rich Swann, Chris Sabin, and Moose
6-Man Tag Team Match
On December 2nd, as Kenny Omega and Don Callis scampered away from AEW: Winter Is Coming, they announced an appearance on IMPACT Wrestling. The new AEW World Champion and his new manager kept their word, appearing on December 8th. In an interview with Josh Matthews, Omega and Callis explained their actions the previous week. As reigning AAA Mega Champion and now AEW World Champion, Kenny's on a belt collecting spree. He's been toying with the idea of challenging for the IMPACT World Championship and he wants to test the waters. At Final Resolution, Kenny spoke with former Bullet Club stablemate and current IMPACT Tag Team Champion Karl Anderson. Kenny urged Karl to bring back "The Old Machine Gun," in reference to Karl's time in New Japan Pro Wrestling.
The following week on IMPACT, Karl Anderson faced Chris Sabin of the Motor City Machine Guns in the main event. He defeated Sabin that night using many of the moves and mannerisms from his Bullet Club era. Following the match, IMPACT World Champion Rich Swann confronted Karl Anderson only for Anderson to attack him. Alex Shelley and Chris Sabin ran in to help Rich Swann, followed by Anderson's tag team partner Luke Gallows, and then Omega. In the aftermath, Kenny Omega challenged Rich Swann and The Motor City Machine Guns to a match at Hard to Kill.
On January 5th, Swann and MCMG approached Kenny Omega's tour bus to get revenge. Omega and The Good Brothers were lurking in the shadows, however, and quickly turned the tables. This week on IMPACT, Rich Swann defeated Karl Anderson in the main event. Following Swann's victory, Omega and Gallows broke into MCMG's dressing room, attacking Shelley and Sabin and starting a massive brawl as the show went off air. On January 15th, IMPACT announced Shelley would be replaced with Moose. On Saturday night, Rich Swann, Chris Sabin, and Moose defend the honor of IMPACT Wrestling against Kenny Omega and The Good Brothers.