As independent wrestling promotions continue to navigate running events during the COVID-19 pandemic, Absolute Intense Wrestling revealed the details behind its latest endeavor for its audience called "Go For Broke."
Go For Broke will be an episodic wrestling game show in which participants will be wrestling matches in an effort to secure a spot in the upcoming Chandler Biggins Memorial Tournament to be held on a later date. The winner of the tournament will receive their choice of a title shot for any of Absolute Intense Wrestling's championship at any event.
Match participants will earn Biggins Bucks whenever they win a match. There will be a countdown clock with an unknown end time. When it does, whoever has enough Biggins Bucks can buy their way into the tournament. Participants will not know the amount of Biggins Bucks required to enter the tournament until after the countdown ends.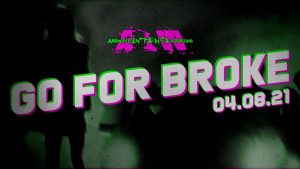 On Episode 207 of The Card Is Going To Change, Absolute Intense Wrestling (AIW) promoter John Thorne thinks this will be a completely different presentation of professional wrestling than what is available to view currently.
"We hope we can at least reengage the AIW fanbase. You won't see star-studded, banger matches on these shows. It's a different presentation, and I think it's enjoyable. It's had some pretty good reviews form the people who watched this so far."
John Thorne
Episodes were recorded in a setting off-limit to fans. All talent agreed to perform on a voluntary basis. If fans wish to support the wrestlers on the shows, the wrestlers' cash application accounts will be displayed to financially support them directly.
Go For Broke: Absolute Intense Wrestling's Grappling Game Show
Unlike previous AIW events, IndependentWrestling.TV (IWTV) and Smart Mark Video did not handle production for Go For Broke. AIW produced the series in-house with its own iPads, audio recording equipment, and production staff consisting of its own students. Thorne believes this will give Go For Broke a unique look when compared with to other wrestling events.
This will be the first AIW production since its inclusion at The Collective 2020 event in Indianapolis, Ind. The debut episode will be released on April 8 at 6:00 p.m. on IWTV as AIW's contribution to IWTV's "Showcase of the Independents" being held in Tampa, Fla. during Wrestlemania Week.
Thorne said he did not feel running a live event during the showcase was the best approach for relaunching AIW. He preferred rebuilding momentum for the product considering the several-month absence from running any events.
"We were looking for a fresh idea and a concept that people could sink their teeth into and build that momentum back up," Thorne said. "This isn't going to be the typical AIW balls-to-the-wall show your used to…If I didn't think it was at least somewhat entertaining, I wouldn't be pushing it through."
Thorne expects the series to be at least 8 weeks long, with each episode just under an hour in length. Go For Broke competitors will not be revealed until each episode airs. After its debut, Go For Broke will be broadcast on Tuesdays at 10:00 pm on IWTV.