Outlaws gonna do outlaw things. If that means going out into the middle of Orange County to have some fun, so be it! This Saturday in Silverado, CA we're in for a hell of a time at GCW The Last Resort. It's been forever since GCW's run a show on the West Coast. It's time the promotion introduced its fans to some new names on that side of the scene. You might not be willing to venture out into the canyons this weekend, but you can catch all of this event live on FITE.tv!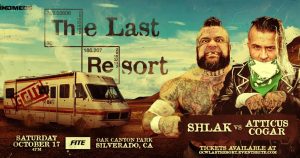 GCW The Last Resort
SHLAK vs. Atticus Cogar
The last time we saw SHLAK he was tearing it up in New Jersey. He's back in California for this show, however, and I guarantee he's ready to send Atticus Cogar straight to Hell. This match couldn't have come at a better time. Cogar's probably feeling pretty good about himself and his shady 44OH! friends since they've had a pretty solid recent few months in GCW as well as other promotions they've all worked. Let's hope SHLAK gives them something to bitch and moan about by the time this one's done.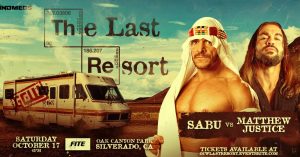 Sabu vs. Matthew Justice
What the HELL?! This one I've gotta see. For one thing, I want to see Matthew Justice kick ass in his own West Coast territory. And I want to see a new legend born out of this match. Yes, Sabu is a legend, but after a couple of decades, I'm ready to see the crazy-ass homicidal, genocidal, suicidal crown go to Justice. The man deserves it if you've seen what he's been up to in just the past year alone. Justice all the way for this one and I'm almost certain there will be some moments where we're gonna fear for either guy's safety.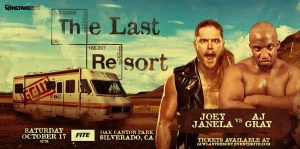 GCW The Last Resort
Joey Janela vs. AJ Gray
I can't believe we haven't seen this match yet, but I'm damn glad to see it booked. AJ had a huge three days last weekend at The Collective in Indianapolis. He's coming to the West Coast on a big wave of BDE (you know what I mean) and I don't think Joey's ready for it. Not with AJ out here proving he's still 100% worthy of holding the GCW Championship that he never truly lost. I'm going with Rich Homie Juice for the win because he's got the most to prove here.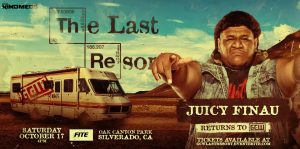 GCW The Last Resort
Introducing Juicy Finau
So before last weekend, I'd never found out about Juicy Finau. I got my education at The Collective, though! This dude is absolutely monstrous big in person, and he's got a naturally intimidating presence about him even though he's a truly wholesome and hard-working guy. I'm looking forward to whatever he does in his first GCW go-round on Saturday.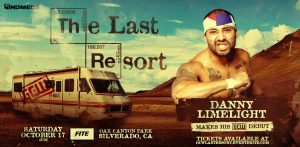 GCW The Last Resort
GCW Debut: Danny Limelight
Thanks to my guy Shawn 2-Cents, I know now who Danny Limelight is! This will be my first time seeing him in person after having checked out some of his work. I'm loving this attention GCW's giving to the deserving talent on the West Coast scene because Danny Limelight is a name that will explode in 2021 if given the right platform. I'd like to see Limelight show up and show out in a scramble on Saturday; it's the best way to introduce the audience to someone new.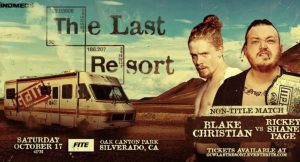 GCW The Last Resort
Blake Christian vs. Rickey Shane Page
Do you know something? At this point, I just want to see someone soundly beat the hell out of RSP and get the victory over him. Title or non-title. Hell yes, I'd rather have the GCW Championship out of RSP's hands. For now, though? Let's focus on an ass-whipping and a pinfall or submission. I'll say Blake Christian could absolutely be our guy for this task. For someone who's worked his ass off to the GCW main event (among many other places in 2020), Blake is in a great place to knock RSP off his stupid self-important pedestal. As long as it's a fair fight with no 44OH! interference, Rickey Shane Pussy is in for a big-ass challenge from All Heart.
The last outlaws will ride into the canyons this Saturday afternoon at 4 pm PST on FITE.tv! Order The Last Resort and kick back this weekend enjoying GCW's return to the West Coast!