Sunday evening on the Atlantic City Boardwalk won't be so tranquil, at least not this weekend! The second night of GCW's Homecoming weekend event takes place on the Garden Pier. If you're not coming to the Jersey shore to celebrate the return of the outlaws, then FITE.tv has the hook up for watching all of the weekend's wildness. GCW -Homecoming: Night 2.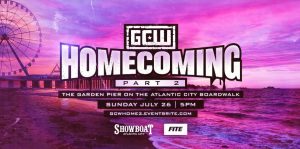 Enjoying these shows on a budget is possible too! You can order both Homecoming night 1 and night 2 on FITE for only $19.99. You can either buy in now or wait until you see the gifs and video clips from the shows to convince you later. Either way, I promise this will be money well spent!
GCW – Homecoming: Night 2 | Preview
Alex Colon vs Zachary Wentz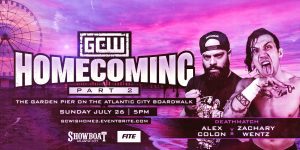 Two deathmatches in two nights. Alex Colon doesn't mess around. On Night 1 he'll see action against AJ Gray and on Sunday he'll step back in the ring to take on Zachary Wentz. There's no doubt that Colon is solid enough to go two nights in a row for light tubes and barbed wire and various sharp fuckery. He's tough, but I wonder between Wentz and Gray which will be the one to catch one of the world's deathmatch masters off his game long enough to get a win?
Chris Dickinson vs Calvin Tankman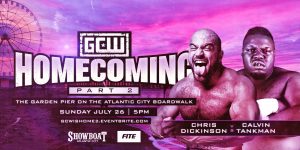 Dickinson has a hell of a busy weekend himself. On Saturday he'll face Mance Warner and then on Sunday, he's got a match with big Calvin Tankman. Rest assured, this one will be an absolute banger. Tankman took his opportunity to make his name at Wrld on GCW 2 back in June. That was on Tankman's home territory in Indianapolis, though. Can he bring that momentum all the way up to the Boardwalk as he goes one on one with the Dirty Daddy? I'd like to think so, but when Dickinson is on a good run he's unstoppable. This weekend is his chance to start running hot again.
Alex Zayne vs Myron Reed vs Blake Christian vs Tre Lamar vs Jordan Oliver vs Jimmy Lloyd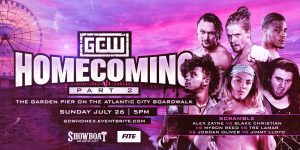 Sunday scramble fuckery is in store! GCW is coming home, but we can't consider the outlaws as fully home unless there's a scramblef**k on the card. This match has a great lineup, too. You've got the scramble legends like Zayne and Christian and Lloyd and even Jordan Oliver going in with fresh blood like Tre Lamar and Myron Reed. Bet on this one being a very good time with plenty of gif and clip-worthy moments that will either astound fans or piss off the cop callers.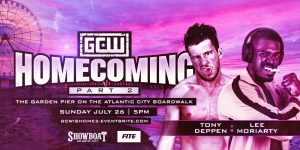 Oh hell yes, here we go! Deppen's always going to be my go-to favorite in damn near any match, but when it comes to Lee Moriarty I have a hard time deciding between the two. If you've never seen much of Lee Moriarity until this summer starting in Indianapolis then prepare yourself for what I think will be one of his best matches. This one will be a great way to introduce yourself to the Apex of Combat as he takes on one of the indy scene's finest in Deppen.
GCW – Homecoming: Night 2 | Preview
ACH vs KTB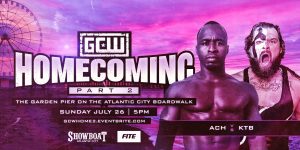 It's fantastic to see ACH working both nights of Homecoming, and I'm glad to see he's going up against KTB on Night 2. I'll say now that this match is going to go just as hard as ACH vs. Tre Lamar on Night 1. KTB's bound to give ACH a hell of a fight, though, so this one's too close for me to call. I would, however, enjoy seeing more of ACH in GCW after this weekend. Hopefully, this is the rebooting of his career.
---
Only part of the card for Night 2 has been officially announced. There are a number of matches remaining, so the speculation is ongoing as to who else we'll see this weekend at Homecoming. I'm looking forward to finding out who Allie Kat will go up against. I bet the rest of the Second Gear Crew will represent on night 2 as well. I have no doubt we'll see 44OH this weekend also, but to hell with those guys.
I'll be live-tweeting from front row this Sunday for night 2 of Homecoming! The show's sold out, but the fans at home are getting the sweetest deal thanks to FITE. The low price of $19.99 for both nights is unbeatable, so you really don't want to miss out on any of this event!