The year 2020 has been the most trying of times for many reasons. Of course, the obvious of the Coronavirus pandemic can be faulted for the unprecedented amount of hardship. In an unexpected tragedy, it was announced that Shad Gaspard was lost at sea while spending Memorial Day weekend with his family. The news of his death sent the wrestling world, and specifically the black community into a state of shock. This show was originally going to take place on April 3rd, 2020. The duo of Cryme Tyme were set to take on 40 Acres, but the pandemic would prevent that from happening. GCW Presents For the Culture and it is now set to take place on October 9th, 2020 just one minute before midnight. The show will not only be a celebration of the life of Shad Gaspard but also a celebration of Black Lives in general.
The Brainchild of AJ Gray
Nearly a year ago Gray created this show to focus on inclusion and representation. He explains in an interview what this opportunity means for so many involved:
"I'm hoping to give people of color the biggest platform we've ever had on a wrestling stage. The POC, whether they be wrestling fans or wrestlers themselves, have something to go to. There's many times an ethnic wrestling fan will feel left out in an indie crowd because they're not mixed and are predominantly white. That's not a negative and I appreciate all fans, but it's not comfortable for a lot of people to be in situations like that. So, I want to give them something to look for." – AJ Gray on FTC
As mentioned earlier the show has been rescheduled, but that has allowed it to grow even more. The card currently sits at a total of 8 matches. All of which are sure to provide excitement, storytelling, and a whole lot of culture.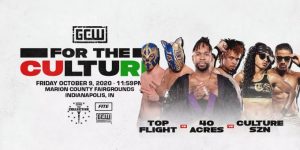 This match is the only tag match on the card, and it promises to be fast-paced. With the amount of pure athleticism in this match, we are in for a show. Top Flight will bring the Air Assault, 40 Acres will bring the pain, and Culture SZN will bring the speed. The team of Top Flight consists of Air Wolf who is just 21 years of age and Angel Dorado who is a baffling 19. Culture SZN consists of Christian Casanova who has been making quite the name for himself in recent GCW shows, and Tasha Steelz who has been doing well in the Impact Knockouts division. PB Smooth and Tre Lamar fill two-thirds of 40 Acres with AJ Gray being the third. The potential of interference is always there, but Gray does have a match to prepare for himself.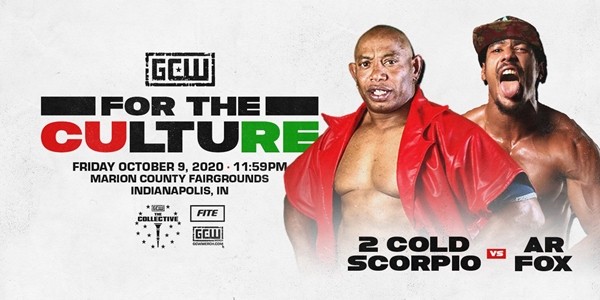 Any world where 2 Cold Scorpio is wrestling on PPV is a world worth living. At nearly 55 years young 2 Cold is still hitting Arabian Presses like its WCW days. AR Fox is the perfect competitor for Scorpio as their styles are nearly identical. Fox has experience in the hardcore department, so look for him to do anything he can to pick up the win against the seasoned veteran here. It's the Whole Foxin' Show against the always brisk 2 Cold Scorpio.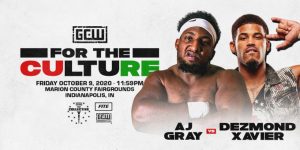 The creator of the show couldn't sit idly by and not join in on the fun. It was one of the later additions to the card, but we're glad it's on. Dezmond Xavier has been on a tear in Impact wrestling in the tag division, but he's more than capable of holding his own here against AJ Gray mono e mono. It's a classic test of power against athleticism as AJ Gray looks to claim victory on such an important night.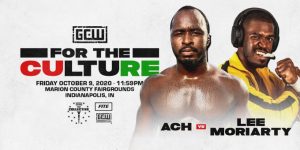 ACH has been on a tear since returning to the indies. His power packed into a 5'9 body is unfathomable. However, he'll have to deal with Lee Moriarty and his TAIGASTYLE. Expect a match of the night caliber bout here. ACH has an 8-year experience advantage over the Pittsburgh native, so look for that to come into play. Both men possess great abilities, but only one will get the 3 count.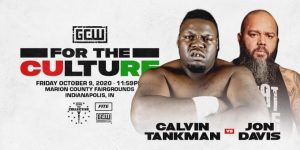 This match was originally supposed to be Calvin Tankman versus Will Hobbs, but since he has newly signed with AEW Jon Davis has been named the replacement. Calvin Tankman well he's a Tank Man! An agile tank that can do a running shooting star press. Jon Davis is no slouch of a replacement either as he is a hard-hitting yoked up behemoth. This match should provide all the wants and needs of a heavyweight clash. Tankman is the hometown boy in this match, and although the crowd will be small look for that to have some influence on Tankman's energy.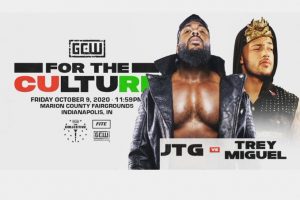 In perhaps the most emotional match of the night, we see JTG continuing his singles run against the Fresh Prince of Mid Air Trey Miguel. This match will be a split between JTG's hard-hitting, and Trey's flashy acrobatics. Trey can fly around all he wants, but he'll have to answer to JTG's right hand at some point. Miguel was practically born in the ring as he started his career at just 15. Now with 11 years under his belt he looks to pick up a career-defining win over the 18-year veteran JTG.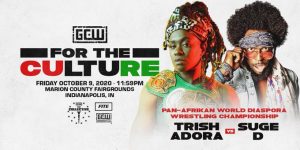 The Pan-Afrikan World Diaspora Wrestling Championship being showcased on this card is exactly what For the Culture and F1ght Club Pro Wrestling is all about. F1ght Club Pro as a company believes that everyone of any color, gender, and sexuality should be able to enjoy professional wrestling. This championship is the epitome of inclusion. Trish Adora became the inaugural champion back in February, and Suge D looks to become the second champion.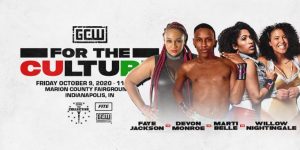 Continuing the conversation of inclusion we are delighted by the representation in this match. Professional Wrestling shouldn't have boundaries or limits between who can and can't compete. This match is a perfect example of why this sport is so great. Devon Monroe can serve Black Sexcellence. Faye Jackson can bring her perpetual horniness while still kicking ass. Marti Belle can bring her Dominican fire, and show everyone why she's killing it at NWA. Willow Nightingale can bring her bubbly personality, and throw Devon Monroe 3 rows deep into the stands.
For The Culture and why it's important:
This card is the perfect blend of familiar faces and some names that might be new to many. This card has been the talk of The Collective weekend. For many reasons this show is important. It puts the attention on new talents that perhaps wouldn't have gotten the opportunity on other shows. It's also important because of the lack of representation in this industry. There is a long history of People of Color not getting the same opportunities in the world of professional wrestling.
Tensions are higher than ever. The year of 2020 has shaped to be one of the most impactful and important years in the history of the world. From the death of George Floyd to the death and injustice of the handling of Breonna Taylor's case. Including countless others that have died or have been treated differently due to the color of their skin. This year has forced the conversation. Many have already understood the injustices in this world, but with more representation and inclusion the world can hope for more change.
For the Culture is the last show of the first day under The Collective branch of GCW shows. It will take place at Marion County Fairgrounds in Indianapolis, IN. The whole weekend will be broadcasted live on FITE TV, so be sure to catch FTC at 11:59 pm ET.