GCW Presents Blood On The Hills. Coming off the heels of an exciting weekend in Texas at the beginning of this month, Game Changer Wrestling will be hosting their sold-out "Blood On The Hills" event from the Ukrainian Cultural Center in Los Angeles, California, this upcoming Friday. Blood On The Hills will be streaming live on FITE.TV at 11 pm EST.
GCW Presents Blood On The Hills
Matt Cardona and Chelsea Green vs. Bussy
When Matt Cardona arrived in Game Changer Wrestling at this past year's Zombie Walk event, the wrestling world was shaken to its core. Cardona, a criminally underrated fan-favorite during his tenure in WWE, has continually made headlines this year. This is thanks to his incredible prominence in many of North America's top independent promotions. Though he's usually known as "The Michael Jordan of Wrestling Figure Collecting," Cardona has only this year shown fans that he can also be a "Deathmatch King," as showcased by his dethroning of the Game Changer Wrestling World Championship from Nick Gage.
Not all have taken too kindly to Cardona's and his partner Chelsea Green's showings in the promotion. In particular the GCW faithful and their favorite stars. If there are any GCW roster members that scream "favorites," it's Bussy – the team of Effy and Allie Katch. Both wrestlers are perhaps some of the biggest names on the independents today, and for good reason.
Effy's attitude, look, in-ring ability, and charisma has granted him not only stardom among wrestling fans but all of pop culture as well, namely through a recent profile in Business Insider and an outstanding social media presence. Katch has also made her name widely known across fandoms through her showings in over 20 promotions this year alone, including GCW, AEW Dark and Glory Pro. Her last match in GCW was a fantastic 20-minute bout against Thunder Rosa at this past month's "So Alive" event.
Blood On The Hills
Effy has faced off against Cardona twice inside of a GCW ring, both times for Cardona's patented Internet Championship. Effy upset Cardona for the title at GCW: Getlostalot this past September, yet "The Thousand Dollar Broski" was able to win the championship back at the next month's Fight Club show.
Green, on the other hand, lost her only officially sanctioned GCW match against Katch at last month's Evil Deeds event. The feud is deep-seated, full of grudges, and with strong implications. Though Bussy has the statistical advantage over Cardona and Green, it is bound to be a competitive and entertaining bout, as surely neither team will accept a defeat from the other.
No Rope Barbed Wire Deathmatch
– Atticus Cogar vs. Jordan Oliver
Feuds are the backbone of professional wrestling. Conflicts between wrestlers are what keeps fans coming back to either watch their heroes succeed, or their villains fall. Blood feuds then – feuds that feel visceral, feuds that feel real, feuds that feel dangerous… Those are the star-building conflicts, the ones that legate wrestlers as either fan-favorites or detestable heels.
44OH is no stranger to blood feuds on the independent circuit. Ricky Shane Page, Eddy Only, Gregory Iron, Eric Ryan, Bobby Beverly, and Atticus Cogar have delivered some of the most despicable attacks to not only the GCW roster but to those in H2O, No Peace Underground, and IWA: Mid South as well, to only name a few. The latter member, Cogar, is perhaps most likely to put the "blood" in said blood feuds. Through his trademarked green skewers, devastating headlock driver, and clear-cut sadism, the "Silver Teeth Satan" has made as many enemies along the way as he has had gallons of blood poured by his hands.
Blood On The Hills
Cogar has perhaps made his biggest enemy in GCW's "East Coast Ace," Jordan Oliver. Oliver, alongside his friend Nick Wayne, has not only been defeated by Cogar and the rest of 44OH a number of times but brutally assaulted as well. "Atticus Cogar, I don't think anyone else in GCW has pinned me more than you," Oliver said.
At GCW's "So Alive" event this past December, Cogar had laid out a brutal assault on Oliver ahead of their scheduled match. After skewering the referee to ensure that nobody would stop him, Cogar blew a fireball into the torso of Oliver, delivered a headlock driver onto the stage ramp, and held the East Coast Ace's head over some turned on pyro as backstage personnel rushed to save the young star from the hands of the Silver Teeth Satan.
To Oliver, "GCW is built on the foundation of youth." Cogar, however, has shown an extreme lack of interest in being seen as one of GCW's young up-and-coming pillars. It's clear that Cogar's intentions lay only in violence and inflicting pain onto others. To Cogar, "GCW is built on the blood of deathmatch wrestling."
"I refuse to be categorized with people like Jordan Oliver and Nick Wayne just because of my f**king age," Cogar said.
What better way to settle the score between two of the biggest names in independent wrestling today than in an environment that inherently breeds violence – a no ropes barbed wire deathmatch?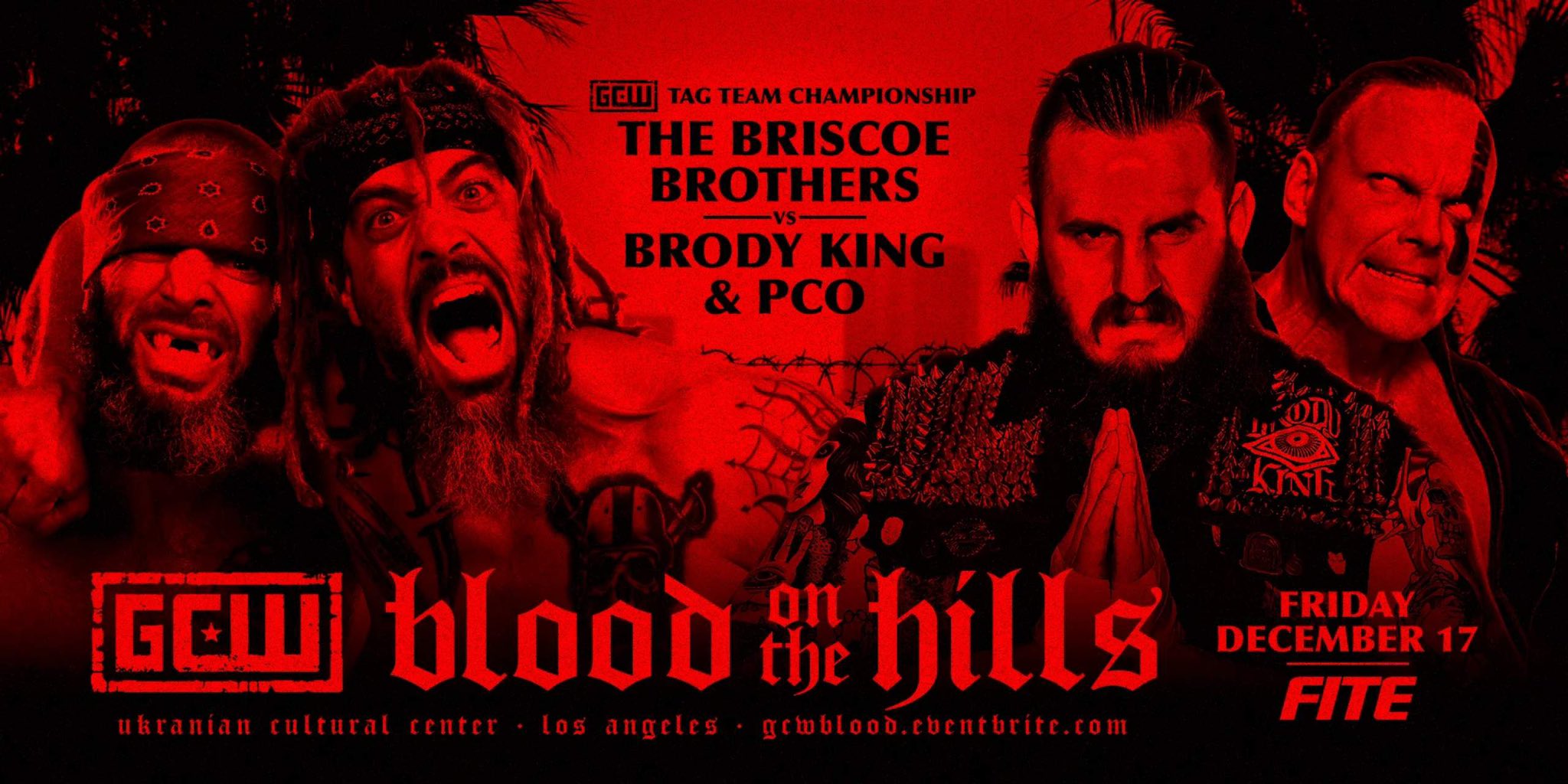 GCW Tag Team Championship
– The Briscoes vs. Brody King and PCO
After a successful title defense against Ninja Mack and Dante Leon a couple weeks ago at GCW: So Alive, Mark and Jay Briscoe look to defend their Game Changer Wrestling Tag Team Championships yet again, this time against two men they are definitely no strangers to.
Throughout the Briscoes' nearly two-decade tenure in Ring Of Honor, the team has wrestled with and against some of the promotion's most exciting and gripping stars, including their opponents for this Friday, Brody King and PCO.
PCO, who last appeared for Game Changer Wrestling at 2018's "The Dynasty" event, holds the promotion's Extreme Championship. Alongside the incredibly athletic King, who will also be making his first appearance in GCW since 2018, this will be their seventh time joining forces up against the Briscoes.
The teams' familiarities with one another may pose a challenge to the Briscoes reign over the GCW Tag Team Championships. Yet as demonstrated by their two already fantastic matches with the company, the brothers are just as comfortable inside a Game Changer Wrestling ring. They are as familiar in GCW as they are in a Ring Of Honor ring. No matter the outcome, the bout between these two teams is guaranteed to be a must-watch for not only fans of Ring Of Honor and independent wrestling but professional wrestling as a whole.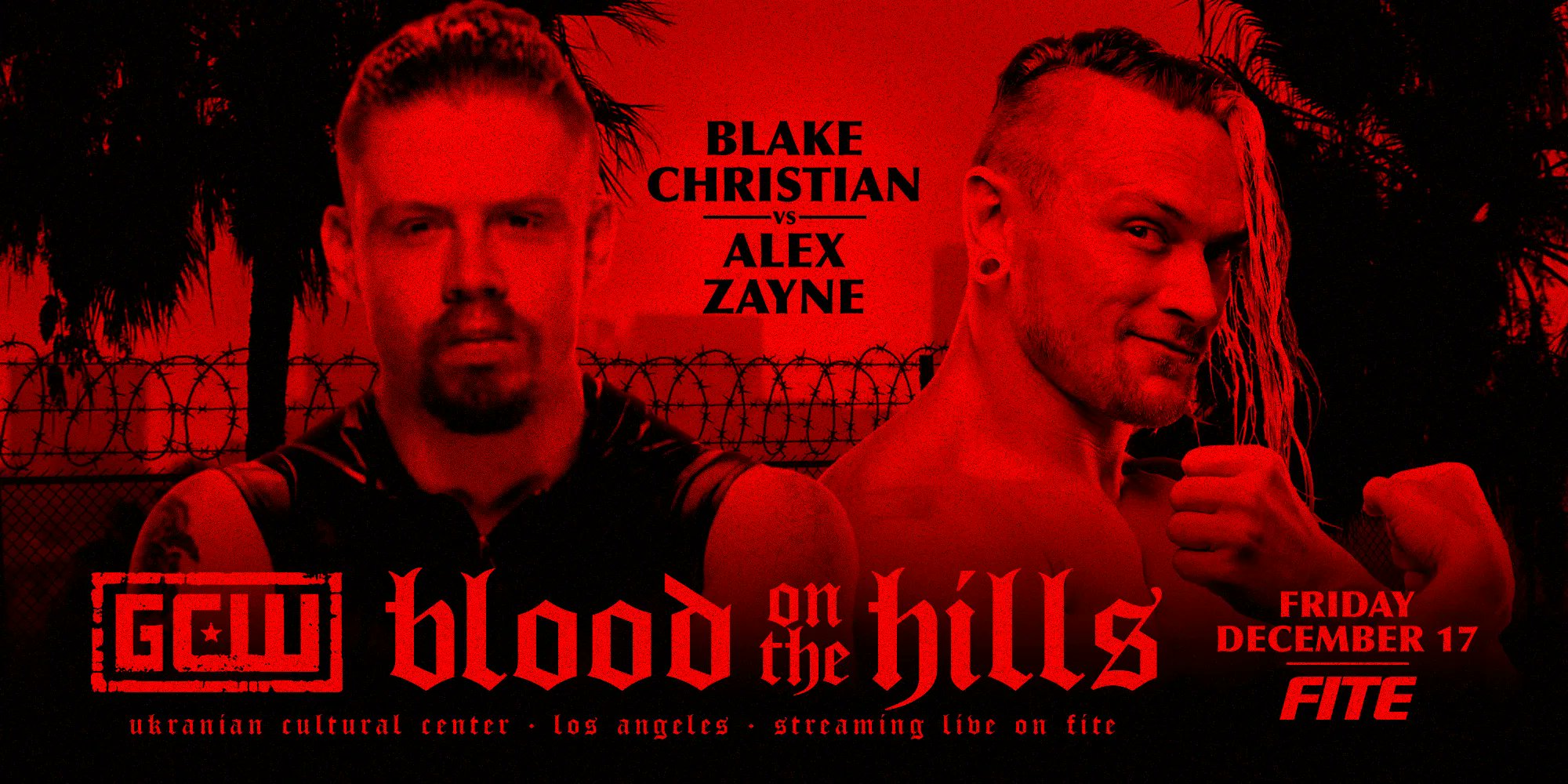 GCW Presents Blood On The Hills
Alex Zayne vs. Blake Christian
Alex Zayne's incredible win record this year in Game Changer Wrestling should come as no surprise. "The Sauce" has impressed audiences across promotions through his versatile arsenal, awe-inspiring style, and exciting presence. The multitalented Kentucky native has showcased his innovative high-flying abilities in not only GCW but WWE, NJPW, and ROH as well!
Christian, who recently wrestled for GCW in an incredibly intense match against Jack Carthweel. He did so at "So High" two weeks ago, recaptured the hearts of independent wrestling fans in his triumphant return to the promotion. The bout not only reminded fans of Christian's blink-and-you-miss-it high-flying arsenal but his obvious audience connection, as "All Heart" chants echoed throughout Dallas that night.
Blood On The Hills will see the first time Christian and Zayne meet one-on-one in the ring in over a year, and even the highest expectations are anticipated to be surpassed. This year alone, both men have proven themselves to be assets to independent professional wrestling, worthy of stealing the show of any card they are placed on.
GCW Presents Blood On The Hills
Jonathan Gresham vs. AJ Gray
This past Saturday's ROH Final Battle saw Jonathan Gresham defeat Jay Lethal for the vacant Ring Of Honor World Title. Gresham, a 15-year veteran, has stepped his way through the Game Changer Wrestling curtains eight times over the last three years, but he has yet to step foot in the ring with a member of the Second Gear Crew.
Perhaps there is no tougher introduction to SGC than "The Truth" AJ Gray. Gray has become one of Game Changer Wrestling's mainstays over the last couple of years, wrestling for the company over 30 times in 2021 alone.
Despite Gray's association with the hard-hitting, no-nonsense, violent Second Gear Crew, his propensity for hardcore wrestling and strong-style esque strikes are juxtaposed by very evident technical abilities.
It's these abilities that Gray will need to hone in on for his match against Gresham, as the current ROH World Champion has been granted "The Octopus" moniker for his tendency to out-wrestle out-stretch and attempt to submit any opponent that stands across from him in the squared circle.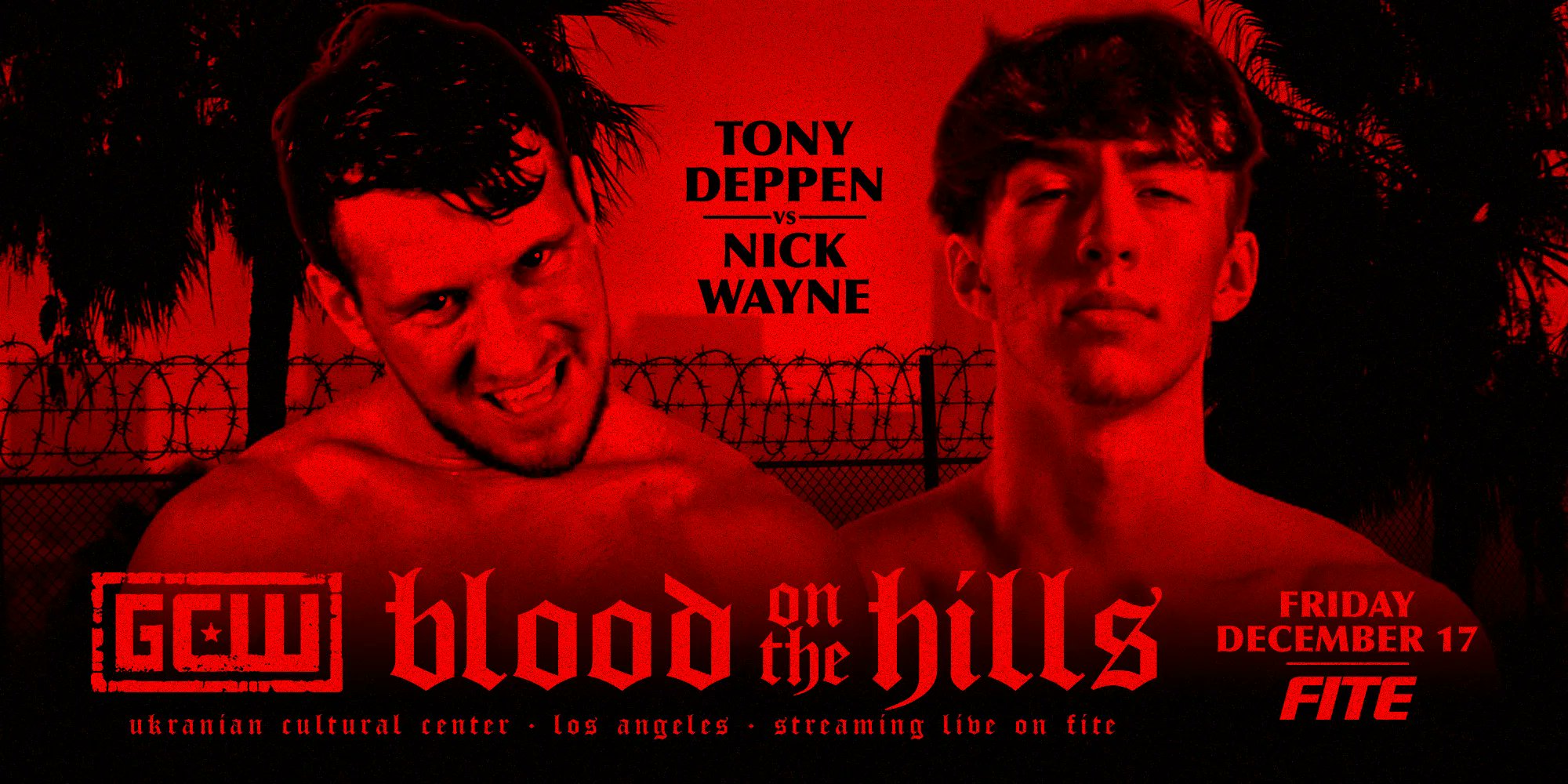 GCW Presents Blood On The Hills
Tony Deppen vs. Nick Wayne
This Friday will see one of independent wrestling's most prospective young stars in Nick Wayne. He wil go one-on-one with one of GCW's most prominent stars in Tony Deppen. Since 2018, Wayne has been blowing the collective minds of audiences through his high-flying capabilities, technical base, and magnetic charisma. After an exceptional match against Joey Janela at DEFY: Brutalist last month, the young star has gone on to have stellar matches. He has done so against the likes of Lee Moriarity and Atticus Cogar.
Deppen, has been a cornerstone of GCW since its initial rise in popularity over the last couple of years. He has proven time and again to fans of independent wrestling that he ought not to be slept on. Whether middle fingers are being thrown his way by those in attendance or his theme song is being harmonized by the GCW faithful, Deppen always manages to put on stellar matches thanks to his amazing ring presence, technical wrestling ability, deceptive high-flying, and outstanding charisma.
Whether Deppen will be able to pin the third-generation star will only be foretold this Friday in a match that is sure to be as entertaining as it will be hard-hitting.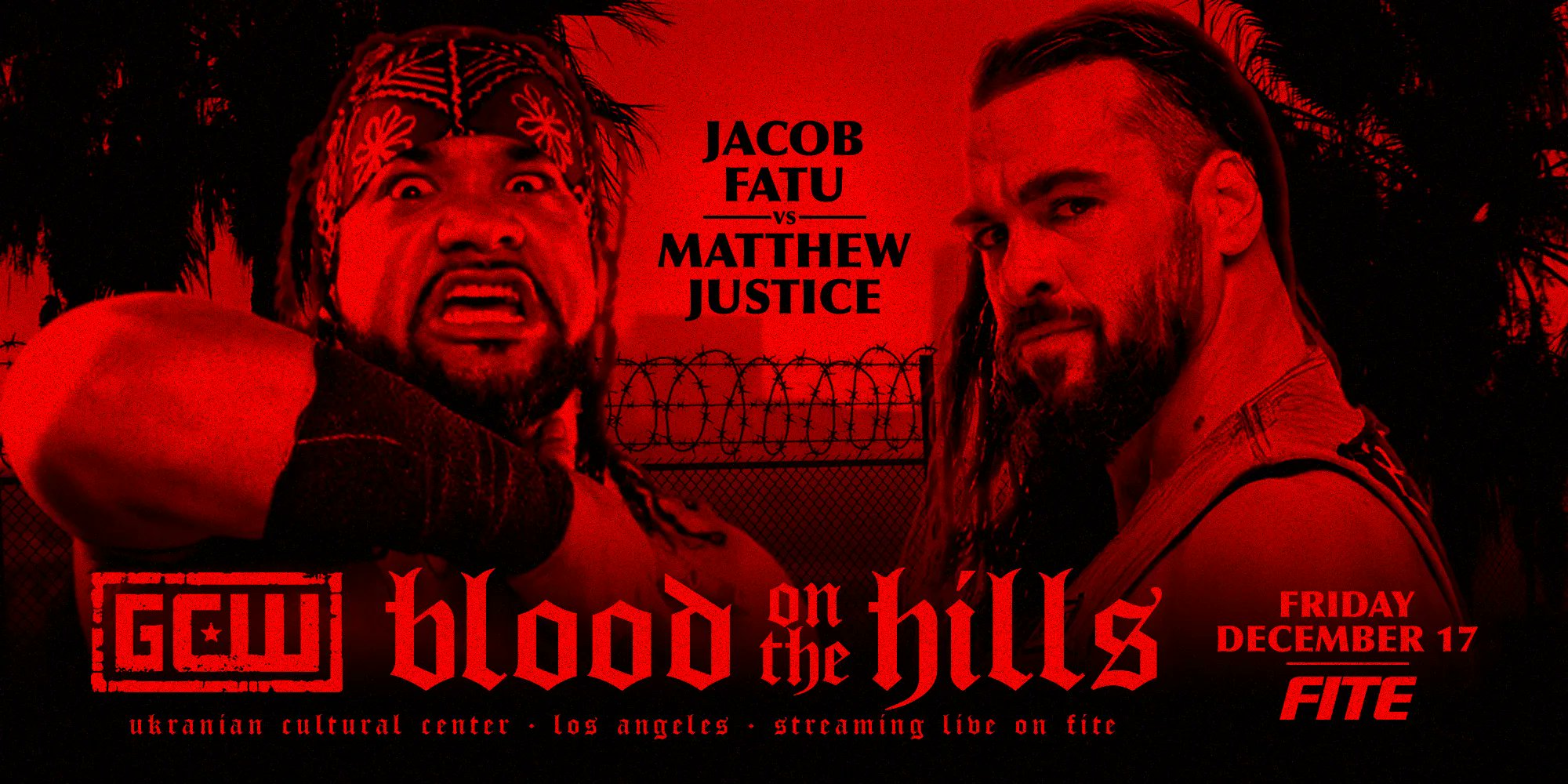 GCW Presents Blood On The Hills
Jacob Fatu vs. Matthew Justice
There's a reason Matthew Justice is often referred to on commentary as the "embodiment of beer and thrash metal". A legit "badass" in every sense of the word. Justice, alongside his Second Gear Crew brethren, have become one of GCW's staples over the last couple of years. Through his hard-hitting, no-nonsense, and violent ring presence. With Pantera blasting through the venue, a sea of fans on their feet. This coupled with the sweet stench of Pabst Blue Ribbon emanating through the air, Matthew Justice has become one of GCW's, and in turn, independent wrestling's most must-see stars.
His opponent for Blood On The Hills will surely be a whole new challenge of its own. Jacob Fatu, nephew of the legendary Rikishi and member of one of the largest professional wrestling families in the world. He will be making his exciting return to the promotion. Fatu is the longest-ever reigning MLW World Heavyweight Champion. He is also one of the most must-see athletes in the world of contemporary independent professional wrestling. Fatu is bound to put on solid matches with whomever he's placed against. He's up against someone held in such high regard and of such high caliber as Matthew Justice. However, it's the audience who truly wins.
More TBA through Game Changer Wrestling's social media accounts.
*****
Stay tuned to Pro Wrestling Post for this and additional stories from the wrestling world. Readers can rely on Pro Wrestling Post to be their daily source for all things inside the squared circle. As a result, readers can expect daily news, history, and so much more. Please visit Game Changer Wrestling's official Facebook page here for news and information on the promotion and upcoming events.