It's been a long time coming, but this weekend GCW is back home in Atlantic City with GCW – Homecoming: Night 1. After a couple of months of uncertainty and upheaval, the outlaws found solid ground this summer with successful outdoor events. This time it's the Atlantic City Boardwalk that will set the stage for all of the fun, games, and violence.
In addition to the unique venue, Game Changer Wrestling's Homecoming features a weekend-long series of highly-anticipated matches. Saturday, July 25 marks the first night of the event and the card is solid as a rock. You may not be able to witness the action sitting on the Garden Pier, but you'll definitely want to tune in to FITE.tv to see it all go down!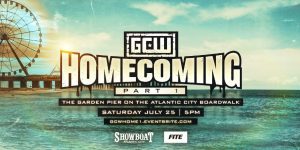 The deal that FITE has going for Homecoming is one of the best I've seen yet. You can order both nights of the event for only $19.99! Considering everything that's planned (and unplanned) for this weekend's shows that's an amazing price for what we're going to lay eyes on.
GCW – Homecoming: Night 1 | Preview
EFFY vs Spyder Nate Webb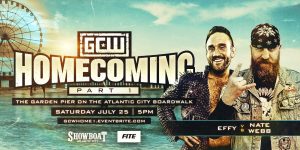 The Night 1 lineup for Homecoming has everything I enjoy most about GCW. There's deathmatches, championship matches, and matches that just promise to be a damn good time like EFFY taking on Spyder Nate Webb. I'm fairly certain this will be my first time seeing these two go one on one, but I'm already sold. Knowing what I know about both Nate and everybody's favorite Daddy, we can expect to be fully entertained and even surprised at some points with how good this one will be.
Rickey Shane Page vs. Homicide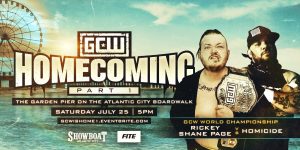 Haven't we all honestly had enough of RSP as the so-called 'champion' of GCW? I'm personally done with him and his here-and-there-and-nowhere title defenses, but I'm all in favor of Homicide beating some RSP ass. Here's to Homicide getting his moment at the big homecoming in Atlantic City and RSP hopefully makes an attempt to fight fair without his Ohio crew getting in the way. I won't make any definite predictions, however. You never know when RSP will creep up with the win.
GCW – Homecoming: Night 1 | Preview
Alex Colon vs. AJ Gray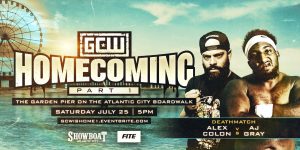 Here's one I can't wait to see live and in person. AJ Gray in a deathmatch has an appeal of its own, but when you put him in a ring full of broken glass and fuckery with Alex Colon it's on a different level. As much as I would love to see AJ get his rightful shot at the GCW World Championship, I'm satisfied with this match. Predicting this to get very bloody and busted up with light tubes. Wear your masks and protect yourselves from spooky dust, GCW family!
Chris Dickinson vs. Mance Warner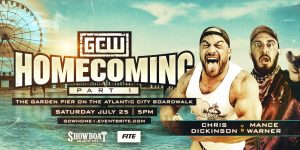 Damn, it's about time we saw this match take place! Get ready to see a fight take place. Better that I should call it a brawl, but just know that this one will get wild very quickly. Oh yes, you'll see some hard-hitting shit go down here. I've never seen the Dirty Daddy and Ol' Mancer versus one another in the GCW ring, so I'll go ahead and expect a lot of this action to go outside of the ring. I'm hoping I can get out of the way in time because these two are likely to go all around the Boardwalk.
GCW – Homecoming: Night 1 | Preview
ACH vs. Tre Lamar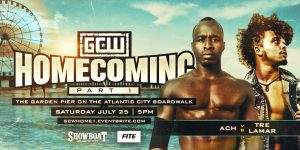 Welcome back, ACH. When I noticed this match would take place I shouted, truly! Leave it to GCW to give the spotlight to those who deserve it. Expect big things in this match, too, especially from Tre Lamar. I think Tre's got everything it takes to steal the show for any promotion he works. The last I saw ACH was at his own big homecoming in Austin, Texas back in January at Inspire Pro Wrestling. I've been waiting to see him in the ring again after all this time, so this will be a match I'll enjoy.
Blake Christian vs. Alex Zayne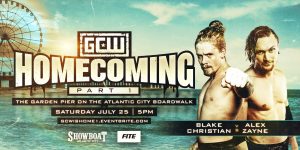 Oh hell yes, part two has arrived! This one hasn't even happened yet but I already know it's going to be at the top of my list of favorite Night 1 matches. If you've seen the Christian/Zayne match from last year's Escape from LA show then you'll know exactly why I'm so high on this second round of greatness. Expect Blake/Christian 2 to mess around even harder, to put it mildly. We have no idea of what kind of crazy things we're going to see here, friends. You'll definitely see everything, however, on social media because everyone will be watching.
GCW – Homecoming: Night 1 | Preview
Nick Gage vs. SHLAK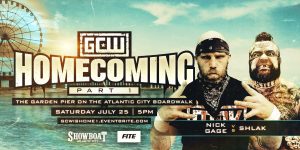 Speaking of everyone watching, I think all eyes will surely be on this match. You've got the King himself, Nick Gage, who has been killing it lately in fan support. Seriously, this has been the Summer of MDK. Gage has been booked everywhere since shows have started back up and he's more loved than ever on social media (especially Cameo).
Was it only apropos that at Homecoming we'd see the King and the God of this sh.. take on SHLAK? I'd say so, seeing that SHLAK has had the opposite effect on fans this summer despite getting his fair share of bookings too. I'd say this is a fitting match. Plus, it's pretty damn cool to get to see Gage and SHLAK tear the Boardwalk up. We all win here.
Joey Janela vs. Yoshihiko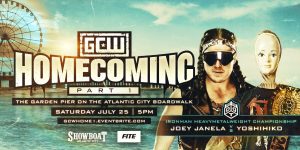 This could be the end of Joey Janela as we know it. At first, when I heard this match would take place I had pause for concern. Then I found out that the Ironman HeavyMetalWeight Championship would be on the line…and I admit it, I panicked for Joey Janela's well being. I've seen what Yoshihiko can do in the ring, but I also know that Joey Janela is a true and legitimate badass. I've seen the Acid Cup 2 match with Jimmy Lloyd. I saw the social distancing. I've seen that and I say that there's nothing that Joey can't do. That includes going up against a force of nature like Yoshihiko with a championship on the line. Let's go, Bad Boy.
---
Do you realize this is just night one of Homecoming? There's a whole other show to the weekend! Again, if you can't make your way to Atlantic City this Saturday and Sunday to see the show, FITE.tv has a fantastic deal going where you can purchase two days' worth of shows for only $19.99! This card alone is too good to miss, so get in on both shows!