GCW: 'Backyard Wrestling is BACK on July 4th'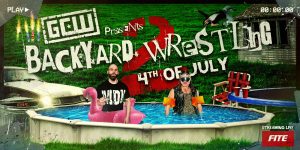 Last year's GCW Backyard Wrestling event was a wildly popular success. This show in particular served as the platform for Alex Zayne's rise in acclaim during the latter half or 2019. Zayne's 15-minute banger with Tony Deppen was a standout match that all fans should check out! With that said, it might be time for a sequel to that backyard classic. Game Changer Wrestling (GCW) announced today that Backyard Wrestling will return. Backyard Wrestling 2 airs live on FITE.tv this 4th of July! What we know so far:
– 'Backyard, USA' is once again the official announced venue.
– The event allows attendance only by invitation.
– Not all fans can attend, but the show will be available for all on FITE.tv.
GCW: More Details Soon on Match Lineup
The coverage of this show continues once the promotion announces a match lineup. As of now, this is incredibly exciting news! If you've been keeping tabs on GCW during the COVID-19 quarantine, you'll know how unlikely it seemed in March that this event would happen. With this news as well as the upcoming debut of GCW in Indianapolis, it looks as if the outlaws are well on their way back to raise hell worldwide.
The question now arises – who comes out of this event as 2020's breakout star? Judging by the amazing trajectory both Alex Zayne and Tony Deppen have taken from last summer to last winter, this show could be huge for many careers. I give high praise to GCW for using this return to live shows as a stage for brand new talent. The Indianapolis show on June 20th features the debut of up-and-coming names like Calvin Tankman and Myron Reed. I'm sure that Backyard Wrestling 2's debuts bring forth even more names on the independent scene that we'll need to know.
GCW Announces the Return of Backyard Wrestling
If you've yet to see how nuts the outlaws got at last year's Backyard Wrestling event, you absolutely need to take a look at what went down! Check out the replay on FITE.tv and get yourself well-versed to how outrageous this 4th of July will be!
Be sure to stay tuned to the Pro Wrestling Post for this and additional stories from the wrestling world. Readers can rely on Pro Wrestling Post to be their daily source for all things past and present inside the squared circle from around the globe. As a result, readers can expect daily news, history, and so much more.