GCW's weekend isn't done yet! Immediately after Friday's "So High" event, Game Changer Wrestling presents So Alive from the Irving Arena in Dallas Texas on Saturday, December 4th. Alongside the incredible GCW regulars we keep coming back for, we will also see AEW's Thunder Rosa and Fuego Del Sol, Ring of Honor legends Mark and Jay Briscoe, and the return of Blake Christian! GCW: So Alive will be available for streaming and on-demand at FITE.TV at 8 pm CST.
Game Changer Wrestling Presents So Alive
Thunder Rosa vs. Allie Katch
For the last eight years, Tijuana's Thunder Rosa has managed to become one of the most universally loved contemporary professional wrestlers in the entire world. Her incredible matches against the likes of Britt Baker, Mercedes Martinez, and Kamille have made her a sought-after get for any company she steps through the doors of. Rosa is, in a word, a draw. Her surprise appearance at GCW Fight Club last month was met with a collective roar from the Atlantic City fans, as the "Thunder Army" transcends fans of both major and independent promotions.
Her scheduled opponent, Allie Katch, though a GCW regular unlike Rosa, may face a disadvantage due to her wrestling not but 24-hours earlier before their match. Both women are ruthless in their offense, however, and as Katch has showcased in the past when it comes time to fight, she can be as tough as nails.
Will her toughness be enough to put down the Warrior Wrestling Women's Champion? Or will La Mera Mera be able to add another name to her long list of fallen opponents?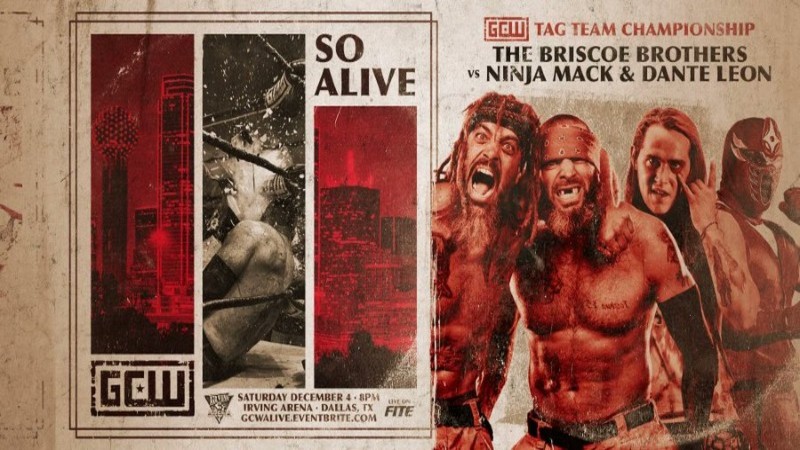 Game Changer Wrestling Presents So Alive
The Briscoes vs. Ninja Mack and Dante Leon
(GCW Tag Team Championship)
When Mark and Jay Briscoe made their shocking appearance for Game Changer Wrestling last month, the wrestling world was sent into a collective frenzy. The independent wrestling legends and Ring of Honor originals shockingly dethroned Mance Warner and Matthew Justice of the Second Gear Crew at GCW War Ready for the promotion's Tag Team Championships, and have since gone on to defend the titles against the second half of SGC, AJ Gray and Effy, at ROH Honor For All 2021.
Their second title defense will see them up against two of GCW's highest flyers in Ninja Mack and Dante Leon. Both Mack and Leon will have had their own respective matches a night before, yet this fact shouldn't count them out entirely of potentially putting the Briscoes to the test.
Despite the Briscoes predisposition for unapologetic violence, Mack and Leon may be able to utilize their own personal brand of speed and acrobatics to catch the champions off guard. Regardless of the outcome, seeing the 11-time ROH Tag Team Champions in a Game Changer Wrestling ring yet again will be a treat for everyone in attendance.
Game Changer Wrestling Presents So Alive
Tony Deppen vs. Demonic Flamita
Game Changer Wrestling's doors with Ring of Honor are open yet again as the former ROH World Television Champion, Tony Deppen goes one-on-one with one-third of the former ROH World Six-Man Tag Team Champions, Demonic Flamita.
Only 24-hours prior to "So Alive," Deppen would have faced Flamita's equally high-flying former tag-team partner, Bandido, at GCW So High.
Despite this match only being Flamita's second showing in front of a GCW audience, his speed and propensity for essentially defying the laws of gravity may pose a challenge for the usually more mat-wrestling influences of Deppen. This, however, shouldn't take away from the fact that Deppen has the home advantage inside of a Game Changer Wrestling ring. Only time will tell when the two former Ring of Honor stars go head-to-head for the first time in a GCW ring this Friday.
John Wayne Murdoch vs. Jimmy Lloyd
You know that disclaimer before those TV shows that say stuff like "the following program may contain violence and scenes that may disturb viewers…?" I'm pretty sure that warning was made solely for the possibility of this matchup existing in the future.
IWA MS and ICW NHB's John Wayne Murdoch made his startling return to the GCW fans at last month's NGI6, where he attacked tournament winner Alex Colon with a bundle of light tubes.
The current Horror Slam Deathmatch and ICW American Deathmatch Champion has proven time and again to be ruthless and sadistic in a hardcore wrestling setting, always coming equipped with his own personal inventory of "f**kery."
Since 2016 however, Jimmy Lloyd has been part of Game Changer Wrestling's most unbelievably violent deathmatches, particularly those against the likes of G-Raver, Masashi Takeda, and Drew Parker.
Barbed wire, scissors, light tubes, glass… It's all commonplace for these two deathmatch icons. Will John Wayne Murdoch be able to lay another GCW regular down with his trademarked barbarism? Or will Jimmy Lloyd show the Duke that when you challenge him, "you're f**king with a different boy?"
Joey Janela vs. ASF
If there's any one word to describe Joey Janela, it's versatile. For nearly 15-years, "The Bad Boy" has participated in some of the industry's most ultra-violent deathmatches, incredibly technical bouts, and spectacularly high-flying showcases. His knack for bringing out the best in independent wrestling's youngest and brightest up-and-comers is also evident through his matches with the likes of Lee Moriarty, Ninja Mack, and most recently, Nick Wayne.
On November 20th, Janela faced off against Nick Wayne at DEFY: Brutalist in an over 30-minute bout that many are referring to as one of the best matches in DEFY's five-year history.
Antonio San Francisco's recent showings in Game Changer Wrestling, particularly those in the company's exciting Scramble matches, and phenomenal one-on-one bouts with the likes of Gringo Loco and Calvin Tankman have demonstrated great potential for the young high-flyer.
If there's any wrestler out there who has proven to be able to showcase young professional wrestlers' capabilities inside of a squared circle, it's Joey Janela. Seeing The Bad Boy against a progressively rising star in ASF is a surefire recipe for an entertaining performance.
Game Changer Wrestling Presents So Alive
SGC (Justice and Gray) vs. Charli Evans and Everett Connors
"The Violence Artist" Charli Evans will be making her welcomed return in front of GCW fans after an unbelievable showing at this month's Evil Deeds and NGI6. Evans, who made it to the semi-finals of the annual deathmatch tournament, will be teaming up with Everett Connors this weekend against members of the Second Gear Crew, Matthew Justice and AJ Gray.
Unlike Evans, Connors is no stranger to SGC, as this past June, he faced members 1 Called Manders and Mance Warner at GCW: Zombie Walk. Though Connors was on the losing side of that bout, trajectory may be on his team's side this time.
Justice and Gray would have just wrestled a night before at GCW: So High. Pair the potential for SGC not being 100% due to their previous matchup, with Evans' and Connors' capabilities to potentially parallel "The Truth" and "Thrash" Justice in hardcore wrestling, and this match is looking to be as competitive as it is violent.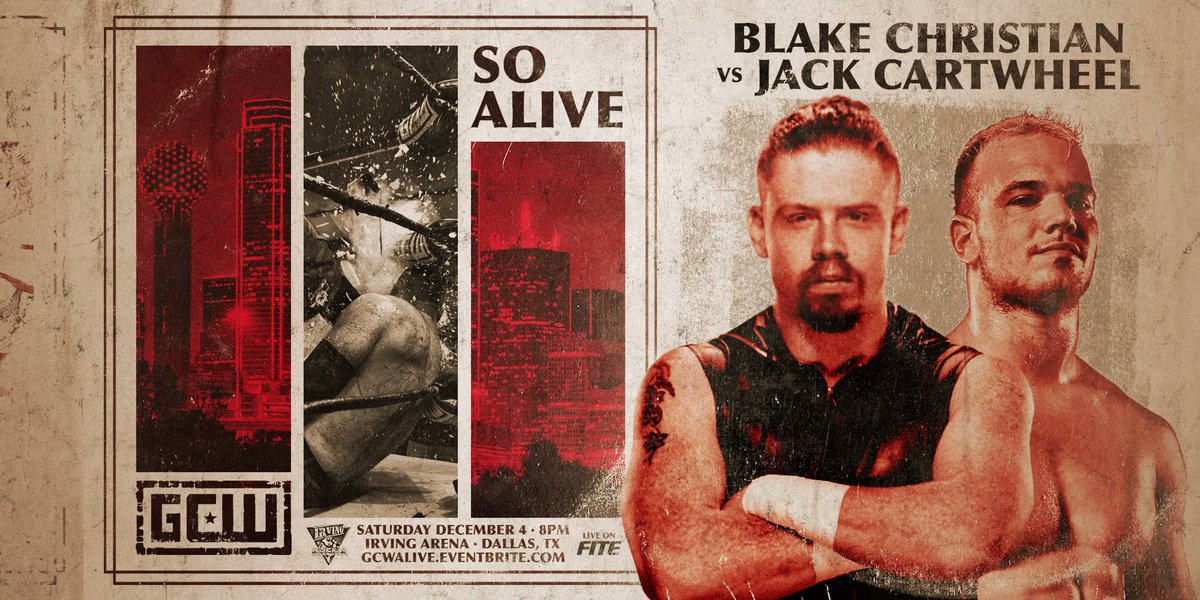 Game Changer Wrestling Presents So Alive
Blake Christian vs. Jack Cartwheel
Blake Christian, (f.k.a. Trey Baxter from NXT and 205 Live), will be making his highly anticipated Game Changer Wrestling return this Saturday as he faces off against "The Rocketwheel," Jack Cartwheel.
Christian, who this year alone has wrestled for WWE, Impact Wrestling, New Japan Pro Wrestling and Game Changer Wrestling, has shown to be one of the most exciting up-and-coming high flyers the industry has to offer. Like his opponent Jack Cartwheel, Christian is no stranger to a GCW ring, being one of 2020's company mainstays and leaving an impression on fans with his acrobatic arsenal and obvious charisma.
Surely, the GCW faithful will welcome the Super J-Cup semi-finalist back with open arms in his triumphant return to the promotion, but will this be enough to defeat the equally acrobatic Cartwheel? Despite wrestling at GCW: So High a night before, Cartwheel's fast-paced and gymnast-like offense is guaranteed to put Christian up to the test in his first GCW showing in 11-months.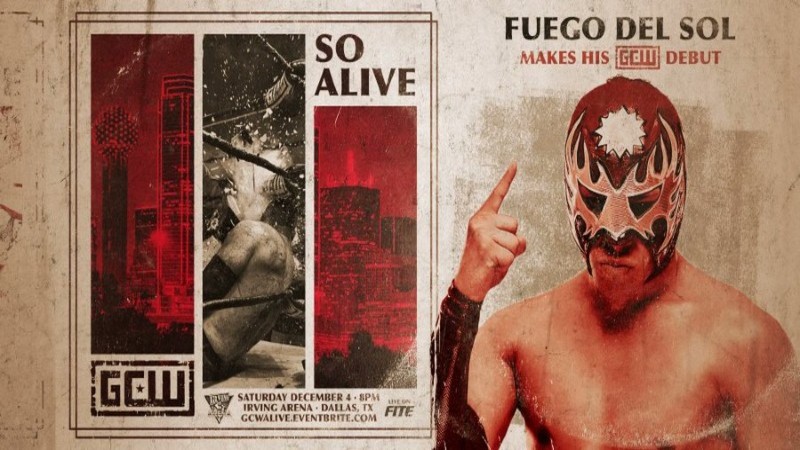 What Else To Expect
AEW fan-favourite Fuego Del Sol makes his Game Changer Wrestling debut!
*****
Stay tuned to Pro Wrestling Post for this and additional stories from the wrestling world. Readers can rely on Pro Wrestling Post to be their daily source for all things inside the squared circle. As a result, readers can expect daily news, history, and so much more. Please visit Game Changer Wrestling's official Facebook page here for news and information on the promotion and upcoming events.