Friday Night Smackdown flashes back to last week with Daniel Bryan's thoughts and actions last week. He addressed how he was changed and how the YES movement brought it back to life by the fans. Bryan said he accepted Wyatt's challenge for a Universal championship match. We then see the attack Bryan suffered and how what is believed to be his hair that was ripped out as he fell through the ring. This immediately transitions to The Miz coming out now for an episode of Miz TV. Cole and Graves that no one seen or heard from Daniel Bryan since last week. Tonight's main event is between Roman Reigns and Dolph Ziggler.
The Miz came out saying it was supposed to be an episode of Miz TV with his guest being Daniel Bryan. That won't be the case now and he spoke about knowing how much Bryan means to Smackdown and the fans. Miz also reiterated how no one has seen or heard from Bryan since the previous week. The Miz said he will get to the bottom of what happened to Daniel Bryan. He is interrupted by Bray Wyatt and the Firefly Funhouse. Wyatt said to Miz he doesn't want to know what happened to Daniel Bryan and that he could be with 'him'. 'He' may not be done with him. Wyatt then offers, the Miz the same opportunity. Bray Wyatt then mocks The Miz and tells him 'family' is the word of the day. Wyatt shares how he use to have a family with a flashback of the Wyatt family.
Wanna play with him now, @mikethemiz?#SmackDown #FireflyFunHouse @WWEBrayWyatt pic.twitter.com/Iayt1RSFJT

— WWE (@WWE) December 7, 2019
He then holds up a picture of Miz's family saying does he want to come and play with him now.
The Miz storms off in pursuit of Bray Wyatt who then says 'I think its time to say goodbye'. Miz is shown backstage on the phone seemingly with Maryse. He is trying to calm her down and tells her he is heading home now to be with her.
It's GODDESS vs. GODDESS as @AlexaBliss_WWE takes on @WWE_MandyRose right now on #SmackDown!

?, @WWELadyRefJess! The ? brand is THRILLED to have you! pic.twitter.com/DdlTqD7exe

— WWE (@WWE) December 7, 2019
Mandy Rose with Sonya Deville vs Alexa Bliss with Nikki Cross
Rose makes her way down to the ring first followed by Alexa Bliss. Corey Graves announces Jessica Carr being the first full-time WWE referee on Smackdown. Bliss and Rose lock up and Graves seems flustered as he is a fan of both. Mandy Rose takes the fight to Alexa Bliss. She rolls Bliss back in the ring and attempts a count but only for a count of two. Rose is ripping out the eyelashes of Alexa Bliss. Ouch! Cole says Rose is humiliating Bliss both physically and mentally.
Bliss then fights back but is caught with a knee to the mid-section from Rose. Alexa fights back and hits a combination of right crosses across the face of Rose. After a momentary distraction by Sonya Deville, Bliss climbs the top rope and hits twisted bliss for a count..1…2…3!
Winner: Alexa Bliss
We see Dana Brooke backstage in catering with Drake Maverick interrupting. He mentions her upcoming date with Dave Batista. It is also at this time when Elias once again interrupts. He continues to cut into Maverick and gets slapped by Drake for his cause. Elias says that something is going to happen with Maverick.
Maverick is then back in the ring with fans all laughing at him and his life. He then says no one makes a mockery out of him, his marriage and his wife. Drake then challenges Elias to a fight. Elias comes out with Dana Brooke by his side. The drifter is holding Maverick by his head while Maverick throws fists and doesn't hit a thing. Elias puts Maverick over his knee and slaps him on the behind repeatedly.
This is what you get for hitting on @DaveBautista's woman! #SmackDown @IAmEliasWWE @DanaBrookeWWE @WWEMaverick pic.twitter.com/7Zr8joEFd4

— WWE Universe (@WWEUniverse) December 7, 2019
The drifter then proceeds to kick Maverick in the behind outside the ring and to the floor. While Drake backs up Dana throws him back into the ring and Elias hits him with the Drift Away. Brooke then comes in and covers Maverick while Elias makes the cover.
The Miz is shown backstage and comes across a door with a red light lit behind it. He sees a picture of his family resting on a table with Bray Wyatt's picture in his place. Wyatt then says 'say cheese' and hits him with Sister Abigail to the floor knocking out The Miz.
"Say cheese."@WWEBrayWyatt @mikethemiz #SmackDown pic.twitter.com/QzpctY6kXn

— WWE (@WWE) December 7, 2019
After the break, The Miz then gets back up and is seen by a referee backstage.
Four-Way #1  Contenders Tag Team Championship Match to Face New Day at TLC
Mustafa Ali and Shorty G vs. Lucha House Party vs. The Revival vs. Heavy Machinery
The rules of the match are as follows. Two men face each other and as each team is eliminated the remaining team will be the winners. Big E mentioned The Usos who haven't been seen since this past July on television. Gran Metalik and Mustafa Ali demonstrate a great deal of athleticism between them.
You both make us so proud. ???#SmackDown #205Live @AliWWE @WWEGranMetalik pic.twitter.com/DhGp8H1BQR

— 205 Live (@WWE205Live) December 7, 2019
Lince Dorado and Tucker are both in the ring. Dorado hits a springboard stunner on Tucker. Both members of Lucha House Party hit springboard moonsaults to the floor on every there. Otis flattens Metalik and he is pinned for a count of three. We are down to three teams now. After the commercial break, Shorty G has Tucker in an armbar. After a slam by Tucker, Dash Wilder tags himself in and tries to break down Knight. Otis is getting back up and is tagged into the ring. He picks up Scott Dawson and brings the fight to the former WWE tag team champion. Otis suplexes Dawson despite Wilder now tagging himself inside the ring.
Otis hits the caterpillar and after a sunset flip inside the ring by Wilder, he pins the big man for a count of three.
It is now down to two teams. All four men throw fists in the middle of the ring and then take the fight to the outside. The Revival are preoccupied with the New Day momentarily but are thrown into the New Day by Shorty G and Mustafa Ali. After the commercial break, Dawson has Shorty G in the Gory Special. Shorty G hits a double German suplex and Ali comes in to aid with the cover. Ali rolls through and gets caught with a clothesline. He attempts a tornado DDT but is caught with a slam by Dash Wilder. Ali then hits a tornado DDT and sets up for 450 but is caught by both members of The Revival. Shorty G locks in the ankle lock but Dawson locks in an uppercut. This sets up for the shatter machine leading to a pinfall win by the Revival.
Winners: The Revival
Dawson and Wilder then get on the mic and say no more fun and games and no more will the New Day disgrace the WWE Smackdown Tag Team Championships. This will be an Old School, Old Day and get back to say what it is like to be beaten by the best tag team in the company.
#WWETLC = NEW DAY vs. OLD SCHOOL.#SmackDown @TrueKofi @WWEBigE @DashWilderWWE @ScottDawsonWWE pic.twitter.com/d50p0ND3pF

— WWE Universe (@WWEUniverse) December 7, 2019
Kayla Braxton interviews Roman Reigns about King Corbin and how they will face each other at TLC and how the King will be embarrassed in the ring.
After the break, we get another promo/vignette of a returning Sheamus. He says you can go home again and he is ready to ravage everyone that gets in his way.
Haley Jones vs Lacey Evans
We see highlights of last week's edition of Smackdown and the altercation between Lacey Evans and Sasha Banks with Bayley. After an early exchange, Evans connects with a women's right knocking out Jones in the process. She covers and pinning her in the process.
Winner: Lacey Evans
After the bell, Sasha Banks comes out and tells Evans where does she think she's going. Banks tells Evans to stay in the ring as they have unfinished business. After the break, Banks makes her way to the ring and says she is 'the blueprint' the leader of the division and calls Evans a 'Mary Poppins wannabe'. Evans then says how she is not only a mother but a marine and for her to ever mention her daughter again. Lacey talks about how the Marines taught her about she'll drop her where she stands. Evans threatens a women's right only for Banks to scream and drop to the mat. As Evans heads back up the aisle, Bayley attacks her from behind. Banks then comes up and kicks Evans while she is down.
We are then shown highlights of what happened earlier in the show between Bray Wyatt and The Miz. It has now been made official that The Miz will replace Daniel Bryan and face Bray Wyatt at TLC. Up next is the main event between Ziggler and Reigns.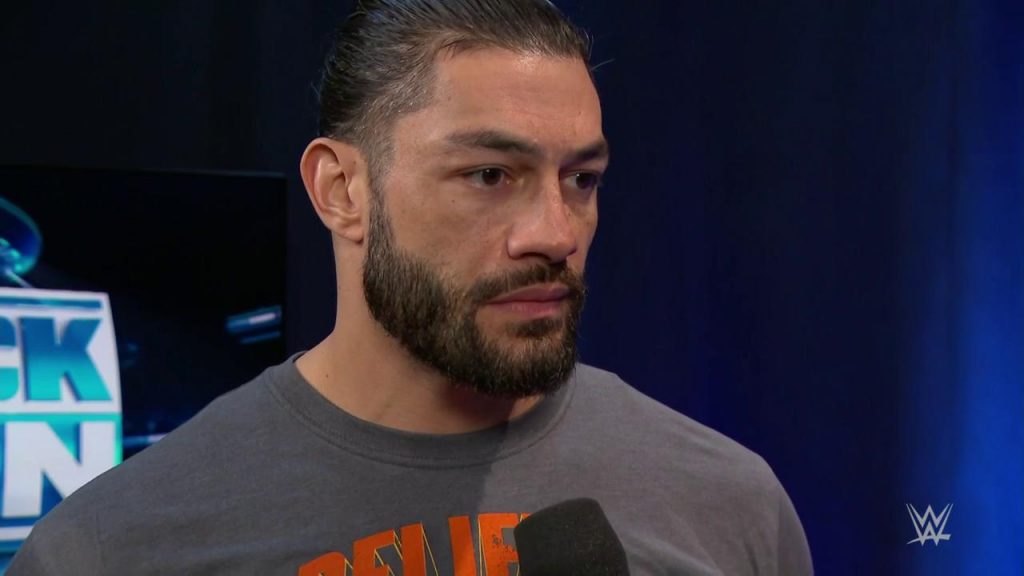 Roman Reigns vs Dolph Ziggler
Ziggler and Reigns lock jockey for position with one another. Reigns ties up Ziggler but gets caught in the ropes with one another. Ziggler then gains the advantage over Reigns and wears him down. Two former champions are exchanging blows with one another. Ziggler then gets caught with a right hand by Reigns. The Big Dog recovers only to get caught by Ziggler and whipped into the steel steps on the outside. Ziggler maintains the advantage on Reigns and tries to make the pin but only for a count of two! Dolph is trying to coax Reigns only to regret that decision temporarily. Ziggler lures Reigns into the turnbuckle.
Eventually, Roman Reigns gains the advantage and hits him with a clothesline to the floor. As Reigns attempted a Superman punch, Ziggler caught him with a kick. Just then King Corbin's music hits and he is carried out to ringside. Once again we return from a commercial break, with both men exchanging blows. Corbin makes his way off the sedan and walks to the ringside area. The official tells Corbin to get off the apron and he gets caught with a superman punch. Reigns then hit Ziggler with a spear for the win.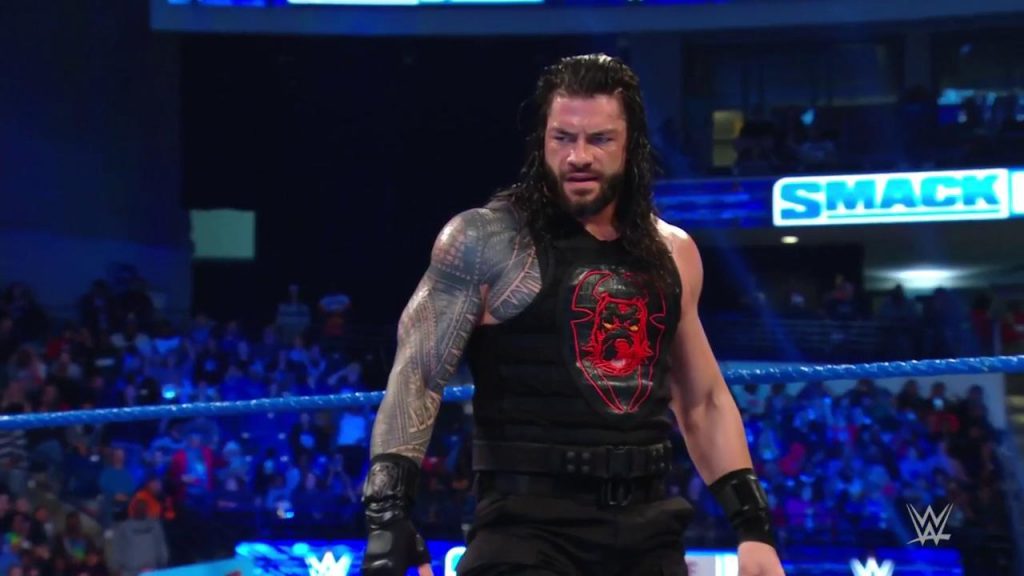 Winner: Roman Reigns
After the match, Corbin is hit with a driveby and Reigns is then attacked by the men that carried King Corbin to the ring. King Corbin then comes out and beats down Reigns. From under the ring, someone was grabbing at Reigns leg. Roman is caught with a superkick by Ziggler. Reigns is being held and handcuffed by six guys including Corbin and Ziggler. Cans of dog food are poured over the head and in the face of a shackled Roman Reigns. As Smackdown goes off the air we see Reigns struggling to get free.
.@HEELZiggler and #King @BaronCorbinWWE are showering @WWERomanReigns in dog food!#SmackDown pic.twitter.com/Th2juGnsbm

— WWE (@WWE) December 7, 2019