The post-Christmas edition of Friday Night Smackdown immediately begins with Elias in the ring. He starts off with a sing-along. Elias runs down what is set to take place on the entire show. During the tune, he throws jabs at the Lana/Lashley wedding and Bayley's haircut. It was a fun start to the show. The upcoming triple threat match between Daniel Byran, The Miz, and King Corbin to determine the number one contender to face The Fiend at Royal Rumble is the main event of the evening.
Ladies and gentleman, @IAmEliasWWE kicks off #SmackDown RIGHT NOW on @FOXTV! pic.twitter.com/NM35YLOphy

— WWE (@WWE) December 28, 2019
Daniel Bryan's music hits first as it appears the triple threat match is set to take place right away. He makes his way to the ring first followed by King Corbin. Corbin says that they do things his way. He says that the Miz and Bryan are terrible fathers, former world champions but think that it is a disgrace to have to even compete tonight. Corbin says that he should be begged to vanquish Wyatt. The King is then led to the ring as he continues to talk down both Bryan and The Miz. Roman Reigns music hits and then attacks King Corbin at ringside. As Reigns chases Corbin, the King retreats through the crowd while Daniel Bryan looks on in the ring.
Backstage Corbin is speaking with producer Adam Pearce asking for protection.
The New Day and Braun Strowman vs Shinsuke Nakamura, Cesaro and Sami Zayn
It was the 1024th day Kofi Kingston has held a tag team championship. This match comes on the heels of last week's events among these six men. It has been forever since Zayn has been in competition on television. Big E and Cesaro start off the match with a test of strength taking place between the two men. Kingston is tagged in as is Shinsuke Nakamura. Kofi knocks Nakamura to the outside while Zayn interferes. Sami Zayn comes in the ring and begins to drop fists on the head of Kingston along with kicks. With the referee unaware, Cesaro hits an uppercut causing Kingston to go head over feet a the announce table.
NEVER take your eyes off @WWECesaro.#SmackDown pic.twitter.com/orEF91WcSY

— WWE (@WWE) December 28, 2019
After the break, Kingston fights off the attack by Cesaro. Cesaro makes a tag to Nakamura who cuts off the tag preventing Kingston to his corner. A quick tag back in, to Cesaro who cuts off the ring from Kingston again. Nakamura once again drops knees to the ribs and side of Kingston. Each time Kingston attempts to make a tag in the trio continues to cut off the ring from his corner. Big E is knocked off of the ring. Kingston is trying to get to Strowman. Cesaro attempts to deck Strowman who is distracted by Sami Zayn. When it appears as though he makes it to his corner both Strowman and Big E are taken out. Shinsuke sets up Kingston for the Kinsasha but Kingston stops him. Strowman makes his way back to his corner and Kingston finally makes the tag in. The Monster among men cleans house!
Strowman stands tall! He then nearly wipes out everyone in his path outside the ring until Nakamura decks Strowman.
Braun then sets up for his power slam until Cesaro comes in and cuts off the big man.  Kingston decks Nakamura with the platter from the pancakes while the referee was distracted. Strowman then slams him in the middle of the ring and makes the cover.
Winners: The New Day and Braun Strowman
After the match, Kingston asks to have Strowman's music cut off. He says that Strowman is the monster among men that he also has a great set of hips on him. Big E says that the people of Detroit are going to" get his dance". Fans begin to chant to 'get these hips' to which Strowman breaks into a dance in the middle of the ring! He seemed to have a ton of fun in the middle of the ring.
Don't let this #MeatCastle physique fool you. This MONSTER's hips don't lie!!! #Smackdown #MonsterMoves https://t.co/4qyYgsAaHl

— Braun Strowman (@BraunStrowman) December 28, 2019
Backstage they decide that the triple threat match will be a one on one match and that would not involve Corbin since he is refusing to compete.
Before this Sonya Deville shares how she was upset that she didn't have Rose's support last week even though Rose didn't in return. Otis stops Mandy Rose and gives her his mamma's homemade fruit cake as a thank you.
So sweet ☺️ https://t.co/lM7ZeO3gRD

— Mandy (@WWE_MandyRose) December 28, 2019
Carmella vs Mandy Rose
We are reminded how Deville didn't show Rose support in the ring much like Rose didn't last week. Carmella takes the fight early to Rose. Rose then hits a running knee strike and follows up with a submission attempt on Carmella. Mandy begins to coax Carmella who fires back with a slap.
Fists and slaps show up in this match in the middle of the ring. Carmella takes down Mandy with a headscissors takedown. A combination of pinning attempts by both women to a superkick by Carmella on Mandy followed by a pin.
Winner: Carmella
Another day, another dollar. ?? #SmackDownOnFox pic.twitter.com/dOxeCNw1FO

— MELLA I$ MONEY (@CarmellaWWE) December 28, 2019
A vignette of a returning Sheamus takes place next.
Daniel Bryan vs The Miz
Daniel Bryan waits in the ring as his match with The Miz is scheduled to take place next. The Miz comes out next prepared to earn his championship opportunity against The Fiend. Cole once again speaks of their history with one another. Bryan shows how technically savvy he is using wrist manipulation on The Miz. He follows this up with a series of kicks. Both men take each other out with an attempted crossbody. It was at this point King Corbin's security came out and attacked both Miz and Bryan. Both The Miz and Daniel came out and prevented the match from continuing.
Winner: No Contest as it is deemed a double disqualification
After the match, Corbin addresses this match and only did what was fair. However, once he is made aware that Roman Reigns is asked to leave he then says maybe he is ready for this triple threat match. At this point, both Miz and Bryan charge the backstage area looking to get their hands on him.
Once again the triple threat matchup is set for later on in the show.
A Momen of Bliss with Lacey Evans
Nikki Cross introduces Lacey Evans who comes out and is welcomed by Alexa Bliss. The duo reminds Evans of how her daughter was being antagonized at the ringside area. Evans says that Banks cross the line and that caused her to snap. She said that she wouldn't have let Sasha Banks walk out of the arena if she wasn't stopped. Evans says that she is going to make her way out to the ring because her tag match is next.
Lacey Evans and Dana Brooke vs. Sasha Banks and Bayley
Dana Brookes music hit but she is dragged out by Sasha Banks and Bayley while Lacey Evans is in the ring. After a fight breaks out, officials separate all four women. The match begins after a commercial break. The match is a back and forth affair with both sides mounting an offense. Banks coax's Evans using her own emotions against her. Bayley and Banks cut the ring off for Brooke from getting to her partner. Brooke continues to attempt to fight off the attack in hopes of getting to her corner.
Evans is finally tagged in as is Bayley. Lacey takes the fight to Bayley in this match. She salutes and hits a moonsault with a three-count pinning attempt. Bayley catches her in a Bayley to Belly but only for a count of two. Dana attempts a school girl roll up but gets caught in a Banks statement and forced to tap out.
Winners: Sasha Banks and Bayley
.@SashaBanksWWE & @itsBayleyWWE pick up the win over @LaceyEvansWWE & @DanaBrookeWWE on #SmackDown. pic.twitter.com/Nnv4YarsSq

— WWE (@WWE) December 28, 2019
After the match, Mandy Rose is shown backstage with Otis' Fruit Cake but is stopped by Dolph Ziggler. Ziggler picks up the fruit cake and then proceeds to step on it. Ziggler says what would Otis know to do with a woman like you. Rose hardly seems upset but more unsure of what just happened. Corbin comes in and calls for Ziggler to come to his side.
Otis sees his fruit cake smashed on the floor and looks disappointed unsure as to what just happened.
Daniel Bryan vs King Corbin vs. The Miz
The match begins right away with Miz and Bryan working together on Corbin. In the middle of the ring Miz and Bryan exchange blows but at the same time work together to take out King Corbin. Bryan hits a running knee off the ring apron on The Miz. Corbin comes up and wipes out Bryan over the barricade while The Miz is recovering. Corbin brings The Miz back in the ring while Bryan is laying outside the ring.
The Miz recovers but momentarily. He then attacks Bryan outside the ring. King Corbin stans over a fallen Miz and Daniel Bryan. The Miz hits Corbin with a neckbreaker. Daniel Bryan gets up and proceeds to hit YES kicks and running dropkicks on Corbin. He catches Miz with a deep six but is caught with a missile dropkick by Daniel Bryan.
After a commercial break, all three men take the fight to one another once again. The Miz hits King Corbin with consecutive kicks and eventually a figure four leglock. Daniel Bryan locks in the Labelle lock on King Corbin while the Miz is tied up in a reverse figure four. Bryan and Miz exchange chops against one another. The Miz then follows up with punches. Corbin hits an end of days but Daniel Bryan broke it up.
Bryan then hits a running knee on Corbin but Dolph Ziggler comes out and superkicks him. However, Roman Reigns pulls Corbin out from covering Bryan.
Back in the ring, Miz climbs the top turnbuckle but is caught by Daniel Bryan. Bryan hits a superplex but holds on to the ropes. Daniel was about to attempt a dropkick but is stopped by The Miz. Miz then hits a super knee breaker from the middle rope on Daniel Bryan. He hits multiple YES kicks but then so does Miz. The Miz catches his leg and continues to work on the right leg and knee of Daniel Bryan.
Bryan then catches Miz with a butterfly suplex into an armbar and then eventually an attempted LaBelle lock. Daniel then sets up for an attempted running knee strike on The Miz but The Miz catches him in a skull-crushing finale and then a figure four leglock. Daniel Bryan then ties in an STF  from an attempted LaBelle lock. He then ties in the LaBelle lock to which The Miz taps out.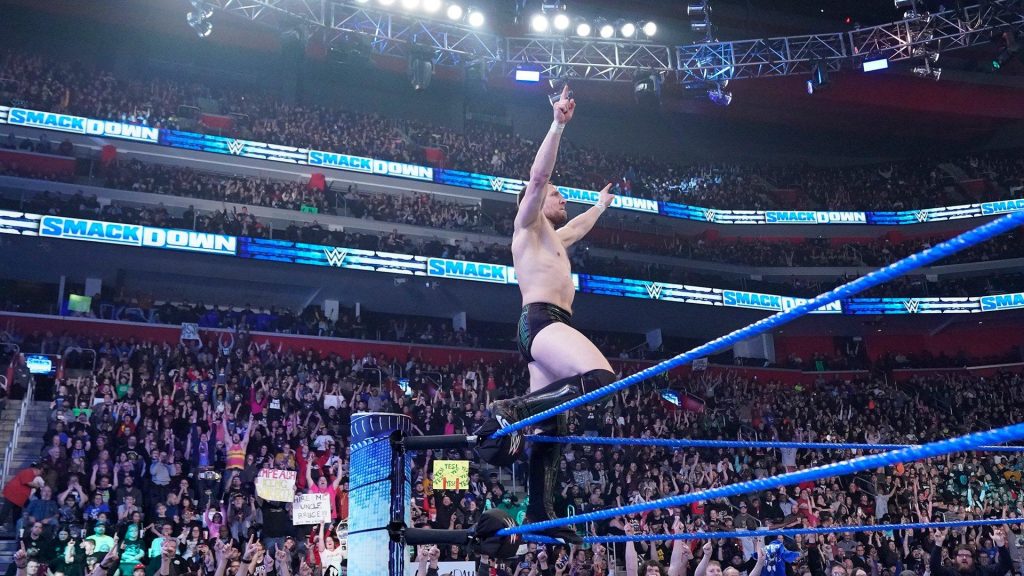 Winner: Daniel Bryan
After the match, the Firefly Funhouse appears on the screen and Bray Wyatt appears on the screen sharing. He says he doesn't believe that 'he' is done with you just yet. The screen cuts out and the fans and Daniel Bryan celebrate the win. Bryan will face The Fiend for the WWE Universal Championship.
#TheFiend @WWEBrayWyatt will defend his #UniversalTitle against the refreshed and refocused @WWEDanielBryan at #RoyalRumble 2020.https://t.co/OJQeSJWYKZ

— WWE (@WWE) December 28, 2019