Friday Night Smackdown begins flashing back to the events of TLC last Sunday. We see Bray Wyatt's win over The Miz being revealed. However, the lights go out to signal 'him' being here. It turns out to be Daniel Bryan with a whole new old look. As the lights go out and return we see Bryan standing tall. From the Barclays Centre in Brooklyn, New York the show begins. Daniel Bryan's music hits as he comes to the ring. He spoke about how the change he changed and how the brand wasn't recognizable to his family. What he resembled was the man that he knew. Bryan challenges Bray Wyatt but The Miz comes out instead. Could we see Bryan and The Miz work as a team tonight and will we see the appearance of Corbin and Ziggler?
Miz came out and pointing to Daniel how they have more in common than they had thought. To this, King Corbin comes out and addresses both men. He manages to talk down to both Bryan and Miz. When it appears as though Bryan and Miz are set to take out Corbin for his comments, Dolph Ziggler attacks both men from behind. Corbin hits the end of days on Daniel Bryan. Both Bryan and Miz are on the mat recovering from the attack as Corbin and Ziggler stand tall. It is made official that Corbin Ziggler will face Bryan and Miz later on in the evening.
It's OFFICIAL.@WWEDanielBryan & @mikethemiz team up to battle #King @BaronCorbinWWE & @HEELZiggler TONIGHT on #SmackDown. pic.twitter.com/3zaSMalx1f

— WWE (@WWE) December 21, 2019
Miracle on 34th Street Fight
Heavy Machinery vs Shinsuke Nakamura and Cesaro
Before the match, a Christmas miracle takes place as Mandy Rose gives Otis a replacement ham from what took place the previous week. She followed this up by kissing him on the cheek. The bell rings with all four men in the ring at the same time. The former tag team champions take the gifts and cookies and smash them into the face of Otis and Tucker. However, Otis sprayed in the face with a fire extinguisher, Dawson and Wilder double powerbomb Otis through the table on the floor.
Once back from the break, the fight takes place on the rampway as tucker fights off both Wilder and Dawson on his own. Tucker suplexes Dawson onto the rampway. Wilder pulls out a bowling ball out of a ball and proceeds to rolls the ball at Tucker. It was supposed to hit Tucker low but it actually hit the outside of his right knee. Tucker avoids an attack by Dash Wilder as he hits a tree. They slam the gifted ham onto the floor. This infuriates Otis who suplexes Dash Wilder into a pile of boxes. Otis pulls out a bag of lego and pours it onto the mat and slams Dawson onto the lego. Tucker aids with the compactor and Otis makes the cover.
Winners: Heavy Machinery
After the break, Mandy Rose speaks to Otis about the ham. She then hugs him and comes off of Otis with sweat stains on her dress. Back in the ring, The Revival address how they are being wronged. They are then interrupted by Elias who comes out to the ring. Elias leaves them with a song that carves into both of them.
EXCLUSIVE: A kiss, a hug, AND a ham from @WWE_MandyRose means it was a good night at the office for @otiswwe! #SmackDown #HeavyMachinery pic.twitter.com/zVGHjtICer

— WWE (@WWE) December 21, 2019
Sami Zayn says he drew Braun Strowman's name for Secret Santa and asking him what he wanted. Strowman asks for an Intercontinental championship match to which he doesn't seem to get.
Carmella vs Sonya Deville
As soon as the match gets started, Deville takes the fight to Carmella right away. Carmella catches herself and recovers taking the fight back to Deville. She locks in the code of silence on Deville. She wins it via submission.
Winner: Carmella
It's a hard-hitting battle on #SmackDown as @CarmellaWWE SQUARES UP against @SonyaDevilleWWE! pic.twitter.com/ezSq2kXrZW

— WWE (@WWE) December 21, 2019
As Carmella walks up the ramp, The New Day come out and fake double dutch skipping with her. The duo is set to face Nakamura and Cesaro after the break.
A promotional vignette airing the return of Sheamus is shown. The Celtic Warrior begins to share what his return will symbolize.
The New Day vs Shinsuke Nakamura and Cesaro
A great deal was made about Zayn's involvement in this relationship between Cesaro and Nakamura. Nakamura and Kingston start off the match. Kingston hits Nakamura with a dropkick off the middle rope but his advantage is short-lived. A strike by Nakamura and made a tag to Cesaro. The Swiss Superman maintains an advantage on Kingston with a  rear chinlock. Nakamura is tagged back into the ring and holds a front face lock preventing Kingston from getting to his corner. However, Big E is eventually tagged in and continues to hit suplex after suplex on Nakamura and Cesaro. A big splash later and Big E has the match completely in his control. Big E hits a uranagi on Nakamura and makes a pinfall attempt but only for a count of two.
Zayn provides a distraction leading to Nakamura to hit a kick on Big E. Big E is tossed out and Cesaro makes the clothesline. The duo work over Big E on the outside the ring. After the commercial break, Big E eliminates Cesaro from the ring and attempts to make it back to his corner. Nakamura comes in and takes out Kingston in the meantime. The Intercontinental title attempts to set up for a kinsasha but Big E hits a clothesline on the champion.
Big E makes it to his corner for a tag to Kofi as Nakamura makes the tag to Cesaro. Kingston comes in a house of fire! Kingston makes a pinfall attempt but only for a count of two. Kofi continues his assault. He attempts to hit trouble in paradise but Cesaro hits an uppercut on Kingston. He attempts a pinfall attempt but Big E stops the pin attempt. Kingston climbs the turnbuckle and reaches for Big E but only for a count of two.
Cesaro hits his big swing on Kingston and follows that up with a pin attempt but only for a count of two.
Cesaro attempts a neutralizer and Kingston rolls up the swiss superman for a count of three.
Winners: The New Day
There's no disputing it now…@BraunStrowman wants to get HIS hands on @ShinsukeN's #ICTitle! #SmackDown pic.twitter.com/bHlemANhDc

— WWE (@WWE) December 21, 2019
After the bell, Zayn pulls Cesaro and Nakamura off New Day and then joins in on the attack. This brings out Braun Strowman! Strowman had an encounter with Nakamura, Zayn, and Cesaro earlier in the match. The big man wipes out both Cesaro and Nakamura. When he attempts his power slam, Sami Zayn gets involved pulling the champion out of harm's way.
In the locker room, we see Daniel and Miz talking over the events of TLC. What began as a thank you from The Miz turned into Daniel saying he did it for himself. The banner between them was amusing.
Sasha Banks comes to the ring first as she leads Smackdown Women's Champion, Bayley to the ring.
Bayley vs Dana Brooke
This match came about with Brooke challenging the champion on Twitter. Brooke and Bayley lock up with the champion taking her out in the corner. Dana has the advantage later on in the match after Bayley took the fight to her early on. Bayley then shows a fiercer side in this match. Brooke is then choked along the middle rope. Bayley then locks in a rear chinlock on Brooke in the middle of the rope. Brooke regains the advantage and then hits a senton on Bayley but only for a count of two. She then hits a series of short-arm clotheslines. Dana Brooke has Bayley reeling here. However, a sidestep by Bayley turns into her finisher and a count of three.
Winner: Bayley
After the match, both Sasha Banks and Bayley bad mouth Brooke only to bring out Lacey Evans to the ring. Evans then challenges Banks to a match right then and there.
.@itsBayleyWWE and @SashaBanksWWE are letting @DanaBrookeWWE HEAR IT.#SmackDown pic.twitter.com/3qnggG5qTV

— WWE (@WWE) December 21, 2019
Lacey Evans vs Sasha Banks
After the commercial break, the impromptu match begins. Both Brooke and Bayley remain at ringside to support either Evans and Banks. Banks has an armbar on Evans in the middle of the ring. Each time Evans attempts to gain the advantage Banks has the answer. While in the corner, Banks continues to lay in kick after kick on her. Eventually, Evans takes the fight to Sasha Banks. She takes the fight to her on the outside. Both women battle around the ring causing Evans to be distracted by Bayley.
Winners: No Contest
While at ringside, Banks is coaxing Evans's daughter getting in her daughter's face at ringside. Evans daughter is swinging Banks and Evans snaps going at both Banks and Bayley. Dana Brooke pulls Evans off as both women are separated.
#TheBoss @SashaBanksWWE just crossed the line, and @LaceyEvansWWE isn't going to stand for it! #SmackDown pic.twitter.com/phUPBkBZR7

— WWE (@WWE) December 21, 2019
Daniel Bryan and The Miz vs King Corbin and Dolph Ziggler
The match starts immediately with the fight happening between all four men. Miz tags himself in and with the aid of Bryan hit consecutive YES kicks on both Corbin and Ziggler. After a brief commercial break, Bryan takes the fight to Corbin in the ring. However, after a third attempt at a dropkick in the corner Cobin hits a deep-six on Bryan. Ziggler is then tagged into the ring and takes the fight to Bryan. Bryan consequently begins to throw fists at Ziggler as well. Corbin is tagged in the ring and continues to beat down Daniel Bryan.
Ziggler is tagged back into the ring and throws fist after fist on a beaten Daniel Bryan. Corbin continues to beat down on Bryan. He follows this up by whipping him into the corner but is then hit with a missile dropkick by Daniel Bryan. The Miz is then tagged in and continues to take it to Dolph Ziggler. After a pin attempt, Corbin gets involved. Ziggler is then tied up in a figure-four leglock as Daniel Bryan hits Corbin with a running knee. Ziggler eventually taps out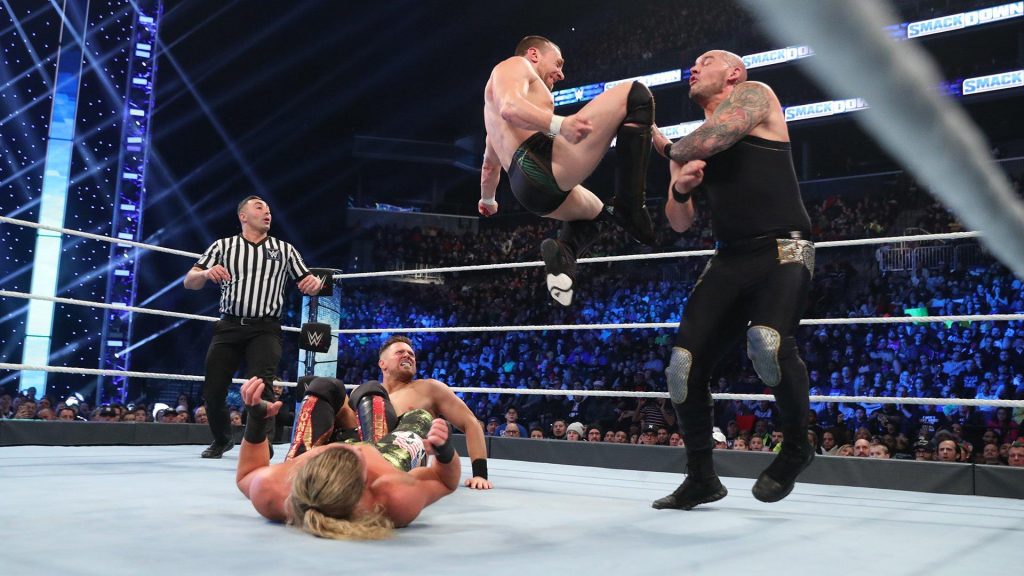 Winners: Daniel Bryan and The Miz
After the match, a triple threat match is announced between Miz, Bryan, and Corbin next week with the winner to face The Fiend Bray Wyatt for the WWE Universal Championship. The lights go out with only the cackle of the Fiend heard as Bryan, Miz, and Corbin look on.
.@WWEDanielBryan & @mikethemiz get the win, but…

HE makes sure to send a message. @WWEBrayWyatt #SmackDown pic.twitter.com/h1NoWxlkJc

— WWE (@WWE) December 21, 2019