In life, everything evolves. Some say the world of professional wrestling mimics life. Some adapt, some perish. No one knew this better than WWE World Heavyweight Champion Triple H.
Throughout his career, The Game has evolved. When HHH debuted in WWF, he was a Greenwich snob. Hunter Hearst Helmsley literally stuck his nose up at all competition. After going through a "degenerate phase," he traded in his silver spoon for a sledgehammer and terrorized the WWF, and evolution was born.
In 2003, Triple H knew he needed someone to watch his back. Based on his mentor Ric Flair's infamous group, The Four Horsemen, Evolution brought together the business's past, present, and future. So let's take a look at one of the most dominant factions of the ruthless aggression era. Don't let Evolution pass you by.
Evolution – The Game and His Mentor
In 2002 The Nature Boy Ric Flair made a surprising return back to the WWE. It wasn't long before Flair and WWE CEO Vince McMahon crossed paths. After several matches with the Chairman, Ric Flair seemed to have lost his confidence. He was no longer the dirtiest player in the game.
By Flair's own admission, he was a shell of himself. Around the same time, Triple H returned from a possible career-ending quad injury. The game was bigger, badder, and stronger than ever. He quickly gained the sympathy of the fans by defeating Chris Jericho for the Undisputed WWE Championship. However, due to interference lost to Hulk Hogan at Backlash.
Living for their Hate
Triple H did not thrive off the fans' love. He thrived off their hate.  The Game went back to his wicked ways and attacked his best friend, Shawn Michaels. HHH claimed Michaels was weak. HHH also claimed he was better than HBK ever was.
At SummerSlam 2002, the two former degenerates waged war in an unsanctioned street fight. After not being in the ring for four years, Shawn Michaels defeated the game. However, Triple H had the last laugh by attacking Shawn Michaels injured back with a  sledgehammer. WWE decided that there will now be two Heavyweight champions instead of one undisputed one.
On Monday Night Raw, General Manager Eric Bischoff named HHH the new World Heavyweight Champion. Triple H knew he was a marked man. In the weeks that followed, The Game started harassing Ric Flair.
Aligning with An Idol
He stated that he idolized The Nature Boy, but now the Nature Boy should idolize him. The Cerebral Assassin continued to play mind games with Flair week after week. He was purposely trying to motivate his idol.
At WWE Unforgiven, Triple H defended the World Heavyweight Title against Rob Van Dam. In the key moments of the match, it looked like Ric Flair grabbed the sledgehammer and was going to hit Triple H; instead, the Nature Boy proved why he is the dirtiest player in the game and hit the Whole Dam Show with the weapon instead.
Ric Flair helped HHH retain his title. Now two of arguably the most ruthless competitors in the game were together. Anytime you fought Triple H, you had to deal with Flair.
At Survivor Series, in the first-ever elimination chamber match, Triple H lost the World Heavyweight Championship to Shawn Michaels. It was at that moment The Game knew he needed more reinforcements. At Armageddon, with Ric Flair's constant interference, Triple H regained the World Heavyweight Championship in 3 stages of Hell Match.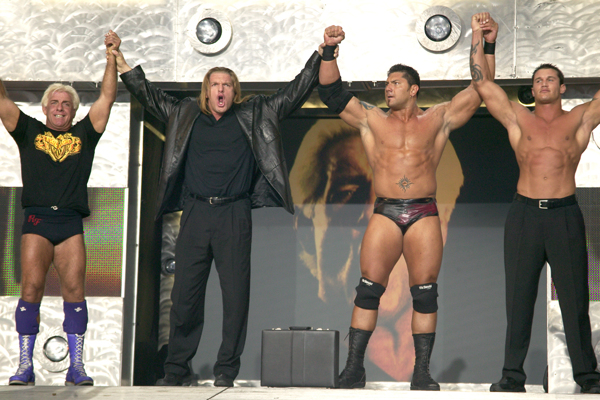 Evolution is the Solution
In Jan of 2003, The Game was defeating challenger after challenger for the World Heavyweight Championship. At the same time on Smackdown, two new stars made their debut. Dave Batista was Rev Devon's 'Deacon.' Batista wasn't used to this role.
In Ohio Valley Wrestling, he was known as Leviathan. A monster controlled by Synn, his manager. Leviathan was merciless and powerful. When given the opportunity, Batista jumped from Smackdown to Raw.
The Selection Process Begins
Immediately, Triple H and the Nature Boy saw something in him. Flair began accompanying the animal at ringside. Soon after Batista's debut, a second-generation superstar arrived on the scene. His name was Randy Orton.
Randy's father was Cowboy Bob Orton, most infamously known for wearing a cast to the ring. But, the business was in his blood. Randy Orton could hit a picture-perfect dropkick and make it look easy. The pedigree was certainly there.
After a mini-feud with Hardcore Holly, the young superstar also landed on Raw. On January 20, 2003, Raw Triple H, Flair, Batista, and Orton attacked Scott Steiner. Two weeks after that, they attacked Tommy Dreamer.  Finally, HHH gave the group its name in a cryptic promo.
"You see in this industry, just like in life, everything evolves. What you see in this ring before you is the greatest example of evolution you will ever see.
In life, everything happens for a reason. It's just a natural process. So when you're lying in a hospital bed and wondering just what the hell happened. Know that Evolution had passed you by."
Unfortunately, a few weeks later, both Randy Orton and Dave Batista were injured. Then, Triple H and Ric Flair aligned themselves with Chris Jericho over hatred of HBK. On the episode of Raw, Triple H and Jericho squared off against Booker T and HBK.
During the match, Jericho and Hunter attempted to handcuff HBK and beat him bloody. All of a sudden familiar music hit. Kevin Nash had returned. He saved his good buddy Shawn Michaels and ran off Triple H. At one time, Triple H, Nash, and HBK were thick as thieves in the Kliq, but now HHH wanted all the glory.
On May 26, 2003, episode of Raw, Triple H and Ric Flair faked a " falling out" Flair claimed he couldn't take Triple H's ego. As a result, Raw GM Eric Bischoff made a 2 on 1 handicap match Triple H vs. Flair and Michaels.
At the finish of the match, HBK went to tag in flair but got chopped for his troubles. Obviously, this was an evolution plot. Kevin Nash was attacked by a mysterious masked man in the locker room. The masked man later ran to the ring to help Triple H and Flair. That masked man was Randy Orton. Evolution was now three members strong. All that was missing was an animal.
Goldberg! Goldberg!
At Badd Blood, HHH defeated Kevin Nash in the Hell in a Cell to retain the World Heavyweight Championship. Next up was Summerslam in the Elimination Chamber. Triple H would defend his title against Randy Orton, Shawn Michaels, Jericho, Kevin Nash, and Goldberg.
Goldberg had recently debuted in the WWE and wanted to take the title from the Game. Throughout most of the match, it was obvious HHH wanted nothing to do with him. However, Goldberg wanted Triple H. He even busted through Triple H's pod to get at him.
At the end of the match, Triple H did retain the championship as well as humiliate Goldberg. This led to Goldberg vs. Triple H at Unforgiven. The Game tried everything; even help from Evolution was not enough to stop Goldberg from the jackhammer and the title.
On Raw, Triple H issued a $100,000 bounty on the new Champion.
"Congratulations Bill on becoming the new World Heavyweight Champion for one week. Have you realized it's a lot harder to stay at the top of the mountain than it is to get there?
You are walking around with a huge target on your back, and everyone wants to take the championship, MY championship. I am offering 100,000 dollars to anyone who takes out Bill Goldberg."
That was enough to draw out the Animal. On the October 20th, 2003, episode of Raw, Batista returned. He attacked Bill Goldberg and broke his ankle with a steel chair. Batista claimed the bounty. Triple H was more than happy to welcome Batista back to Evolution.
Evolving Champions
Randy Orton was beginning to create a legacy all his own. He gained victories over the likes of HBK, Eddie Guerrero, and others. He also was the sole survivor at Survivor Series when he helped Eric Bischoff's team gain the victory. Randy Orton was on a roll.
At the December Pay Per-View Armageddon Evolution of The Game, the group made history as they captured every championship. Batista and Ric Flair defeated The Dudley Boyz to become the new Raw Tag Team Champions. Randy Orton defeated Rob Van Dam for the WWE Intercontinental Title.
The Game himself regained the World Heavyweight Championship in a triple-threat match against Kane and Goldberg. The pay-per-view closed out with every member of Evolution as champions. Triple H was the World Heavyweight Champion, but he had not planned on Orton and Batista being his greatest challengers.
Ghosts from their Past
At Wrestlemania, XX Evolution felt some electricity when they challenged The most electrifying man in sports entertainment, The Rock, and The hardcore legend Mick Foley.  Randy Orton began to take on a legend killer-like status. The WWE Intercontinental Champion set his sights on Mick Foley.
On March 1, 2004, on Raw, Evolution antagonized Foley to the point where he had to phone a friend. That friend was The Rock. The Rock and Sock Connection reunited at Wrestlemania XX to face Evolution in a handicap match. Orton ended up getting a victory from out of nowhere on Foley with the RKO.
After that, evolution seemed to be unstoppable. However, their leader Triple H did not fare quite as well. In a triple-threat match, HHH lost the World Heavyweight Title.
The Rise of a Legend Killer
At WWE Backlash, Orton's winning ways continued, but he was never the same. No one would be after facing Mick Foley in a hardcore match. To make matters worse, Orton further enraged Foley when he spits in the hardcore legends face.
Not only did Orton get Foley, but he also awakened his alter ego, Cactus Jack. Thumbtacks, tables, and a 2×4 wrapped in barbed wire were Jack's favorite weapons. Orton got a taste of them all. No image is more ingrained than seeing Randy Orton's body with all those thumbtacks in him.
Arguably that was the night Randy Orton first realized he was an Apex Predator in the making. He can thank Foley for that. Nevertheless, Randy Orton defeated Foley at Backlash. However, once again, Triple H came up empty-handed in his pursuit to regain the title. Time after time, he saw his protege Randy Orton gain a victory, yet he remained on a losing streak.
Eugene
In the Summer of 2004, Triple H made Eugene an honorary member of Evolution. Eugene was everything Evolution was not. He was the mentally challenged nephew of Raw GM Eric Bischoff. Being the Cerebral Assassin, Triple H knew he could use Eugene to get back the title. All of the Evolution was against the idea, but The Game promised them that one day.
"Eugene will outlive his usefulness"
At WWE Vengence, Eugene accidentally cost HHH the match. The same night Randy Orton lost his Intercontinental Championship to Edge. The next night on Raw, Eric Bischoff granted HHH one last title shot. The same night, Randy Orton triumphed when he won a battle royal to become the number one contender for the World Heavyweight Title.
Triple H was not successful in his match once again because of Eugene.  However, this time it wasn't an accident; he found out he was being used by Triple H. In retaliation, Triple H beat Eugene bloody. At Summerslam 2004, he put Eugene out of his misery with a Pedigree. Eugene had outlived his usefulness.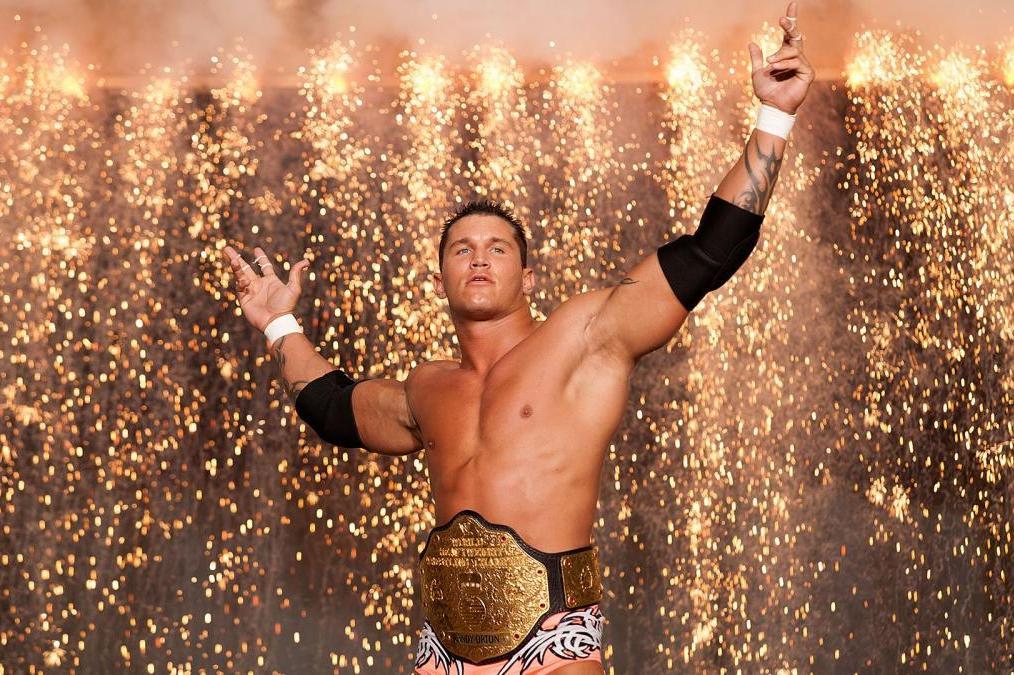 Youngest World Heavyweight Champion
However, the event that would drive a wedge between Evolution also occurred that same night. Randy Orton won the World Heavyweight Title. At 24 yrs old, this made him the youngest champion in history. The next night on Raw, The new World Heavyweight Champion celebrated his victory.
"You're chanting my name now, but last night it was a different story. You all thought that I was in over my head. Yet here I stand before you, the youngest WWE Champion in history."
Later in the night, Triple H congratulated Randy Orton in his own way.  The rest of Evolution met him in the ring. Batista put Orton on his shoulders as HHH looked on. The leader of Evolution gave Randy a thumbs up when suddenly, he stopped and gave a thumbs down.
At that moment, Batista dropped Orton to the mat. Triple H grabbed the World title and hit Orton with it splitting him open. Evolution held Orton down as Triple H berated him. It was obvious that Evolution was created so Triple H could remain champion. If any other member of the group succeeded, there would be hell to pay.