This past week I've been on an ECW binge. It's partly due to nostalgia. It's also in part due to keeping my WWE Network subscription active. As someone who spent my late teens and early twenties trading ECW VHS tapes via connections on the internet, I wasn't pleased when I found out WWE would be purchasing the ECW library. It was all no big surprise to me, though.
I really don't consider myself much of a purist when it comes to the old days, but I didn't like the idea of the music changing. To me, the theme songs are a huge part of what makes up ECW's character. I held the opinion that putting random generic rock in Sandman's entrance was just wrong. Changing New Jack's theme to something unrecognizable would take away from the enjoyment of the show. I held this opinion then, but it all hits differently now. I still miss hearing the original music when watching ECW shows on WWE Network. However, the shows themselves hold up incredibly well over the years. I took a look at five ECW shows from the late 90s-early 2000s and had a great time doing so!
Social Distancing Wrestling Watchlist for 5/9/20
ECW Barely Legal 1997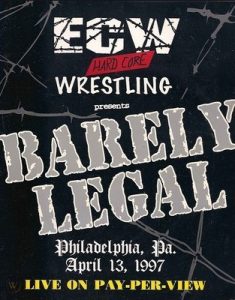 The very first ECW pay-per-view happened at a peak time in my life. I was a senior in high school and obsessed with the promotion. When the show was announced I knew ECW had "arrived" as a company; the hype was huge at the time. The show definitely delivered and holds up well to this day. Some of my favorite matches to watch to this day include Sabu vs. Taz, RVD vs. Lance Storm, and Stevie Richards vs. Sandman vs. Terry Funk.
ECW Hardcore Heaven 1997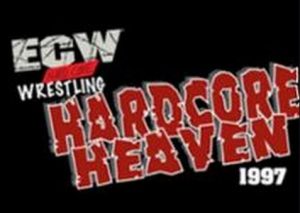 Barely Legal was an amazing inaugural PPV for ECW, but 1997 overall was a banner year for the promotion. It really did seem like the Summer of ECW that year all the way through August when Hardcore Heaven took place. It was at this show where finally we saw the inter-promotional feud between ECW and WWF come to a head when Jerry Lawler took on Tommy Dreamer.
This match was huge, but it didn't come anywhere close to the greatness that was the Shane Douglas vs. Sabu vs. Terry Funk triple threat match. Douglas has a long and storied history with the company but this was by far one of my favorite matches of his. This is also the event that had the infamous crowd-tossing spot with Bam Bam Bigelow pitching Spike Dudley far out into the audience during their match, which led to Spike's awesome crowd surfing moment that still finds its way into video clips on social media over two decades later.
Social Distancing Wrestling Watchlist for 5/9/20
ECW Massacre on 34th Street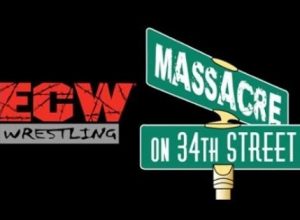 ECW's Massacre on 34th Street took place at the end of 2000 and just a month before the final ECW house show in Pine Bluff, Arkansas. This show in particular holds a lot of meaning to me as at the time I was totally unaware that we were headed towards the end of the promotion as we knew it. Granted, the card for this event didn't hold the same power that ECW PPVs of 1997-1999 had, but one can tell that the heart is in this performance from everyone who stepped in the ring.
My favorite match from this card will always be Rhino vs. Spike Dudley; I always had a good time with Spike vs. the giants like Mike Awesome or Bam Bam Bigelow or Rhino. Other standouts from this show were Danny Doring and Amish Roadkill taking on the F.B.I. (two tag teams I loved back in the day), Tajiri/Mikey Whipwreck vs. Super Crazy/Kid Kash, and the triple threat main event with Steve Corino vs. Jerry Lynn vs. Justin Credible.
ECW Heatwave 1999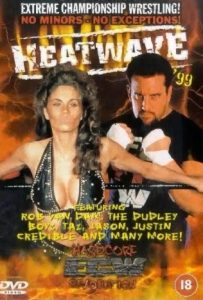 I have a hard time deciding whether Heatwave or November to Remember was the definitive ECW PPV of 1999. Both shows were just that excellent. I give the edge to the former for being the standard setting PPV for the rest of the year. These matches got out of pocket! This was the event with the memorable flaming table spot with the Dudleys and Little Spike, and it was also one of the rare somewhat mainstream shows in the late 90s that featured an intergender match (in this case, Jazz vs. Jason) and in-ring intergender action when Francine hit a DDT on Steve Corino during what would have been his match with Tommy Dreamer. Definitely check this one out for the main event of RVD teaming up with Jerry Lynn to face off against Lance Storm and Justin Credible.
Social Distancing Wrestling Watchlist for 5/9/20
ECW November to Remember 1999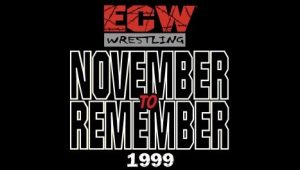 In my opinion, two of the most underrated ECW matches of all time are on this show. There's the triple threat with Jerry Lynn vs. Super Crazy vs. Tajiri, which does get some attention as the years go by but nowhere near enough when it comes to counting 'best of' ECW triple threat matches. Then there's the late great Mike Awesome taking on Masato Tanaka, and honestly this match gets better with age. There's WCW Mike Awesome and there's ECW Mike Awesome; this is the PPV to watch when you want to find out how good the latter was.
Going back and re-watching these shows were a nice trip down memory lane for me. I'd also recommend these five shows in particular to anyone who's new to ECW and is looking for a good way to get immersed quickly into what the whole craze was about.