Carlos came from a family of professional wrestlers and entertainers. His father and uncle were masked Luchadors called The Silver Angels, Carlos (Los) Espada. His mother was also a Luchadora called the Black Widow. She would fill in for the female wrestlers that wouldn't show up for events.
Carlos learned two very important things from his father:
"

The more you know, the more you earn" & "never do things halfway

." 
To this day, those inspirational words are the fuel that pushes Los to take on every task with passion and intensity. Losing himself in the creative flow of any project he's involved in. His work can be seen in product lines such as Star Wars, Star Trek, Crouching Tiger Hidden Dragon. Eminem, Alice Cooper, and Dark Angel. All of which he helped develop while he was the Art Director and Shop Manager at Art Asylum Toys. Carlos' name appears on over 2000 toy packages. 
As much as Carlos loves toys, his creative mastery equally translates over to his love for music and performing. Which led him to start a successful tribute band celebrating rock legends, KISS. Of course, he wasn't satisfied with having just another 'tribute band,' so he painstakingly created a plan that would make the band stand out from all the others. The hard work paid off as the band gained enough notoriety that Carlos would go on to work with his boyhood idol Gene Simmons. As well as Silvertone guitars in promoting their Paul Stanley signature line of guitars.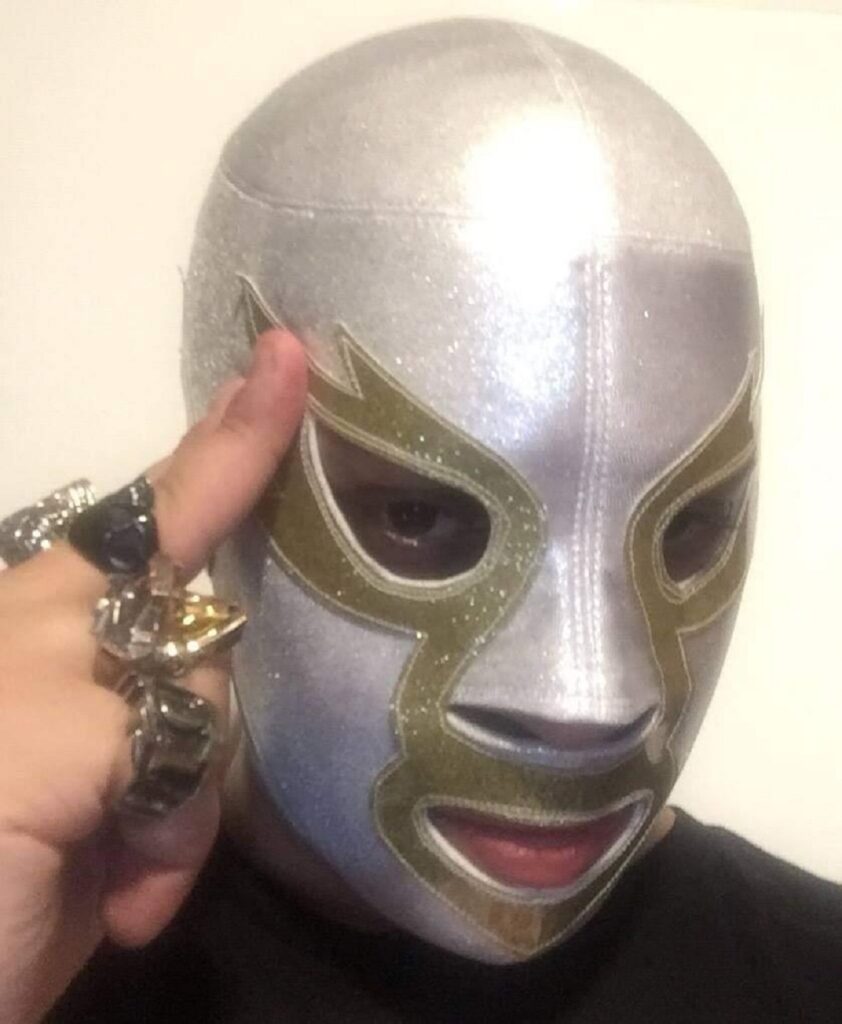 The band performed globally and was featured on the likes of VH1, CNN, MSNBC, and more. Including the filming of a pilot for VH1 entitled MOCK ROCK. Using his knowledge of classic wrestling (and his life as a wrestler), Los was able to land an acting role as a regular in "Wrestling with Joeylicious." Not surprisingly, he played multiple characters in the series. His main character being a Cuban guerilla fighter named "Un Granada." 
Carlos (Los) Espada renaissance man discusses wrestling, film & comics.
Carlos has penned and illustrated several books with fellow artists in his mission to inspire others. He has released books based on his motivational quotes titled Los Quotes Vol.1. When Love Dies. A romance/tragic love short story about postpartum depression and it's effects on a family. Super Group Go! A multicultural comic book that mixes the worlds of Rock n Roll, Lucha Libre, Kaiju's, and Mecha. The books contain family-friendly action and adventure, with a moral lesson woven in, and are available in both Spanish and English.
Earth's greatest rock band is about to become the Universe's only hope. They conquered the world of music, but can they conquer evil? And lastly, Rock N Roll Brat And The Kids. A series about four kids who have adventures through the power of their imagination. Each book is a mixed media of illustrations and still life photos. This series of children's books were created to encourage children to use their imagination to have fun. 
All these titles are released under Silver Angel Press. An independent comic book and toy company, owned and operated by Carlos (Los) Espada. When asked how he manages to squeeze so much creativity into his life, Carlos responds:
"

I work day and night on branding and developing everything from toys, music, TV, and live shows. I love what I do, and no matter the job, I always give it my all. Believe in the philosophy of hard work on every level and have been called a 'creative force' by those I've worked with. As great of a compliment as that is, I have to give credit to the creative minds around me and the greats who came before me. I feed off their energy which in turn pushes me to get better, to dig deeper, and to stay creative

." 
Carlos on his latest project:
I was always considered one of the so-called odd/weird kid. Maybe because I found beauty in things that people deemed dark, ugly, or weird. So I decided to make my children's books for kids who are like me. Showing the world, it's ok to like something others don't and to stay true to yourself. Not all that shines is beautiful, and not all that is dark ugly.
Available on Amazon here

Learning with Lucha

 educational series came about from some fond memories of my father in his Silver Angel mask talking to me about life lessons or the wrestling business. It was like getting a lecture from an actual superhero. I transitioned it into Super Group Go and now for the little ones in "Learning With Lucha," Designed to make learning fun while sparking the imagination. This was done with all my heart, soul, and the memory of my father, The Silver Angel.
Contact Carlos (Los) Espada Tel:917-406-4498 Email: silverangelpress@gmail.com
Social Media Links https://linktr.ee/los_espada_art
Listen to Carlos Espada on the latest edition of Wrestling & Everything Coast to Coast with Buddy Sotello and Evan Ginzburg: