Last week's episode of IMPACT Wrestling was quite the eventful one. Karl Anderson and Luke Gallows made their presence known in the tag division, while EC3 reintroduced himself to the TNA World Heavyweight Champion, Moose. On top of all that, Eddie Edwards announced he will defend the IMPACT World Championship on a weekly basis. What could happen this week? Will new tag team champions The Motor City Machine Guns be present? What's going on with the former Heath Slater? This is Brace For IMPACT for 07/28/2020
Brace For IMPACT for 07/28/2020
The Good Brothers vs Reno Scum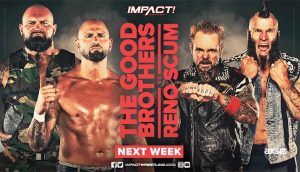 Last week, Luke Gallows and Karl Anderson had a run-in with Ace Austin and Madman Fulton. Ace wanted The Good Brothers to apologize for costing him the IMPACT World Championship at Slammiversary, but Gallows and Anderson sent them packing. Later that night, Ace and Fulton would taunt The Good Brothers from a car,. Allowing Adam Thornstowe and Luster the Legend to get the drop on them. This led to a parking lot brawl between The Good Brothers and Reno Scum. Tonight on IMPACT! Wrestling, The Good Brothers hope to settle the score when they make their in-ring debut.
An Update From Rich Swann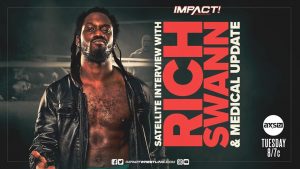 Rich Swann suffered an injury back in January at Bash at the Brewery 2. He made his in-ring return at Slammiversary as the mystery opponent in the four-way World Championship match. That four-way turned into a five-way when Eric Young made his surprise return after years in WWE. During that match, Swann managed to reverse Young's piledriver into a victory roll, pinning and eliminating him. The former TNA World Heavyweight Champion didn't take his elimination lightly, as he got back in the ring and attacked Swann's previously injured ankle. This week we'll hear from Rich Swann, who has an update on the state of his ankle following the attack.
Brace For IMPACT for 07/28/2020
Deonna Purrazzo vs Kimber Lee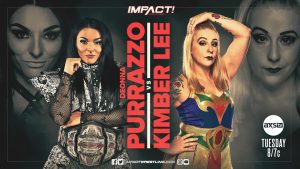 Back in April, Deonna Purrazzo was one of the list of names WWE released or furloughed as a cost-cutting measure. At the time, she had wrestled for the company for the better part of 2 years but only had 4 televised matches. Somebody in WWE thought she wasn't ready for TV, and that person must be kicking themselves. The Virtuosa debuted in IMPACT! Wrestling to a lot of hype. And she has shined brighter than anyone could have imagined. The Virtuosa proved she was more than just hype when she made Jordynne Grace tap out at Slammiversary. The new Knockouts Champion is in action this week against Kimber Lee. How long will it take The Virtuosa to tap out another opponent?
Brace For IMPACT for 07/28/2020
Wrestle House?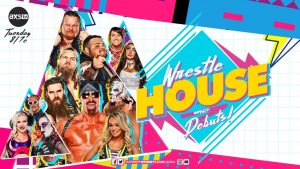 John E. Bravo and Rosemary wanted to get away from it all and spend some time together. Taya Valkyrie wanted to help, so she set them up in a nice place. What she didn't tell them is that they'd be sharing this house with Susie, Kylie Rae, Crazzy Steve, XXXL, The Deaners, Johnny Swinger, and Alisha Edwards. Now, these 12 wrestlers will have to live together in the exciting new reality TV series Wrestle House!
IMPACT World Championship
Eddie Edwards (c) vs Trey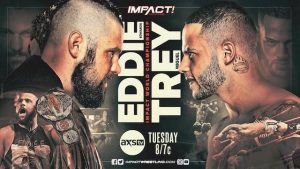 After winning the 5-way elimination match for the vacant World Championship at Slammiversary, Eddie Edwards vowed to be the champion IMPACT Wrestling deserved. He claimed he would do this by defending against all challengers. Last week, Trey Miguel of The Rascalz answered the call. After coming up short in the Slammiversary elimination match, Trey wants to prove he's worthy of the main event. What better way to do that than by becoming World Champion. Can Eddie keep up with his younger, hungrier opponent? Or will The Rascalz walk away with the World Championship?
****
Be sure to stay tuned to the Pro Wrestling Post for this and additional stories from the wrestling world. Readers can rely on Pro Wrestling Post to be their daily source for all things past and present inside the squared circle from around the globe. As a result, readers can expect daily news, history, and so much more. Please visit IMPACT Wrestling's official website to access their content here.